Easy Hoisin Shrimp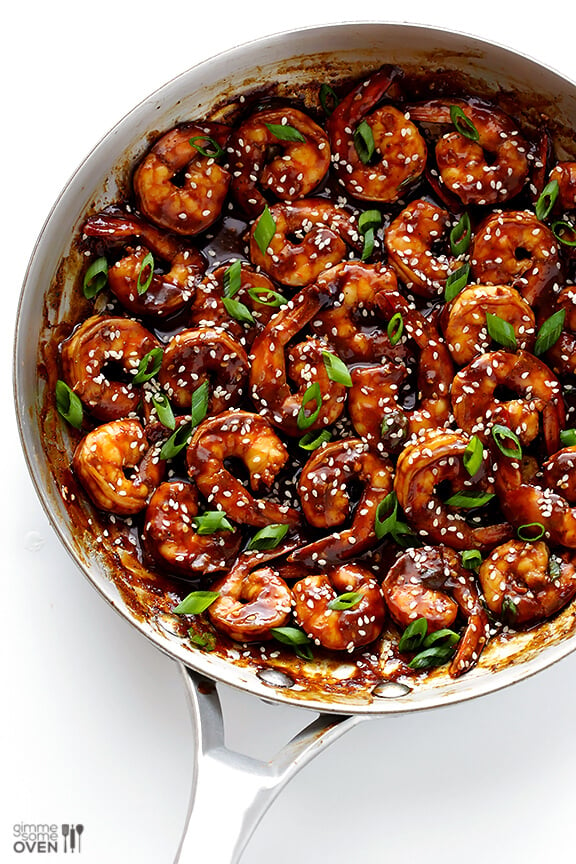 This shrimp is straight-up awesome sauce.
Want to know how I know that word?  Because I watch 95% of my tv on Hulu.  And any Hulu-watcher will know what that means — I also watch the same commercials over, and over, and over, and over again.  Ad nauseum.  (Pun intended.)
This includes that commercial where a girl calls her credit card to ask about her bill, and her twin sister picks up the phone and tells her how awesome the credit card company is, to which her twin replies, "awesome sauce!"  Truth?  I know every line of this commercial verbatim, but don't want to give the company the satisfaction of saying the name because I'm completely annoyed at the fact that I've been subjected to this commercial probably 100+ times.
Does Hulu think this repetition is really the best form of advertising?!  I mean, I'll grant that it's effective since I can tell you that the sister's name is Julie, and "for once in her life" her sister thinks she "sounds pleasant", and she gets her FICO credit score for free.  But is it positive advertising?  Mmmm, negative, if you ask me.
But this is a food blog, and…you probably weren't asking me.  So I'll hop off my Hulu advertising soapbox now.  :)
I do still stand by the fact, though, that the sauce is what makes this quick and easy shrimp dish so delicious.  So let's dive in!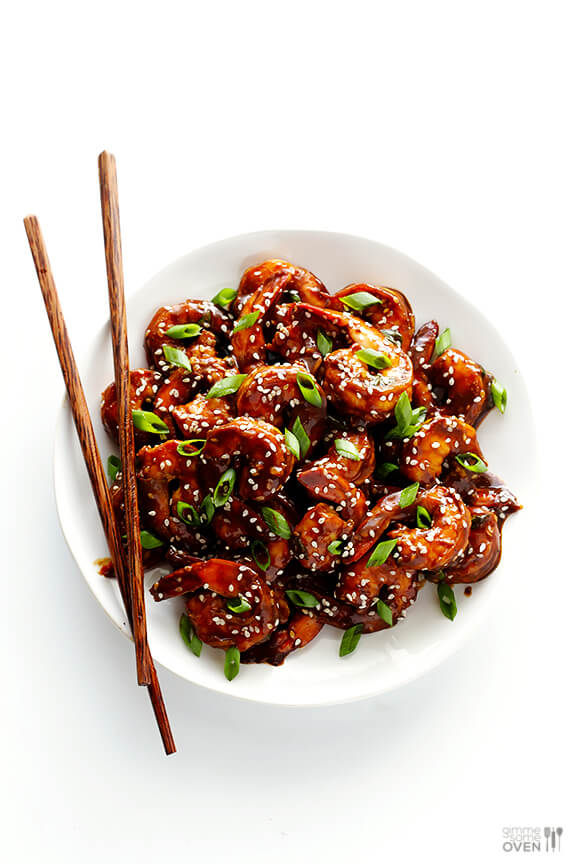 I created this shrimp dish last week on impulse when I realized I had an unopened jar of hoisin sauce in the pantry, which is unacceptable in this house.  I usually keep it on hand to serve with spring rolls, and occasionally I mix it into stir-fry's and fried rice.  But last week, I was craving shrimp.  Straight shrimp.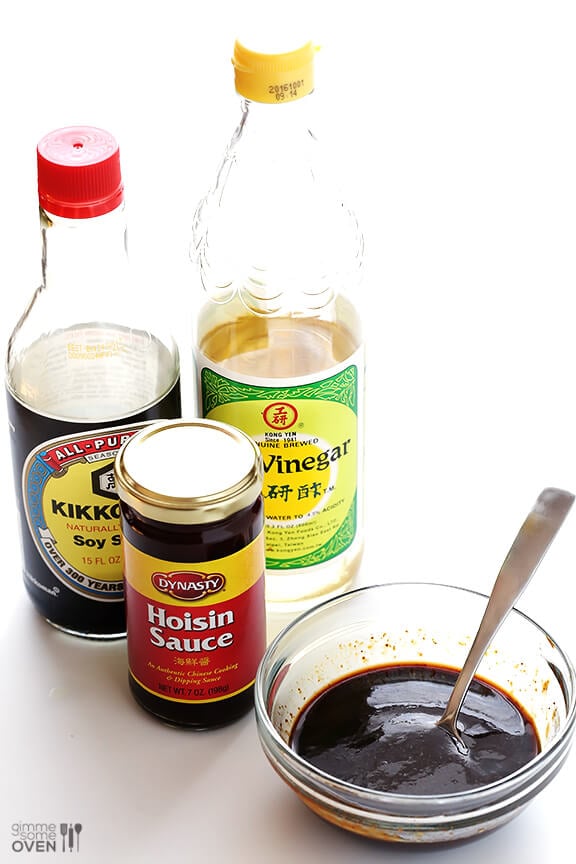 So I mixed up a simple hoisin sauce mixture with some soy sauce and rice wine vinegar to round it out.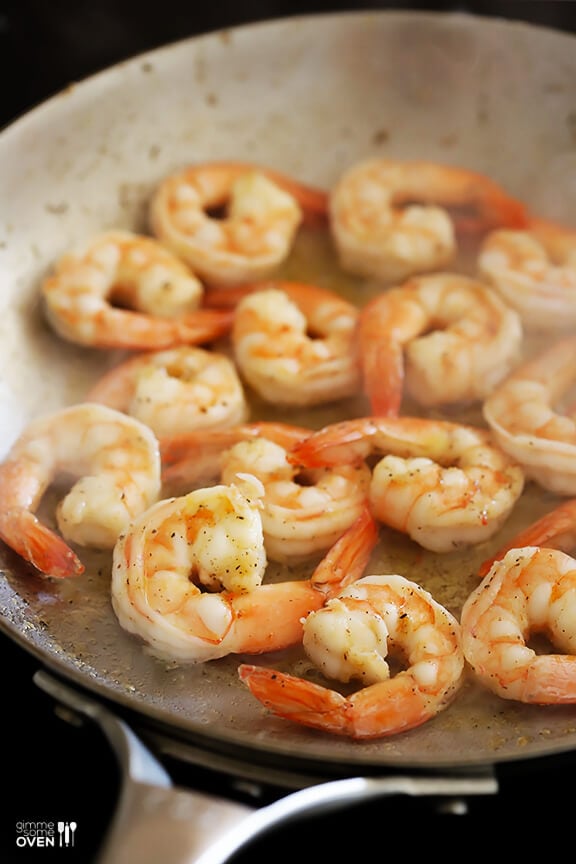 Then sauted some shrimp…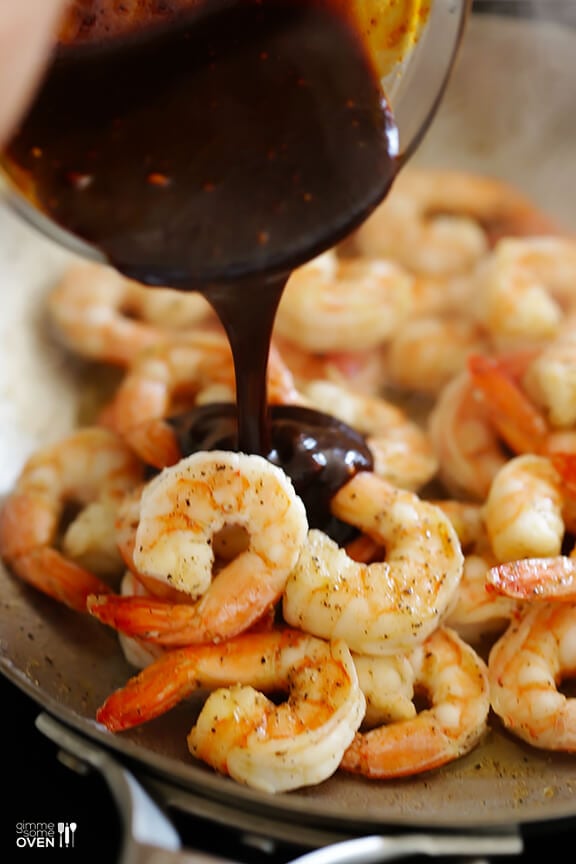 …coated them with the sauce…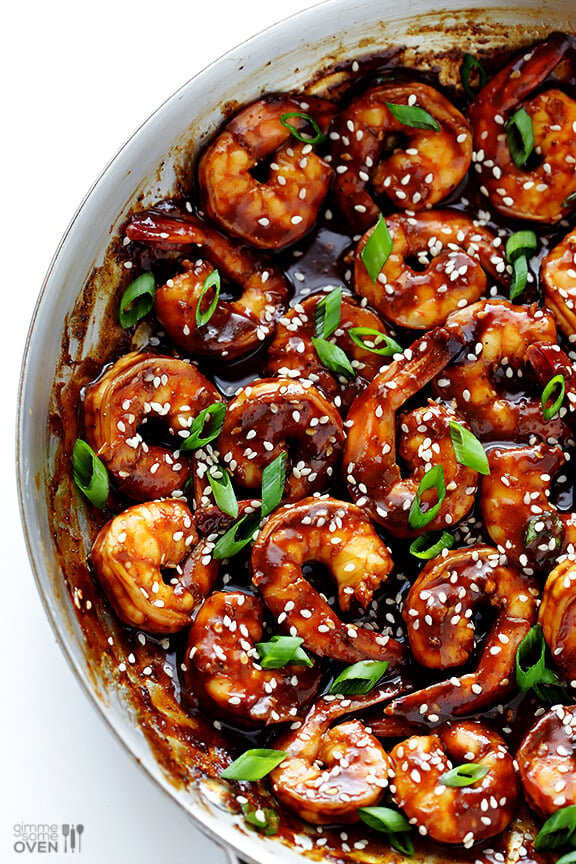 …and went a little crazy garnishing with sesame seeds and green onions.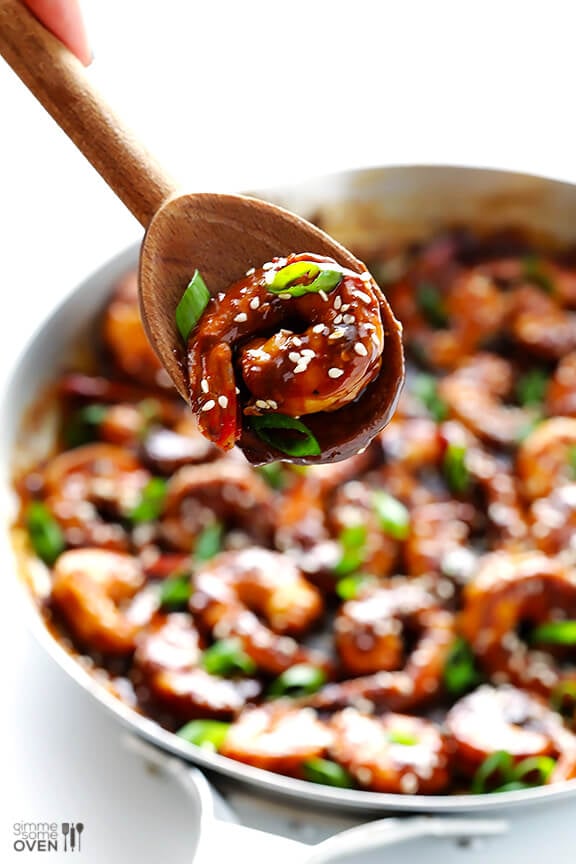 And hoi-ly moly.  It was delish!!
The sauce itself is pretty strong, which is the way I like it, especially once it gets mixed in with some rice or quinoa or other veggies that you might serve alongside the shrimp.  So if you're hesitant about strong flavors, you might just add it in a little bit at a time until it flavors the shrimp to your liking.
But however much of the sauce you use, it's salty and sweet and…well…awesome.  :)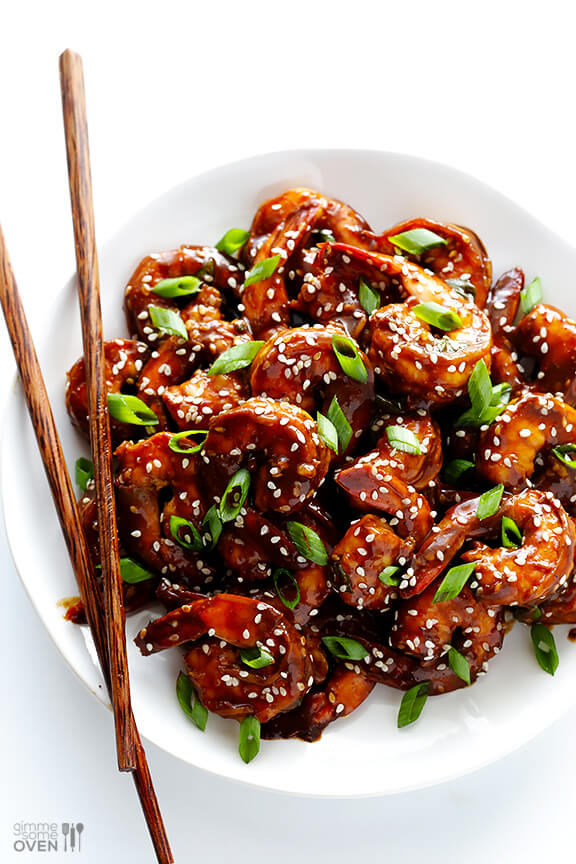 Hope that you enjoy this one!  If you make it yourself, be sure to take a photo and tag it #gimmesomeoven on Instagram or Twitter so that I can check it out.  Bon appetit!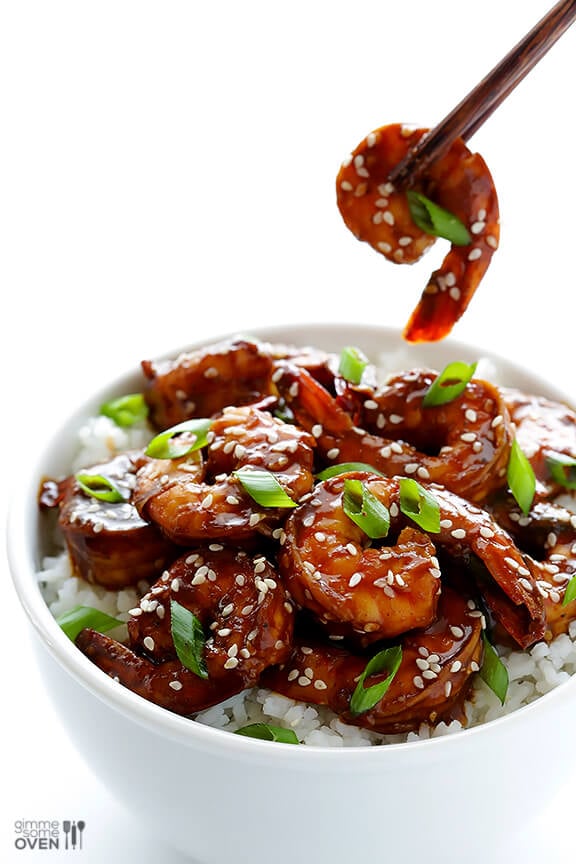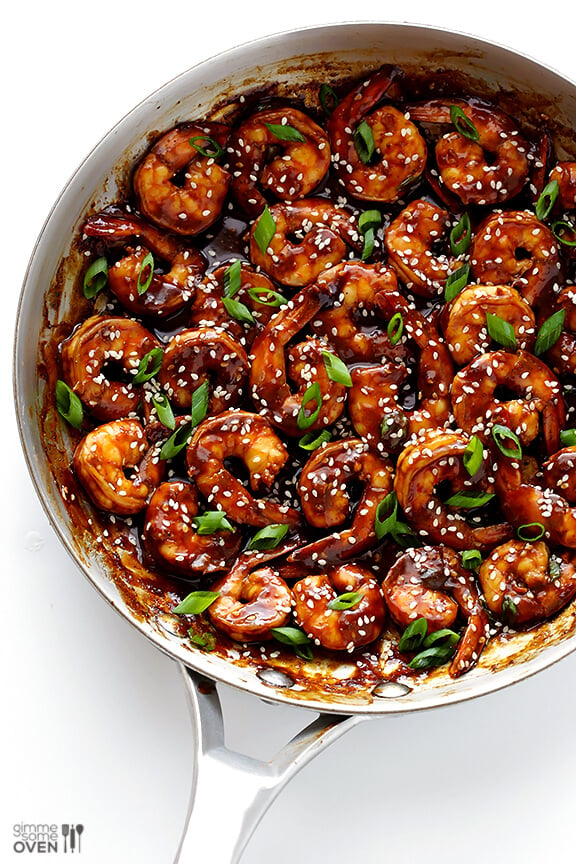 Easy Hoisin Shrimp
This simple hoisin shrimp recipe is quick and easy to make, and packed with amazing flavor!
Ingredients:
1/4 cup hoisin sauce
1 tablespoon rice wine vinegar
2 teaspoons soy sauce
1 lb. shrimp, peeled and deveined
salt and black pepper
1 tablespoon olive oil
(optional toppings: toasted sesame seeds, thinly-sliced green onions)
Directions:
Combine hoisin sauce, rice wine vinegar and soy sauce in a small mixing bowl. Whisk until combined. Set aside.
Pat shrimp dry with a paper towel. Season shrimp on both sides with salt and pepper.
Heat oil in a large saute pan over medium-high heat. Add half of the shrimp in a single layer. Saute for about 2-3 minutes per side, or until shrimp are cooked through and pink. Use a slotted spoon to transfer cooked shrimp to a separate plate. Repeat with the remaining shrimp.
Once the second batch of shrimp is cooked through, add the first batch of cooked shrimp back to the saute pan, along with the hoisin sauce mixture. Saute together for 1-2 minutes, tossing until the shrimp are evenly coated and the sauce is heated through. Remove from heat and sprinkle shrimp with sesame seeds and green onions. Serve warm over rice, quinoa, noodles, and/or veggies.
All images and text ©
If you make this recipe, be sure to snap a photo and hashtag it #gimmesomeoven. I'd love to see what you cook!
This post contains affiliate links.