Easy Shrimp Peel (Shrimp Boil)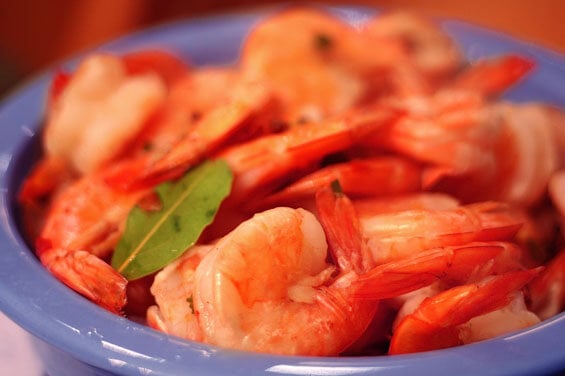 Some families have a Christmas ham.  Others carve roast beef.  My family?
We have a "shrimp peel" every Christmas!!!
Yep.  We're not Southern, but somehow this wonderful little tradition found its way into our Christmas celebration, and we absolutely love it!  Thanks to the delicious seasonings, the shrimp always come out full of flavor.  And best of all, the process is super-simple.  Which…with lots of family around…is always a plus around Christmas!  (And it makes the house smell amazing!!!)
So if you've never tried boiling shrimp, or are just looking for a new way to prepare the little guys, you must give this a try!  It's always a favorite.  :)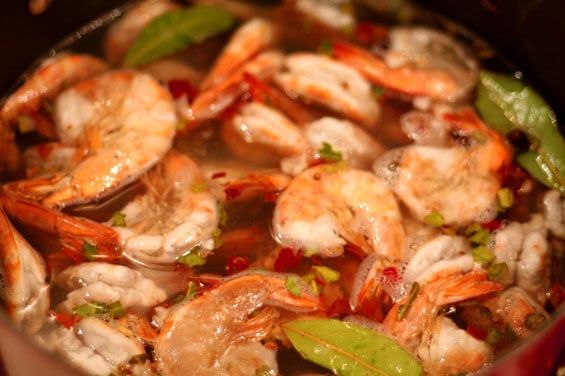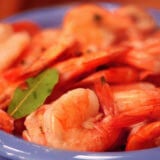 Easy Shrimp Peel (Shrimp Boil)
If you love shrimp, you'll love this Easy Shrimp Peel (Shrimp Boil) recipe! Quick and easy to prepare, and so delicious!
Ingredients:
2 lbs. (or 2 1-lb. bags.) frozen extra-large (or large) raw shrimp, de-veined with shells on
3-4 Tbsp. apple cider vinegar
3 Tbsp. pickling spices
6 bay leaves
1-2 tsp. salt
Directions:
Fill a large pot about 2/3 full of water, and add vinegar, pickling spices, bay leaves and salt. Bring to a boil, and boil for 5 minutes (so that the seasonings continue to sink in).
Then add the shrimp (either frozen or thawed), and stir occasionally. Once the shells are bright pink, and the shrimp inside go from translucent to white, remove the shrimp with a slotted spoon. Serve immediately. (Optional: garnish with lemon and/or melted butter.)
Ali's Tip:
Other options would be to boil some small corn-on-the-cobs and/or halved red potatoes in the spiced water for 5-10 minutes before adding in the shrimp.  You could also throw in some cooked sausage as well!
***Depending on the size of the crowd you're cooking for, feel free to use more shrimp! We generally cook ours in 2 lb. batches, and once the shrimp is cooked and removed, we'll just add another batch of the raw shrimp to the same water. The flavor still comes out just as strong!***
Recipe from my grandmother.
All images and text ©
If you make this recipe, be sure to snap a photo and hashtag it #gimmesomeoven. I'd love to see what you cook!