Easy Sticky Buns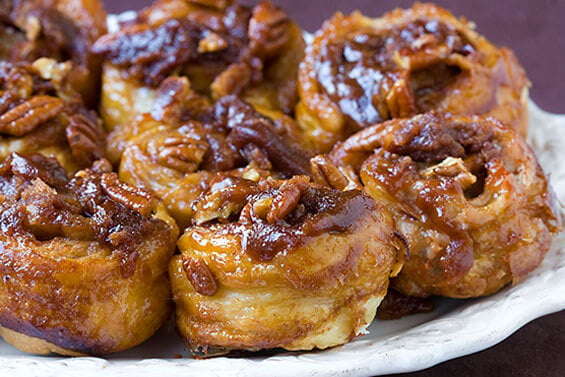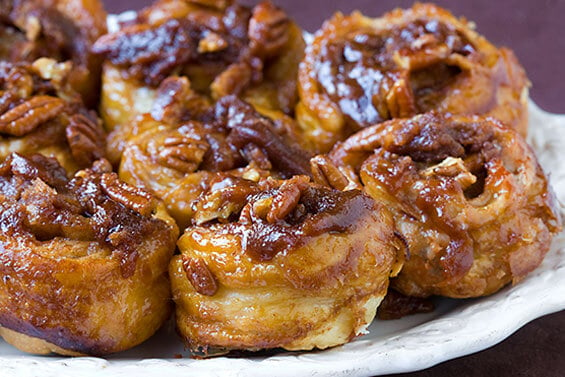 To kick of a morning of meetings on Mardi Gras, I decided to bake up these delicious sticky buns for my coworkers!  YUM!
I have actually had a lovely surplus of puff pastry sitting in my freezer this month, after stocking up from a $0.99 sale at Aldi (wahoo!).  So was excited to put a box to use — especially on a Barefoot Contessa recipe!  I'm telling you — the woman is brilliant.  Still have yet to find a recipe of hers that I don't immediately fall in love with.
Sure enough, they were a-ma-zing.  Thanks to the wonder of puff pastry, the total time from the pastry start to that ooey gooey finish was just 40 minutes.  Love it!  But the best part, of course, was that classic cinnamon, butter, pecan, (and now) soft, flaky puff pastry goodness.  Absolutely irresistible.  :)
Definitely a perfect (and appropriately extra-buttery) way to celebrate Mardi Gras!  But I'm pretty sure these will be gracing my kitchen many more times this year.  Thank you…..Ina!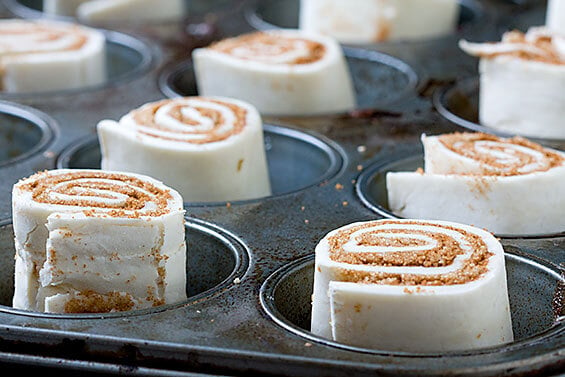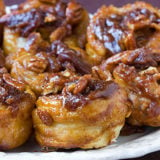 Easy Sticky Buns
You'll love this Easy Sticky Buns recipe! SO delicious, and super quick to make! You can be enjoying fresh, warm, cinnamon-y gooey-ness in no time!
Ingredients:
12 Tbsp. (1 1/2 sticks) unsalted butter, at room temperature
1/3 cup light brown sugar, lightly packed
1/2 cup pecans or walnuts, chopped in very large pieces
1 package (17.3-ounces/ 2-sheets) frozen puff pastry, defrosted
For the filling:
2 Tbsp. unsalted butter, melted and cooled
2/3 cup light brown sugar, lightly packed
3 tsp. ground cinnamon
1 cup raisins (optional)
Directions:
Preheat the oven to 400 degrees F. Place a 12-cup standard muffin tin on a sheet pan lined with parchment paper (to catch any butter that may ooze over!).
In the bowl of an electric mixer fitted with the paddle attachment, combine the 12 tablespoons butter and 1/3 cup brown sugar. Place 1 rounded tablespoon of the mixture in each of the 12 muffin cups. Distribute the pecans evenly among the 12 muffin cups on top of the butter and sugar mixture.
Lightly flour a wooden board or stone surface. Unfold 1 sheet of puff pastry with the folds going left to right. Brush the whole sheet with the melted butter. Leaving a 1-inch border on the puff pastry, sprinkle each sheet with 1/3 cup of the brown sugar, 1 1/2 teaspoons of the cinnamon, and 1/2 cup of the raisins. Starting with the end nearest you, roll the pastry up snugly like a jelly roll around the filling, finishing the roll with the seam side down. Trim the ends of the roll about 1/2-inch and discard. Slice the roll in 6 equal pieces, each about 1 1/2 inches wide. Place each piece, spiral side up, in 6 of the muffin cups. Repeat with the second sheet of puff pastry to make 12 sticky buns.
Bake for 30 minutes, until the sticky buns are golden to dark brown on top and firm to the touch. Be careful – they're hot! Allow to cool for 5 minutes only, invert the buns onto the parchment paper (ease the filling and pecans out onto the buns with a spoon) and cool completely.
If you make this recipe, be sure to snap a photo and hashtag it #gimmesomeoven. I'd love to see what you cook!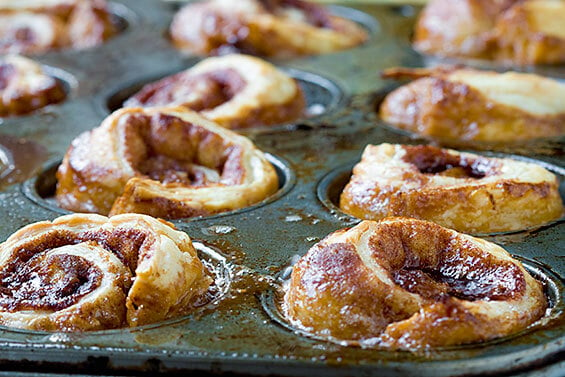 Ali's Tip:
Don't worry at all if your little unbaked rolls are lopsided, or if the pastry is at all cracked in places.  Once they bake, any "imperfections" will turn into delicious perfection. :)