Easy Winter Fruit Salad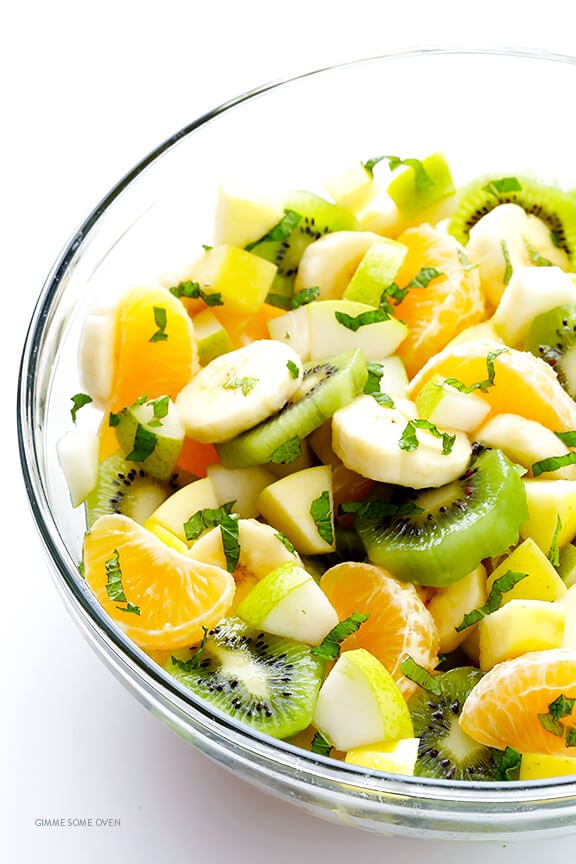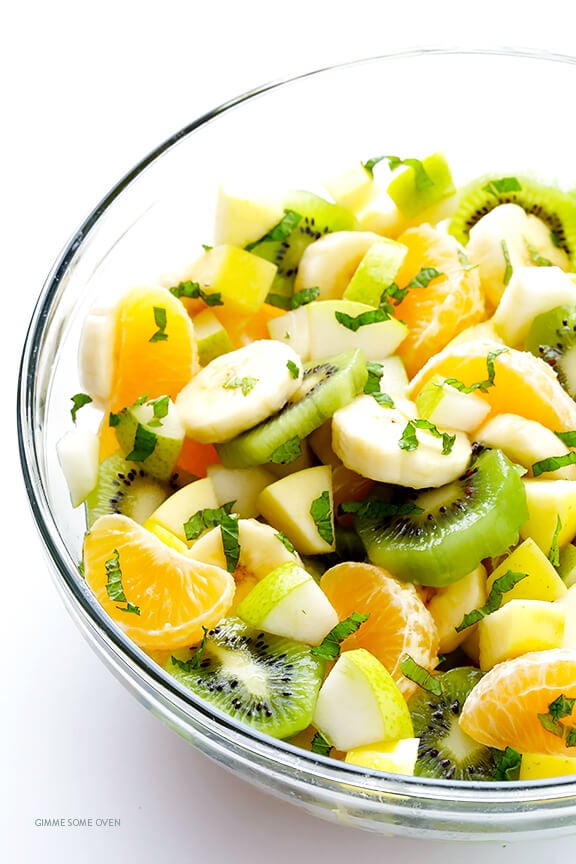 Brrrrr, it finally got cold in Kansas City this past weekend!
Like, crank-up-the-heater, bust out the eskimo-coat-with-its-excessive-puffiness-and-furryness, pad-around-everywhere-in-fluffy-slippers(-that-my-dog-likes-to-attack), guzzle-5-mugs-of-hot-cinnamon-tea-a-day, question-for-the-thousandth-time-why-I-still-live-in-the-Midwest kind of COLD.  Even Henry was shaking like a leaf each time I took him outside.  (Which of course meant that it was time to pull out his handsome little sweaters, which I can't say that I mind.)  ;)
But still, le sigh.
It seems as though winter may be here to stay.  Which means it's time to dive head-on into Operation Survive My Least Favorite Season, which means that when it comes to cooking, it's officially time to bust out one of my favorite seasonal treats — winter fruit!  Even better?  Combine a bunch of my favorite winter fruits into a beautiful winter fruit salad.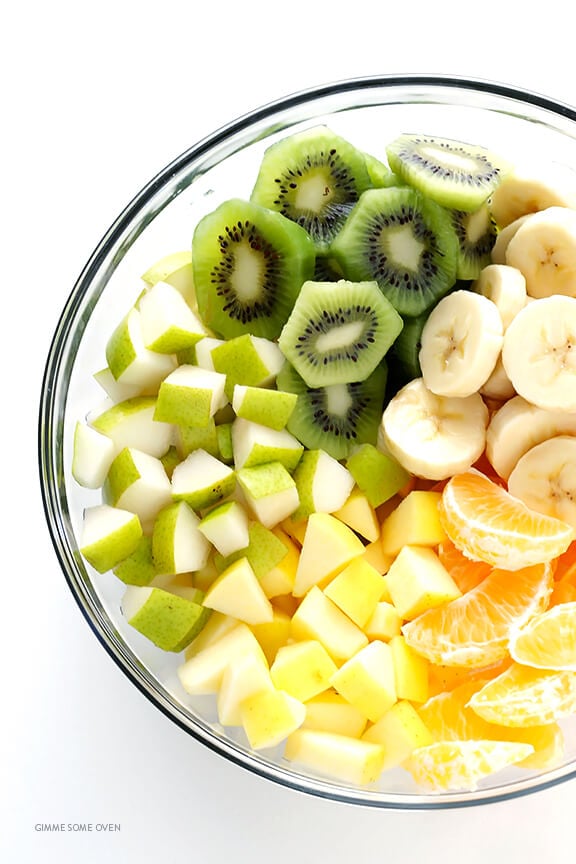 I'll be the first to admit that this salad is nothing super fancy or original.  To be honest, it was purely the product of standing there shivering in the fruit aisle at the market after walking in from the blizzard (ok, "chilly evening") outside, and throwing everything that was remotely sweet and seasonal and colorful in my basket.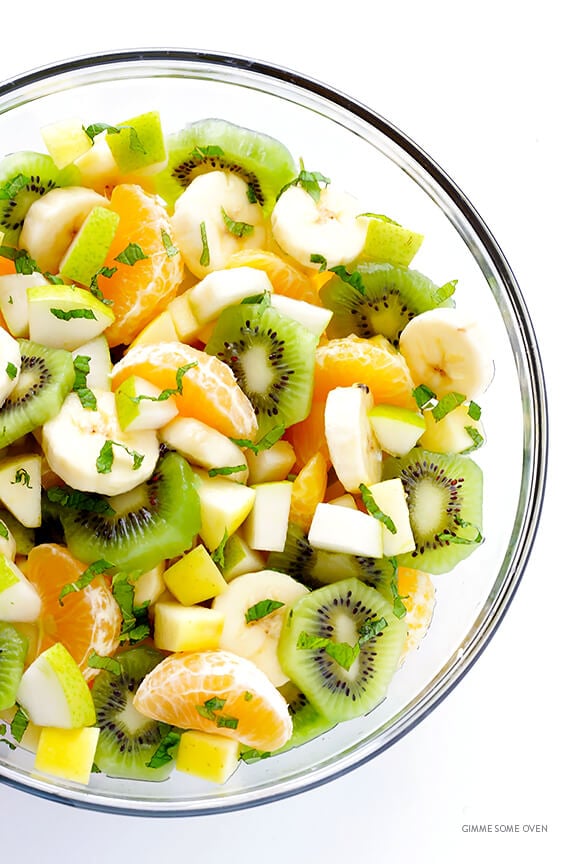 Then when I got home?  I tossed them all together with a little honey and fresh lime juice and fresh mint, and voila — it suddenly looked like summer and sunshine in a bowl!  So pretty, right?!  As was no surprise, it also turned out to be completely fresh and delicious and delightful.
Oh, and bonus, turns out that leftovers of this salad also blend up well into a smoothie!  I just added in a little coconut water and some extra spinach for greens, and voila, it was equally delicious for breakfast the next day.
Definitely a lovely and simple salad for winter — or (hint hint) the holidays that are coming right up — or just anytime you feel like a sweet seasonal treat.  Hope that you enjoy!
Easy Winter Fruit Salad
This Easy Winter Fruit Salad is made with a few simple seasonal ingredients, it's naturally vegan and gluten-free, it looks beautiful on the table, and it's wonderfully sweet and delicious!
Ingredients:
5 kiwi fruit, peeled and sliced into rounds
3 clementine or mandarin oranges, peeled and separated into sections
2 bananas, peeled and sliced into rounds
2 pears, cored and diced
2 yellow apples, cored and diced
2 Tablespoons finely chopped fresh mint
1 Tablespoon fresh lime juice
1 Tablespoon honey or agave
Directions:
Combine kiwi, oranges, bananas, pears, apples and mint in a large bowl.
In a separate small bowl, whisk together honey and lime juice.  Pour the juice mixture over the fruit mixture, then gently toss to combine.
Serve immediately, or cover and refrigerate for up to 2 hours.
All images and text ©
If you make this recipe, be sure to snap a photo and hashtag it #gimmesomeoven. I'd love to see what you cook!