Easy Greek Yogurt Parfaits + Better Blog Retreat
TGIF, everyone!
I thought I would do a little #FlashbackFriday post today to take you back to two of my favorites from this past month — spending time at The Better Blog retreat, and discovering (and subsequently making and remaking and remaking) my new favorite easy Greek yogurt parfaits.  Both are fabulously delicious.
Allow me to tell you a little more…
Better Blog Retreat Highlights
The Retreat
First of all, I would love to tell you about this little retreat I attended — the Better Blog Retreat.
What is a "Better Blog" Retreat, you ask?
Well, this past October, 15 food bloggers and I had the chance to travel to Park City, Utah for a weekend to find out.  And let's just say, it went far and above any expectations we might have had!  I could write pages and pages about all of the amazing little details that made it so special  But let me take you on a little tour at least of the highlights….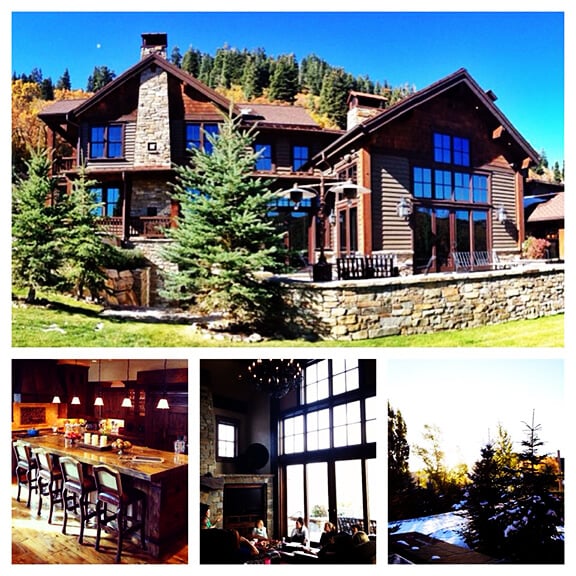 The (Epic) House
So about our little casa…
We had all heard beforehand that the vacation home for the retreat was going to be amazing.  But when we arrived in Park City and began to see Instagrams from others that the house also had its own poetic name, its own elevator, and its own private tunnel entrance, we realized that we were in for a serious treat.  This. House. Was. Stunning!
First of all, Pinon Pines — the Park City vacation home from Anthology Destinations — was absolutely gorgeous inside and out.  It was located only a few minutes' walk from downtown Park City, but felt like its own private little retreat up on the mountain since the house is only accessible via tunnel or ski slopes.  The views were absolutely breathtaking, especially when we were surprised with a picturesque snowfall the first day.  But to be honest, we actually spent pretty much the entire weekend snug as bugs inside of the house because we didn't want to leave.  And because with 8,500 sq ft of living space including 6 bedrooms (and fabulous baths!), a vaulted living room with panoramic views, a warm dining room, sauna, hot tub, home theater, bars, fireplaces galore, and of course an absolute dream kitchen, we had a long list of places to explore!
But even being that large, I was just amazed with how every detail in the house was designed to really make it feel like a home.  Each room somehow felt like that perfect mix of warm and welcoming and cozy, and made everyone just want to snuggle up and enjoy one another's company and just stay awhile.  So we did.  :)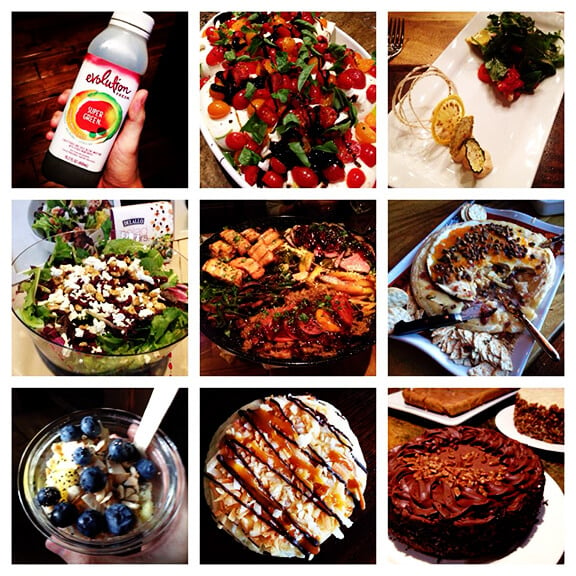 The Food
Anyone following along on Instagram will note that the vast majority of photos taken during the retreat were of — surprise, surprise — the food.  And even then, I think we hardly did it justice, because the weekend was literally a 24/7 gourmet food fest.
It was unREAL.
But the coolest part was that — after from an amazing first night out at a local whiskey distillery — all of the food was prepared homemade in our kitchen at the house!  Kelley was a total superstar, and arranged a menu lineup that featured original recipes from each of the bloggers in attendance, which was so fun!  After reading about one another's food photos online year after year, it was so fun to get to taste so many of one another's recipes meal after meal.  And each of them were collected in the beautiful little retreat cookbook/notebooks that Heidi designed for each of us to take home.  Amazing.
I won't even try to describe every single tasty thing that we ate.  But if you're curious, check out the #bbretreat hashtag on Instagram, and I guarantee, you will immediately be hungry.  I'm craving more of Heidi's burrata just thinking about it…
The Lessons Learned
There are lots of conferences out there now for food bloggers.  And granted, there is plenty to be learned at those.  But without a doubt, nearly all of the most important things I've learned about blogging and small business ownership (and simply surviving the stress of small business ownership!) have come from conversations with bloggers beyond the conferences.  It's those late night pajama parties, the conversations over coffee, and the zillion texts and emails and Google chats throughout the day where connections really happen and some of the best lessons are shared.
So to have an entire weekend devoted to just sitting around and talking was pretty much a total treat.  It was awesome to see how every single person had their own unique strengths and experiences and lessons to bring to the table.  But it was even more awesome to see how generous, open, patient, and giving everyone was in sharing those with one another.  Let me tell you, when bloggers help each other out, it helps our entire industry out as a whole.  Which I love.
Without a doubt, though, the biggest lessons I took away from the weekend were actually from conversations about work/life balance.  Bloggers in general seem to be an exceptionally hard-working crew, for better and for worse.  And when you're in a business that is literally 24/7, and you are the main employee trying to juggle a million hats, there's a reason why so many bloggers are often total workaholics.  I've been one on and off for years, but frankly, I'm tired of working crazy hours.  I adore blogging as my job, but I've never wanted it to be my life.  So I've been working to make some changes since I've been home with priorities, and especially where I spend my time, and I'm happy to say that they are (slowly) beginning to make a genuine, much-needed difference.  Baby steps…
The R&R
Speaking of where we spend our time, I have to give a shout out to our stellar retreat planners for scheduling in some much-needed R&R time into the weekend!
Oh my goodness.  I was just stoked to get to spend a few days relaxing out in the mountains in Park City.  But in addition to being able to soak up the gorgeous house and wonderful friends, we were surprised with a little "spa morning" in the midst of it all!  The amazing team from Zante Spa surprised us by showing up to treat everyone to manicures, food massages and back massages.  And oh my goodness, were they amazing.  The fancy foot massages even brought a whole new meaning to having your "feet held to the flame".  ;)
Also relaxing?
Having three days of homemade meals prepared for you.  Snow falling on cedars outside the door.  A toasty hot tub.  Cushy robes and slippers.  Fireplaces everywhere.  Even an elevator if you didn't want to go up and down the stairs!!
I think this was one of the first blogging trips I've taken when I came home not feeling like I needed another vacation to recuperate!
The Sponsors
One of the other surprises we all discovered upon arrival was that our weekend at the Better Blog Retreat had been generously supported by some of our favorite sponsors.  From the amazing gift baskets that greeted us on our beds, to the amazing food and kitchen gear, to the sponsors who actually came in person to hang out and talk and cook and spend a day with us — we were blown away by their generosity.
Hugest thanks to Anthology Destinations, Chobani, Deer Valley, DeLallo, Harry and David, High West Distillery, KitchenAid, OXO, Sweet Tooth Fairy Bakery, Whole Foods, Wisconsin Cheese and all of our other sponsors for making the weekend so special.  You all are amazing!
The Friends
Without a doubt, though, the best thing about the weekend was getting the chance to just spend time with (starting from pink chevron going clockwise!) Maria, Rachel, Heidi, Sandy, Kristen, Amanda, Jessica, Jenny, Dara, Lori, Gina, Kelley and Lindsay.
I have long said that one of the best surprises about getting into blogging has been the chance to meet so many incredible, talented, hard-working, gracious and stellar bloggers from around the country.  And much more — to be able to call them friends.  Loved hanging out, cooking, laughing, learning, celebrating, heart-sharing, encouraging, snow-gazing, wine-drinking, nail-buffing, food-papparazzi-ing, Jillian-Michaels-ing, pink-lipstick-ing, brie-stuffing, parfait-making, late-night-talking, and simply enjoying life with this great group.
Finally, I want to give mega props and thanks to the two friends who were the thoughtful, hard-working, knock-your-socks-off creators of this entire event — Heidi and Maria.  These two literally poured their hearts, their time, and so. much. energy. into making this a memorable, relaxing, and meaningful weekend for all of us.  Girls, it was a gift.  And I can't thank you enough.
(Be sure to check out these other great write-ups about the retreat from Maria, Amanda and Sandy.)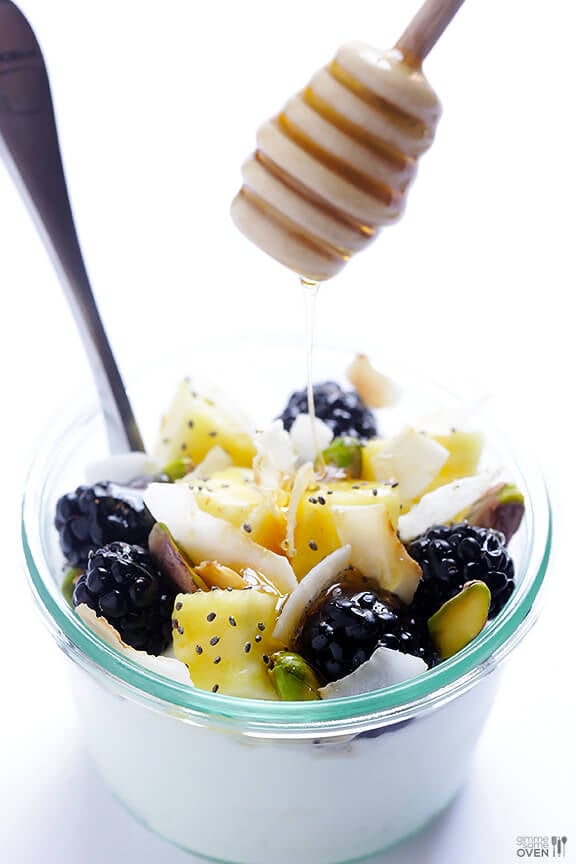 Alright, well all of that said, back to the food!!!  Amongst my many take aways from the weekend was discovering a new breakfast obsessing favorite — this beautiful Greek yogurt parfait.  So I thought it would be fun to share it with you today.
Granted, I have been hooked on Greek yogurt parfaits for years.  But it wasn't until the girls from Chobani came to the retreat and surprised us with a gorgeous breakfast yogurt parfait bar (fab entertaining idea, btw!) that I began to realize how many other sweet and savory ingredients I could be adding to my yogurt.  I began by trying a smoked salmon and capers parfait, which was fantastic.  But my next combination of fresh fruit, pistachios, toasted coconut, chia and honey was my favorite.
So of course, I have been making it at home ever since.  It's ridiculously easy, and something I still seem to get excited about each morning.  So if you are looking for a way to mix up your Greek yogurt routine, I highly recommend giving it a try.
Wishing you all a wonderful weekend!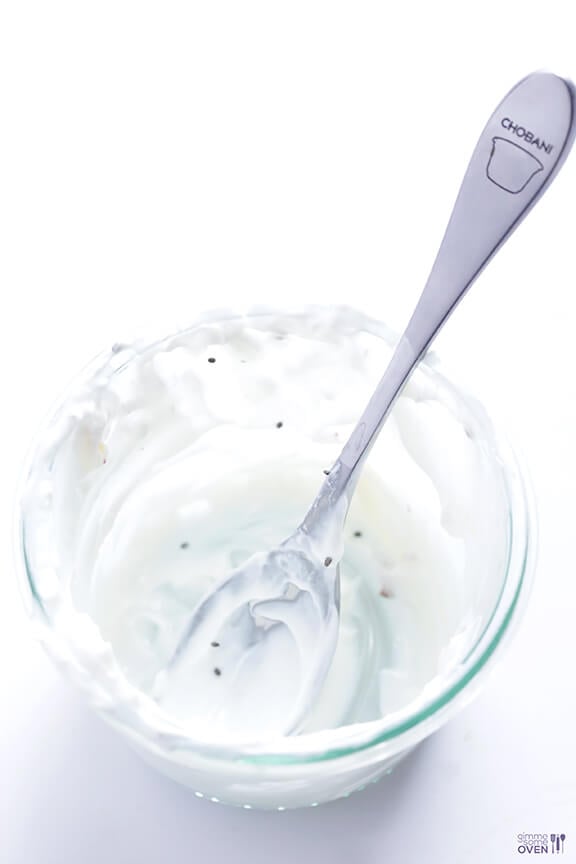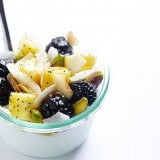 Easy Greek Yogurt Parfait
My new favorite way to enjoy Greek yogurt!
Ingredients:
Greek yogurt (I used low-fat plain Chobani)
fresh chopped fruit (any will work!)
toasted coconut
pistachios
chia seeds
honey
Directions:
Place Greek yogurt in a bowl (or keep in container).  Top with fruit, coconut, pistachios, chia seeds, then drizzle with honey.  Enjoy!
All images and text ©
If you make this recipe, be sure to snap a photo and hashtag it #gimmesomeoven. I'd love to see what you cook!