meet sarah!
This post may contain affiliate links. Please read my disclosure policy.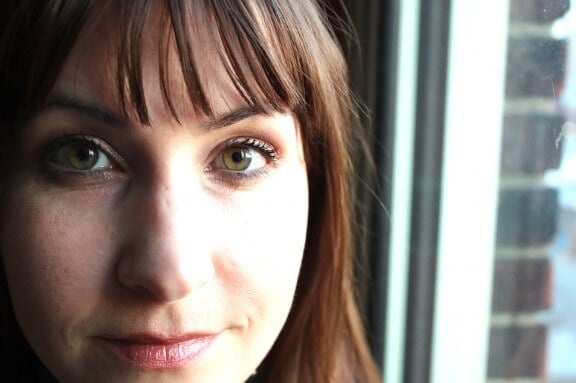 Hi everyone! Ali here, from Gimme Some Oven. I am so excited to introduce you to the new main writer for the Gimme Some Film section of the blog — my amazingly talented friend, Sarah!
We're often asked how we know each other, and it seems like each time we give a different answer — book club, church, friends, work, music, and probably more. Our lives definitely overlap in a bunch of my favorite ways, and we even have some really random things in common (both play keys in the band at church, work at the same place, like to make crazy changes with our hair, realized we randomly have the same duvet covers, and so forth). But one area where I love to learn and be inspired by her is in the world of film.
Sarah loves movies. She knows a ton about movies. She writes screenplays for movies. And she even makes movies! (I even had the chance to work on set for one of her short films this year — it was so inspiring to see her in action!)
But having spent years around friends who proudly call themselves "film snobs", one of the things I love about Sarah is how her love for the art of film completely draws people in. She has a stunningly wide knowledge of everything from indies to blockbusters, actors to directors, oldies to what's in pre-production. But clearly her favorite thing about movies is getting to share and celebrate them with those around her. She is constantly gathering groups of friends to go check out the latest must-see at the theaters, and is even building a house right now with a huge projector screen for movie nights. And everyone loves her for it because you can't help but come away from movie time with Sarah inspired and enriched.
That said, Sarah is clearly perfect to write for Gimme Some Film. But I also can't wait for you to get to know her for the thoughtful, wise, brave, generous, encouraging and beautiful friend that she is. She is someone I deeply respect and admire, and time and again I find myself grateful beyond words for her friendship and love. I can't wait for you to get to know her too!
So read on as I play "interviewer" with Sarah, and learn more about what's ahead for Gimme Some Film!
Interview with Sarah
Ali: You know more than anyone I know about films! And more — you not only watch them, but write them, make them, take detailed notes on every one you've seen, and the list goes on! :)  What is it that makes your heart beat fast about films?
Sarah: I love stories. Simple as that. And films are compact visual stories that can communicate profound truths, provide a couple hours of joy, and even change minds and lives. I love that films are things we still share on a mass-culture scale: Millions of people all over the world have a couple hours of shared experience in common when we all go out and see the newest blockbuster. That's pretty amazing to me.
What are you most excited about with blogging for Gimme Some Film?
I'm excited to relieve my friends from having to listen to me obsess over whatever I've just seen. Now that mission is yours, if you choose to accept it, poor reader. I'm excited to have an answer for people who ask me why I'm taking notes in a movie theatre. I'm excited to work on this blog with you (Ali), Bet and Liz. I'm excited to talk about films with everybody!
What would you say is your life motto?
"Life is a story. Make it a good one." And I don't mean that in a do-crazy-stuff-so-you-can-laugh-about-it-later way. I mean that when I see my life as a story, it helps me keep going when things are tough (every great story includes tragedy), be brave enough to play out the hard scenes, have more sympathy for the characters around me, and work to create happy endings where I can.
Favorites….go!
Film: I have a new favorite film every week. Please don't make me choose! But I do have a stable of comfort films that I watch when I'm down: About a Boy, Bringing Up Baby, While You Were Sleeping (my twin sis and my snow-day movie in high school), and The Departed. (I'll explain why a crime thriller is my top comfort movie in a post sometime).
TV Show: Currently: Supernatural, Fringe, Parenthood, New Girl, Nashville, The Mindy Project, Haven, Sherlock, The Walking Dead. Pastly: Mi-5, Battlestar Galactica, Buffy/Angel, Alias. Yes, you do detect a spy and sci-fi theme.
Director: Like films, I fall in love with a new director every week. That said, I'll watch anything Martin Scorsese, Susan Bier, Cary Fukunaga, Christopher Nolan, Rian Johnson, Joss Whedon, Terrence Malick or the Duplass Brothers make, no questions asked.
Comfort food: The vegan versions of biscuits, apple pie and fresh-baked bread. Strawberry jam. Trader Joe's Roasted Vegetable No Cheese Pizza. Stove-popped popcorn with salt and nutritional yeast (don't ask, just try it).
Piece of furniture: The Eames plywood chairs I bought from my friend Nicole (for design) and the secretary made from a walnut tree from my family's farm and constructed by one of my grandpa's best friends (for sentiment).
Place you've traveled: I love driving through the southwestern desert; I felt really lucky to experience Albania's beautiful, rocky beaches; and I have a favorite running trail in Albuquerque's Sandia mountains.
Signature fashion accessory: Black boots. I have two favorite pairs given to me at different times by different friends (Stacey and Maux).
4-Legged Friend: Copa the Golden Retriever of Gentleness and Adorability
Way to spend a Saturday afternoon: Either going on a long, slow trail run or seeing an afternoon matinee. Or both. Saturday mornings are for writing at Bluebird Bistro.
Place to hang in Kansas City: Bluebird Bistro (I finally achieved my lifetime goal of becoming a "regular" somewhere at this friendly cafe. I don't have to order; they just bring me my usual.) The Westside neighborhood in general. The Alamo Drafthouse Main Street Theatre. The Tivoli Fine Arts Theatre. Manifesto (favorite bar). The Majestic for Sunday night jazz jams.

Tell us a little bit about what is ahead for Gimme Some Film. What sorts of posts can readers look forward to each week?
We will mostly be focusing on all things "movies", but there will also be some TV talk mixed in as we move along. Some of the regular features will include:
In Theatres: We'll chat about a worth-seeing movie currently playing at your local screens
New to DVD: We'll dig into a film you can newly rent or download.
From the Notebook: I'll give you a peek into one of my film notebooks and dish about a film you can rent, download or stream. (You thought I was going to post Ryan Gosling pics every week, didn't you? Don't tempt me.)
Filmmaker Flashcard: Inspired by my friend Michelle's desire to learn the names of directors, every week I'll give you the lowdown (the print-and-cut-out-able lowdown!) on one timely filmmaker. Great for making party small talk or impressing film snob friends with your command of movie trivia! You're welcome, Michelle.
Weekend Watch: A quick Thursday round-up of interesting films playing now, so you can make your weekend movie plans.
In My Queue: I'll pick out five films from my embarrassingly large Netflix queue (yes, they have a queue limit, and I've hit it) and tell you why they are in there. And, yeah, probably try to convince you to add them, too.
Random Film-ness: Other stuff we feel like discussing, including movie marathon suggestions, giveaways (yes, ma'am!), profiles of my favorite movie-watching places, odes to celebrity crushes, whatever. We'll see where this goes, people!
Thanks so much, Sarah! Now the final question actually goes out to you as our readers.
What would YOU like to see ahead on Gimme Some Film?