Fish Tacos with Blueberry-Almond Salsa
Sooo, I just realized this is our third blueberry post on the blog within a week.  Are we all ok with that?
I'm definitely ok with that.
Today's post is a little different than your typical blueberry dessert, though.  Today we're mixing savory with sweet, citrus with some heat, protein from fish with protein from almonds.  Oh, and all of these ingredients just so happen to be extra vibrant and colorful, making these some of the prettiest tacos I've ever made.  Not to mention, some of the tastiest.
Who wants some fish tacos with blueberry-almond salsa?!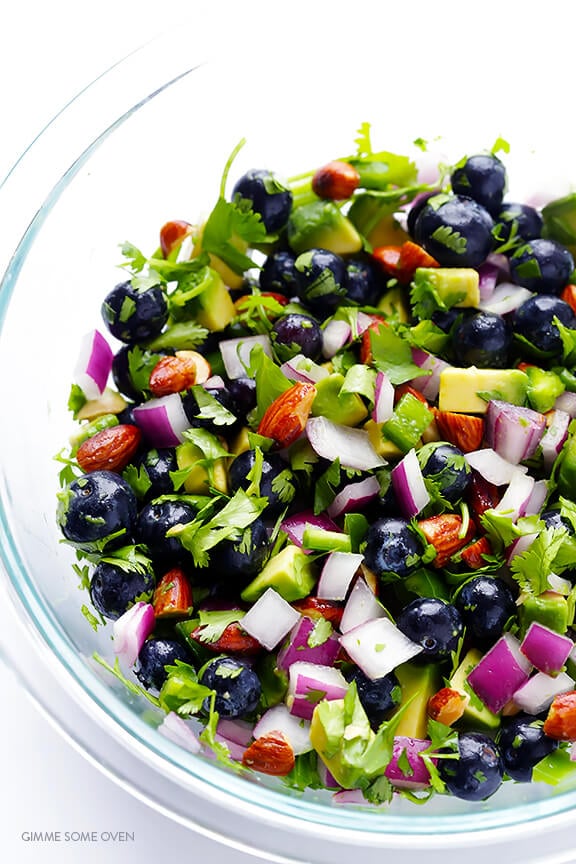 Yes, this recipe happens to fall under the list of random ideas that come into my head at midnight, while laying in bed dreaming up what to make the next day.  (Food bloggers have some weird dreams.)  I admitted in Friday's post that I tend to be a bit of a blueberry hoarder, so I was thinking about how I could use up my latest pint in a more savory sort of recipe.  And all of a sudden, the idea came to me — blueberry salsa!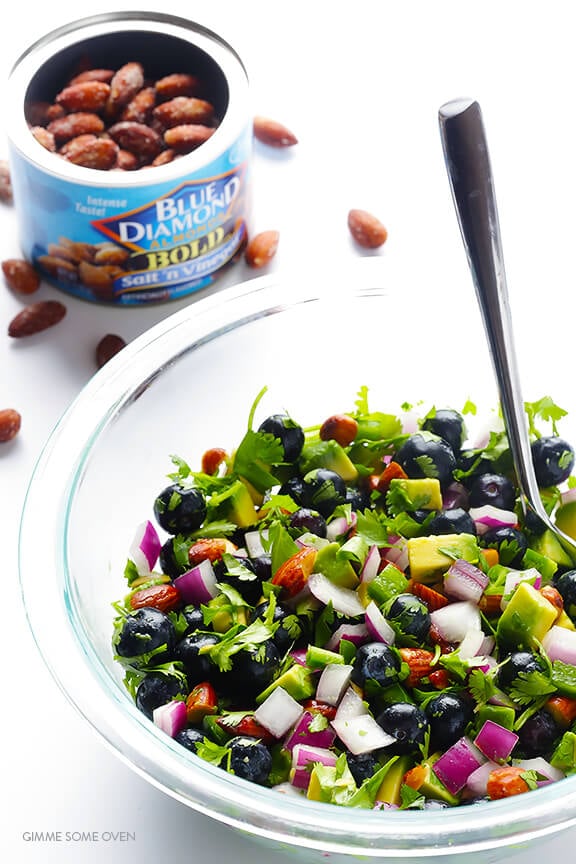 Even better, blueberry-almond salsa.  I've been obsessed with trying to sneak extra protein into all of my meals lately, and all of my snacks in between.  (Hellooooo, Blue Diamond Almonds' new sriracha flavor that I am obsessed with.)  And since blueberries and almonds happen to pair well together, I thought I'd try adding some in along with a little lemon (instead of lime) juice, that also pairs extra well with blueberries.
The result?
Let's just say that I ate the leftover salsa from this recipe with a spoon straight out of the bowl.  SO GOOD.
Turns out that it's also amazing in fish tacos!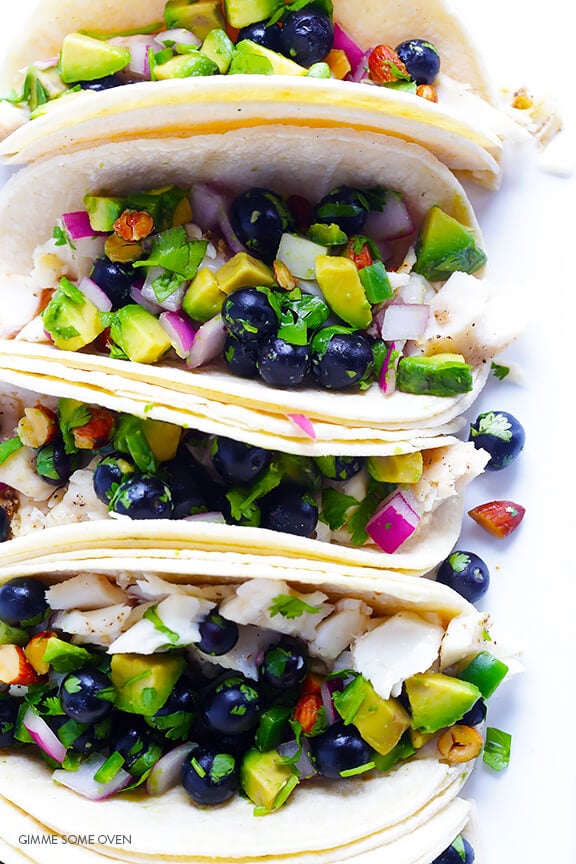 I went ahead and paired mine with some simple tilapia, seasoned with lots of salt and pepper and cumin and a little bit of lemon juice, and folded everything up in some corn tortillas.  (You could use flour tortillas, but I love the taste of corn and they're also gluten-free.)
I considered drizzling on some sort of sauce or some cotija cheese — both of which would probably be lovely — but frankly, I thought the fish and salsa stood well on their own.  The fish was perfectly cooked, mild, and flaky.  The salsa was the perfect mix of sweet and savory and spicy (with the jalapeno), plus those fresh blueberries were juicier than any sauce.  And when folded together in a warm corn tortilla?  Let's just say it was my kind of taco heaven.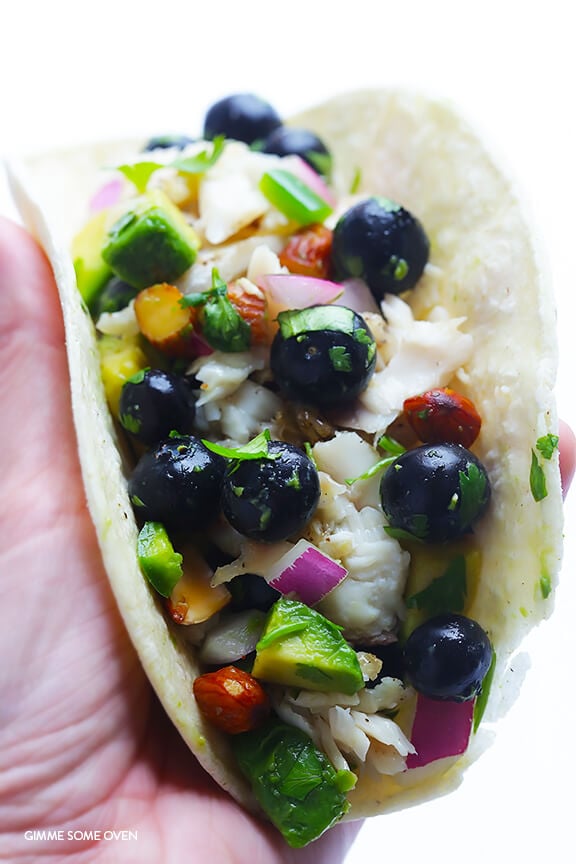 So good, and so good for you.  And hey, another excuse to eat salsa — I'll take it!  :)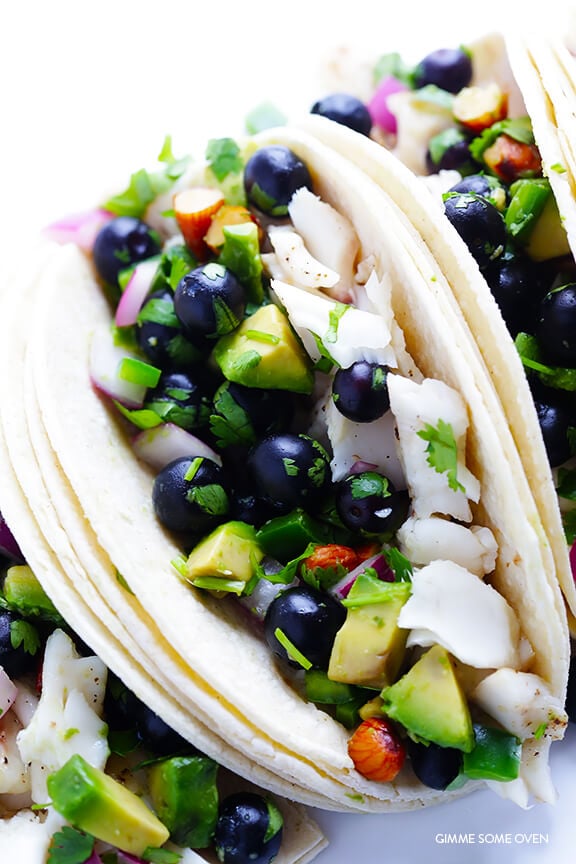 So grab some blueberries and make a batch of these babies soon!
Also, if you need any more blueberry inspiration, we happened to post a round-up of 15 Blueberry Recipes yesterday.  Not obsessed at all… :)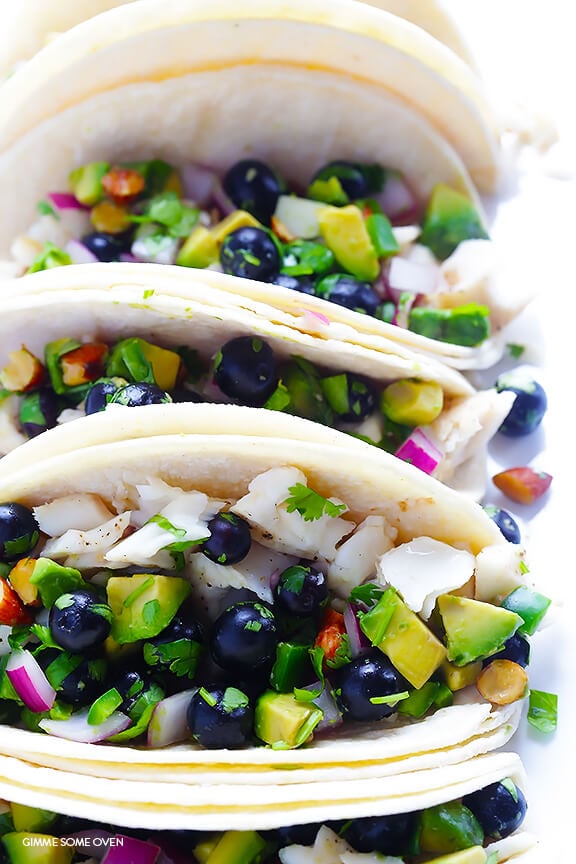 Fish Tacos with Blueberry-Almond Salsa
This recipe for Fish Tacos with Blueberry-Almond Salsa is quick and easy to make, full of healthy and protein-packed ingredients, naturally-gluten free, and it's perfectly sweet and savory and delicious!
Ingredients:
Fish Tacos Ingredients:
1 pound mild white fish (I used tilapia, but cod, mahi mahi, red snapper or catfish would also work)
salt and pepper
1 tablespoon olive oil
8-10 small corn* or flour tortillas, warmed
1 batch blueberry-almond salsa (see below)
Blueberry-Almond Salsa Ingredients
2 cups fresh blueberries
1/2 cup roughly-chopped Blue Diamond Almonds (I used Blue Diamond Salt & Vinegar Almonds)
1/2 cup roughly-chopped fresh cilantro leaves, loosely packed
1 tablespoon freshly-squeezed lemon or lime juice
1 avocado, peeled, pitted and finely chopped
1 jalapeno, stem removed, seeded, and finely chopped
half of a small red onion, peeled and finely chopped
(optional: 1-2 teaspoons honey, if needed to sweeten)
Directions:
To Make The Fish Tacos:
Season both sides of the fish with a few generous pinches of salt and pepper.
Heat oil in a large saute pan over medium-high heat. Add the fish and cook for 2-3 minutes per side, until the fish is cooked through and opaque and flakes easily. (Cooking time will depend on the size/thickness of your fish.) Remove from heat and transfer fish to a separate plate. Use two forks to flake the fish into bite-sized pieces.
Place two corn tortillas together, then fill with the flaked fish and blueberry salsa.  Serve immediately, garnished with lemon wedges if desired.
*If using corn tortillas, I recommend warming them first in a saute pan.  Heat the pan over medium-high heat, then add one tortilla at a time, cooking for 30-60 seconds per side until it is warmed and the edges slightly begin to brown.  OR, you can warm them in the microwave wrapped in a damp towel.  Use immediately.
To Make The Blueberry-Almond Salsa:
Toss all ingredients together until combined.  If you would like a sweeter salsa, feel free to stir in some honey.  (The honey will mix in better if it is slightly warmed up.)
All images and text ©
If you make this recipe, be sure to snap a photo and hashtag it #gimmesomeoven. I'd love to see what you cook!
This is a sponsored post in collaboration with Blue Diamond Almonds.  I am partnering with them to bring you more delicious almond recipes this year, and all opinions are my own as always.  Thanks for supporting the brands who help make this site possible!