Food Photo Sharing Sites: My 3 Favorites, Why They're Worth It, and Tips For Sharing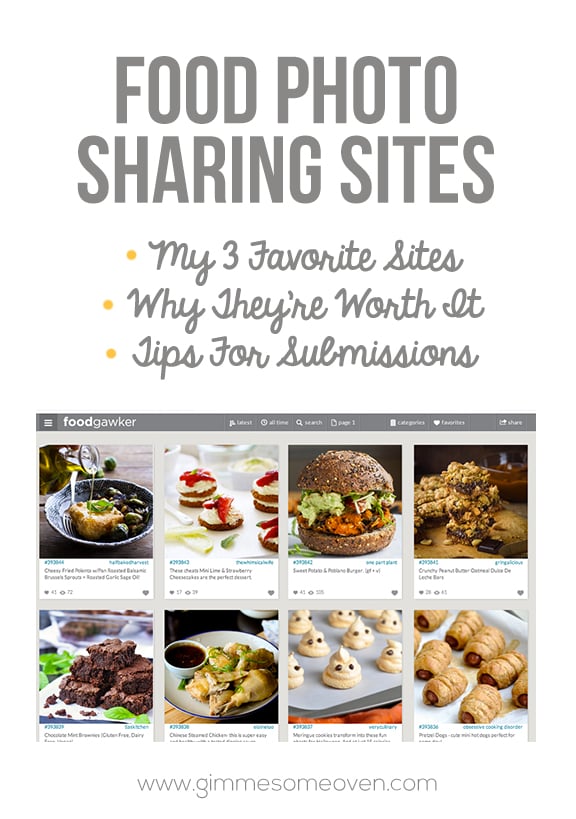 Back five years ago when I first started blogging, there were virtually no food photo sharing sites in existence. None. (And people wonder why food bloggers' traffic was so much lower back then!)
Then sites like Foodgawker and Tastespotting sprung up, and they were suddenly "the thing". I — and just about everyone else — submitted every single recipe I took to these two sites, hoping and praying that those photos would be accepted. (And often scratching my head at some of the random reasons that they used to be rejected.)
Then, Pinterest happened.  And the traffic you could get in a single day from any of the former food sharing sites would pale in comparison to the wave of people coming from Pinterest. So I — and just about everyone else — started dropping the ball on the other sites. And for probably a year or so, I abandoned them completely, mostly just due to laziness and not wanting to do one extra step when publishing a post.
BUT, I think that the tide is coming back around and many of the non-Pinterest food photo sharing sites are back on the rise. Here are my guesses why:
Pinterest can be overwhelming, repetitive, and overrun with collages.
Traditional food photo sharing sites are well-curated, easy to search, beautifully laid out, and collage-free.
They are a great way to discover new bloggers and pinpoint new food trends.
They are exclusively about the food. (I think of it kind of like going to pick up groceries from Target vs. the supermarket. I know that if I go to Target, I'm withoutadoubt going to get sucked into the other part of the store as well and come home with $50 worth of new pillows. But at the supermarket, it's food, food, or food.)
I think that food bloggers are also beginning to see that often food sharing sites bring in traffic that might not show up in Analytics. For example, Buzzfeed — I'm pretty sure that half of their authors search for recipes on sites like Foodgawker. The same goes for sites like Huff Post and other print or online magazines. So while the influx of traffic you get on a recipe may not come directly from those sites, editors may have initially discovered your content there.
Also, as annoying as it may seem to spend an extra 3 minutes submitting a recipe on each of those sites, it is just 3 minutes. And if that can bring in a few extra thousand pageviews on a post over the course of a year, it's probably worth it.
So anyway, yes, I have started trying to submit to food photo sharing sites again. Here are my current favorite three (besides Pinterest), and a few tips for each: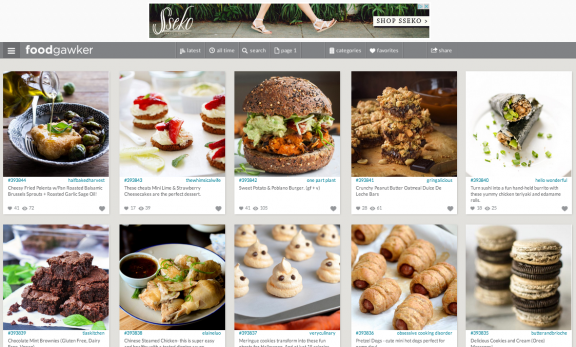 Foodgawker is still the largest of the non-Pinterest food sharing sites out there. And they do a nice job with it. I like Foodgawker because they:
have a great mobile app
update the site regularly
are fairly consistent in how they judge photos
have really detailed search options
have a clear and simple site design
promote bloggers' content on social media
(this is new!) let you crop a photo within the site
Here are a few tips:
You can submit up to 3 photos/recipes at a time (either from the same recipe if you want to give the editors options, or from 3 different recipes).
Don't submit a photo with a bite taken out of it. They're anti-bite.
Sometimes they will judge a recipe within 12 hours, sometimes it's up to 3 days.
You no longer have to specifically size a photo before uploading it; you can crop within the site after it's uploaded.
Use all ten keywords! – why pass up an opportunity to get more search results?

Use anything from ingredients, to recipe courses, to cook difficulty (i.e. "easy", "quick", etc.)

Don't take it personally if you get rejected; read the feedback and feel free to resubmit, or move onto the next one
Images must be at least 550 x 550 pixels wide.
Tastespotting
As you may notice, Tastespotting looks almost identical to Foodgawker. But Tastespotting was actually around first. They haven't always been as consistent with the site as their competitors, though, so thus the fact that many of my food blogging friends no longer submit to them (and their traffic is also considerably lower). Still, they bring in significant traffic each month, so I'd say they are probably worth the submission if you are interested. I like them for many of the same reasons as Foodgawker, although they do not have an app and are often slower to judge submissions.
Here are a few tips:
Food bloggers – don't forget to click "Recipes" as well as "Food" when submitting a new recipe.
You can type in as many keywords as you want (within reason), so you're not limited to 10 like foodgawker!

I recommend typing in all of your main ingredients.

Images must be at least 250 pixels tall and wide.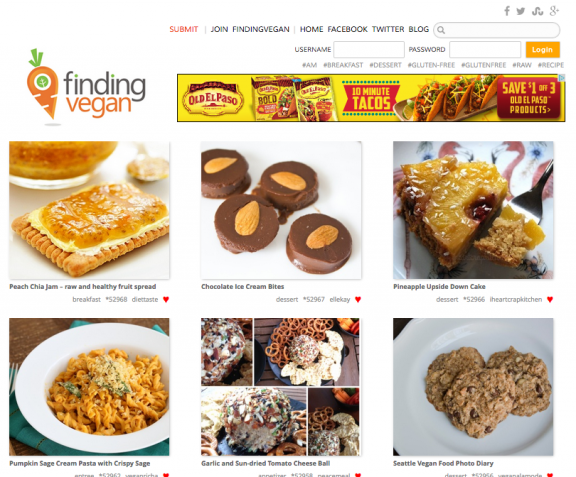 This site is also on the rise right now, and brings in a significant amount of traffic, perhaps because they have less submissions being a vegan-only site. But you don't have to be a vegan-only blogger to submit to Finding Vegan! I highly recommend taking a look through old recipes and going through and adding them to this site. Their readers are super loyal and interested, and it may even bring in a different audience for bloggers who don't normally blog about all vegan recipes. I will say that they sometimes take a long time to approve a recipe — or maybe I've just been unlucky — so don't give up if it takes them awhile to judge yours. A few tips:
Many of the readers on the site are also eating with a specific diet, like paleo, gluten-free, raw, etc., so tag your recipe if it also falls into that category. (See the hashtags at the top of the site for the most popular ones.)
There are unlimited tags, so as I mentioned above, make the most of them!
Images can't be larger than 1000 x 1000 pixels.