foods of new york tour: greenwich village
This post may contain affiliate links. Please read my disclosure policy.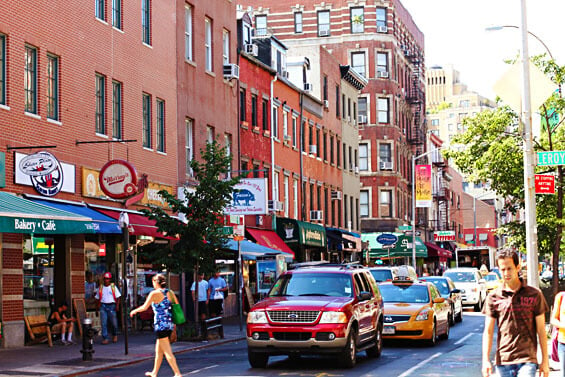 Back in the Big Apple!!!
For the fun culinary adventure of the day, I spent the afternoon in Greenwich Village doing a "Foods of New York Tour". So fun!
We basically spent 3 delicious hours walking around with our group (about 10 of us) and our hilarious (and very knowledgeable!) tour guide. Between all of the zillion interesting facts she shared with us, and all of the yummy foods we were able to sample, the hours were completely enjoyable and flew by!
Here were some of the highlights…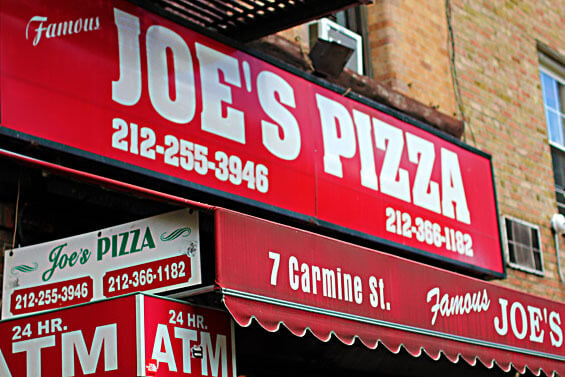 We began the tour today with a NY classic – pizza. (Or as they call it here…a "pizza pie". :-))  Met at Joe's Pizza, which has apparently been around since 1974 and is known for their amazingly delicious, thin-crust, Sicilian pizzas. No toppings necessary. Just the thin crust, crushed-tomato sauce, and a light sprinkling of cheese on top.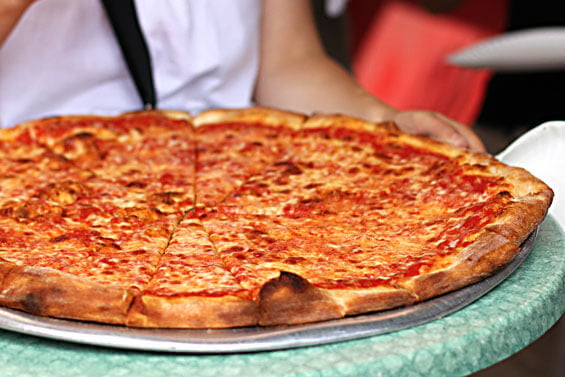 We each sampled a huge piece (and folded it "NY style"), and LOVED it. I'm pretty sure I could have eaten most of that pizza. But alas…the tour moved on….
…To Faicco's! A.K.A — More Italian food heaven. :)
This yummy little place, which has been family-owned since 1900, specializes in all kinds of Italian foods. For example, they make 7 types of homemade sausages and fresh mozzarella (and smoked mozzarella)…daily.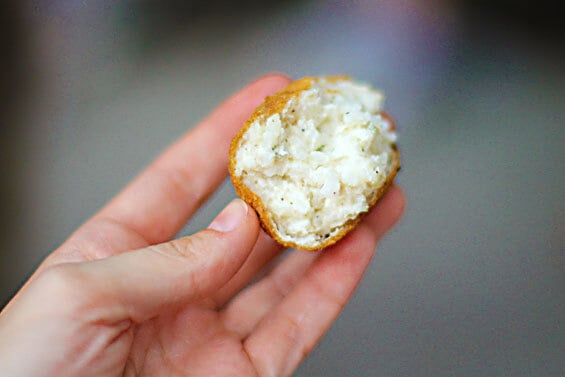 Our sample from Faicco's may have actually been my favorite…and my least-expected favorite…of the day. Our tour guide brought us all out "rice balls" to sample. They looked like little breaded and fried hushpuppies, but once we took a bite, were met with the most surprisingly delicious rice and warm mozzarella mixture ever! Seriously. Delicious. If you're ever in NY, you must stop by and give these a try!
Next we took a quick detour by The Cornelia Street Cafe. In addition to serving a famously diverse menu, this cute little restaurant is also now famous for one of its past employees…Lady Gaga.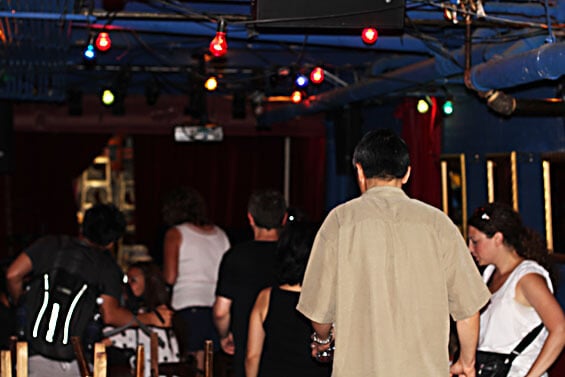 They also have a great little venue in the basement, where all sorts of musicians, poets, and performers regularly take the stage.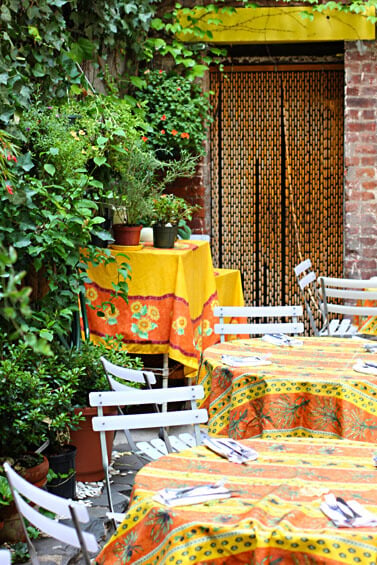 Next we walked across the street to a sweet local Italian-French restaurant called "Palma". I loved the gorgeous rustic French decor inside, but when they took us through the sunny back patio, I fell in love. :)  I couldn't get a great photo, but there were gorgeous flowers everywhere. A perfect, quaint little place to enjoy a beautiful meal!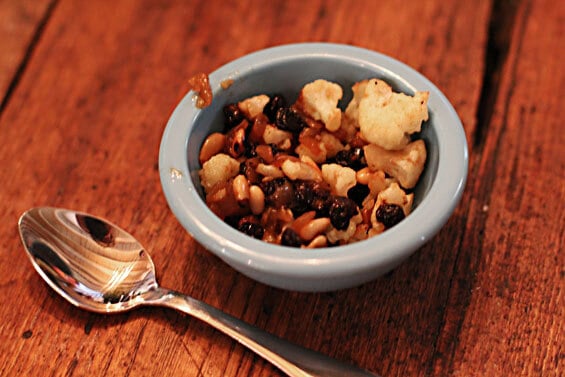 We all ended up walking past the patio into the small back kitchen to sample one of the chef's specialities — "Cauliflower Palma". Basically, it was a sweet and savory mixture of cauliflower, caramelized shallots, roasted pine nuts, currants, bread crumbs, and Tuscan olive oil.
Pretty sure an (attempted) recreation of this recipe will be appearing in my kitchen soon. Absolutely loved the blend of flavors.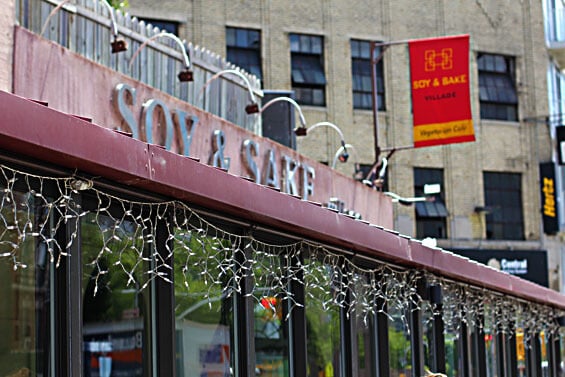 Next we walked over to "Soy and Sake" — an Asian-inspired vegetarian restaurant, that also serves tons of Vegan food. This was actually our stop on the tour where we went in and sat down to have lunch.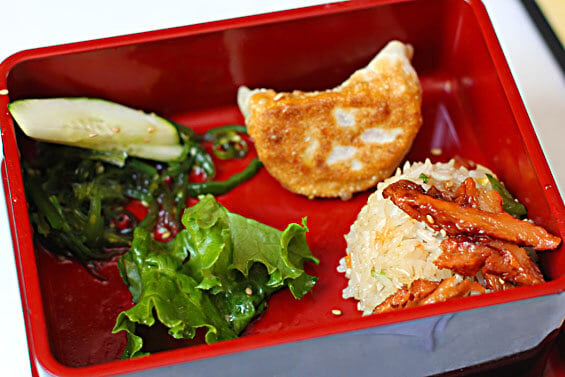 Our menu of the day was a bento box filled with (clockwise) cucumbers and seaweed, a vegetarian gyoza, and fried rice with BBQ "pork".
My friends and family will tell you that 9 times out of 10, I love ordering pork fried rice when we go out for Chinese food. So I was pretty curious about their vegetarian take on this. But I kid you not…it was stellar. The "pork" (whatever kind of soy product it was) was so perfectly marinated and seasoned that it was perhaps the best BBQ pork I've tried. And the rice, along with the gyoza and cucumbers, was fresh and flavorful. Wasn't a huge fan of the seaweed, but then again, I'm not sure I'm too big of a fan of eating seaweed in general. C'est la vie.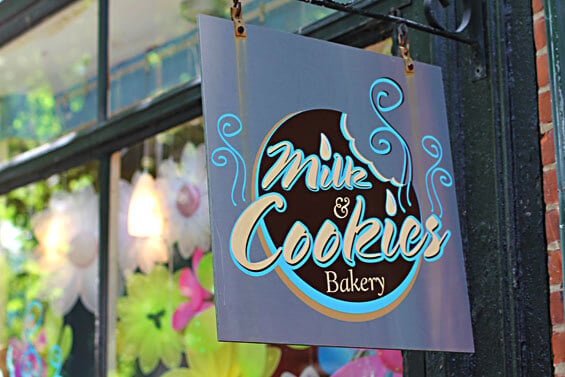 Afterwards, we were stoked to visit a new bakery for dessert. Created and owned by the dean of the French Culinary Institute, "Milk and Cookies" is apparently the trendy new hotspot in Greenwich Village.
From cookies, to ice cream, to cookies-and-ice-cream-sandwiches, to whoopie pies, to milkshakes, malts, sundaes, and more, this place is overflowing with sweetness. :)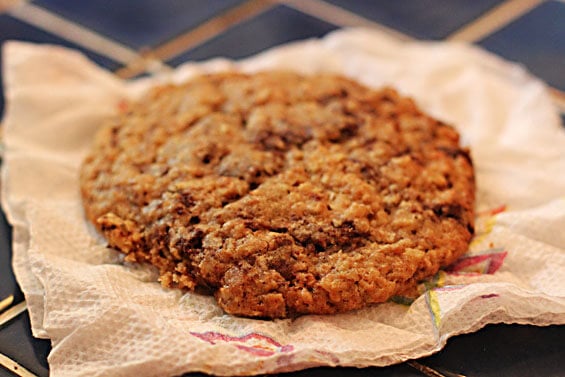 Our "samples" of the day were much larger than we expected. We were each given a huge chocolate chip cookie – warm and fresh from the oven. Even though none of us felt that hungry going in, I'm pretty sure every single bite of those cookies disappeared.
Apparently, though, their famous recipe is now going to be available at Whole Foods across the country. So check the cookie aisle for their new mixes – yum!!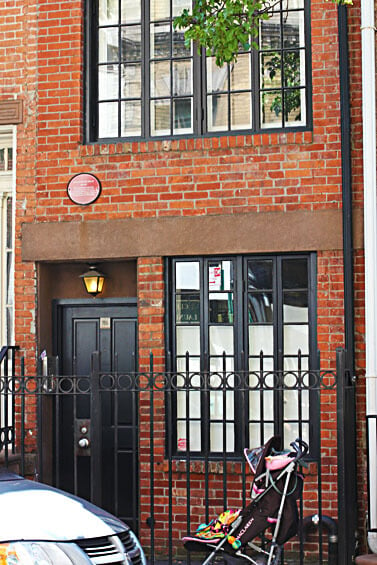 I think we could have stayed there in that delicious-smelling cookie heaven all day. But alas, we packed up our bags and went to walk off some of those calories. :)
Amongst other fun local spots (celebrities' houses, etc.) that our tour guided pointed out during the day were…
This place — the smallest "house" in NYC. It's apparently 9.5 ft. wide, and 30 ft. deep. And….just re-sold for $2.3 million. You do the math!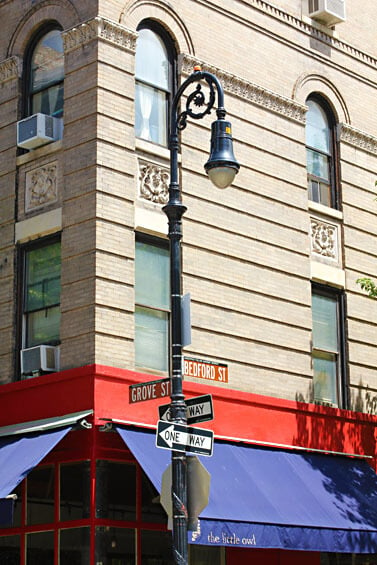 And…while I didn't get too excited about the celeb's houses, I have to admit that I kind of got giddy passing by this place. I know the facade below has changed, but anyone recognize it?
Anyone? Anyone?
It's the apartment (from the outside) from "Friends"!!!!!!! Ah yes. I admit, that show was near and dear to my heart for a decade. And I may still own all ten seasons. ("I'll be there for you…….")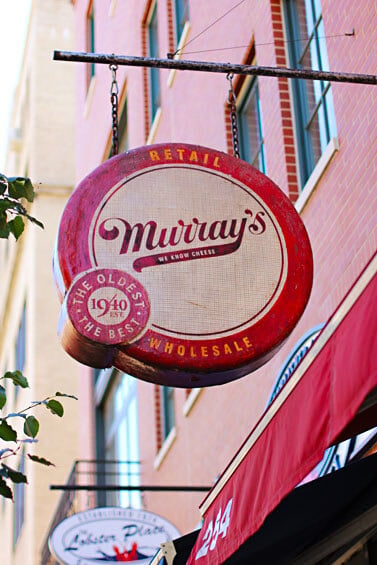 Ok, moving on. :)  Our next stop was the one I was probably most excited about when I read the tour itinerary. You can't tell from the sign, but it's actually called "Murray's Cheese Shop". Oh yes.
In addition to gourmet olives, homemade sausages, and other various Italian specialities, we saw cheese….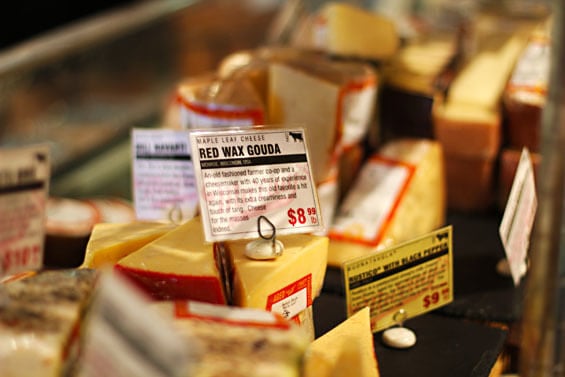 …cheese….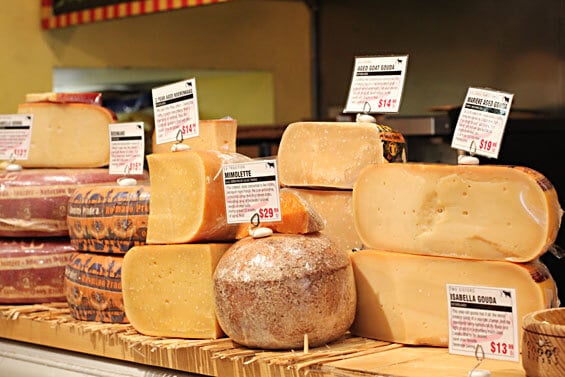 …and more cheese.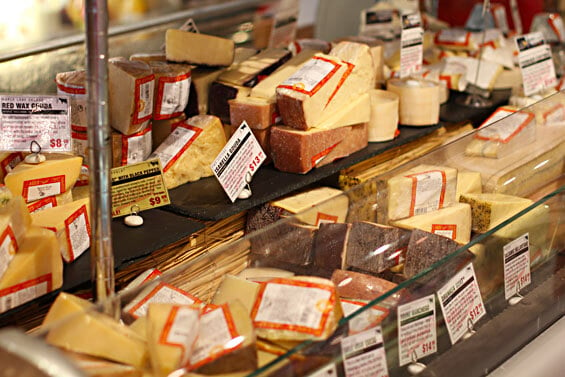 Yep. Heaven.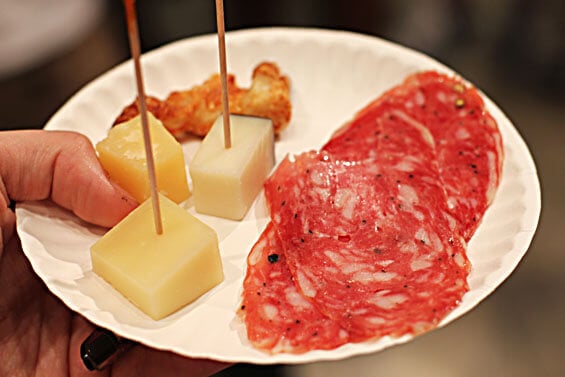 Although we now had zero room left in our stomachs, we all couldn't wait to sample these. Included was a drunken goat's milk cheese, parmesan reggiano, and a Biave (sp?) cheese, along with homemade salami, a cheesy-bread bite, and a Green Nyon olive from France. They were just as good as they look. :)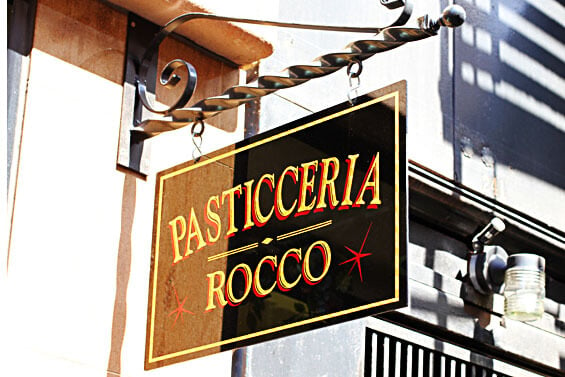 Finally, our last stop on the tour was a final pastry shop — Rocco's Paticceria. Open since 1972, this places is credited with serving the "best canolli's in NY". They even fill them "right before your eyes". It's true. :)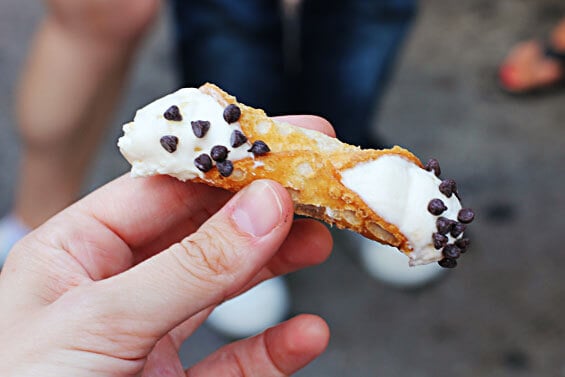 So guess what our samples were? :)  Such a treat.
I think I may have gained 10 pounds on this tour. But holy cow — what a wonderful way to see Greenwich Village!
So thanks so much to our wonderful tour guide (pictured above!) for such an afternoon! And thanks to my neighbor, Kathleen, for recommending this great company! :)  Next time you're in NYC, you should definitely put this on your list.
I did the 3-hr Greenwich Village Tour, but they also have options for visiting Chelsea Market (and the Meatpacking District), Central Village (and Soho), and Chinatown, as well as a Japanese Tasting Event. Yum, yum, yum and yum. :)  They even send everyone home with a coupon book to every place we visited as well.
So thanks to Foods of NY Tour for such a wonderful afternoon!