Freezer Breakfast Burritos
This post is sponsored by Old El Paso.
I don't know about you, but there seems to be a direct correlation in my life between the temperature outside and the number of times I hit the snooze button.
The colder and colder it gets –> the more I snooze and snooze.
I always thought that people "grew out" of the temptation to hit that blessed button, that there was some magical moment after graduating college when you became an adult and suddenly sprang out of bed perfectly on time in the mornings.  But I'm pretty sure that I still hit the snooze button with the vigor of a 16-year-old on a Monday morning.  Just. A. Few. More. Minutes. Pleeeeeeeease.
At 32, I'm beginning to accept the fact that winters were made for hibernating, and 5 more minutes in my warm bed will probably always win out over 5 more minutes to prepare breakfast.  So instead, I adapt, and stock my pantry and my fridge and my freezer with ready-to-go breakfast options that I can feel good about.  One of my recent favorites?
These easy breezy freezer breakfast burritos.
Because when given the option of Mexican food vs. just about anything else, I'll give you one guess what usually wins.  ;)
Especially when there's the option of eating Mexican food for breakfast, wrapped up in these easy freezer burritos that are easy to make, take just 1 minute to heat back up, and are perfect for snooze-button-happy mornings when you're on the go.
And bonus?  You can prepare a few weeks' worth of them in under and hour, and customize them just about however you'd like.
I like to keep mine pretty simple by just sauteing up a simple breakfast hash with potatoes (you can use any kind, or even take a shortcut with frozen diced potatoes), red pepper, onions, and black beans — given a Mexi twist with a can of diced green chiles, cumin and garlic.  Then I just roll it up in some burrito-sized tortillas with scrambled eggs and shredded cheese.  And in the time it would take you to hit the snooze button 5 or 6 times, almost three weeks' of breakfasts will be ready to go!
Of course, the options for customizing freezer breakfast burritos are limitless.
Want some extra protein?  Feel free to saute up some breakfast sausage or bacon or diced ham to add to the filling.  Want to turn up the heat?  Add in a jalapeno to your saute, or use some zesty Pepper Jack shredded cheese.  Want to add more veggies?  Anything from zucchini to butternut squash to broccoli slaw would be delicious sauteed (or roasted) and added to the burritos.  Have kids who don't dig black beans?  Feel free to sneak some refried beans into the filling for some extra protein.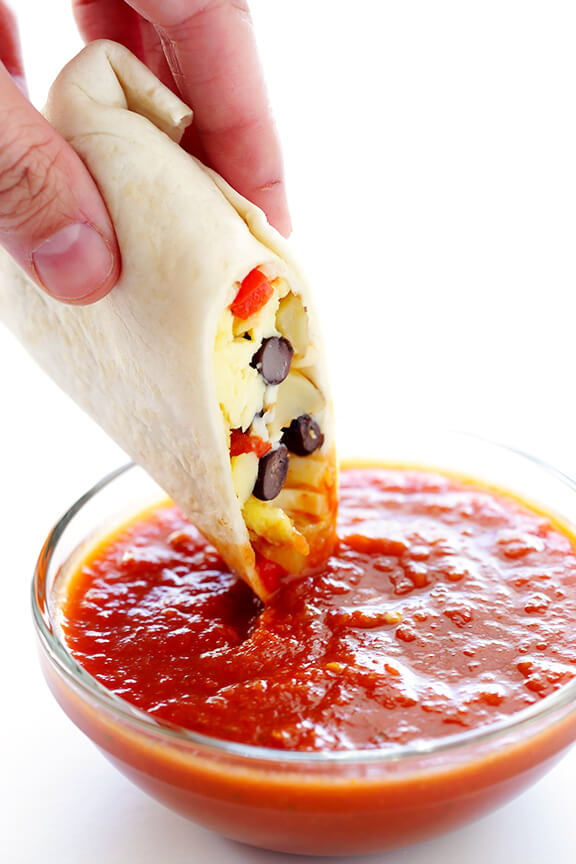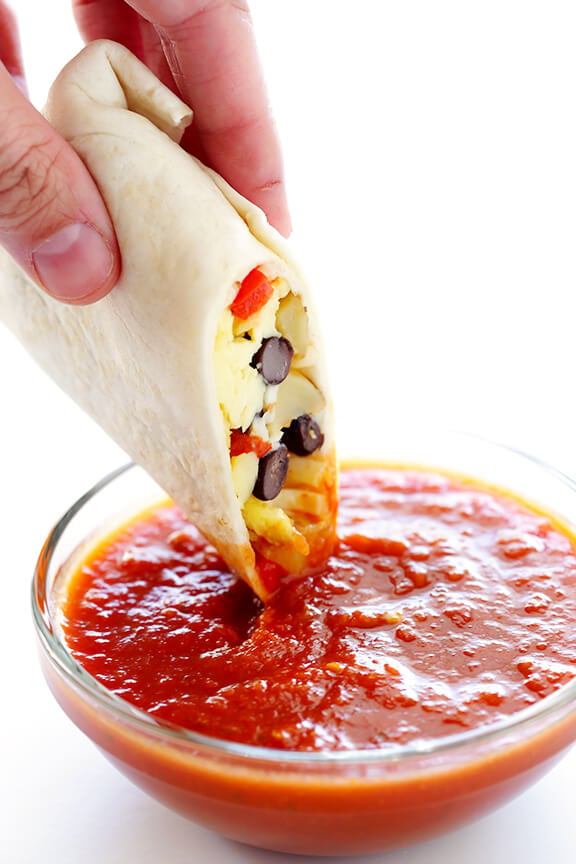 Basically, the burrito sky is the limit.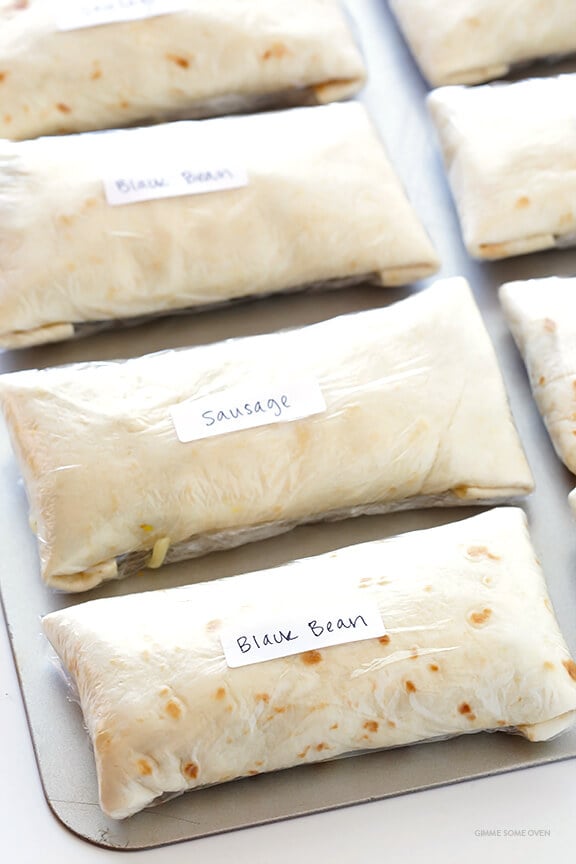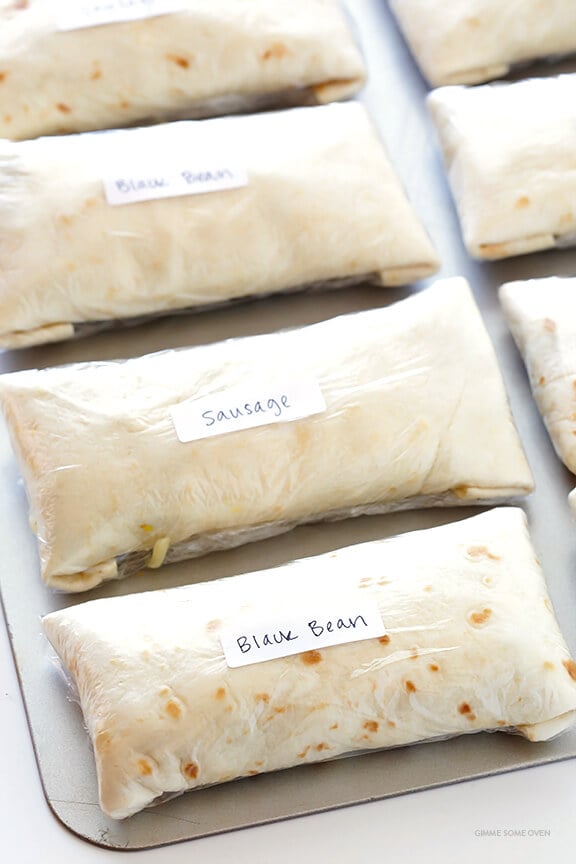 And the results are so speedy, so simple, and so satisfying.
So if you also share that particular fondness for the snooze button, or if you're just looking for some easy options for ready-to-go breakfasts, I'd say it's time to get rollin'…some tasty breakfast burritos.  ;)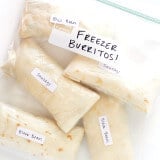 Freezer Breakfast Burritos
This Freezer Breakfast Burritos recipe is simple to prepare, easy to customize, and absolutely delicious!
Ingredients:
12 large eggs
1/4 cup milk
salt and pepper
2 Tablespoons olive oil
1 medium white onion, peeled and diced (about 2 cups)
1 pound Yukon gold or red potatoes, diced into 1/4-­inch cubes
1 large red bell pepper, cored and diced (about 2 cups)
1 (4-­ounce) can Old El Paso chopped green chiles
2 teaspoons salt
1 teaspoon ground cumin
1 (15-ounce) can black beans, rinsed and drained
2 (8-­count) packages Old El Paso large (burrito-­sized) flour tortillas
2 cups (8 ounces) shredded Pepper Jack cheese (or the cheese of your choice)
(Optional: salsa, for serving)
Directions:
Begin by making your scrambled eggs. In a large bowl, whisk together eggs, milk, and a generous pinch of salt and pepper until smooth. Heat a large saute pan that has been misted with cooking spray (or spread with a teaspoon of oil) on the skillet over medium heat, then add the eggs and cook for 4-­6 minutes, stirring occasionally, until they are scrambled and cooked through. Transfer to a separate plate and set aside.
Meanwhile, while your eggs are cooking, heat the 2 tablespoons of olive oil in a large saute pan over medium­high heat. Add onion and saute for 3 minutes, stirring occasionally, until the onion is mostly cooked and slightly translucent. Add the potatoes and bell peppers, and stir to combine. Continue cooking, stirring frequently, for 7­-10 more minutes, or until the potatoes are tender and cooked through. Stir in the black beans, green chiles, salt and cumin, and continue cooking for 2 more minutes. Then remove the mixture from the heat, and set aside.
To assemble your burritos, spread out a large sheet of plastic wrap on a flat surface and lay the tortilla squarely in the center of it. Add a large spoonful of scrambled eggs in the center of the tortilla (roughly 1/4 cup), followed by another large spoonful of the potato mixture on top of the eggs, followed by a few tablespoons of shredded cheese on top of the potato mixture. Fold the two opposite sides of the tortilla in so that they meet and overlap, then fold in the two remaining open ends so that the entire burrito is sealed. Wrap it tightly in plastic wrap so that the entire burrito is very tightly sealed. (I find it easiest to fold the plastic wrap over the two short ends, then the longer sides of the burrito.) Then transfer burritos to the freezer, where they will last for up to 3 months.
To thaw the frozen burritos, remove the plastic wrap and place a burrito on a microwave­safe plate. Microwave for 60-­90 seconds, or until warmed through. Serve plain or with salsa, for dipping.
If you would like to add sausage, simply brown 1 pound of breakfast sausage (or more, if desired) and add it to the existing burrito filling, portioned evenly between all of the burritos.  Or you could also add bacon or ham or tofu, if you're looking for different protein.
If you would like spicier breakfast burritos, saute 1 jalapeno (stem removed, and finely diced) along with the potato mixture.
All images and text ©
If you make this recipe, be sure to snap a photo and hashtag it #gimmesomeoven. I'd love to see what you cook!
This is a sponsored post in partnership with Old El Paso.  I am partnering with them this year to create some fresh, new Mexican recipes to share on the blog, and all opinions are my own as always.  Thanks for continuing to support the brands who help make this site possible!