Fresh Vietnamese Spring Rolls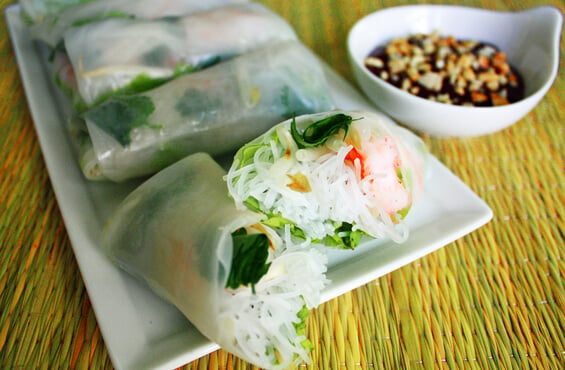 Every time I return home to Wichita to visit my folks, it's a "must" that we pay our traditional visit to Saigon, one of my favorite hole-in-the-wall Vietnamese restaurants downtown. Within about 2.2 seconds of placing our order, they always whisk out my favorite appetizer – fresh spring rolls. And me oh my, they are hea-ven-ly…and so much healthier than their Chinese deep-fried counterparts!
Thankfully, they're quite simple to make at home too, so don't be intimidated by the ingredients! They can all be found at a normal grocery store. (So a trip to the asian food market isn't necessary unless you have a favorite brand of hoisin sauce that you like!) For the sake of nostalgia, I've only included the ingredients used in my favorite version at Saigon, but you can literally throw whatever other veggies or fresh herbs you'd like in these as well. (This is a great way to use up leftover veggies in your fridge!)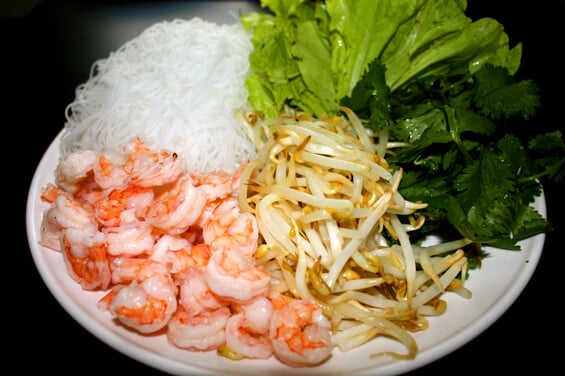 Fresh Vietnamese Spring Rolls
A delicious (and healthy!) recipe for Vietnamese Spring Rolls — made at home! Detailed instructions and photos included.
Ingredients:
1 (7 oz.) package dried rice noodles (Chinese vermicelli)
8 rice paper wrappers
lettuce leaves (the softer, the better)
bean sprouts
fresh cilantro, stems removed
cooked shrimp, sliced in half lengthwise
(Optional: sliced cooked pork, julienned cucumber or carrots, shitake mushrooms, or other fresh herbs such as
basil, mint, or vietnamese coriander)
1 cup hoisin sauce (if sauce is super-thick, add a few tbsp of warm water to dilute)
1/4 cup creamy peanut butter
1 tbsp. rice wine vinegar
1/2 tsp. garlic powder
2 tbsp. crushed peanuts
Directions:
Bring a medium saucepan of water to boil. Boil rice vermicelli 3 to 5 minutes, or until al dente, and drain. Fill a large bowl (or I used a pie pan) with warm water, and then gently dip one rice paper wrapper in the water for 3-5 seconds to soften. (Be careful not to over-soak the wrappers!) Remove, and lay on a flat surface.
Now the fun begins! In a horizontal row across the center of the wrapper, first place your lettuce (this gives strength to the bottom so that the other ingredients don't poke through), leaving at least 2″ space on the right/left sides. Then layer your rice noodles, a few beansprouts (I generally used 5-8), 3-4 shrimp halves, and cilantro on top of the lettuce.
Fold the top side of the wrapper tightly over the mixture, and then fold over the right and left sides (taking care to pack in the filling so that it's nice and snug!), and then finally roll the pack over the remaining bottom side. Repeat with remaining ingredients.
Finally, whisk together hoisin, peanut butter, rice wine vinegar and garlic powder in a small bowl until the sauce is well-mixed and smooth. Top with crushed peanuts.
For extra loveliness, use a knife to slice the springrolls on a diagonal for serving.
All images and text ©
If you make this recipe, be sure to snap a photo and hashtag it #gimmesomeoven. I'd love to see what you cook!