German Potato Salad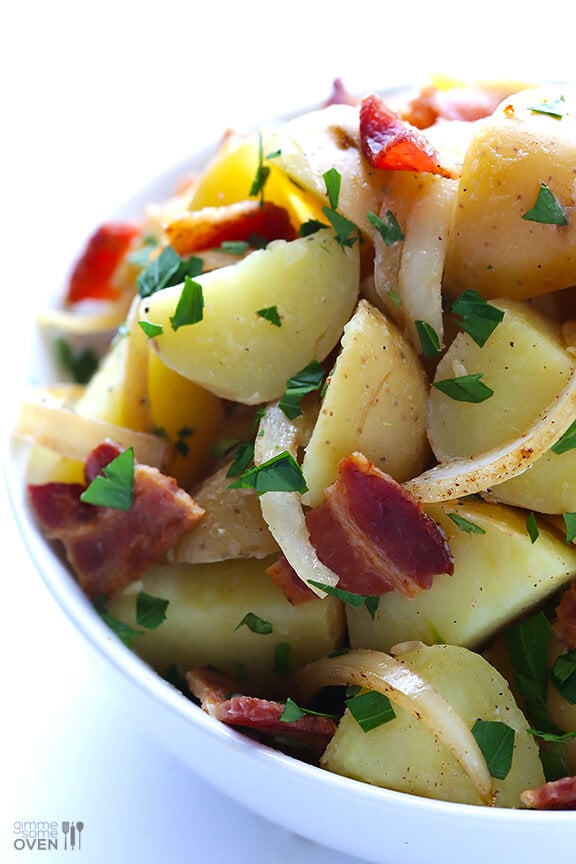 Guten tag, meine freune!  
Ok, I had to look up the "my friends" part of that on Google translate.  Clearly my German is not quite on par with my Spanish.  But hey, on the day that this post goes live, I will have already spent a week in Austria and Germany during my European adventure.  So hopefully my vocab will have at least improved a little by then.  One thing's for sure, though — I know that I will have already consumed lots of potatoes by then!
Oh man, if there's anything I remember about traveling through Germany in high school, it was the potatoes and sausage.  So many potatoes and sausage!  I'm not too big on the latter, but I have to hand it to the Germans with how they serve their potatoes, especially in potato salad.  I remember lots of potatoes garnished with parsley, usually tossed in a light vinegar dressing, sometimes onions, and always blessedly mayo-free.  (Yes, I'm probably the one food blogger who could do without mayo in life.)
So when my sister was in town about a month ago and we were needing for a side to go with our dinner, we decided to make a German-style potato salad in honor of our upcoming trip.  We tossed ours with lots of bacon, and also sauted the onions in the leftover bacon grease for extra bacon-y flavor.  And per custom, dressed the whole thing in a light apple cider vinegar dressing.  Super easy, and super good.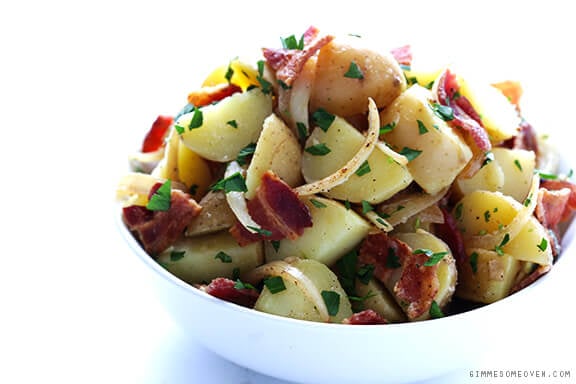 Here's how to make it!
Just boil some buttery Yukon gold potatoes until they are cooked, and then drain and cut them into bite sized pieces.
While the potatoes are cooking, though, cook your bacon in a saute pan until crispy.  Then saute your onions in the leftover bacon grease until they are cooked.
Once the potatoes are done, add them to a large bowl.  Then top with the cooked bacon and onions, and add in some vinegar, salt and pepper, and toss to combine.  Top the whole thing with some fresh parsley…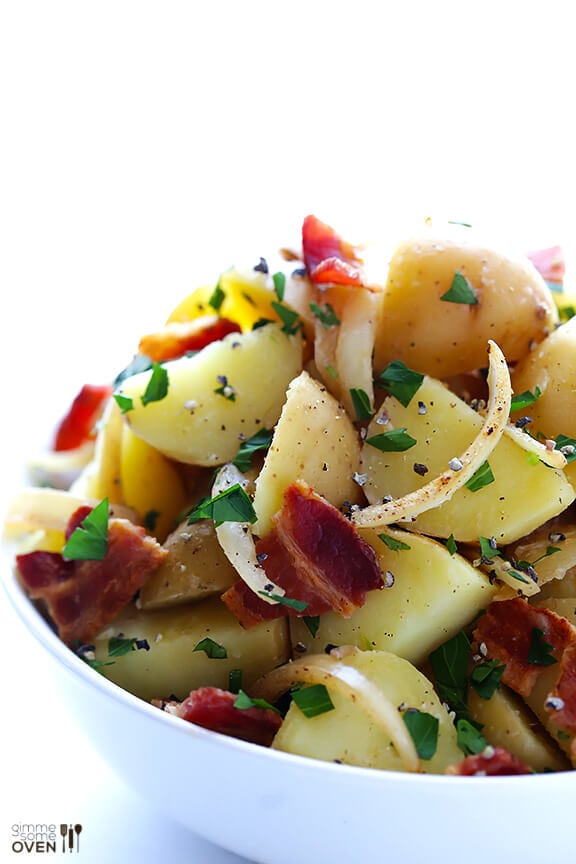 …and then serve it warm!  Or you can cover and toss the salad in the fridge, and serve it cold later.  Definitely a delicious and simple potato salad, especially for the non-mayo-fans amongst us.  :)
Enjoy!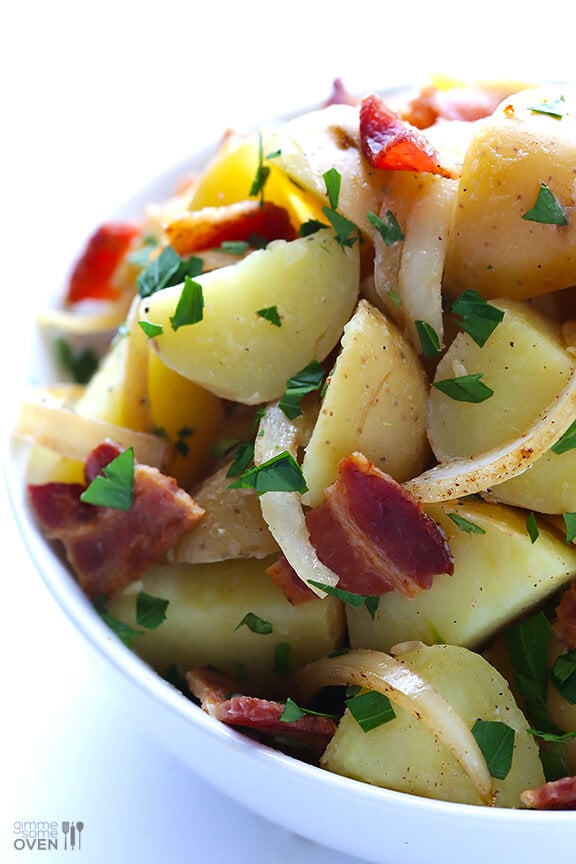 German Potato Salad
This simple German potato salad recipe is made with bacon and onions and tossed in a light vinegar dressing.
Ingredients:
2 pounds Yukon gold potatoes
8 thick slices bacon
half a large yellow onion, peeled and thinly sliced
1/3 cup apple cider vinegar
1 teaspoon salt (plus extra for salting the potato water)
1/2 teaspoon coarsely-ground black pepper (or more, to taste)
¼ cup chopped fresh parsley leaves
Directions:
Add potatoes into a large stockpot and cover with cold water that extends at least 2 inches above the potatoes. Stir in a generous pinch of salt. Bring to a boil over medium-high heat. Reduce heat to medium, and continue cooking until potatoes are tender when pierced with a fork, about 15–20 minutes.
Meanwhile, cook bacon in a large saute pan over medium heat until crisp, stirring occasionally, about 10-12 minutes. Transfer bacon with a slotted spoon to a plate that has been covered with paper towels, and later break it into small pieces. Reserve 1 tablespoon of bacon grease in the pan, and discard the rest. Add onions to the saute pan and cook in the reserved bacon grease for 5 minutes, stirring occasionally, until cooked and translucent. Remove from heat and transfer onions to the plate with the bacon.
When the potatoes are cooked, drain them and cut into 1-inch cubes. Add potatoes to your serving bowl, and top with the cooked bacon, onions, vinegar, salt, and pepper. Toss to combine. Serve topped with fresh parsley.
All images and text ©
If you make this recipe, be sure to snap a photo and hashtag it #gimmesomeoven. I'd love to see what you cook!