Gnocchi "Mac" and Cheese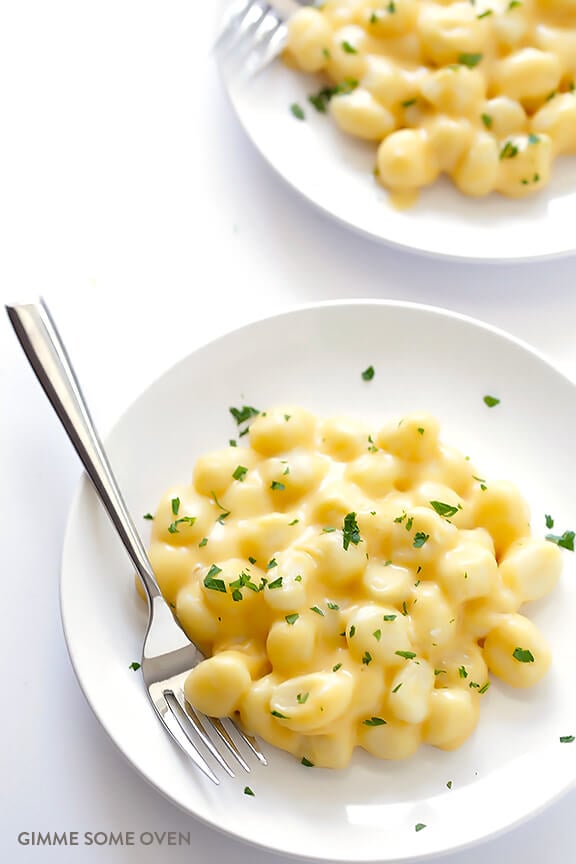 After going-going-going for our first two weeks in Austin, I must say that this past weekend was a lesson in R&R.
We slept in — like, legitimately sleep in — each morning.  We ate tacos, tacos, and more tacos for lunch.  We soaked up the warm Texas sunshine and went on some long walks exploring in the afternoons.  We sipped frozen happy hour margaritas on patios as the sun went down in the early evenings.  We stayed up spending time with new and old friends and some family members passing through town until late at night.  And we took it all wonderfully — and deliciously — slow.  No rushing, no hurrying, no packed calendars.  Just nice and slow, like the charming Southern drawls we keep hearing everywhere.
Which, of course, made me realize for the 1000th time how quickly I still tend to move through life.  I feel like I have slowed down significantly over the past few years, choosing to more time with people I love and lesson work, and trying to make that quality time without being distracted by alerts on my phone or looming plans ahead.  But even still, I can't help but always notice that my default is to rush, in the hopes of squeezing as many good things as possible into a day.
That's the beauty of being in a brand new place, though, where everything is new and we don't know our way around and our calendars are wi-hi-hide open.  (And notably, where we have an entire month to explore, versus trying to cram everything into a few days.)  We have been able to take our time — quite literally — with everything.  And goodness, has it felt refreshing.  I apparently needed it.  And I'm loving it.  And I'm trying to let myself get very, very used to it.  :)
I'm happy to say that we've also been taking things at a slower space in our little Texas kitchen.  I'm usually the queen of efficiency when buzzing right and left around my kitchen at home in Kansas City.  But trying to navigate our way around a new kitchen has definitely slowed me down, not to mention the constant elbow-bumping and cute-dog-distracting that comes with sharing a kitchen with Cookie & Kate.  I wouldn't change a single (slow) minute, though.  It has been so much fun.
And frankly, when it comes to Italian comfort food like this creamy stovetop Gnocchi Mac and Cheese, I want to soak up every second.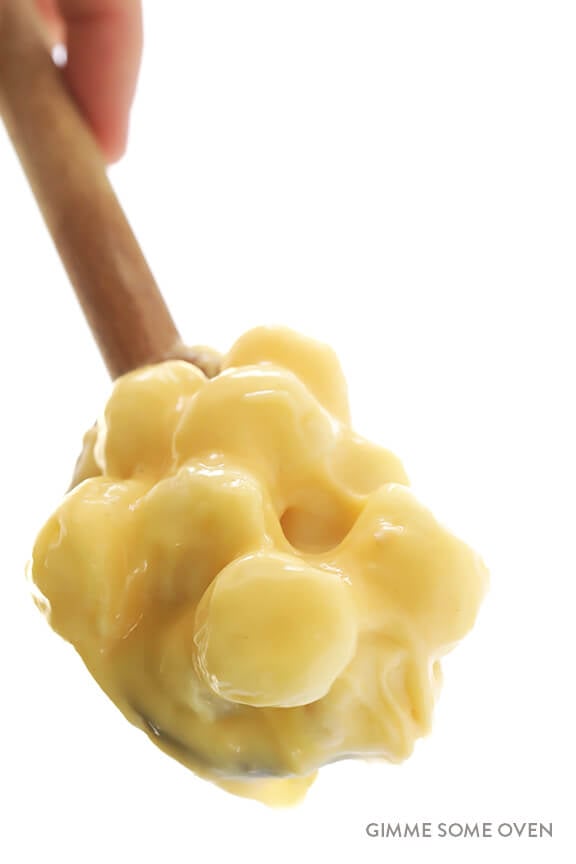 I know that we're not officially in the "deep" South right now.  But hey, Texas may be as close as I come for awhile.  So as a little nod to Southern comfort food while we're down here, I thought it was high time I post a new recipe for mac and cheese.
Well, minus the mac.
My favorite gnocchi from DeLallo get to play the starring role in this rich, classic, creamy stovetop version of mac and cheese!  Which means that this dish will have minimal gluten if you use my favorite mini potato gnocchi.  (Or which can be 100% gluten-free if you use DeLallo's gluten-free gnocchi.)  And which also means that you get to enjoy those little heavenly pillows of chewy gnocchi deliciousness with each bite.  (Sorry, I don't know why I always think of gnocchi as "heavenly pillows"…but they are.)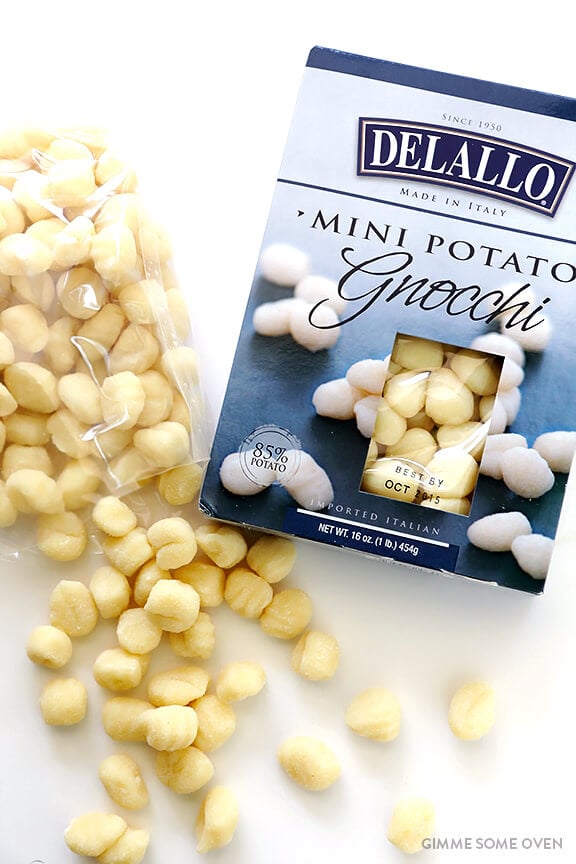 You can definitely make homemade gnocchi for this recipe if you insist.  But I took the shortcut of using DeLallo's delicious pre-packaged gnocchi for this recipe.  I always keep a few boxes on hand in my pantry (even here in Austin!) because they only take a few minutes to boil and are perfect for last-minute dishes.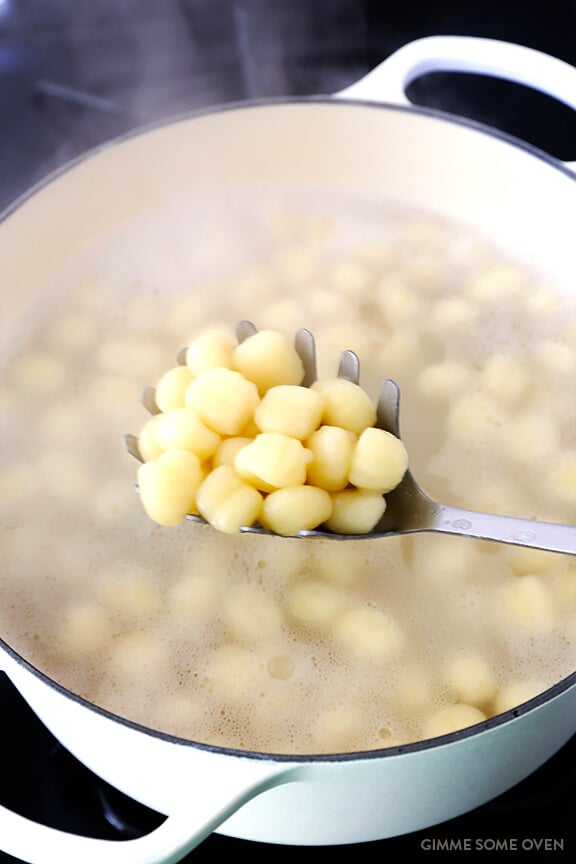 If you've never cooked gnocchi before, trust me, you're going to love 'em.  Just bring a big pot of salted water to a boil (as you would for pasta).  Then add the gnocchi and wait until they rise to the surface, for about 4-ish minutes.  Once they have floated to the top, just strain out the water and you're ready to go!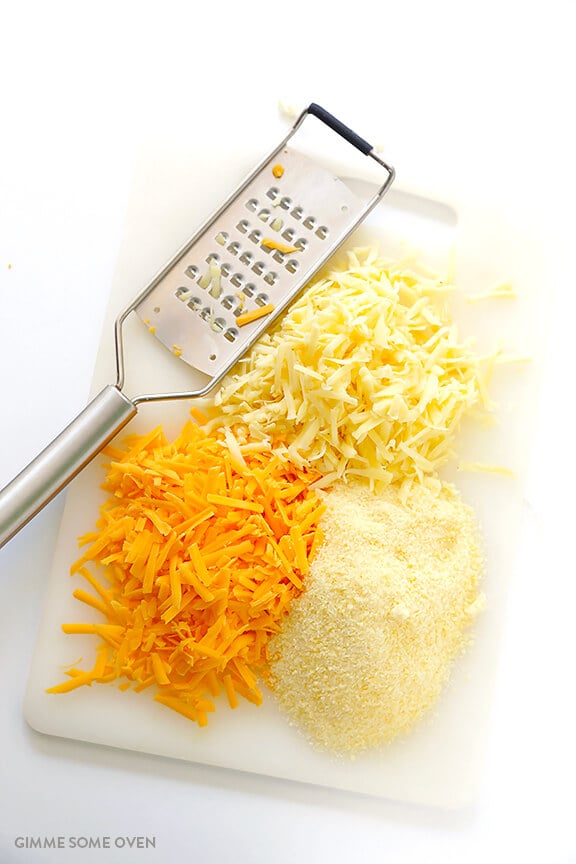 While you're waiting for your pasta water to come to a boil, let's get started on that cheesy sauce.
I went with the classic trifecta of cheeses for mac and cheese with this recipe — sharp cheddar, fontina and Parmesan.  They are the ultimate in rich, creamy, cheesy perfection.  But in order for each of them to melt the smoothest, I recommend buying the cheese in blocks and then grating it yourself just before adding it to the sauce.
Once they are all grated, whisk them up with some milk, veggie (or chicken) broth, cornstarch (as a gluten-free thickener), garlic, and some salt and pepper to make your sauce.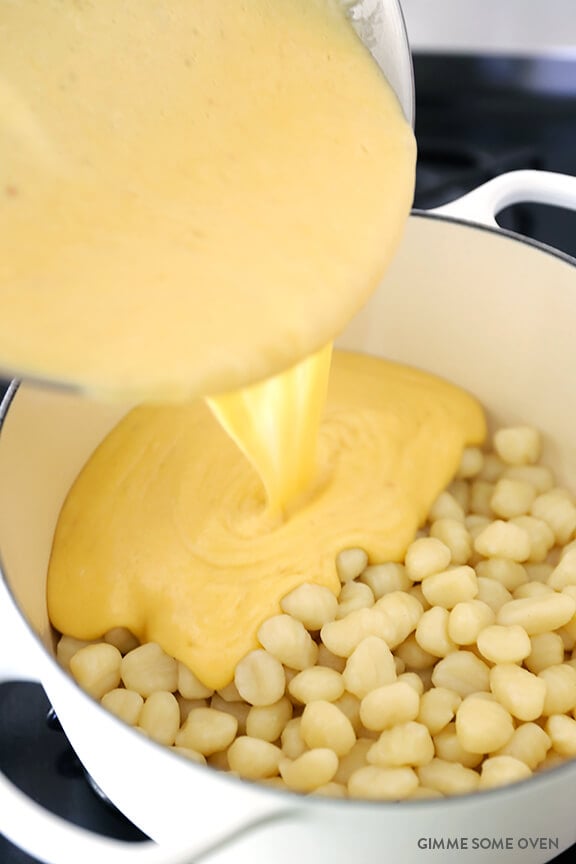 Then once your gnocchi are cooked and ready to go, toss them with the sauce.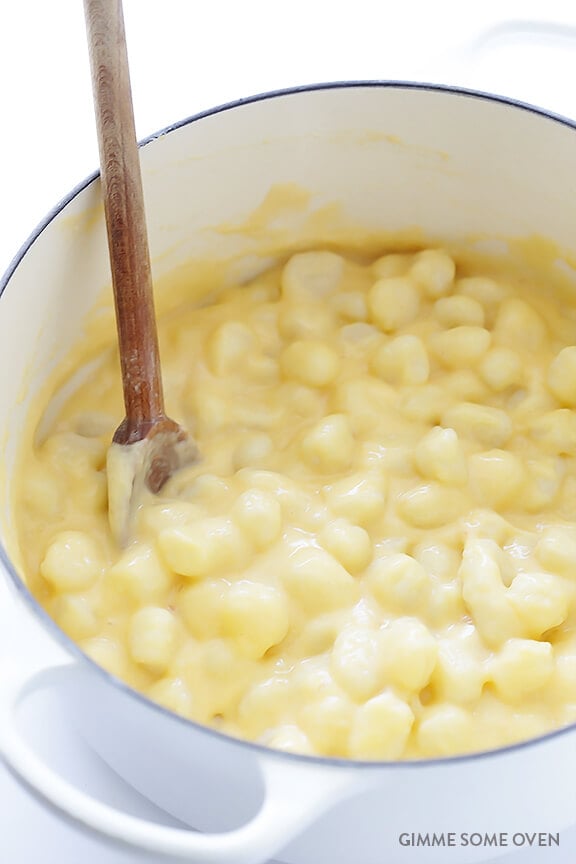 And the result?  Well, I think you can see for yourself.
Perfectly creamy, perfectly cheesy, perfectly gnocchi-y.  Basically just perfect, if you ask me.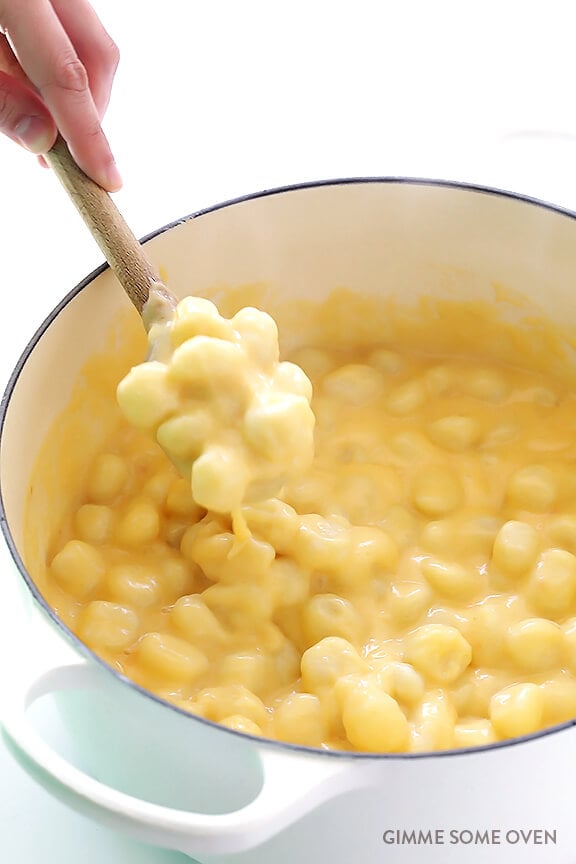 I usually prefer my mac and cheese fresh off the stovetop.  But if you prefer the dish baked, you can pop it in the oven sprinkled with some Italian breadcrumbs to get a nice crispy crust at this point.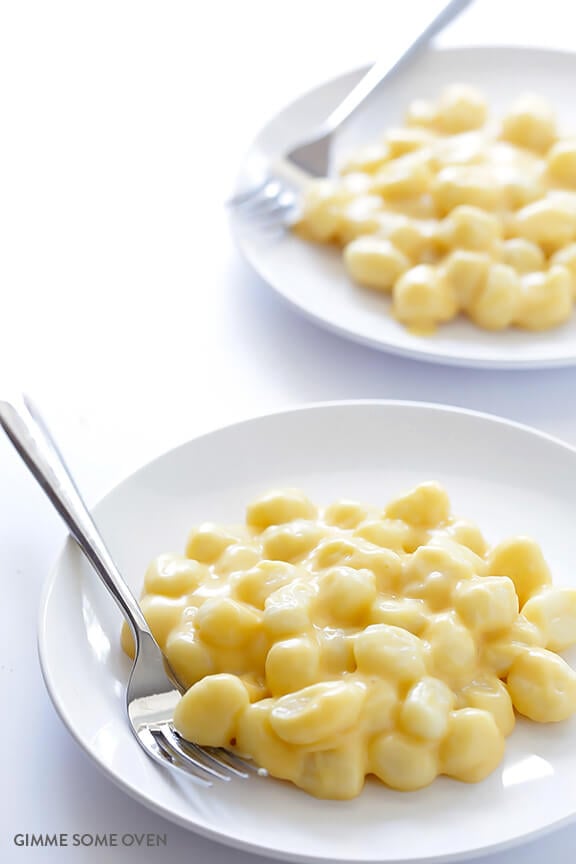 Otherwise, I recommend just serving it plain off the stovetop…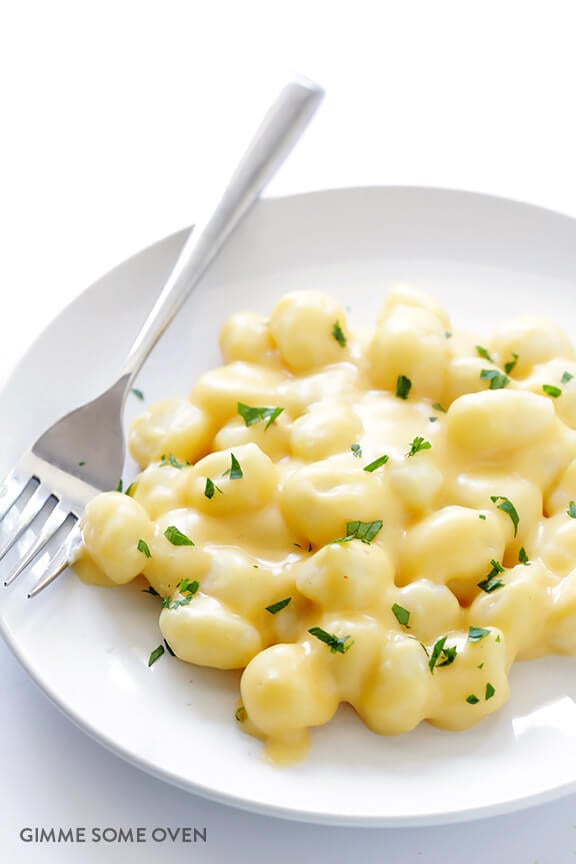 …maybe sprinkled with some fresh parsley or basil, or maybe even topped with an extra pinch of Parmesan if you're feeling indulgent.
Like I said, this meal is comfort food through and through.  But I promise you, it's worth every delicious bite.  And even better when enjoyed nice and slowly.  Enjoy!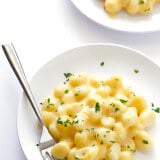 Gnocchi Mac and Cheese
This Gnocchi Mac and Cheese recipe is rich, creamy, classic, and oh-so-comforting and delicious.
Ingredients:
2 (1-pound) packages *DeLallo mini potato gnocchi or 3 (12-ounce) packages DeLallo gluten-free potato and rice gnocchi)
3 tablespoons cornstarch
1 cup vegetable or chicken stock
2 tablespoons butter or DeLallo extra virgin olive oil
3 cloves garlic, minced
1 cup milk, warmed
1 1/4 cups freshly-grated fontina cheese
1 cup freshly-grated sharp cheddar cheese
1/2 cup freshly-grated Parmesan cheese
1/2 teaspoon salt, or more to taste
1/4 teaspoon finely-ground black pepper, or more to taste
(optional toppings: finely-chopped fresh parsley or basil, extra Parmesan cheese)
Directions:
Cook the gnocchi in a large stockpot of generously-salted boiling water, according to package instructions.  Drain and set aside.
Meanwhile, as you are waiting for the water to come to a boil and for the gnocchi to cook, make your cheese sauce.  Begin by whisking the cornstarch and the vegetable/chicken stock together in a small bowl until the cornstarch is completely dissolved.  Set aside.  (Be sure that the stock is room temperature or cooler, otherwise the cornstarch will not dissolve.)
Heat butter or olive oil in a (separate) large saucepan or saute pan over medium heat.  Add garlic and saute for 1-2 minutes, stirring occasionally, until fragrant.  Stir in the cornstarch mixture, and whisk until combined.  Add in the milk, and whisk until combined.  Continue cooking, whisking constantly, until the mixture reaches a low boil.  Then remove from heat, and stir in the cheeses until they are melted and smooth.  Season the sauce with salt and pepper, to taste.
Combine the cooked gnocchi and cheese sauce in the large stockpot, and toss together until the gnocchi are evenly coated.  Serve immediately, topped with optional toppings if desired.
*If you are making this recipe gluten-free, be sure to use DeLallo's gluten-free gnocchi.  Otherwise, their traditional mini potato gnocchi are not gluten-free.
All images and text ©
If you make this recipe, be sure to snap a photo and hashtag it #gimmesomeoven. I'd love to see what you cook!
This is a sponsored post in partnership with DeLallo.  I am a mega fan of the brand, and the story and ingredients and flavors behind their food, and all opinions are my own as always.  Thanks for supporting the brands which help make this site possible!