Grilled Chicken with Pineapple Avocado Salsa
This post may contain affiliate links. Please read my disclosure policy.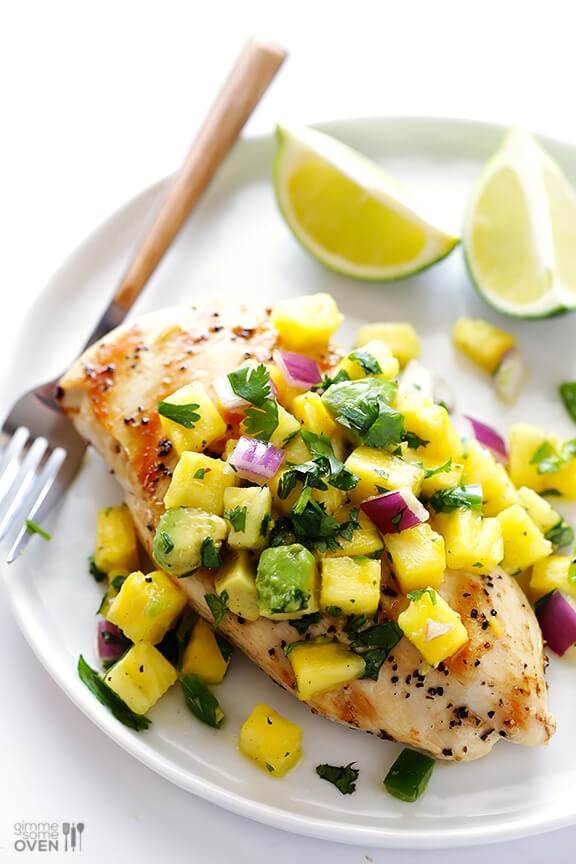 We're 3 days away from September, and I finally went swimming for the first time of the summer last night.
About. Dang. Time.
I used to spend pretty much every single summer day at the pool when I was a kid! In the mornings, I finally "woke up" each day by diving into that chilly water for swim team. (Where, I must point out, I made my one and only notable athletic achievement in life, winning 2nd place in the city of Wichita for backstroke at age 8.)  After that, my sister and I would stick around for synchronized swimming. (I have home videos to prove it, where you can also catch a peek of our hair slicked back with gelatin. Yes, it's what those Olympic swimmers use to literally glue their hairstyles in place.)  Then once I became a teenager and was so over those activities, I would head to the pool with friends to lay out for hours and hours and check out the cute lifeguards and get hopped up on sugar from giant Pixie Sticks and work on the perfect tan. Because, of course, I was part of the lucky Banana Boat generation that's now paying for it today…
Still.
Those summer days are driftin' away, so I was happy to splash around with friends at least once last night before life gets freezing. So for a fresh and tasty meal before pool time, I decided to make another quintessential summer classic at my house — Grilled Chicken with Pineapple Avocado Salsa.
How To Cut A Pineapple | 1-Minute Video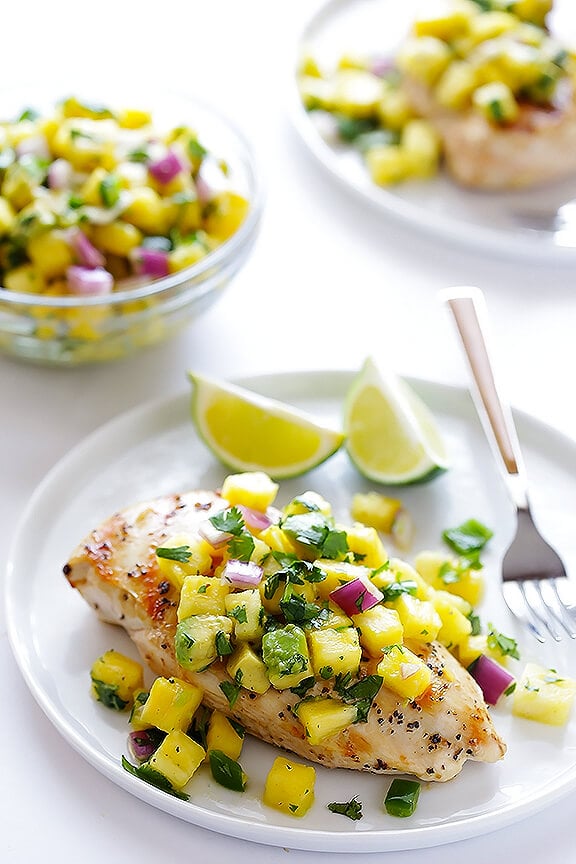 I have mentioned on here many times before that I'm obsessed with buying a fresh pineapple every time I set foot in ALDI. And pineapple salsa is one of my favorite ways to use leftover pineapple (on the rare weeks when I actually have "leftovers"). I love making pineapple salsa as an appetizer with chips, I love adding it to fish tacos, but I especially love adding a few spoonfuls on top of a grilled piece of protein for a super easy dinner.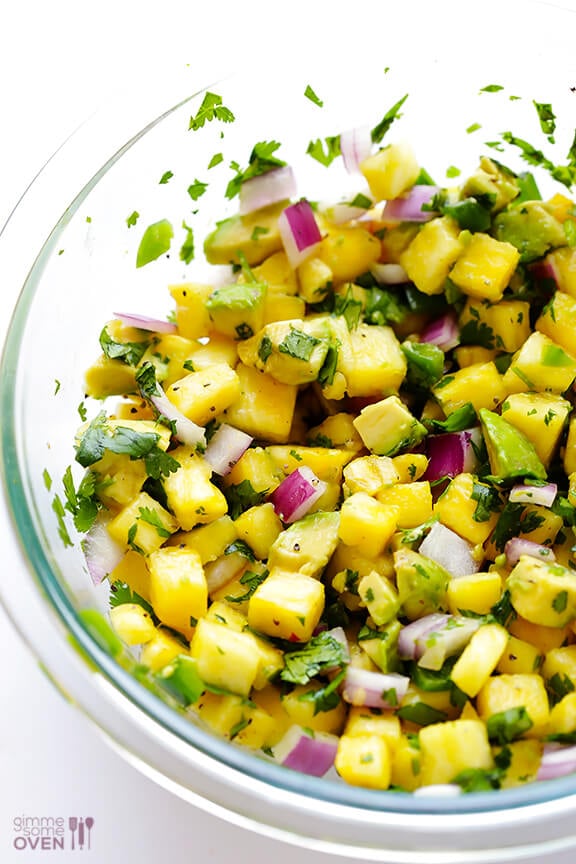 Yesterday, I went with good ol' chicken. (I seem to be obsessed with chicken recipes this summer. Not sure what that's about.)  And for an extra treat, I added some avocado to my pineapple salsa.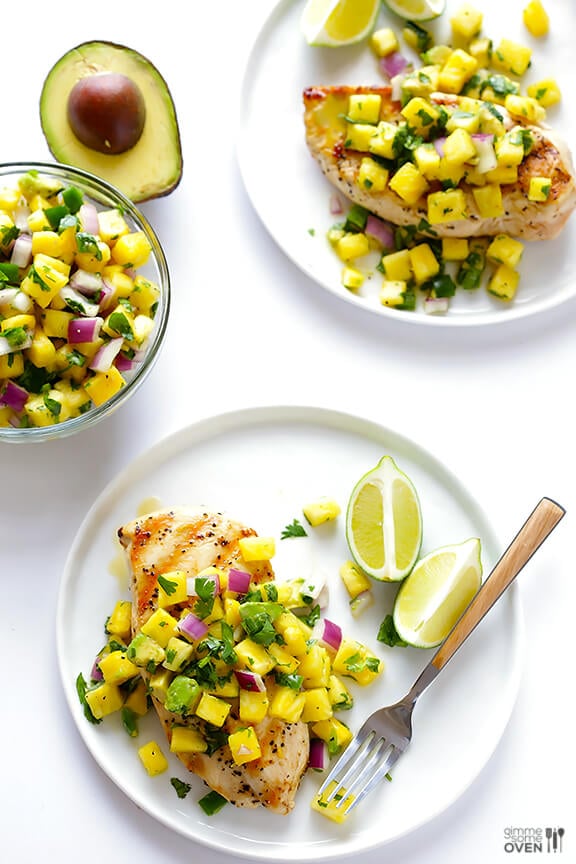 Super delicious. Super easy. Super colorful. Super summery.
And hey! Even if it's not summer, I buy ALDI pineapples year-round. So if you happen to be reading this in the dead cold of winter while dreams of summer plums and pool time are dancing in your head…just pick up a pineapple and make it happen.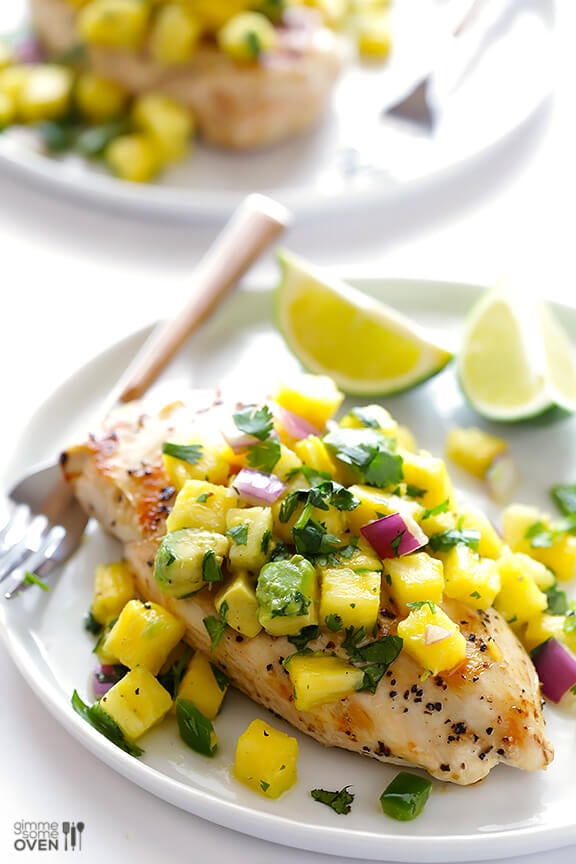 I'm sharing the recipe for this Grilled Chicken with Pineapple Avocado Salsa over on ALDI's blog today. So click on over to check it out. And happy grilling!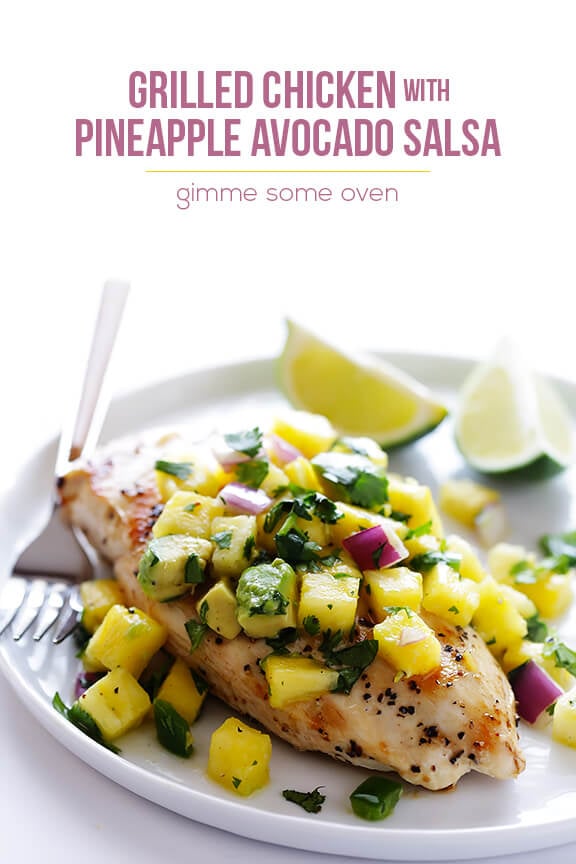 Disclaimer: This is a sponsored post I'm doing in my partnership with ALDI this year. You all know how much I love ALDI, but all opinions are 100% my own as always. Thanks for supporting the brands which help make this site and my pineapple-obsession possible.