Grilled Peaches, Arugula and Feta Salad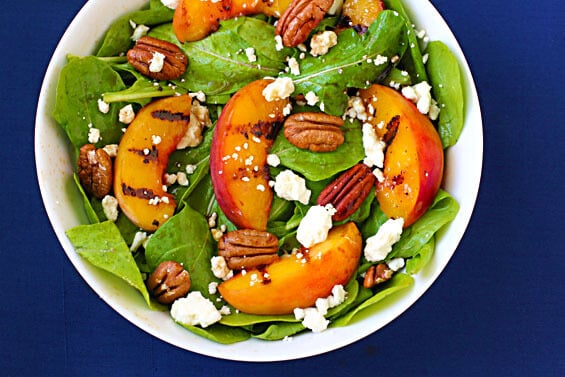 Wow, it has been a busy week!  Definitely a good kind of busy — with kickoffs at work, lots of people to see, friends' weddings to prepare for, and on and on.  Seems like my slightly-more-relaxing summer schedule is now long gone.
But even though the "fall semester" may have begun, it's still summer.  And all of the season's delicious fruit and produce is still in abundance!  As is the summer heat — no longer in the triple digits, but still hot enough that I have zero desire to heat up my oven.  So in the midst of all the craziness this week, have been relying on fresh salads to get me through the days.  Since fresh peaches are still in season around here, decided to try grilling some up (very briefly on my stove in the grill pan!) for a tasty arugula salad.  I was feeling like a traditional balsamic vinaigrette, and ended up loving how it paired with the sweet (and ever-so-slightly charred) grilled peaches, the tangy cheese, peppery arugula, and hea-ven-ly nutty toasted pecans.  A fantastic combination…and so simple!
So hooray for quick, fresh and delicious summer salads.  (And if you really love grilled peaches, you must check out this easy recipe for my favorite peaches and meringue dessert.  Quite possibly my favorite summer dessert ever!!!)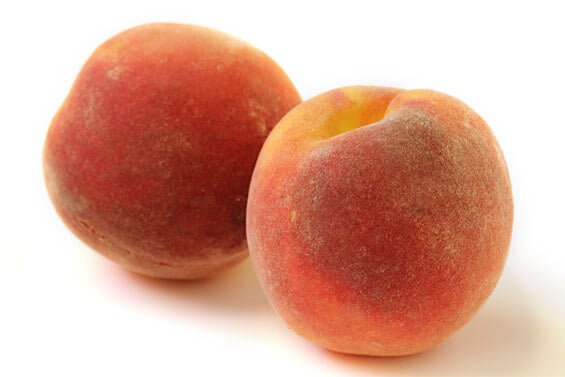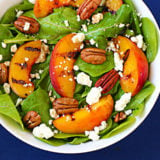 Grilled Peaches, Arugula & Feta Salad
Tangy cheese, peppery arugula, and hea-ven-ly nutty toasted pecans. You'll love Grilled Peaches, Arugula & Feta Salad recipe!
Ingredients:
2 peaches, pitted and halved
1 Tbsp. olive oil
3 cups baby arugula (or other favorite greens)
1/3 cup pecan halves, toasted
1/3 cup crumbled feta or bleu cheese
Vinaigrette Ingredients:
3 Tbsp. olive oil
1 Tbsp. balsamic vinegar (or white wine vinegar)
freshly ground black pepper and salt
Directions:
Brush all sides of the peaches lightly with 1 Tbsp. (or less) of olive oil. Grill the peaches over a medium fire until they brown lightly and begin to soften slightly, 4 to 6 minutes on each side. (Or you can grill the peaches on the stove in a grill pan!) Transfer the grilled peaches to a platter and let them cool slightly. When cool enough to touch, cut each half into 1/2-inch-thick wedges.

Meanwhile, in a small bowl, whisk together the balsamic vinegar and olive oil, along with a pinch of salt and a few grinds of fresh pepper to taste. Then add the arugula to a large bowl, and toss it with the vinaigrette. Once the arugula is evenly coated, divide the greens among 4 salad plates. Top each salad with a sprinkling of cheese and pecans, then arrange 4 or 5 grilled peach wedges atop the greens. Serve immediately.

All images and text ©

If you make this recipe, be sure to snap a photo and hashtag it #gimmesomeoven. I'd love to see what you cook!
Ali's Tip:
If you'd like to add some protein to this salad, I'd recommend trying prosciutto or some marinated shrimp or chicken!