Grilled Pineapple, Chicken and Avocado Salad
This Grilled Pineapple, Chicken & Avocado Salad post is sponsored by the California Avocado Commission.
A few weeks ago, I arrived home from the most wonderful trip to California with a suitcase brimming with…….avocados.  Loads of creamy, delicious, California avocados.  (One of which I picked!!)
Needless to say, all of these avocados made for an interesting journey through airport security.  But when I arrived home, they made an even better addition to this grilled pineapple and chicken salad!  It turned out to be absolutely delightful!  Definitely a wonderful pairing of summer flavors and that magical touch that comes from the grill.
But before I get to the salad, I would love to share some stories and photos with you from my trip!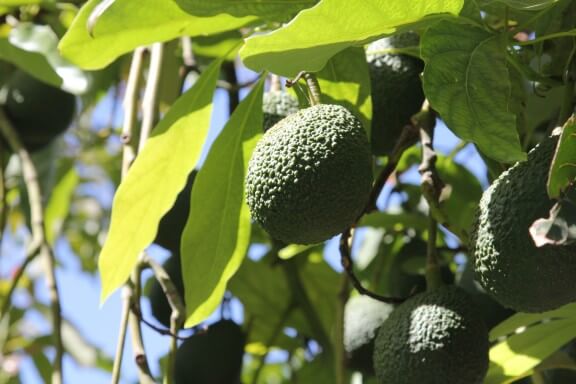 It all began a few weeks ago when I received an invitation from the California Avocado Commission to come to LA with a few other bloggers to learn more about all things avocados.  Being that I am obsessed a huge fan of all things avocados, and have become especially enamored with California avocados after tasting them for the first time a few months ago at the Big Traveling Potluck, I said yes in a heartbeat!  :)
So I hopped on a plane and began the journey back to California for the second time in a few months — such a treat!
It turned out that Kristen (from Dine & Dish) was booked on the same flights from Kansas City, so it was fun to get some extra time with her.  (If you haven't ever checked out her thoughtful blog and gorgeous Instagram feed, you must!!
When we arrived in LA, we met up with the other bloggers at our home sweet home for the week — The Millenium Biltmore.
This historic downtown hotel, nearly 90 years old now, was pretty much epic.  From the extravagant "classic European-styled" lobbies, to the historic details in each room, to the Romanesque swimming pool, to the great selection of restaurants and more — we had so much fun exploring the hotel and making ourselves at home!
After a day of long flights, the first four of us to arrive — Kristen, Dara, Rachel and I — debated between restaurants and ended up opting for "Sushi Night" in the Cognac Room at the hotel.  And I'm pretty sure we were all thrilled that we did.  The sushi was absolutely incredible, as were the martinis and fresh margaritas.
And of course "when in LA", we definitely celebrated with a few California rolls with fresh California avocados.  PER-fection.
The next morning we woke up early to drive out of town for our first stop — an avocado grove tour!
We were greeted by Jim Lloyd Butler (the gentleman rocking the hat above) and his family, whom we all immediately loved.  Born and raised in Oxnard, Jim is a 5th generation farmer who is deeply passionate about avocados, and about caring for the land and people around him.  He has devoted his lifetime to all things agriculture, and was passionate about all things "sustainable" way before it became so trendy. In fact, he has won awards for his work in stewardship, sustainability and leadership in agricultural management, and the fruit of this labor (quite literally) is evident all over his beautiful farm.  Their farm alone produces over 1.3 million California avocados per year – incredible!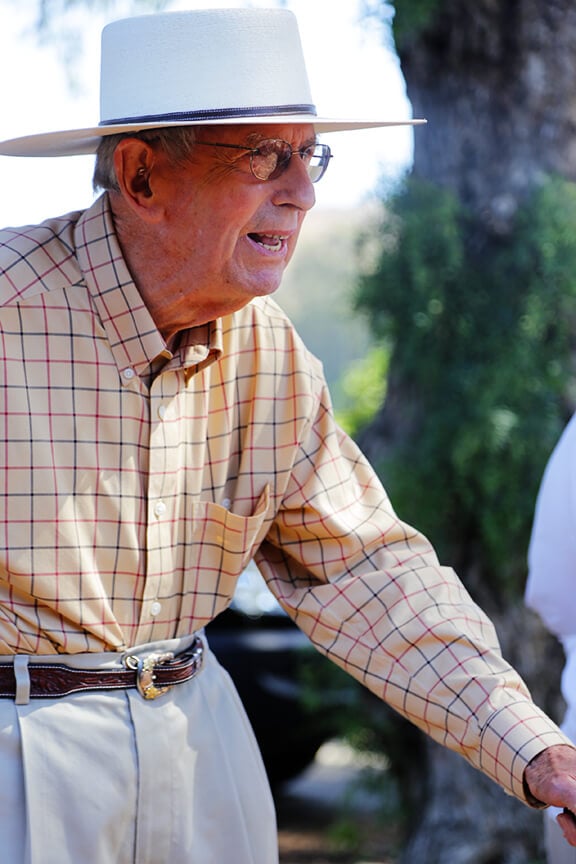 More than anything, I think I most loved seeing the twinkle in Jim's eye when he talked about his favorite fruit.  When I asked if he had any favorite avocado recipes, he quite simply said with a smile that he just loves to eat half of an avocado plain for lunch, maybe with a little salt.  "They're best that way," he said.  :)
After touring various parts of the farm to see some of the different avocado plants, we went into the heart of a grove to see some of the workers harvesting.  Coming from the land of wheat combines and tractors, it was pretty fascinating to see the avocado plants up close and person, and see the workers carefully harvesting each fruit by hand.
Some of the workers were perched on ladders high up in the trees dropping individual avocados into large satchels that could each hold up to 100 pounds of avocados.  But others used this super long pole with clippers on the end that allowed you to reach way above your head to snip off an avocado.  Each of us took a turn trying to make it happen, and let me tell ya — it took way more coordination than I expected!  Those workers sure make it look like a breeze.  :)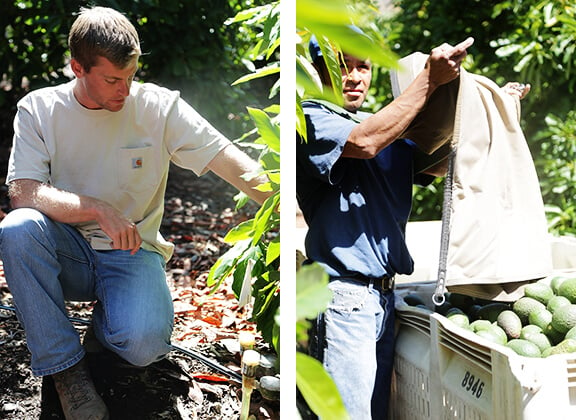 A few fun facts about avocados that I learned along the way:
1) Avocados do not ripen on the vine.  They do not begin ripening at all until harvested.  But perhaps the bigger shock is that they can stay on the vine for even up to a year — just chillaxin' in the California sun — until the farmer decides that it is time to harvest.  So if weather complications come up or the crop may not be as strong year-round, farmers have flexibility with when to harvest.  Definitely a huge change from the farmers in Kansas right now who are racing to harvest some of their crops before they pass their due dates!
2) Farmers love their iPhones. Yep, while we were Instagram-ing away, one of the farmers — Jason — was tracking the irrigation levels on his farm via his iPhone!  Yep, it turns out that there are all sorts of great apps for modern farming which really help monitor and measure all sorts of different things on the farm.
3) Not all avocado trees look alike.  Some that we saw were small bushes, some looked more like grape plants on a vineyard, and some were huge enormous trees!  The Hass variety still holds the lion's share of the market, but many other varieties are starting to grow in popularity.  So keep an eye out for new avocados coming your way soon!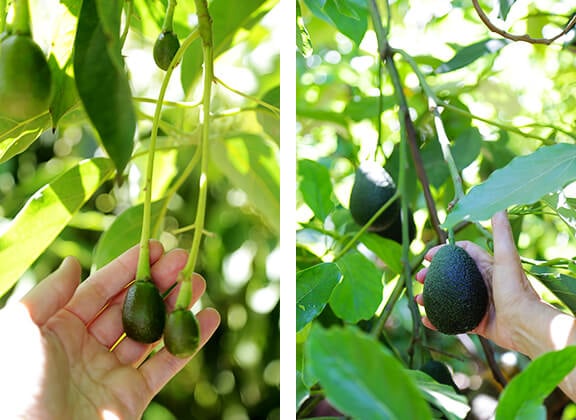 4) Baby avocados are called — get ready — "babies".  These tiny little plants were absolutely adorable, and hung on the same trees as mature avocados that were ready for harvesting.
5) You know those little dark spots you sometimes see on avocados?  Those are the fault of humans mishandling avocados.  They do not naturally grow with those spots.  Yes, avocados can get "sunburned" when the skin gets a little singed in the sun (although this does not usually affect the fruit inside).  But most of those little spots you might see are due to humans poking avocados incorrectly to see if they are ripe.  More about this to come…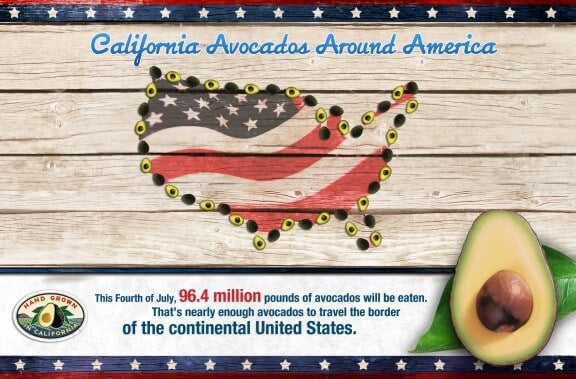 6) 4th of July is the biggest avocado consumption day of the year. Not Cinco de Mayo, not the Superbowl, but the day celebrating all things 'Merica!
Overall, it was a wonderful morning with Jim and his crew, and a great morning spent with our team!  Shawn arrived late the night before, bringing out tour total at this point to 5 beautiful bloggers.  From left to right, our group included Shawn (I Wash You Dry), me, Dara (Cookin' Canuck), Kristen (Dine & Dish) and Rachel (A Southern Fairytale).  I seriously couldn't have asked for a more beautiful, fun, hilarious, talented, smart, and avocado-loving group of gals to get to spend time with.  They are amazing!
After our tour, you'd better believe we were hungry to eat some avocados.  And my oh my — our lunch did not disappoint.
We were lucky to get to spend a relaxing long lunch at the Tierra Sur restaurant within Herzog Wine Cellars.  Chef Gabriel Garcia made us an exquisite 4-course lunch celebrating his self-proclaimed favorite fruit — the avocado.  And believe it or not, the avocados he brought us were actually those from his backyard.  What a chef!
We had a great time savoring his delicious menu, and took lots of inspiration from the way he so creatively wove avocados into his dishes.  Thank you, Chef!
After lunch, it was time to see the next stage of the life of an avocado — the packing plant.
We all donned our wonderfully attractive hairnets (food safety first!), and headed into the factory for a tour.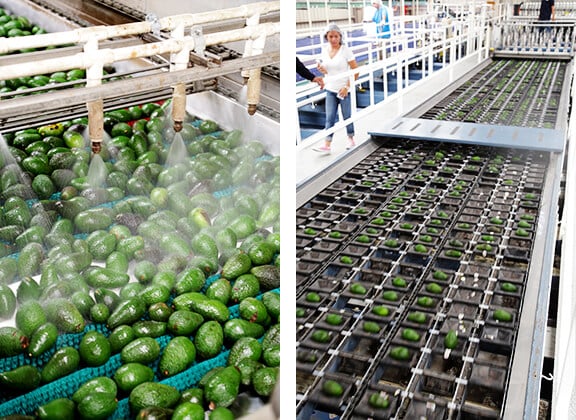 Food packing plants always impress me with their attention to the tiniest of details, and this plant was no exception.  They take extreme care to be sure that the avocados are handled with utmost sensitivity, and that they are cleaned, packaged and shipped as efficiently as possible to guarantee maximum freshness.
By the time they reach these crates to be shipped to grocery stores and suppliers all over the world, I saw with my own eyes that you really can trust that these avocados are going to be the best they can be.
Although as I mentioned above, perhaps the greatest damage to avocados actually happens on the shelves at the grocery store.
Whenever we saw farmers or workers handle the avocados to test for freshness, our group immediately noticed that they did not poke the avocados all over with their fingers.  But instead, they cupped the avocado in the palms of their hands and gave an oh-so-gentle squeeze to see if there was any give.  This method is the correct to test your avocados.  Otherwise, the places where you squeeze your fingers will more than likely leave dark spots inside the fruit.
Now I know.  And now you know.  :)
After our tour, we were taken for yet another gourmet avocado dinner, this time at Industriel.  This great downtown restaurant with its eclectic decor specializes in simple, pure, flavorful dishes with roots in the Provençal tradition, but with modern LA attitude.  Or as their website says, they serve up urban farm cuisine in the style served up by your grandmother in her farmhouse in Provence, France, with one little twist: Your grandmother has sleeve tattoos.
Whatever their style, the food at this restaurant was fresh, creative, and crazy good.  I had the chance to sit at the end of the table with Shawn and Chung-Ah (from Damn Delicious), who joined us for the second half of the trip.  I so enjoyed our conversation!
The next morning, we set off from our hotel to walk to Border Grill.  But on the way, the little tourist in me has to point out that we walked by a high-speed police chase scene being filmed.  Thank you L.A., that can now be checked off my bucket list.  ;)
(Although it turns out it was for a Nike commercial, instead of the next Bourne Identity…)
When we arrived at Border Grill, we were immediately welcomed by chefs Mary Sue Milliken and Susan Feniger, the Too Hot Tamales.
Before we had the chance to watch these celebrity chefs do their thing, they surprised us by introducing a little surprise for the 20 or so local food bloggers who were gathered there for the event — a cooking competition!  The main ingredient of course was avocados, and the challenge was to create a fresh and creative avocado pasta dish to be judged by the chefs themselves.
You know, no pressure.  ;)
I teamed up with Chung-Ah and Kristin (from The Cuisinerd), and we raced to see what delicious dish we could create from the 50+ extra ingredients they had on hand.  Since it seems like avocados are just beginning to catch on in the Asian cuisine scene, we decided to add in some soy, mango, lime, jalapeno, sesame oil and seeds, and probably a few other things I am forgetting.  And yes, we named the dish Guac-Wok.
After, um, barely getting a chance to even taste the dish, ours was submitted with all of the others for taste-testing by the chefs themselves.  I loved seeing the inventive ways that all of the groups used their avocados!  So many new ideas I want to try at home…
After the competition, we all settled in to watch a cooking demo from the chefs featuring all sorts of avocado-inspired dishes.  And then even better, we had the chance to sample everything.  From some stunning cumin ribs, to Mexican street corn, to sweet fruity sangria, to salads, desserts and more, it was clear that these chefs pour their heart and soul into their cooking.  And goodness — does it come through!  Such a treat to learn from these women, and taste the food that brings them joy.
After a wonderful weekend, the time finally arrived to say goodbye to the California avocado groves and head back to the plains of Kansas.
But I've been excited to discover that some California avocados are becoming available in our local grocery stores here in KC!  (Locals — check out Trader Joe's and Hy-Vee.)  So you don't have to go to California to find avocados grown on sunny American soil.  Just be sure to check the little stickers on the avocados.  And if there is a Cali sticker, you can now know a little more about where these come from after reading this post!  :)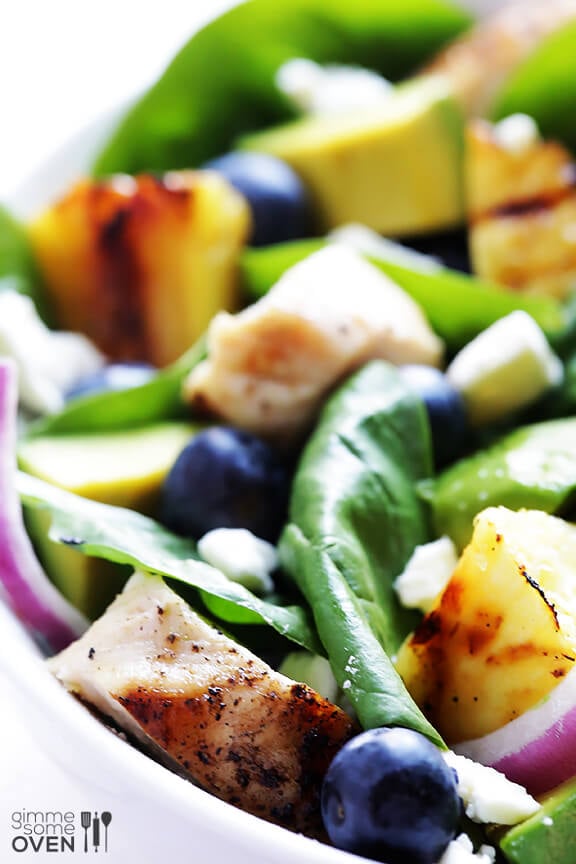 Ooooook.  Speaking of avocados, it's about time that I get to the business of this beautiful Grilled Pineapple, Chicken and Avocado Salad that I teased you with at the beginning of the post.  This recipe is definitely a keeper.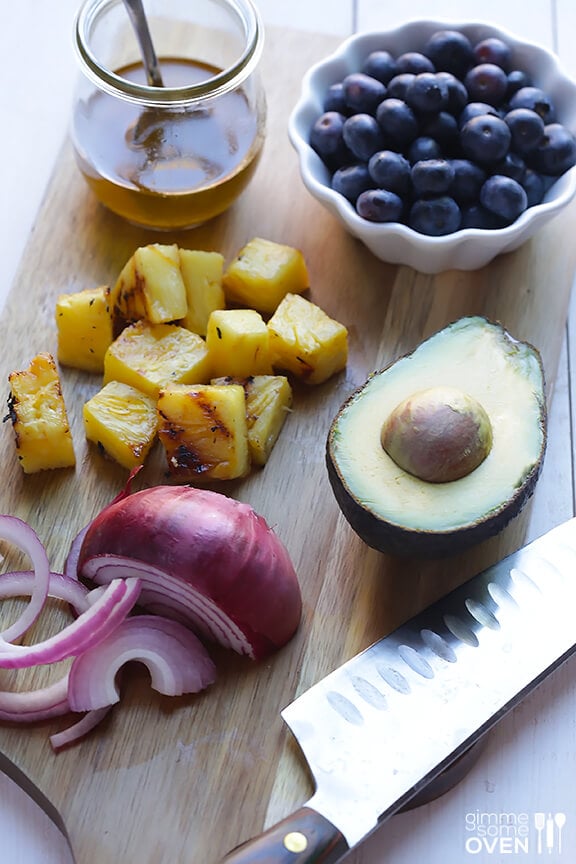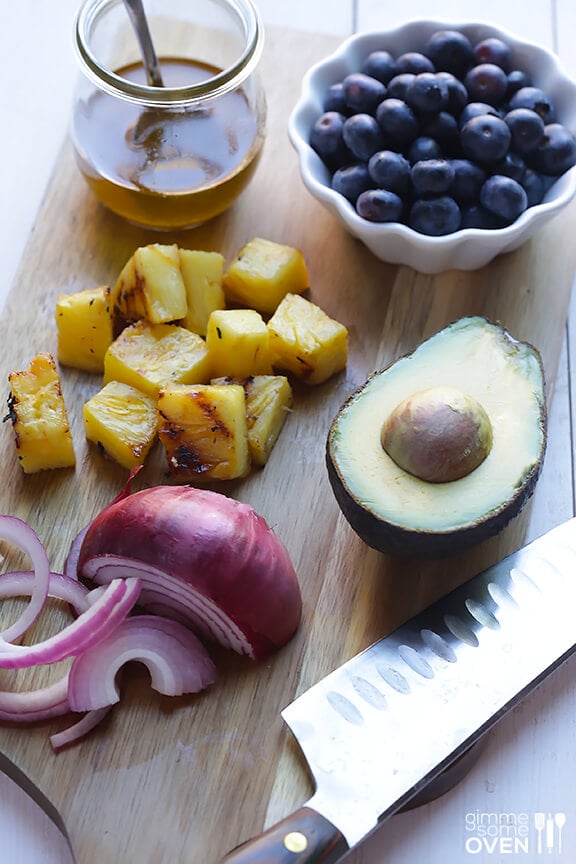 To be honest, I arrived home after our trip in California feeling very inspired…and full.
Don't get me wrong.  I enjoyed every last bite of each of those 4- and 5-course meals.  But upon returning home, I was ready for a salad.  You know that feeling after a trip??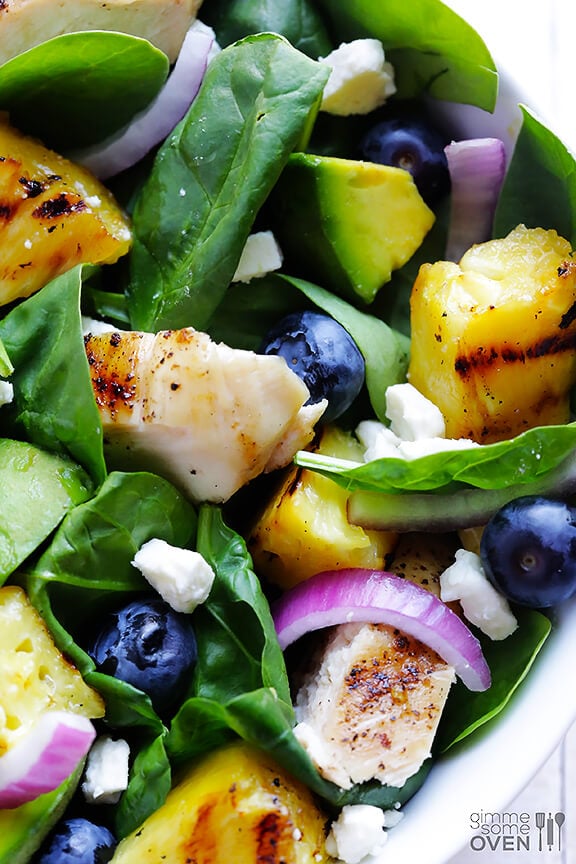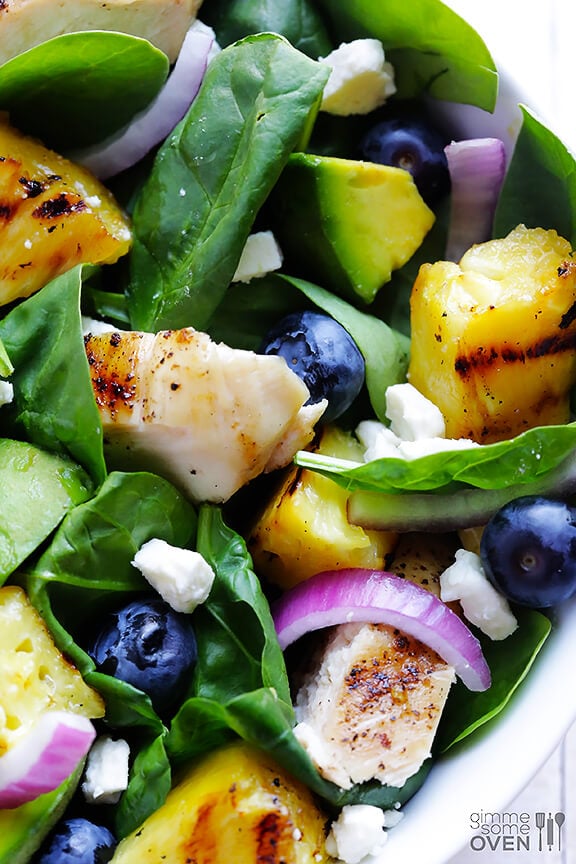 Needless to say, this yummy sweet salad completely hit the spot.  If grilled pineapple and avocado are included in a dish, I'm usually already sold.  But the addition of the fresh blueberries, feta cheese and garlicky vinaigrette made this salad even better than I had dreamed.  Such a fresh, colorful, and fantastic salad that pretty much screams summer!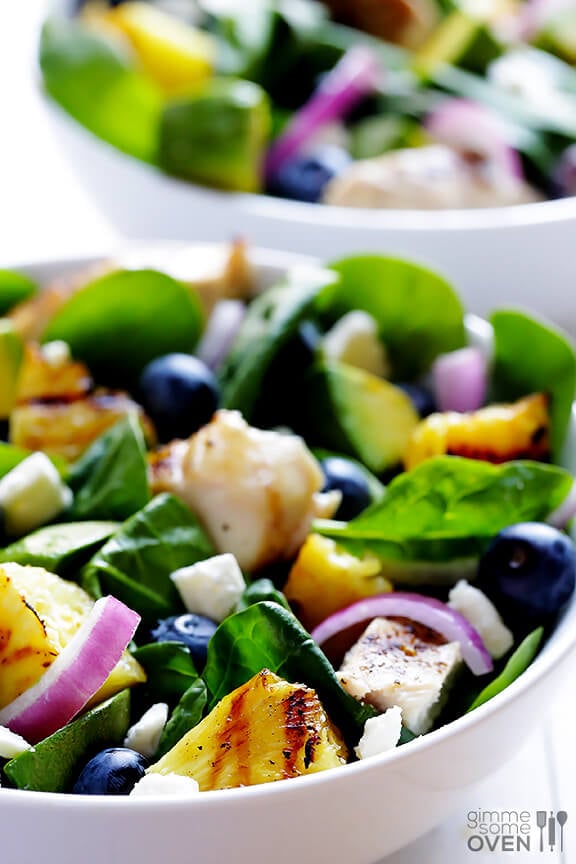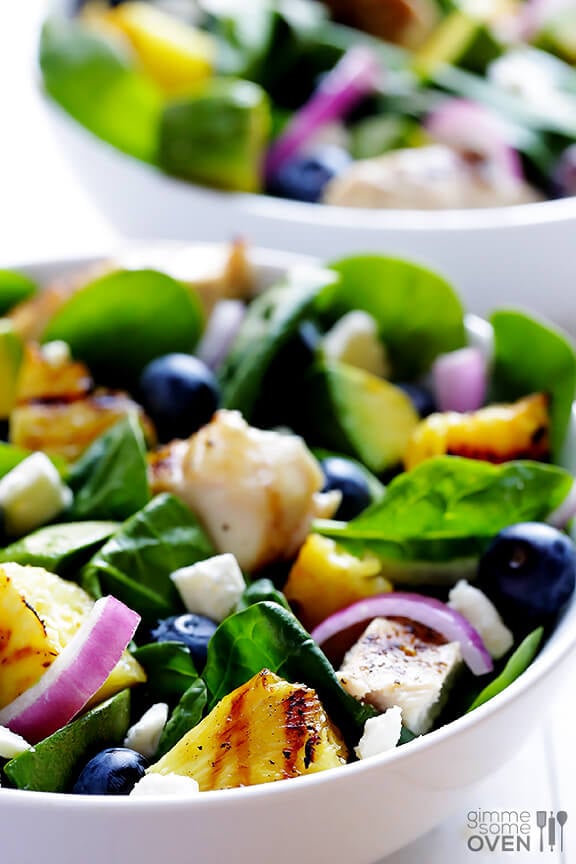 Thanks so much for following along with my avocado adventures.  And be sure to check our Dara and Chung-Ah's posts about the trip as well to hear their stories and check out some more delicious avocado recipes.
Huge thanks to the California Avocado Commission for inviting me to join along!  I'm excited to be partnering with them this year to bring you many more great recipes to come.
Cheers to all things avocados!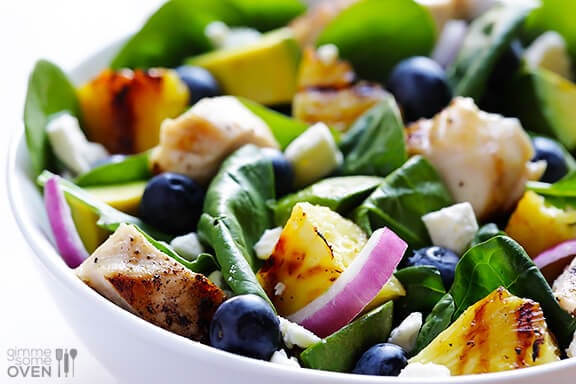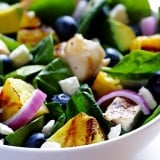 Grilled Pineapple, Chicken and Avocado Salad
This Grilled Pineapple, Chicken and Avocado Salad celebrates the best of summer!
Ingredients:
Salad Ingredients:
2 boneless skinless chicken breasts
2 tsp. olive oil
salt and pepper
1 fresh pineapple, peeled, cored and sliced into 1-inch thick rings
8 cups baby spinach
1 cup fresh blueberries
1 avocado, peeled, pitted and diced (I prefer California avocados)
1/2 cup crumbled feta cheese
quarter of a red onion, thinly sliced
honey garlic vinaigrette
Honey Garlic Vinaigrette Ingredients:
3/4 cup avocado oil (or any mild-flavored oil)
1/4 cup apple cider vinegar
3 Tbsp. honey
2 cloves garlic, minced
pinch of salt and black pepper
Directions:
To Make The Salad:
Brush the chicken on both sides with olive oil, then season generously with salt and pepper.
Preheat your outdoor grill to medium-high, or heat a grill pan over med-high heat. Place pineapple slices and chicken breasts on the grill. Cook for about 5 minutes per side or until the chicken is cooked through, and no longer pink on the inside. Remove pineapple and chicken and let cool for at least 10 minutes. Then slice chicken into strips, and cut pineapple into chunks.
In a large bowl, toss together spinach, blueberries, feta, red onion, pineapple and chicken until combined. Drizzle or toss with salad dressing, and serve immediately
To Make The Vinaigrette:
Whisk all ingredients together until blended. Let sit for at least 10 minutes for flavors to meld. Whisk again until blended, then drizzle over salad.
All images and text ©
If you make this recipe, be sure to snap a photo and hashtag it #gimmesomeoven. I'd love to see what you cook!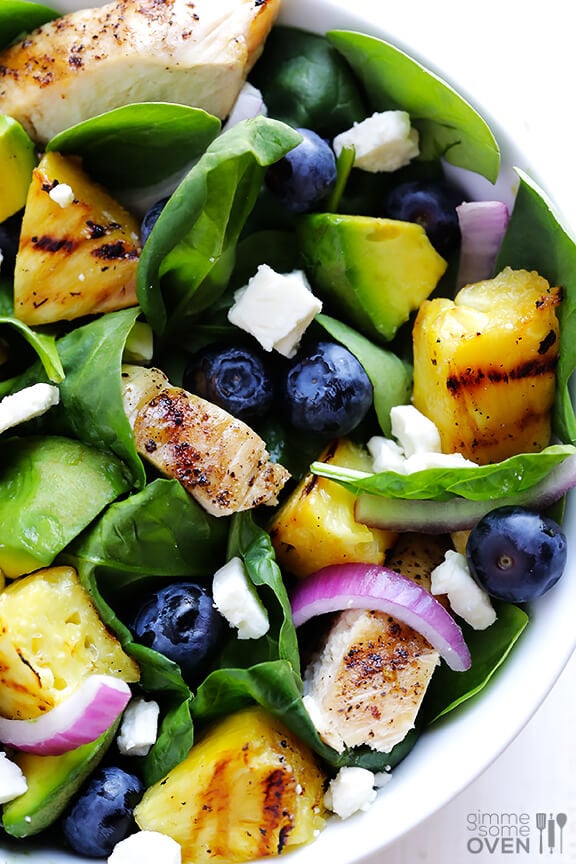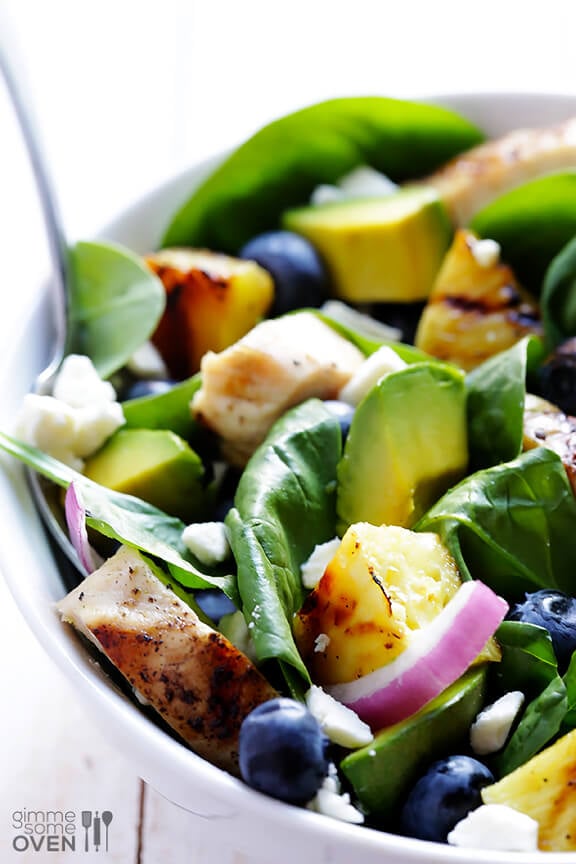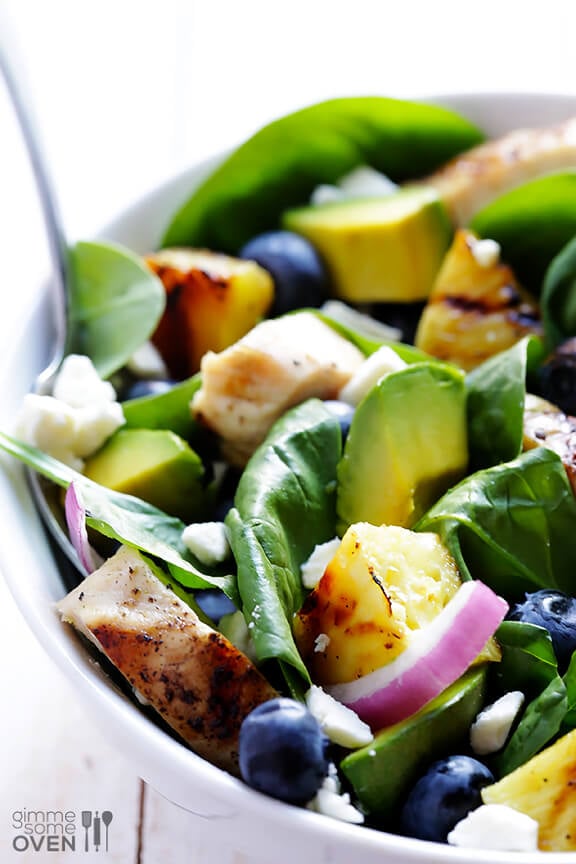 Disclaimer: This is a compensated post by the California Avocado Commission.  They covered an all-expense paid trip to California to visit the avocado groves and learn more about where our avocados come from, and it was an amazing experience.  All opinions are 100% my own as always.  Thank you for allowing me to share with you about brands I love that help support this site.  A few of the California photos are also courtesy of the California Avocado Commission — thanks for snapping some great pics!