Ham and Cabbage Soup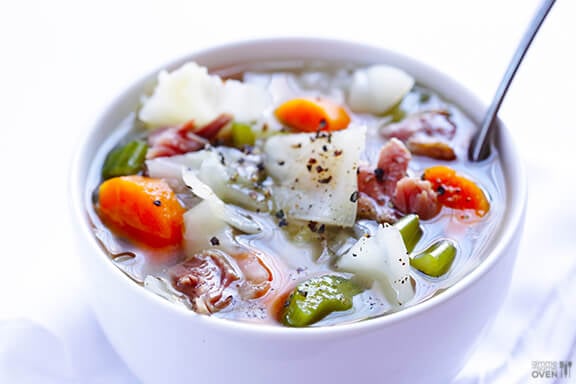 Yesterday morning I woke up and was surprised by snow blanketing the ground in Kansas City.  It was breathtaking.  But to be honest, I think I was more surprised by the surprise!
I think it has literally been a decade since I woke up to a completely unexpected snowfall, probably because everything from my phone to my computer to my car to the buzz around friends is always alerting the world to even the "slightest" chance of flurries.  But not this week.  Somehow snow snuck up on Kansas City, and for at least a brief little moment, I felt like a kid waking up on Christmas.  Pure delight.  (I didn't even complain about the cold!!)  :)
So since snow and a big bowl of comforting soup are pretty much a "given" combo in my book, I decided to heat up some delicious Ham & Cabbage Soup leftovers I had from creating this recipe for the Cooking For Comfort ECookbook with the National Pork Board.  This soup is one of my longtime favorites, mostly because it is made with wonderfully flavorful homemade ham broth (my favorite!), and it is a breeze to throw together.  I literally make it at least once a month in the winter, and always freeze the leftovers because it makes a nice big batch, which turns out perfect on chilly snow days that call for comfort food.
We are actually also giving away 10 copies of the Cooking For Comfort ECookbook today on the blog too!  So read below for the recipe, and also be sure to enter the giveaway to win a copy for you and a friend!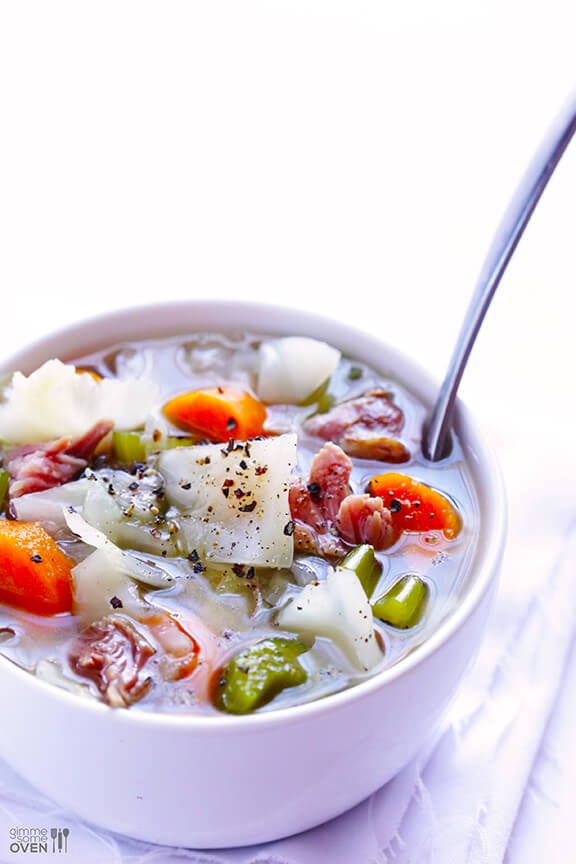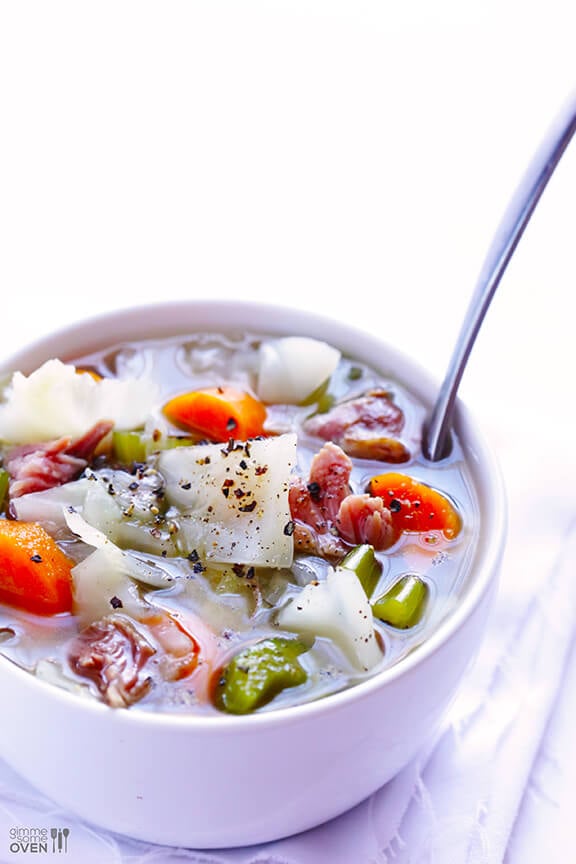 Ok, before we get to the giveaway, I want to say a few more words about this soup, especially to any of you out there who don't often eat cabbage or make ham broth.  Both of those ingredients — clearly the rockstars and namesake of the recipe — are absolutely superb in this soup.
The cabbage cooks down to be perfectly tender, with a nice mild flavor that is perfectly complimented by the ham broth.  And the cabbage is so good for you!!  The recipe literally calls for an entire head of cabbage, which makes the soup nice and thick and filling without all of the calories.
But the secret to this recipe is making homemade ham broth.  Oh my goodness, I didn't discover ham broth until I was in my twenties, and it pretty much changed my life.  Ham broth is my absolute favorite broth to cook with, because it's nice and naturally salty and amazingly flavorful.  And it's really inexpensive and easy to make when you just simmer some ham hocks in water for a few hours.  Trust me — you've gotta try it.  It is comfort food at its best.
Speaking of comfort food, I'm excited to say that we are going to be giving away 10 copies of the Cooking For Comfort ECookbook from the National Pork Board.  A bunch of my favorite food bloggers have contributed recipes to the project, along with Chef Michelle Bernstein (James Beard Award winner) and Ray Lampe (BBQ expert).  

So cheers to comfort food on chilly months!  Hope that you are all staying warm and enjoying the holiday season.  :)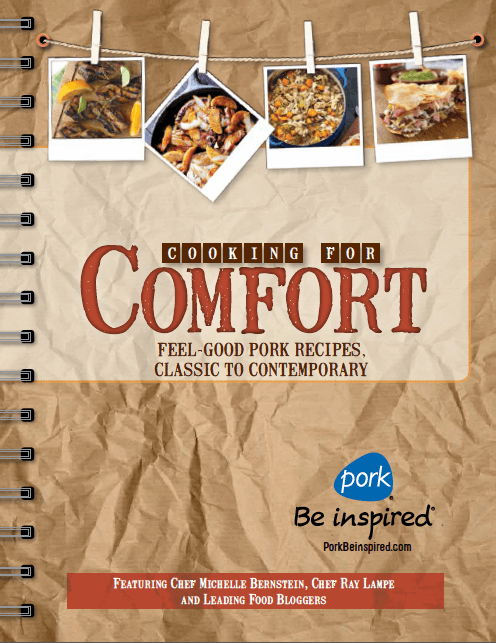 Cooking For Comfort ECookbook GIVEAWAY
How To Enter:
Simply leave a comment below about your FAVORITE kind of comfort food to enter.  We will select 5 winners to each receive two cookbooks, which will be mailed directly to you.  (Winners will be chosen by random.org, US residents only please.)
Good luck!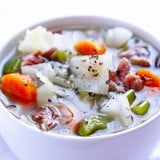 Ham and Cabbage Soup
This cabbage and ham soup is overflowing with delicious, comforting flavor. And all of that cabbage is good for you, too!
Ingredients:
2 cups diced or shredded ham
2 tablespoons olive oil
1 onion, finely diced
2 large carrots, diced
2 stalks celery, diced
3 cloves garlic, minced
10 cups ham or chicken broth*
1 2-pound head cabbage, cored and roughly diced
2 bay leaves
Salt and pepper
Directions:
In a large saucepan or small stockpot over medium heat, warm the oil. Add the onion and cook, stirring occasionally, until starting to become translucent, about 5 minutes. Add the carrots, celery and garlic and cook, stirring occasionally, until the carrots and celery are crisp-tender, about 3 minutes. Add the ham, broth, cabbage, and bay leaves and bring to a boil over high heat. Reduce to a simmer, cover, and cook until the cabbage is tender, 15 to 20 minutes. Add salt and pepper to taste. Remove the bay leaves before serving.
*To make ham broth, combine 2 smoked ham hocks, 1 carrot, 1 celery stalk, 1 onion (quartered), 2 bay leaves, 1 teaspoon whole peppercorns and 4 quarts water in a large stockpot. Bring to a boil over low heat, reduce to a very gentle simmer, cover and cook until the meat falls off the ham hocks, 3 to 4 hours. Strain the broth and add salt and pepper to taste. Makes about 3 quarts.
All images and text ©
If you make this recipe, be sure to snap a photo and hashtag it #gimmesomeoven. I'd love to see what you cook!
Disclaimer: This is a sponsored post and giveaway from the National Pork Board.  All opinions are 100% my own as always.  I'm honored to be a part of the Comfort of Cooking ECookbook, so was excited to share about it with you.  Thank you for supporting the brands that make this site possible.