Hemp-Crusted Baked Chicken Tenders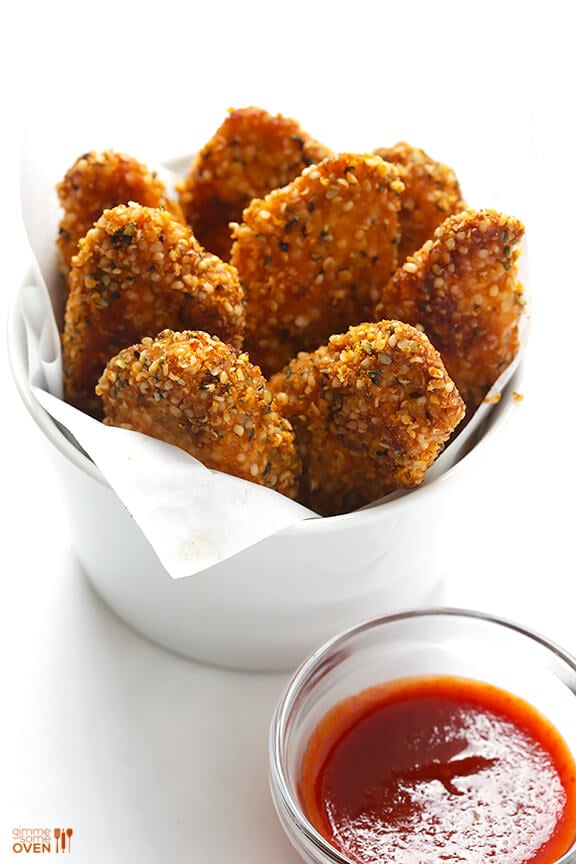 I love traveling abroad.  But without a doubt, there are always a few things I appreciate all the more about the States whenever I return.  A few I'm extra-appreciating this week?
Ice (and iced coffee)
4G
The insect kingdom remaining outside
Mexican food
The option to flush toilet paper
Yogurt
Hulu
My own bed
Friends/family/dog/neighborhood/all that jazz…
…and fried food
I know.  The last one came as a total shocker to me too, since it is the very rare occasion that I crave fried food.  But the second I stepped food in the Atlanta airport and walked by a TGIFridays, the smells of everything fried and greasy and down right 'Merican were calling my name.  Of all the things.
Of course, I was in the middle of reading a cheesy business book that's all about making everyday decisions that are at least one step better than what might be craving.  Argh.  So I compromised with a fried chicken salad.
But it reminded me that I had made and photographed a recipe for these oven-"fried", hemp-crusted baked chicken tenders last month that I still hadn't posted on the blog.  So since my fried food cravings still haven't quite let up yet, this tasty recipe might just be in my future again this week.
Because trust me — especially if you're new to the hemp craze — they are crazy good.
I know, I know.  Hemp seeds are, like, OMG, totally popular right now.  And no, we're not talking the kind of hemp that's legal now in Colorado.  These are the super high protein, full of Omega-3 and Omega-6 fatty acids, low-carb, tasty little seeds that are actually really delicious.  For those who haven't tried them, they are soft and have kind of a nutty taste that I find similar to pine nuts.  Pretty tasty!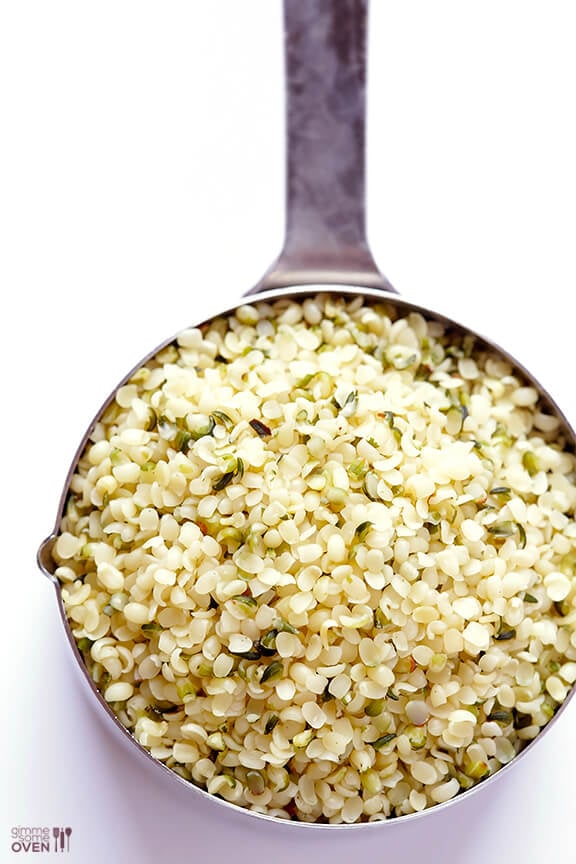 I had mostly been using them in salads and smoothies.  But a few weeks ago, I decided to try using them in a breading to make some gluten-free oven-"fried" chicken tenders.  In lieu of all-purpose flour, I decided to mix the hemp seeds with some almond meal (or you can grind up your own almonds) and some seasonings.  And they turned out…um…awesome.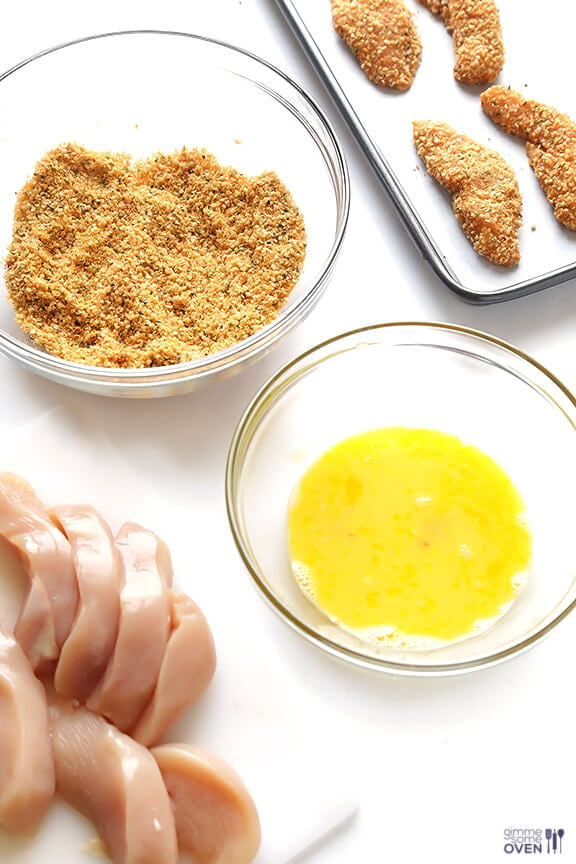 They are actually very easy to make.  Just cut some chicken breasts into thin strips.  (I prefer using breasts to tenders, so that you don't get that annoying tendon in there.)  Then dip the pieces in some whisked eggs, and then in your hemp seeds mixture, and lay them out on a parchment-lined baking sheet.  Give them a good mist with some olive oil or cooking spray so that they get extra golden and crispy on top.  And then bake them up until they are cooked.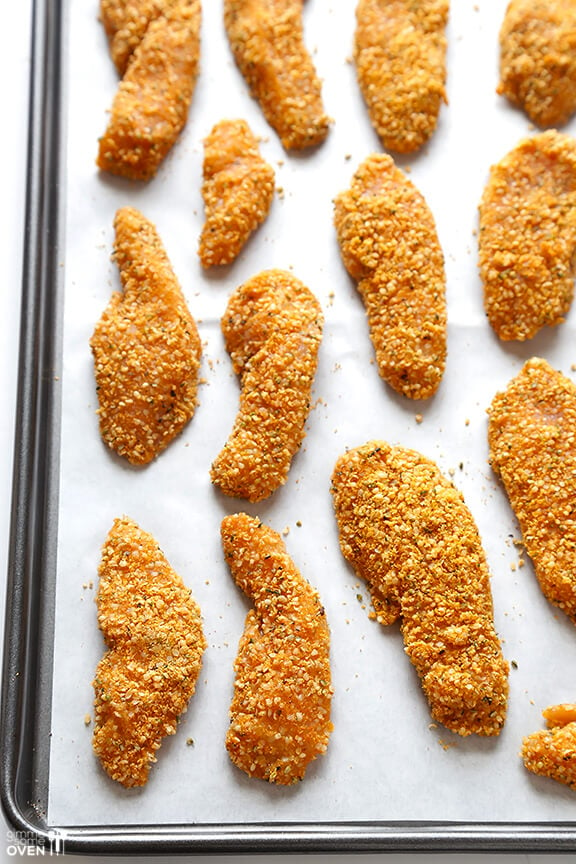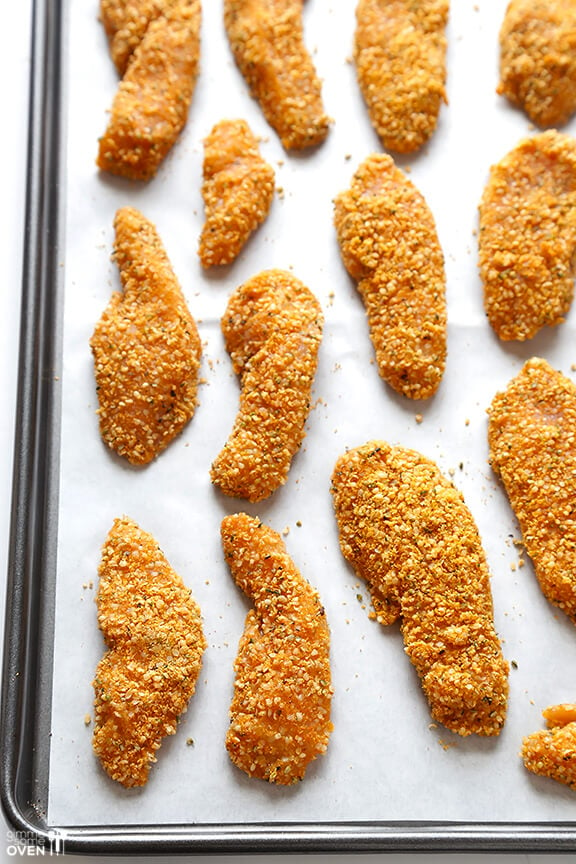 The result?  Pretty hemp-tastic if you ask me.  :)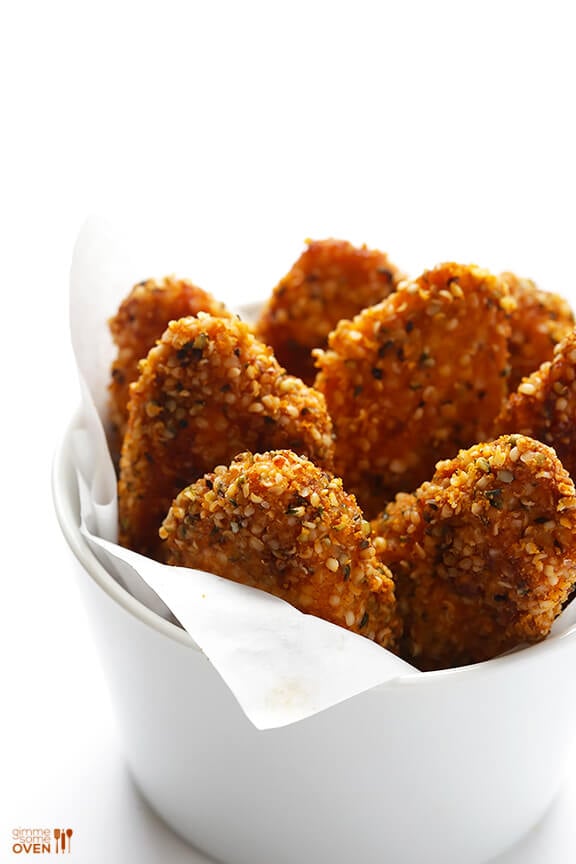 I loved that they turned out nice and crispy, which is yet another reason why I'm a big fan of always oven-frying over deep-frying.  No need for those ridiculous extra calories when you crisp up easy and flavorful dishes right in your oven.  (Ahem, gimme some oven, right?!)
And don't forget, they're also super high in protein with all of that chicken, hemp and almond flour.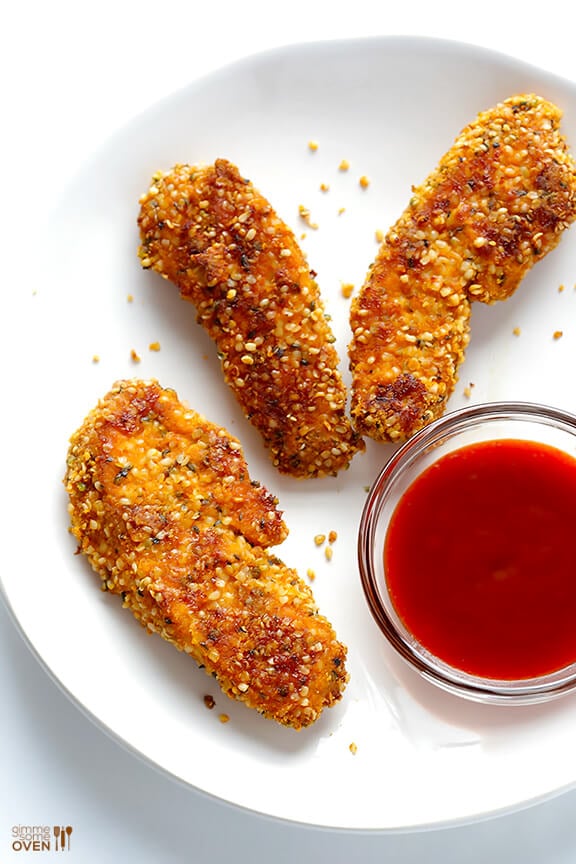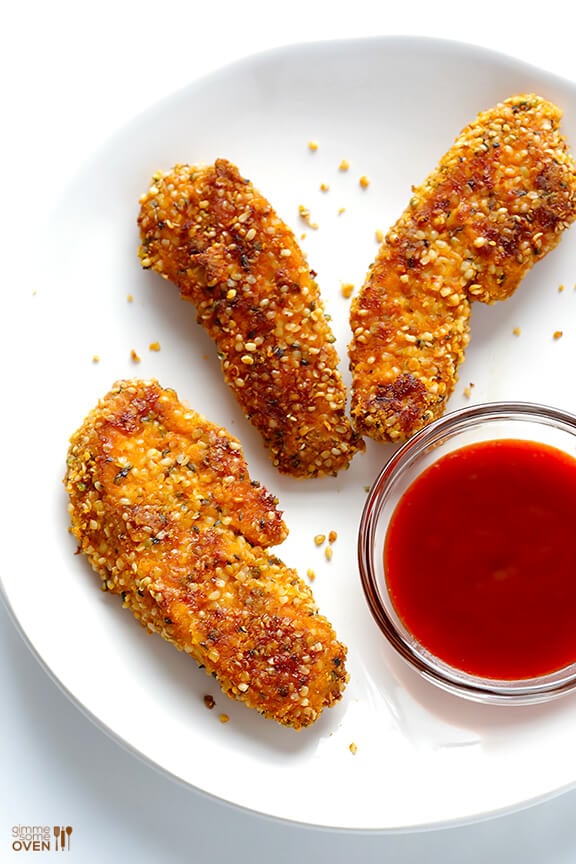 I was probably most pleased, though, with the flavor of the breading for this recipe.  The nutty hemp seeds and almonds were far more flavorful than traditional flour, and when combined with the seasonings, these were downright tasty!  So delicious, in fact, that I actually preferred eating my chicken tenders plain instead of drenching them in ketchup.
But if you insist…they are also pretty good dippers too.  ;)
So adios traditional chicken tenders.  These hemp-crusted baked chicken tenders are my pick for sure.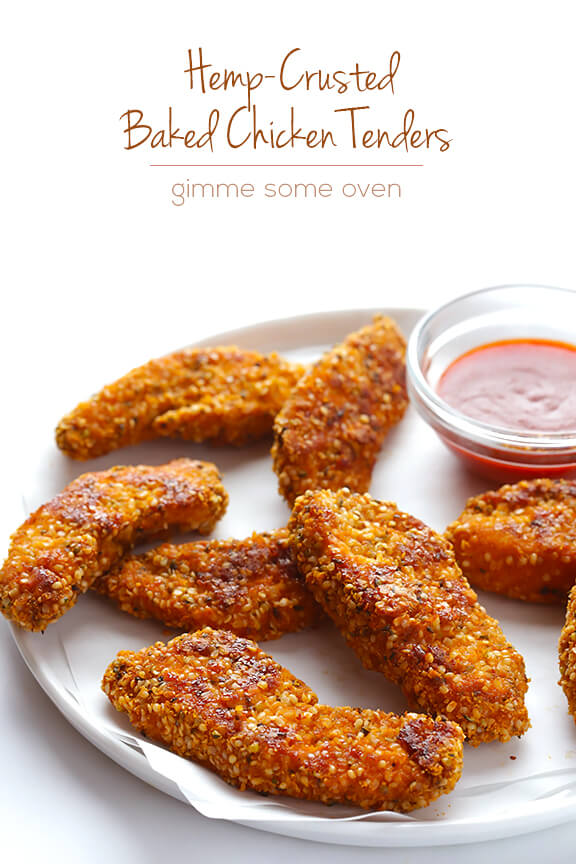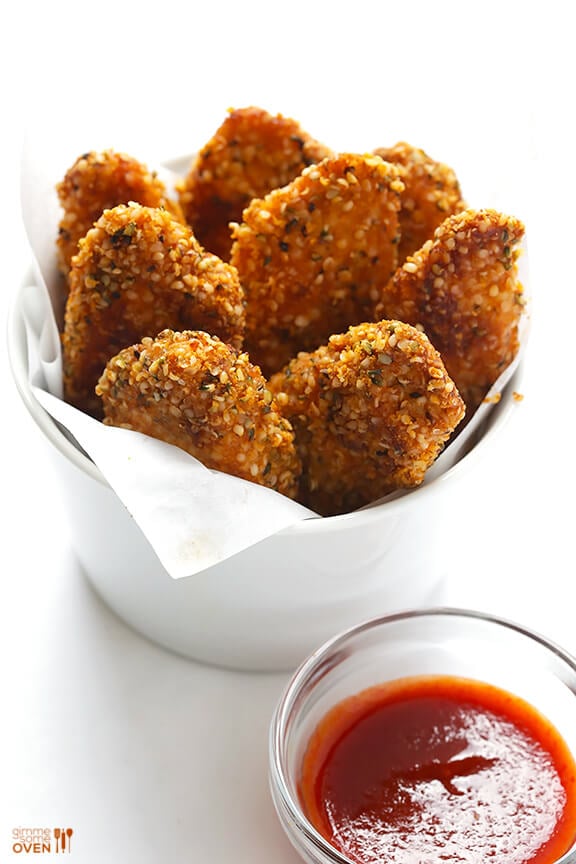 Hemp-Crusted Baked Chicken Tenders
These hemp-crusted baked chicken tenders are simple to make, crispy, flavorful, and naturally gluten-free.
Ingredients:
1/2 cup hemp seeds
1/2 cup ground almonds or almond meal
1 teaspoon garlic powder
1/2 teaspoon smoked paprika (or any paprika)
1/2 teaspoon salt
1/4 teaspoon black pepper
pinch of cayenne pepper
1 1/2 pounds boneless, skinless chicken breasts, sliced into 1/4-inch thick strips1/2 cup hemp seeds
2 large eggs, whisked
cooking spray (or you can also use olive oil in a Misto)
Directions:
Heat oven to 400 degrees F. Line a baking sheet with parchment paper.
In a medium bowl, whisk together hemp, ground almonds, garlic powder, paprika, salt, pepper and cayenne until evenly combined.
Set up your dipping stations in this order: (1) chicken strips (2) whisked eggs (3) hemp breading (4) parchment-lined baking sheet. Dip each chicken strip in the eggs until they are completely covered, then give them a little shake to let any extra egg drip off. Add the chicken strip to the hemp mixture, and gently toss until the chicken strip is completely covered. Remove and transfer the chicken strip to the baking sheet. Repeat with remaining chicken.
Give the chicken strips a good shot of cooking spray so that they are all lightly covered. Then bake for about 15-20 minutes, turning once halfway through, until the chicken is cooked and no longer pink inside and the breading is golden.
Remove and serve warm with your desired dipping sauce.
All images and text ©
If you make this recipe, be sure to snap a photo and hashtag it #gimmesomeoven. I'd love to see what you cook!
This post contains affiliate links.