Holiday Wine Recommendations for Drinking and Gifting
This post may contain affiliate links. Please read my disclosure policy.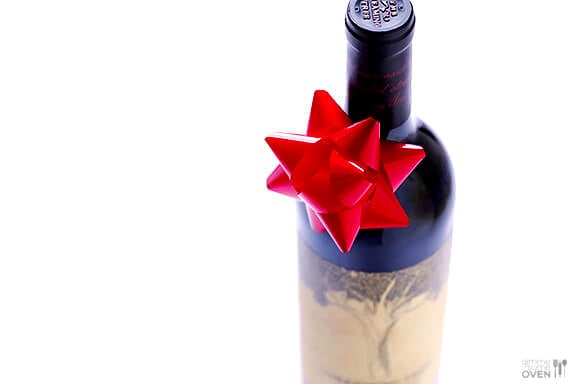 Okay, now that you know a few things about wine, it's time to put it into practice as you pick out wine gifts to take to holiday parties or to make wine gift baskets for a host or the wine-lover in your family. Here are a few tips on choosing a holiday wine and some suggestions to look for!

1. Know Your Audience
If you're giving a bottle of wine as a gift, what do you know about that person's tastes? Do they like red or white…(can you picture what they were drinking last time you had dinner with them)? Do they buy expensive wine for themselves? You want to give them something that is special–different than what they would normally get for themselves. So if you know they drink "Two-Buck Chuck" from Trader Joe's, then it's safe to get them a $10 bottle and they'll probably think that's pretty nice! But if they have more "expensive tastes" as I like to say, you may have to be ready to splurge.
2. Make it Special
Pick out something that you don't see everywhere, like the standard bottle that everyone in your circle always brings, or the huge wine label that everyone recognizes. Look for something unique that the recipient of your gift is less likely to have seen before. Of course, this tip is a bit tricky because it still needs to be a wine that you trust will be good! Be sure to use last week's Wine 101 class to help you determine that.
3. Make it Mini
Miniature wine bottles are a really fun addition to a wine basket (or a stocking) and cheap, too. World Market has a huge selection of mini wines of all the big labels, including sparkling wines. Grab a few different mini bottles, throw in a bar of dark chocolate and some local tea or coffee, and you've just made a gift bag anyone would love.
3. Put a Bow On It
This doesn't take a wine connoisseur to figure out, but if you're taking a wine gift to a host or hostess of a party, sometimes it can be confusing as to whether you're bringing it to share or whether you're giving it as a gift for them to savor at their leisure. So, if the latter, simply tie a bow around the neck of the bottle or purchase a wine gift bag to put it in–this signals to the recipient that it's for them, not just a donation to the party. Then, if they want to share it with everyone, they totally can! But if they want to save it for something special, they will feel more confident doing so knowing it's a gift.
4. Can't Decide? Charm 'em with Champagne
If you're not sure if someone likes white or red, or how expensive their tastes are, or whether they'll want to share it at the party or save it for later, just buy champagne or sparkling wine. Spend a few extra bucks to get something relatively nice ($15 or more), and call it a day. Everyone loves champagne, and yet it is so often overlooked so it always feels like a treat! Then impress them by saying, "Did you know champagne pairs well with popcorn? It's true." It is true, which we'll talk about down the road in the All About Sparkling Wine post!
So, use these tips and what we learned about things like description, geography, and vintage in Wine 101 to pick out the perfect wine gift. And yes–pick a label that you like–no one wants a bottle of wine that has an ugly label! Judging the wine by its cover is okay when you do so with a bit of education.
That said, here are a few great wines (in no particular order) that would make great gifts. Take this list into your local wine shop, and if they don't have it, ask someone in the shop to help you–in most cases, they will easily be able to lead you to something comparable in taste and price. I've also seen many of these wines at World Market or Costco.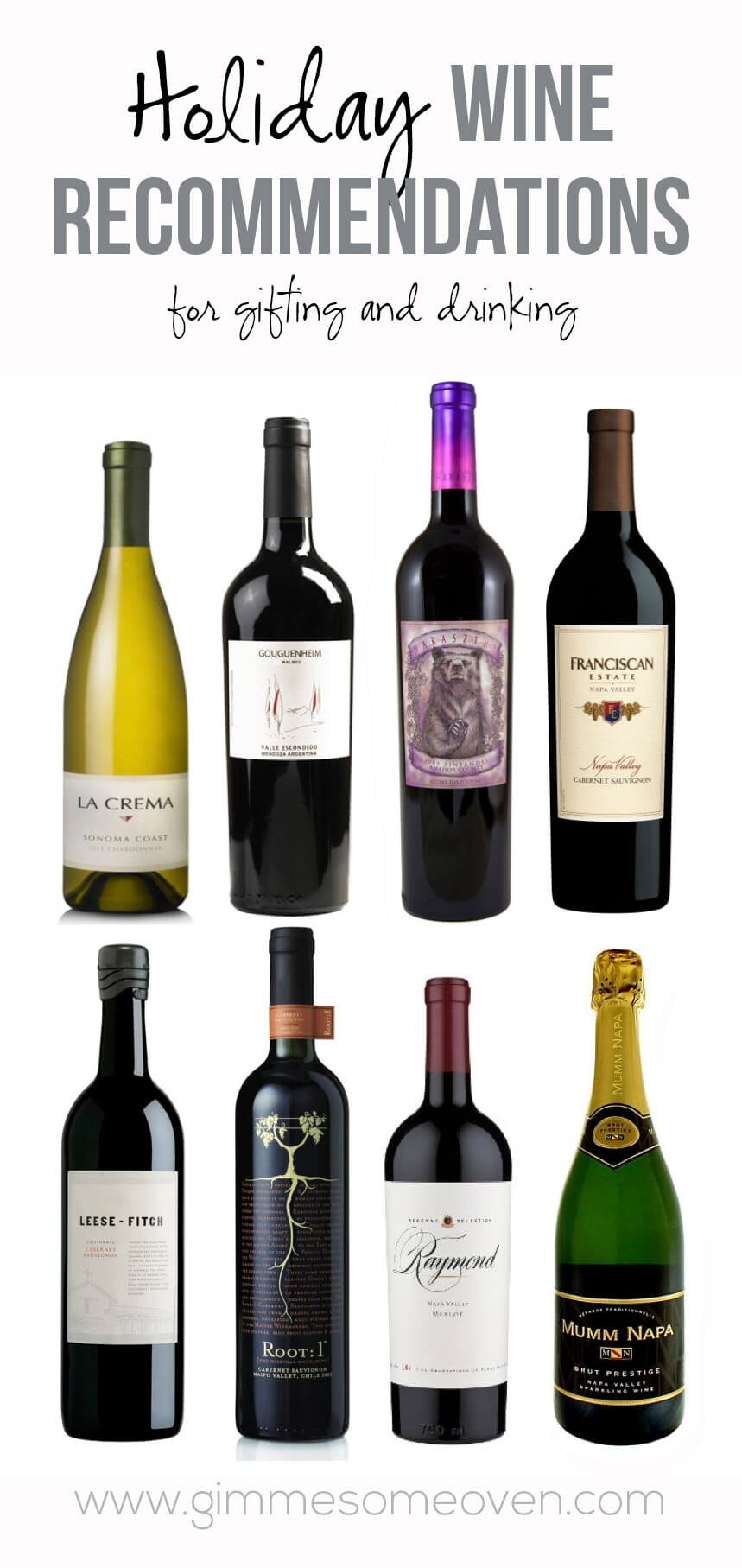 La Crema Chardonnay – 2012*
This is one of the best white wines for cold weather, as its very bold, flavorful and "buttery"–one of those words that doesn't seem to be a wine descriptor until you experience it! It's popular among Chardonnay lovers, so this is a great pick if you know your gift recipient loves white wine. It runs just under $20 so makes a very nice gift as well.
Pair with holiday turkey and buttery mashed potatoes.
Goughenheim Malbec – 2012*
Malbecs are a favorite of many red wine drinkers who love bolder, more fruit forward wines, and this one has it all for a great price of around $11-12.
Pair with holiday ham or anything Mexican.
Haraszthy Amador County Zinfandel – 2011*
Zinfandel (not to be confused with White Zinfandel, which is a very different wine) is one of my favorite varietals of red wine, and it's hard to find a good bottle under $20. This wine (with a really fun label) usually runs around $15 and is totally solid for any red wine lover to enjoy.
Pair with red meat or pasta.
Franciscan Estate Cabernet or Merlot – 2011*
Franciscan is never hit or miss–pretty much anything with their label is worth buying. Look for something from 2011 or earlier and it's bound to be a great bottle. Their wines run from $15 up to Expensive.
Cabernets and Merlots are very accessible and can pair well with almost anything, and are also best for enjoying without food.
Leese-Fitch Cabernet Sauvignon – 2011*
Leese-Fitch is another label that has a family of solid wines that are all affordable, findable, and very drinkable. Usually around $12-$15, any of their reds or whites are worth gifting, but the Cabernet is my favorite.
Root: 1 Cabernet Sauvignon – 2011*
This one wins for Coolest Wine Bottle Ever. All of their wines are excellent, so if you don't see the Cabernet then you can feel confident about picking up any of their other reds or whites.
Raymond Merlot – 2010* or 2011*
World Market often has a sale on this brand and you can land a $25 bottle of wine for under $15.
Mumm Napa Brut Prestige
Mumm is a top sparkling winemaker in Napa Valley, and this or any other quality sparkling wine or champagne will be a hit at any party.
Pair with popcorn, strawberries, or more champagne!
*or earlier will almost always apply to the vintage of any wine recommendation I make, unless stated otherwise

Untested Bonus Recommendation for Masterpiece Theatre Fans: Downton Abbey Bordeaux
I saw this one at World Market! I canNOT vouch for this wine as I have not tasted it, but if you're giving wine to someone who 1) may not have strong opinions about wine and 2) loves Downton Abbey, you should probably just get them this. That was easy.
Ready to drop a few more bucks?
Here's a few quick recommendations in the $30-$50 range (for those of you rolling your eyes, give me time, I promise the 10 under $10 is coming!):
Duval Leroy Champagne
Rombauer Chardonnay
Conn Creek Anthology (or anything by Conn Creek, really)
Louis Martini Cabernet
What are your favorite wines to give as holiday gifts?