Hot Chocolate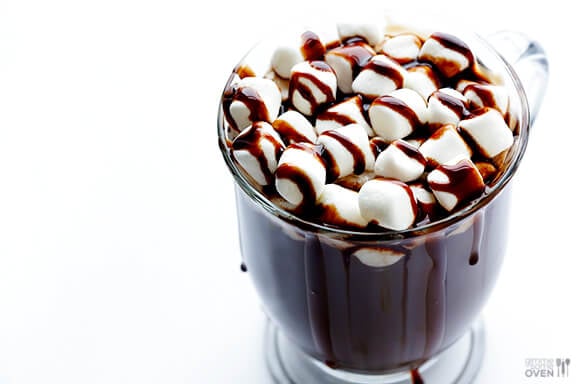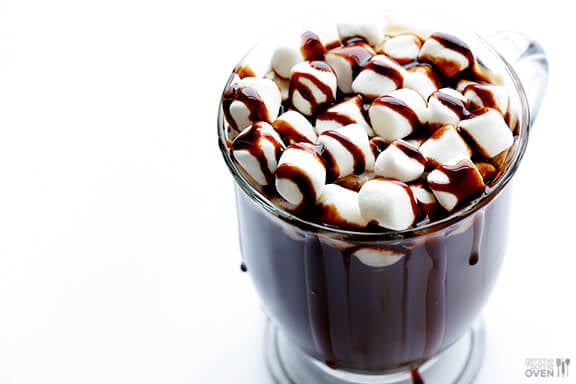 Call me crazy, but yesterday as a blizzard was rolling into Kansas City, I decided to get out of the house.
I know.  I'm usually the girl who happily cozies up inside when the weather outside gets frightful.  But when all of my neighbors decided to bundle up and trudge through the blizzard to get coffee together in the morning, I couldn't resist the chance to start the day with them and watch the snow fall from the huge windows in our neighborhood coffee shop.  Then one of my friends with her big SUV offered to come pick me up and go out for my favorite vegan nachos for lunch (which, if you've ever had these nachos, they are 100% impossible to resist).  And then of course, I couldn't resist a trip to the park for the family member who loves playing and dive-bombing and running windsprints and rolling in the snow almost more than life itself — my dog.
But then of course, once we finally returned home it was time for my snowed "in" favorites — my favorite warm sweatshirt, the best slippers ever, a day full of cooking, and one of my favorite warm treats.  You guessed it.
Homemade hot chocolate.
Homemade Hot Chocolate Recipe | 1-Minute Video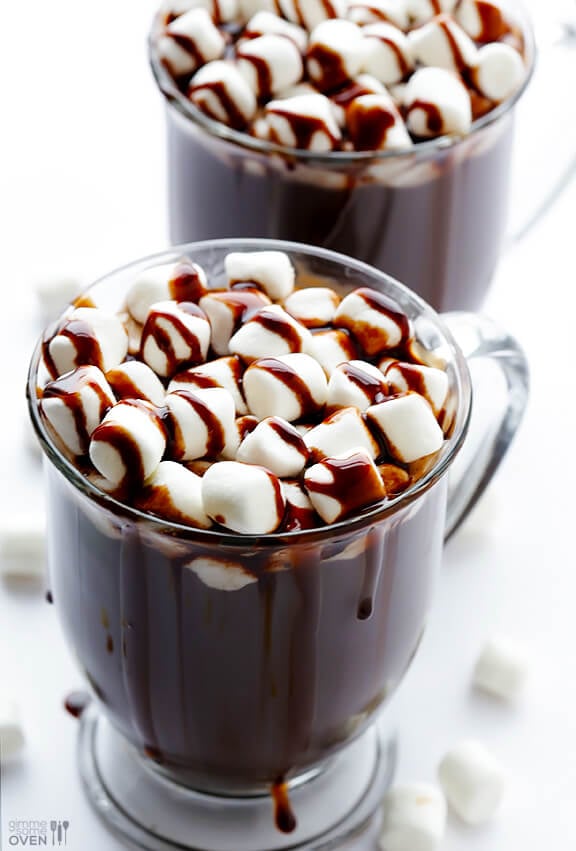 When it comes to comforting sweet drinks on a cold day, there's no beating a warm cup of hot chocolate.  I've shared with you before about some of my favorite twists on the classic — from Nutella Hot Chocolate to Mexican-Spiced Hot Chocolate to the always delicious White Hot Chocolate.
But yesterday I was craving the real deal.  No frills.  No gourmet twists.  And definitely no powdered mix from a box.  Just good ol' fashioned hot chocolate.
So for anyone else who might be craving the same, I thought I would share my favorite recipe with you.  It is super simple, only takes about 10 minutes to make, and has a few tiny secrets that I think kick it up a notch to a chocolate lover's dream come true.  Here's the how to:
First, start by warming your milk in a saucepan.  You can use any kind of milk here — cow's milk, almond milk, soy milk, etc.  I'm a 2% girl myself when it comes to hot chocolate, but you can go with whatever floats your boat.  (And if you really want to get decadent, sub in a little half and half for part of the milk.)
Keep a whisk or spoon on hand to stir the milk as it heats so that it doesn't burn on the bottom of the pan.  Then once it's scalding (stop before it reaches a boil!), turn off the heat and stir in the cocoa, sugar, vanilla extract, and salt.  A few notes about those ingredients:
Cocoa: I prefer to use the dark cocoa (Hershey's dark) because I love the depth flavor it gives, but you can use any unsweetened cocoa.  You'll notice the dark cocoa makes the hot chocolate look a little darker in color, too.
Sugar: You can also use more/less sugar to taste, or substitute in your desired kind of sugar or sweetener.  I prefer the "all things in moderation" rule with hot chocolate — opting for a smaller portion of the real deal rather than a larger portion with a sugar substitute — but go with whatever works for you!
Vanilla Extract: A "must" with my hot chocolate!  It rounds out the flavor perfectly.
Salt: All you need is a little pinch, but it helps bring out the flavor of the cocoa and vanilla.
Once your chocolate is ready, ladle it into your mugs.
Then if you're feeling decadent, top with marshmallows and chocolate syrup.
(And cue the "Would you like some hot chocolate with your marshmallows?" comments.  To which I promptly answer, "Yes, I would thankyouverymuch.")  :)
I mean, just look at it.  Who can resist a steaming mug of good hot chocolate?  I certainly and happily won't.  :)
Hot chocolate cheers to you from me and my pup from snowy Kansas City!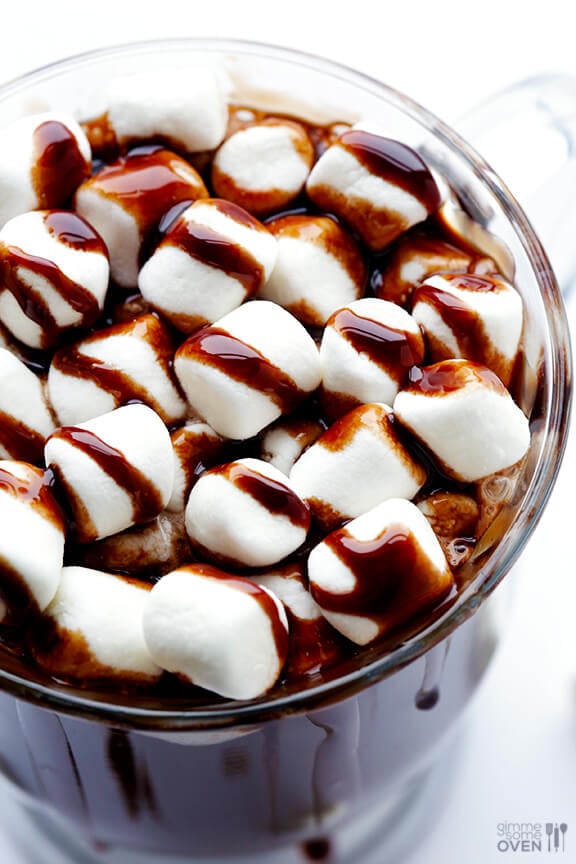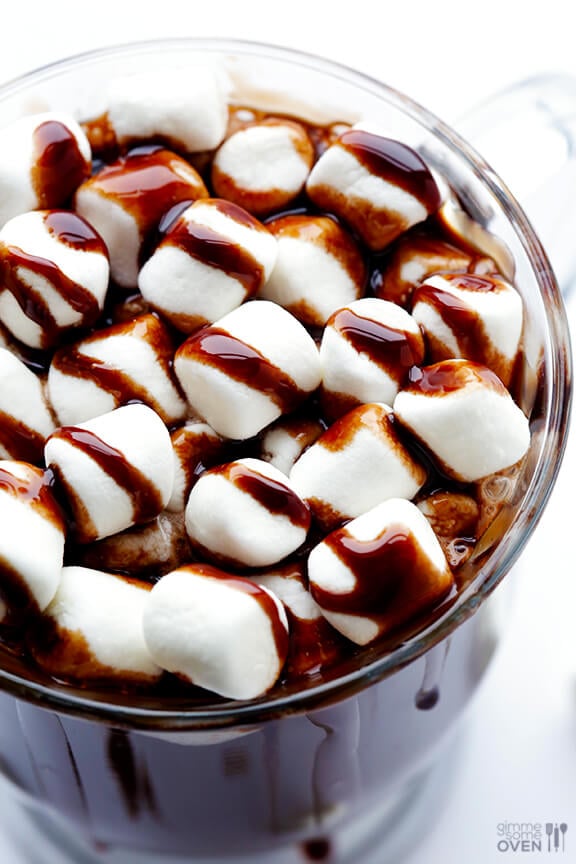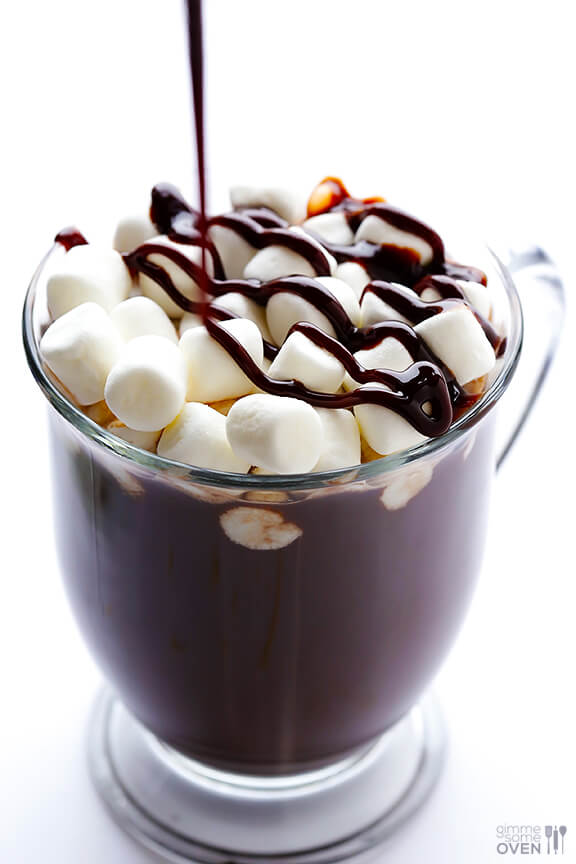 Homemade Hot Chocolate
My favorite recipe for homemade hot chocolate!
Ingredients:
4 cups milk (any kind)
1/3 cup granulated sugar
3 Tbsp. unsweetened cocoa (I prefer dark cocoa)
1/2 tsp. vanilla extract, store-bought or homemade
tiny pinch of salt
(optional toppings: marshmallows and chocolate syrup)
Directions:
In a medium saucepan, heat milk over medium heat until scalding (not boiling!), stirring occasionally. Whisk in sugar, cocoa, vanilla extract and salt until combined.
Serve hot topped with marshmallows and chocolate syrup, if desired.
All images and text ©
If you make this recipe, be sure to snap a photo and hashtag it #gimmesomeoven. I'd love to see what you cook!
Be sure to check out these other yummy hot chocolate recipes: