Homemade Soft Pretzels (5 Ways)
This post may contain affiliate links. Please read my disclosure policy.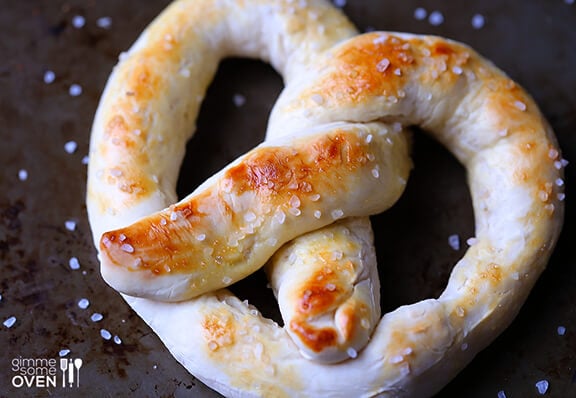 Growing up, my sister and I used to get super excited when we flung open the door after school and saw that it was our favorite — Pretzel Day!! Within about 2.2 seconds, we would throw off our backpacks, hop onto our kitchen stools, and take that first delicious bite of a warm, doughy, soft pretzel. De-lish. My sister always liked her with cinnamon and sugar or dipped in cheese, but I was a purist. Just sprinkle mine with some big chunks of sea salt and I'm a happy camper.
Eventually I learned how to make pretzel dough myself, mastering the steps of kneading, rising, boiling, and cooking them to golden perfection. My friends and I would twist them into knots, cut them into little pretzel bites for dipping, or (my favorite since childhood) shape them into letters to make everyone's initials or make pretzel "words". Some things don't change since childhood. ;)
But recently my friend and baker-extraordinaire Sally did a post on 30-minute pretzels, and my jaw dropped. You mean — wait — what? — no waiting for dough to rise or messing with dipping each pretzel in a boiling baking soda solution? Nope! Sure enough, she introduced a method of just forming and baking the dough right away, and then cranking up the broiler at the very end to brown the edges a bit. Brilliant!
Suffice it to say, I have been making way too many soft pretzels the past few months as I've been playing around with adapting my old recipe with her new method. (Hers are vegan and whole wheat, but I like using my stand mixer to make mine with butter and bread flour for extra chewy-ness.)
So today I'm teaming up with Imperial Sugar to share 5 variations for making quick and easy soft pretzels — Classic (with sea salt), Cinnamon Sugar, Parmesan, Italian Garlic and Cajun Pretzels. Visit Imperial's yummy site for the pretzel recipe and many more, and also feel free to read below for a few step by step photos. (Plus a few zillion more pretzel photos. I had a little too much fun photographing these!)
Hope these might inspire you to have your own Pretzel Day!

Homemade Soft Pretzel recipe available at Imperial Sugar.
(Recipe adapted from Sally's Baking Addiction.)