Homemade Vanilla Extract (Plus FREE Printable Labels!)
This homemade vanilla extract recipe is super easy to make with just 2 ingredients.  Plus, be sure to check out our cute printable labels that you can download below for free!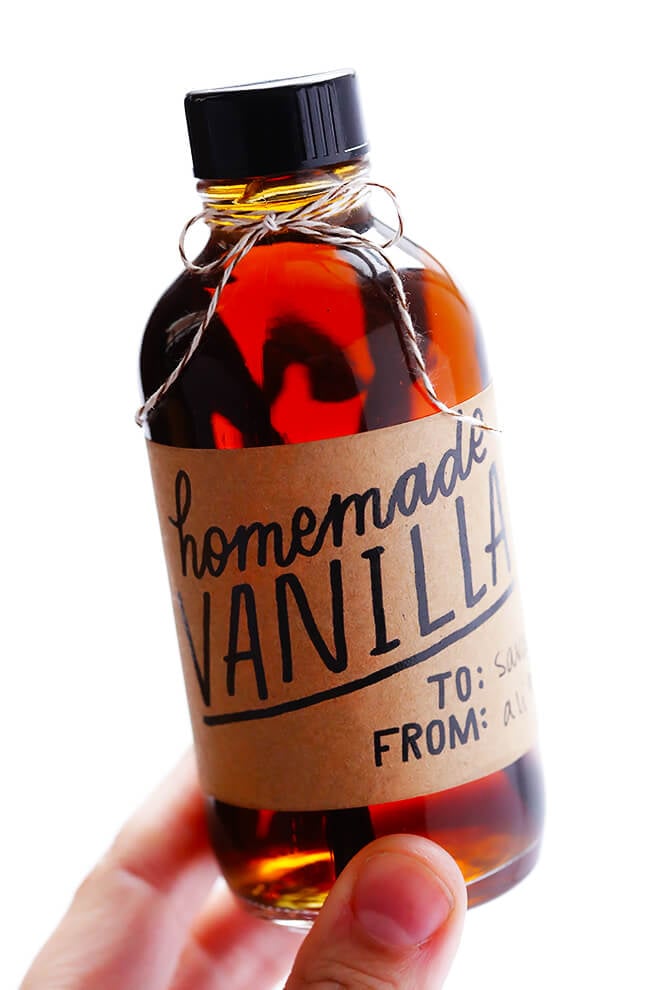 Spoiler alert for all of my friends and family reading the blog today:
I made everyone homemade vanilla extract for Christmas this year!!! ?
That's right — you get a free vanilla, and you get a free vanilla, and you get a free vanilla, and — did I mention I made SO MUCH VANILLA?!
Actually, this is one of my favorite gifts to give away.   It's a gift that's super quick and easy to make with just two ingredients.  It's a gift that's super affordable, especially in large batches.  It's a gift that I know just about all of my friends will actually use. (And bonus — they can also re-use it for a second round of vanilla if they simply refill the bottle with vodka.)  And, thanks to the cute homemade labels that my friend, Kelly, designed for me this year, it's a gift that looks so good it doesn't even need to be wrapped.  Win-win-win.
Of course, homemade vanilla extract is also the gift you can totally make for yourself, and I've included instructions (plus a new video!) below if you'd like to make a big batch.  But if you're interested in making some of the small bottles pictured above, I've also included a small-batch recipe below, plus step-by-step instructions and supplies (all available on Amazon) and a ?FREE? printable PDF of the vanilla labels that Kelly made for me.  Seriously, if you're looking for a last-minute gift idea, it took me about an hour to make three dozen of these.  And thanks to Amazon Prime, you can totally have these ready in a few days.
Let's make some vanilla extract!
How To Make Homemade Vanilla Extract | 1-Minute Video
Homemade Vanilla Extract Ingredients:
Alright, the ingredients for this couldn't be simpler — vanilla beans and vodka!  A few notes on each though:
Vanilla Beans: Really, you can make vanilla extract with just about any kind of vanilla beans (i.e. Madagascar, Mexican, Tahitian, you name it).  They can get pretty pricey in regular grocery stores, so I usually either buy mine online (ordered these vanilla beans recently from Amazon) or I also love buying them at Costco.  The fresher and softer they are, the easier they will be to slice open.
Vodka: The one thing I'd encourage you not to do is splurge on pricey vodka for this recipe.  The alcohol is the least important thing here, and it's going to absorb all of the flavor of the vanilla beans anyway.  So feel free to grab a cheap bottle (in bulk, if you're making a big batch!) and trust me, it'll do the trick.  Also, some people recommend making vanilla extract with bourbon or brandy, but I feel like the taste is noticeably different and distracting with those.  So — while I love bourbon and brandy — I'm definitely in the vodka camp for this recipe.
(Edited: To answer some of your questions about making homemade vanilla extract without alcohol, I've learned that you can make it with food-grade vegetable glycerine in place of vodka.)
How To Make Vanilla Extract:
Once you're ready to make your extract, simply slice open all of your vanilla beans lengthwise down the middle, so that those magical little seeds are all exposed.  (<– You don't need to scrape them out, just leave 'em in there.)  Then place your beans in your jar/bottle, and fill the rest of the jar up with the proportional amount of vodka (see ratios in the recipe below).
And — this is the only hard part — make yourself wait at least a month before opening and using the vanilla.  I prefer to wait at least 6 weeks, to be exact.  Because the longer the beans soak in there, the darker and more flavorful your vanilla extract will be.  If you look above, the first jar was one I filled yesterday, versus one I made a few days ago, versus one I made over a month ago.
Here's a full video of the step-by-step process:
See?  So simple!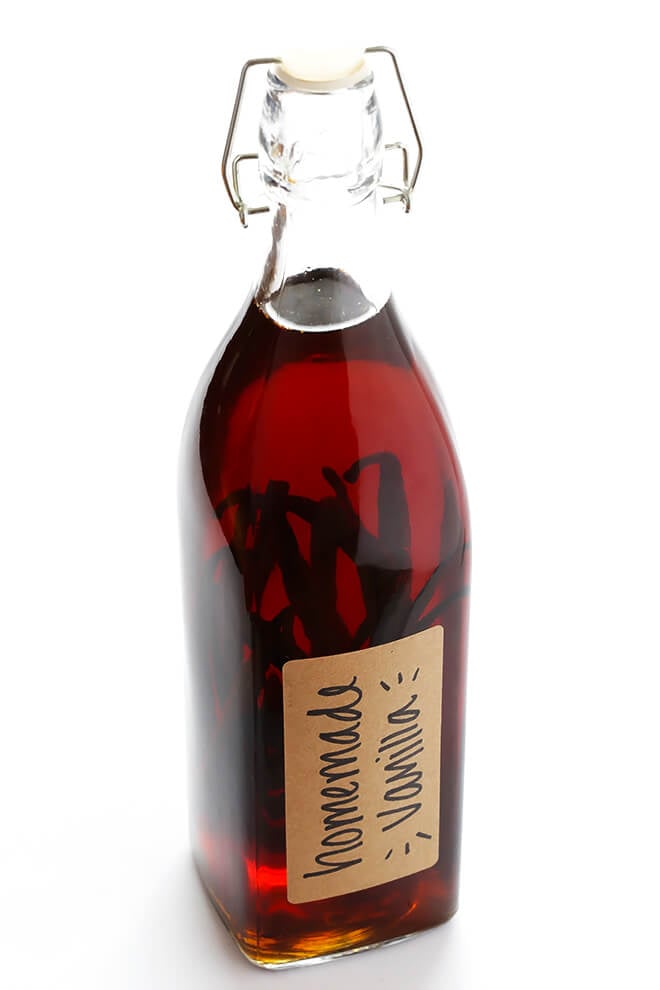 If you'd like to make a large batch, just grab a large bottle or mason jar.  Anything glass with a secure lid will do.  (I used a bottle similar to this 1-quart bottle, but any size of bottle will work if you use the ingredient ratio listed below.)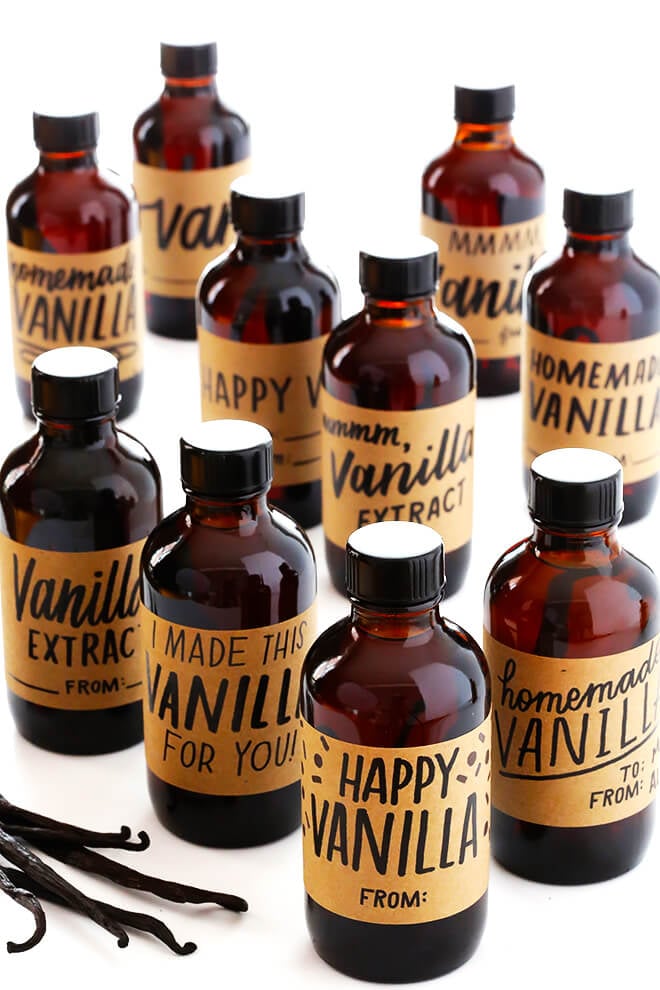 Or, if you'd like to make small bottles, I used these 4-ounce amber (pictured just above) and clear (pictured in the opening photo) Boston round bottles.  Then I bought these Brown Kraft 2 x 4-inch labels, and printed Kelly's cute PDF labels below on them.
That said, if there's a particular design that you love most, Kelly graciously made separate PDFs for each individual label as well (in clockwise order from top-left):
AND, here is the PDF for the sheet with all 10 different labels, as pictured above, which is what I used.  If you're making the vanilla extract less than 6 weeks before gifting the bottle to friends, be sure to let them know what date to begin using the extract.  Otherwise, it should last for at least 2-4 years.  Also, vanilla beans usually last for at least 2 batches, so feel free to encourage friends to just refill the bottle with vodka when they'd like to make a second batch.
Alright, I think that's everything you need to know about homemade vanilla extract!  Big thanks to Kelly for designing such cute labels (check out her other work on her website or Instagram!), and I wish you all some very merry vanilla-making ahead!
How To Make Homemade Vanilla Extract
Learn how to make homemade vanilla extract with this easy recipe and tutorial. Supplies for making cute gift-able bottles are listed above.
Ingredients:
4 whole vanilla beans
1 cup vodka (or see note below for a non-alcoholic substitution)
Directions:
Use a paring knife to carefully split each vanilla bean down the middle lengthwise, cutting halfway through the bean so that the seeds are exposed.
Place the vanilla beans in a glass jar or small bottle.  (See details below.)  Then pour in the vodka so that the beans are covered.
Place a lid on the jar or bottle, and give it a gentle shake.  Then store in a dark place for 4-6 weeks, until the vanilla is nice and dark and flavorful.
Use as desired.  If you'd like to strain out the vanilla bean seeds, you're welcome to do so.  But I recommend leaving the beans in there — that way, you can continue to top off the vanilla with more vodka as you use it, stretching out the beans so that they last for about two bottles' worth of vanilla.
For the 4-ounce small bottles, you will need 2 beans per jar.  (I cut them in each in half to fit in the bottles more easily.)
For the large 4-cup bottle, you will need 16 beans.
Cooking time listed above does not include the 4-6 weeks needed for the vanilla to soak.
*Most real vanilla extract that you purchase at the store is made with alcohol.  But if you would like a non-alcoholic version, I've read that you can substitute food-grade vegetable glycerine in place of vodka.  The same ingredients amounts and instructions in the recipe above apply.
All images and text ©
If you make this recipe, be sure to snap a photo and hashtag it #gimmesomeoven. I'd love to see what you cook!
This post contains affiliate links.