Honey Lemon Chicken Bowls (Meal Prep)
This delicious Honey Lemon Chicken recipe is one of my favorite easy meal prep ideas for lunch or dinner during the week!  Feel free to use whatever veggies you have on hand, and serve with rice or quinoa.  (This post contains affiliate links.)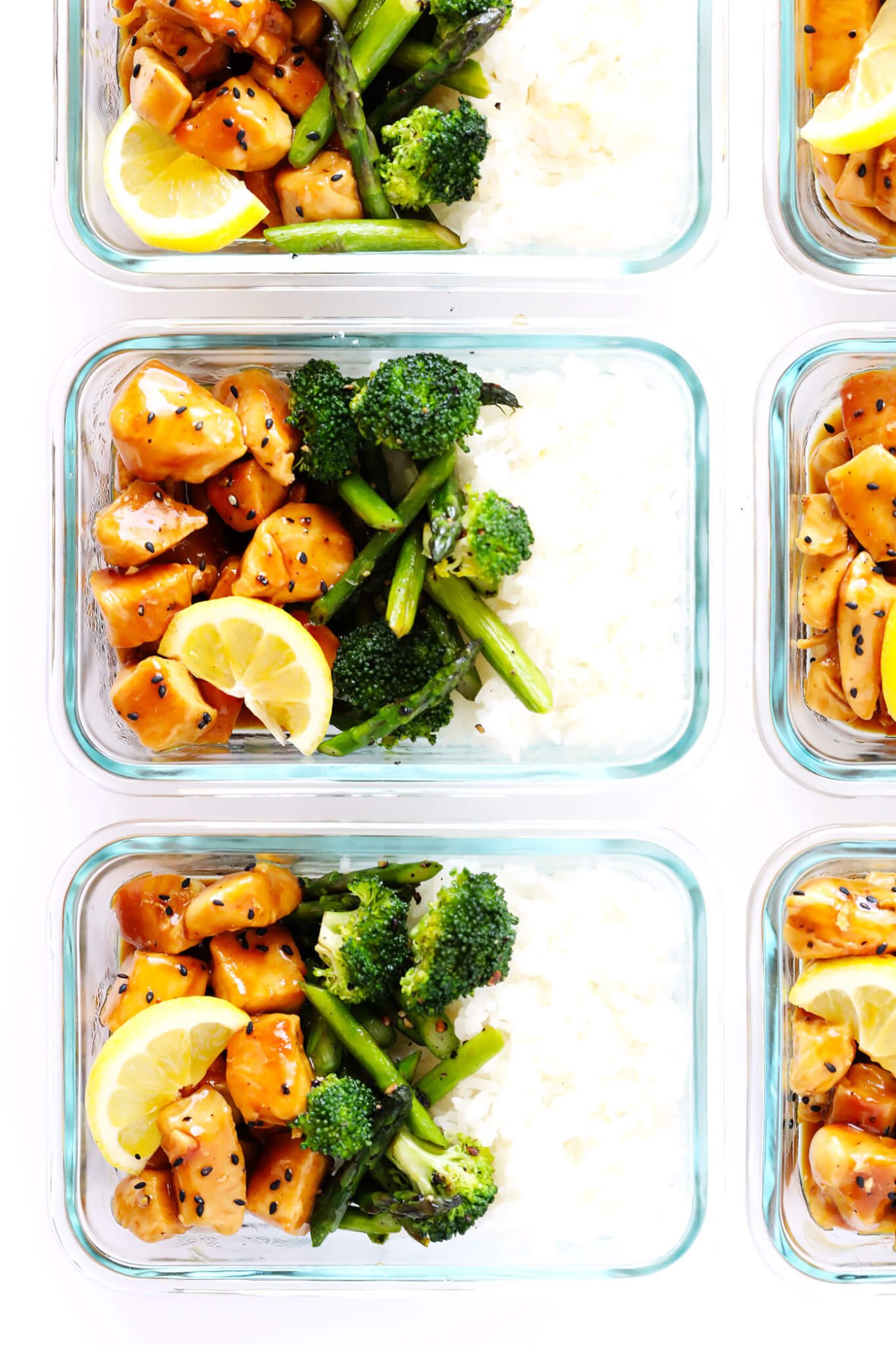 How's your lunch game lately?
Are you eating the kind of food in the middle of the day that you want to be eating?
I'll be the first to admit that lunch is the one meal of the day I probably struggle with most when it comes to healthy (make that any kind of intentional) eating.  Occasionally I get on meal planning swings and have a plan for the day, or have random leftovers waiting to be eaten in the fridge, or take the time to cook myself well-balanced feel-good meals.  But too often when noon rolls around, I have zero plan for what I'm going to eat.  Which, of course, too often results in either (1) eating out, (2) Postmates-ing in, or (3) munching on random snacks instead of eating a balanced meal.
I used to blame my impulsive lunch habits on working in a basement cubicle with florescent lighting for seven years, when my coworkers and I would basically take any excuse to escape the building on our lunch break.  But even now that I'm working from home — yeah, as a food blogger, no less! — and have an entire kitchen and refrigerator and pantry nearby, I'm amazed at how often I still get lazy and feel rushed over lunchtime, and opt for the quickest lunch option that takes the least amount of thought and work.  Not exactly how I'd like to roll. 😂 😂 😂
Anyway, I'm confessing this one to you because I'm trying to work on this whole eating-better-lunches side of adulting lately.  (And also, save up our lunch money for meals out in Spain. 💃🏻)  So all that to say — I'm finally jumping on the meal planning train.  And sticking with it.  And starting to actually get kind of good at it.  And best of all…actually enjoying it!
I mean, especially when delicious honey lemon chicken and veggie bowls like these are waiting for me in the fridge.  😍
Honey Lemon Chicken Bowls Recipe | 1-Minute Video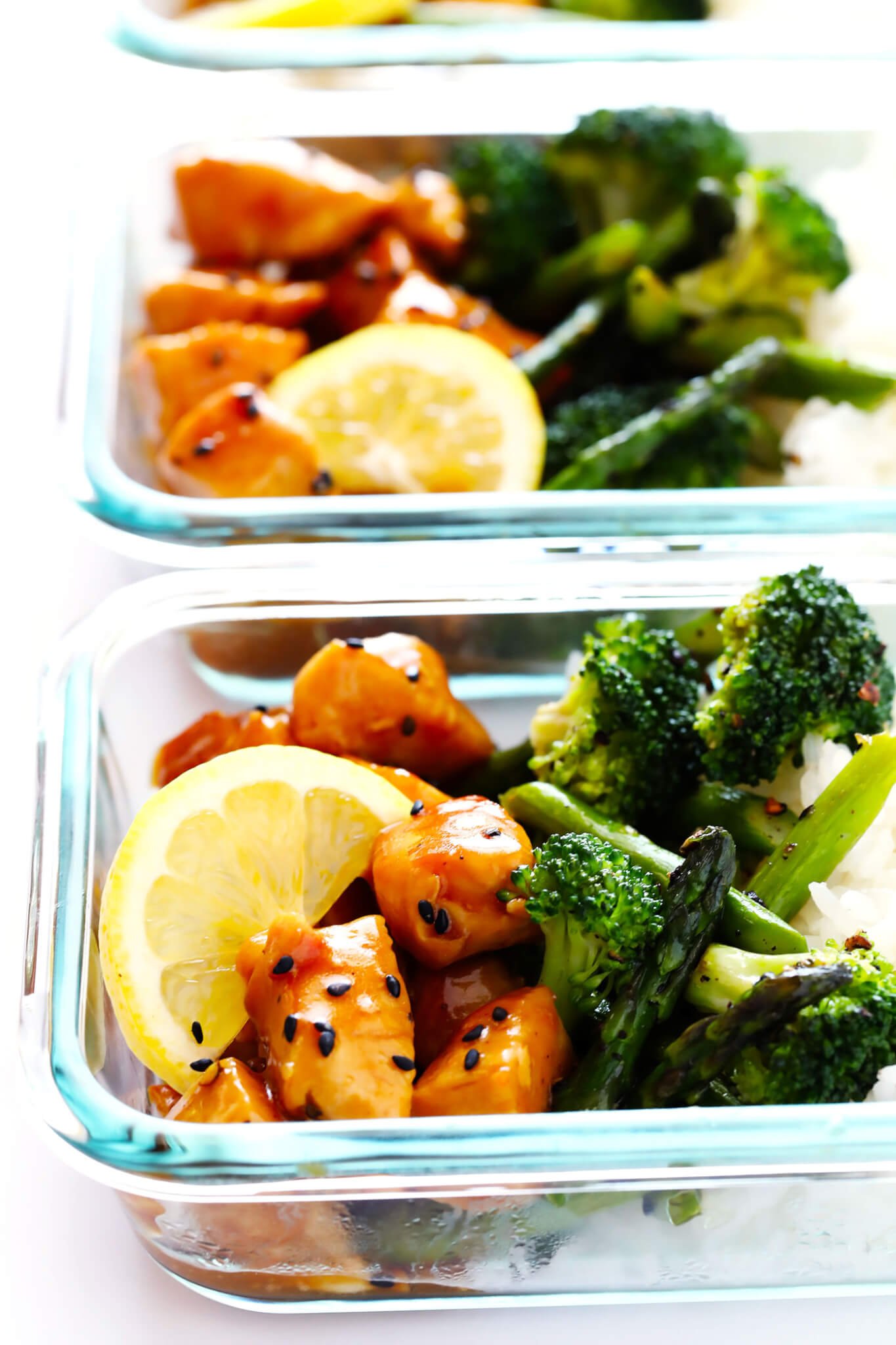 And the best news?  You can make this recipe — make that, SIX SERVINGS of this recipe — all in about 30 minutes.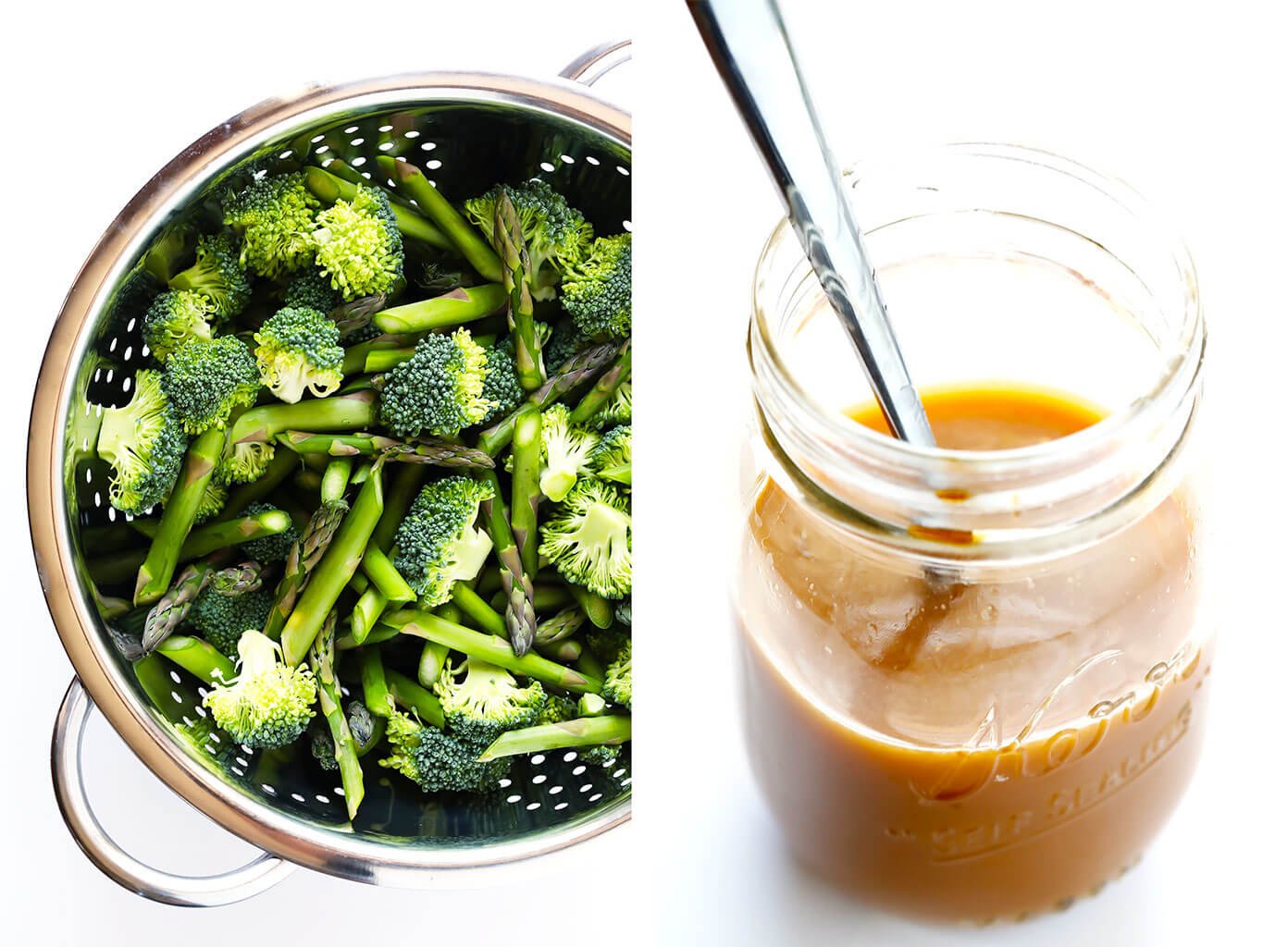 To make them, start by putting some rice or quinoa on the stove to cook.  (Or my favorite, dump everything in a rice cooker so that you don't have to keep an eye on a simmering saucepan.)
Then chop up a bunch of veggies, and pop them in a skillet to sauté until tender.  Meanwhile, whisk together your honey lemon sauce and chop up your chicken while the veggies cook.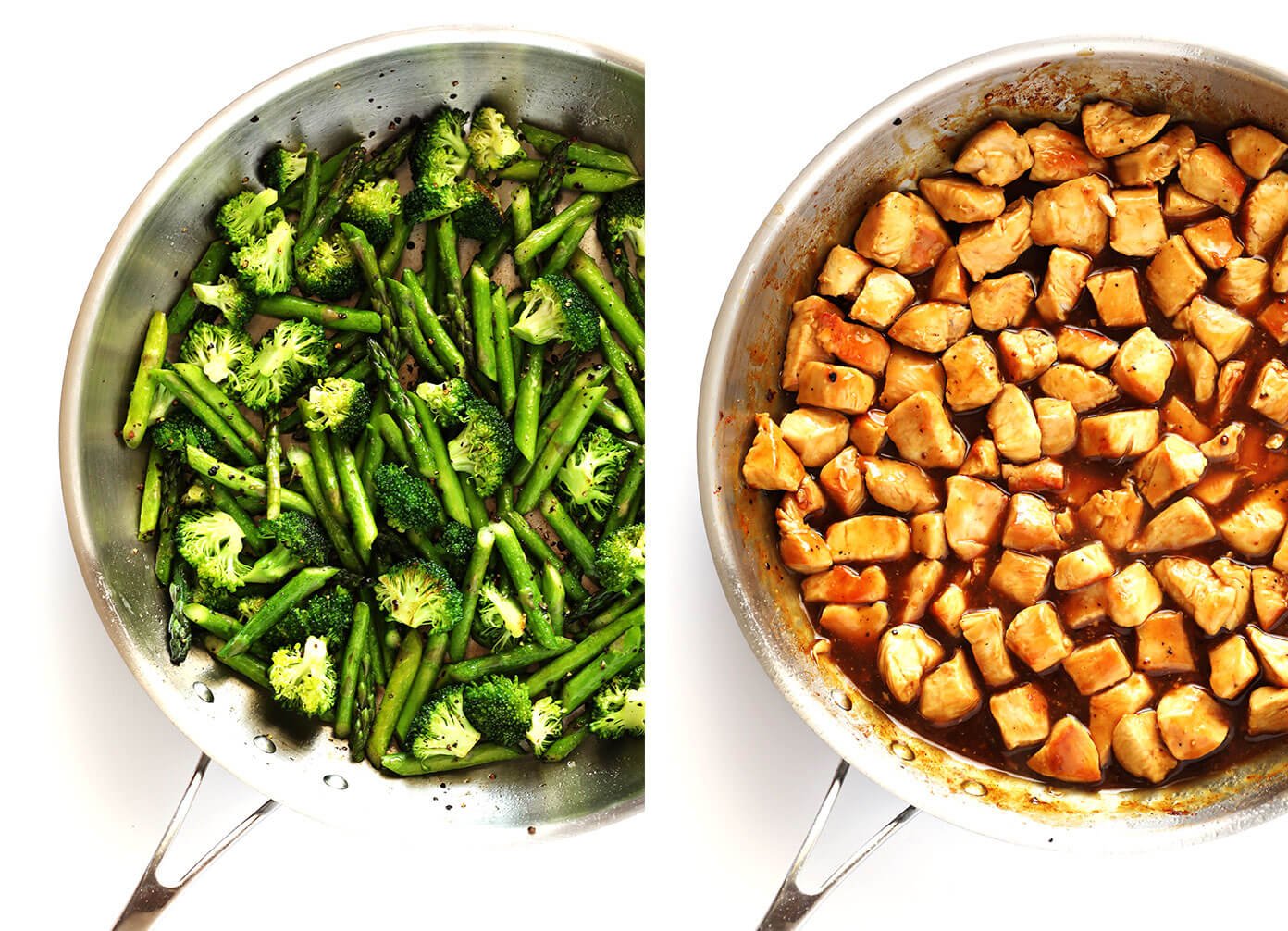 Then transfer the veggies to a separate plate.  Sauté the chicken until it has also cooked, then stir in the sauce until it comes to a simmer and gets nice and thick.  (I recommend doing all of this over high heat for speed and so that the veggies and chicken get a nice toasted sear on them.  So accordingly, be sure to use a high-heat oil for cooking.)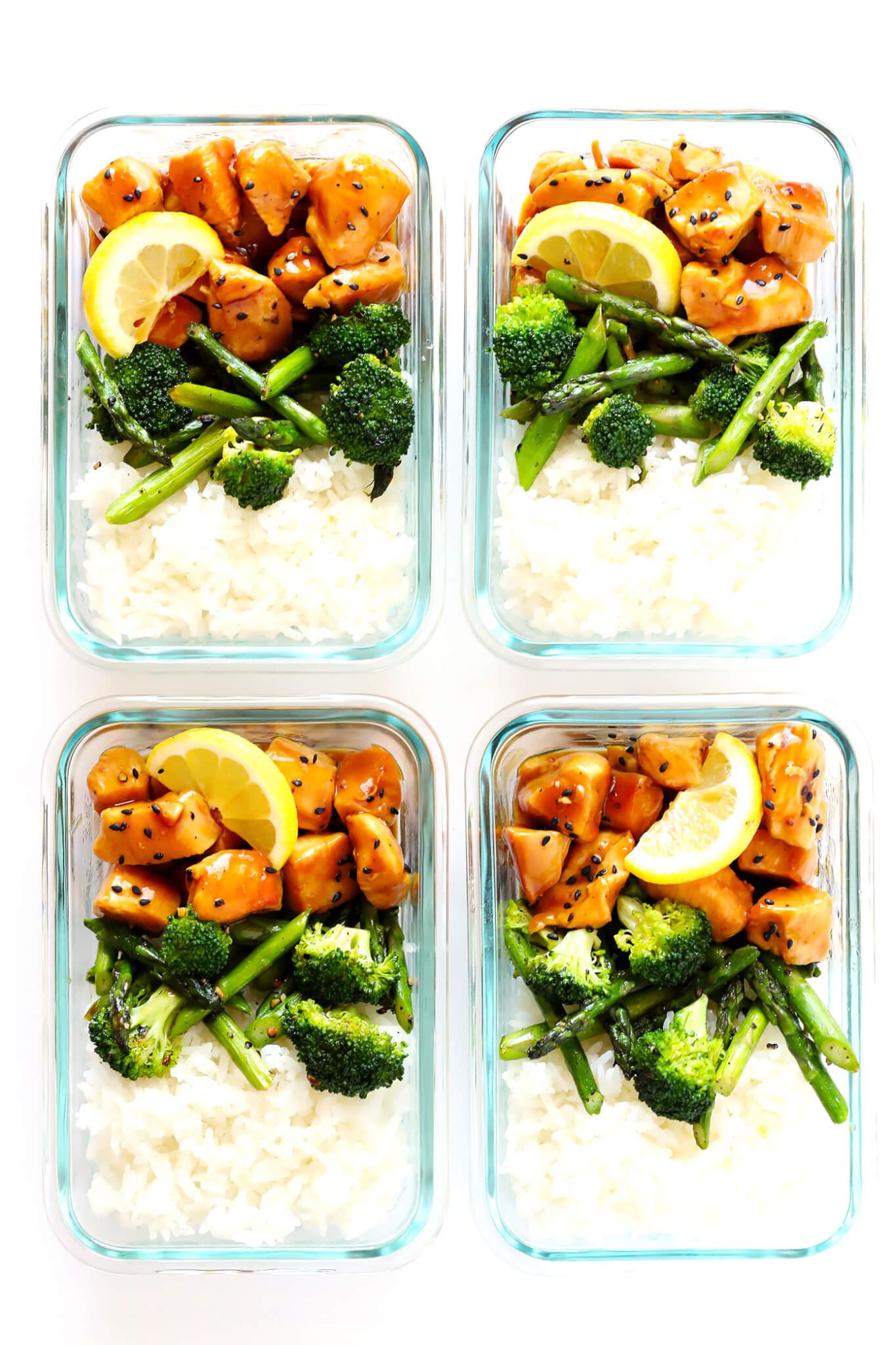 Then by the time your chicken and veggies are done, your rice or quinoa should be ready to go.  Portion everything evenly between your storage containers.  (You could use any size/type that you have.  But this recipe fit perfectly into six 2-cup glass storage containers (<– affiliate link), which I recommend because they also have super-snug snap-on lids and are dishwasher-safe.)
Then serve immediately, or refrigerate for up to 4 days.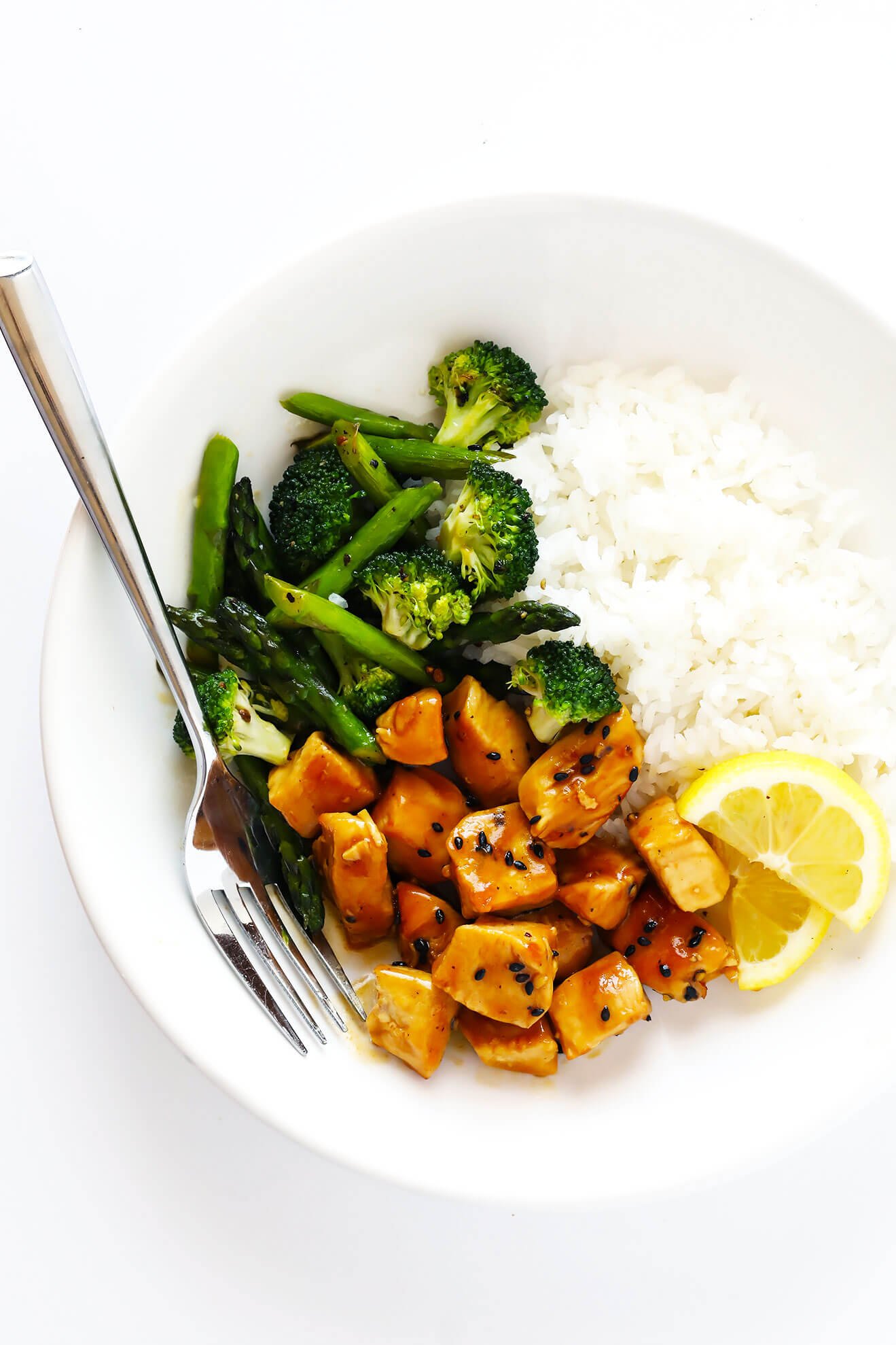 And just like that — lunch is served.  💛
Enjoy guys!  (I sure did.)
Honey Lemon Chicken Bowls (Meal Prep)
This delicious Honey Lemon Chicken recipe is one of my favorite easy meal prep ideas for lunch or dinner during the week!  Feel free to use whatever veggies you have on hand, and serve with rice or quinoa.
Ingredients:
Honey Lemon Chicken Bowls Ingredients:
2 tablespoons olive oil or butter, divided
1 pound fresh asparagus*, cut into bite-sized pieces (ends trimmed)
Kosher salt and freshly-cracked black pepper
2 pounds boneless skinless chicken breasts, cut into bite-sized pieces
6 cups cooked rice or quinoa
optional garnishes: toasted sesame seeds, lemon slices/wedges
Honey Lemon Sauce Ingredients:
1/4 cup chicken broth or water
1/4 cup freshly-squeezed lemon juice
1/4 cup honey
1 tablespoon cornstarch
1 tablespoon soy sauce
1 teaspoon toasted sesame oil
pinch of ground ginger
2 cloves garlic, pressed or minced
Directions:
To Make The Honey Lemon Chicken Bowls:
Heat 1 tablespoon oil (or butter) in a large sauté pan or wok over high heat.  Add the asparagus and broccoli, and season with salt and pepper.  Sauté for 4-5 minutes, stirring occasionally, until tender.  Transfer the asparagus and broccoli to a clean plate, and return the pan to the heat.
Add the remaining 1 tablespoon oil (or butter) to the pan, along with the chicken.  Season the chicken with salt and pepper.  Sauté for 5-6 minutes, tossing occasionally, until the chicken is cooked through and no longer pink on the inside.  Stir in the honey lemon sauce until the chicken is evenly coated, and cook for 1 minute or until the sauce comes to a simmer and thickens.  Remove pan from heat.
Portion the rice, vegetables and chicken evenly between 6 food storage containers.  Top with your desired garnishes.  Then serve immediately, or cover and refrigerate for up to 4 days.
To Make The Honey Lemon Sauce:
Whisk all ingredients together in a small bowl or mason jar until combined.
*Feel free to sub in whatever veggies you have on hand!  (Bell peppers, squash, onions, green beans, snap peas, carrots, etc. would all be great!)
All images and text ©
If you make this recipe, be sure to snap a photo and hashtag it #gimmesomeoven. I'd love to see what you cook!
This post contains affiliate links.