How To Cut A Watermelon (4 Ways!)
Learn how to cut watermelon four different ways with this quick video tutorial!  Plus, tips on how to select, store and cook with fresh watermelon.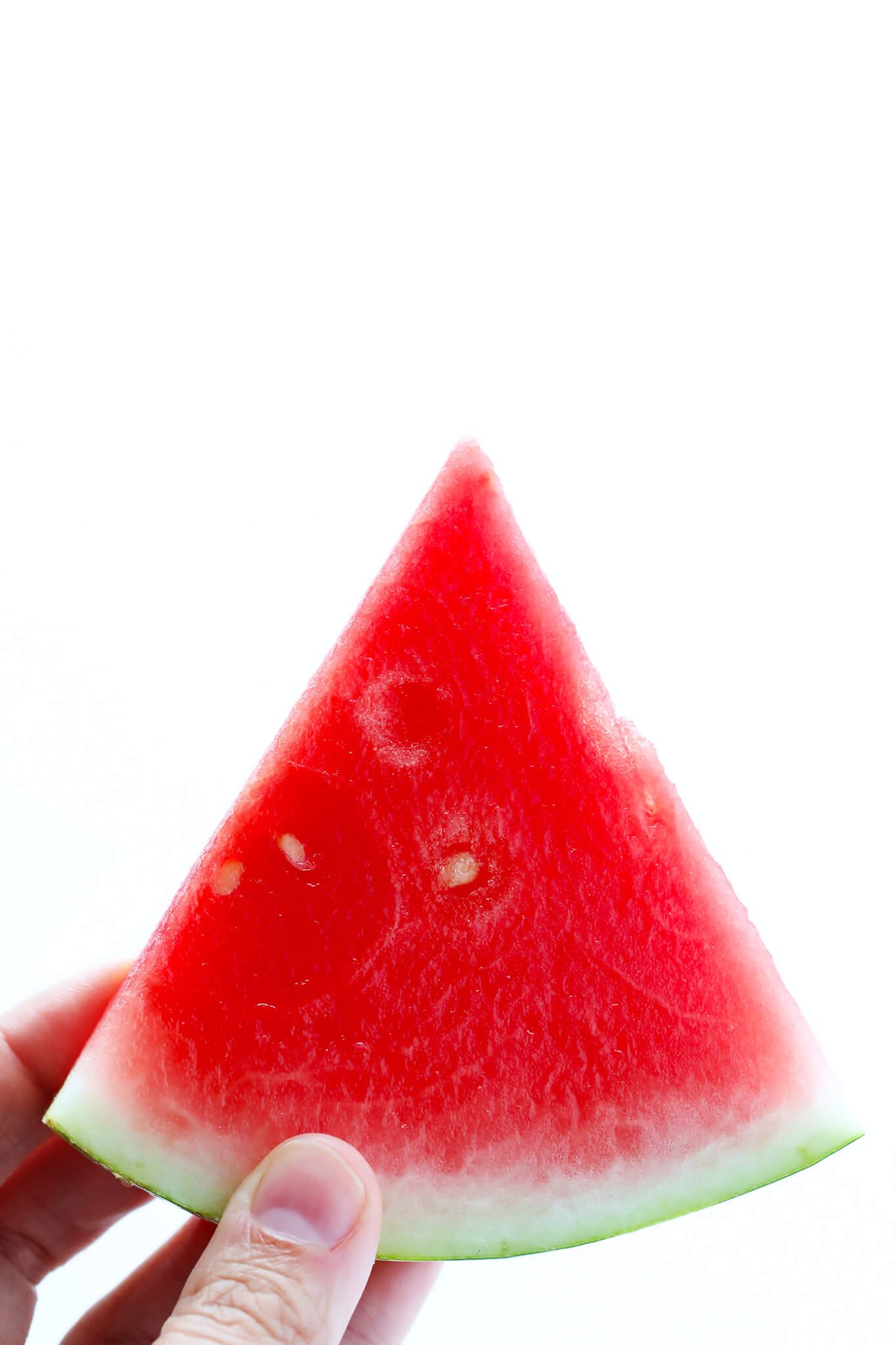 Doesn't everything about a juicy, sweet, ripe, red watermelon just scream summertime to you?!? 😎 🍉 ☀️ ❤️ 🏖
Oh man, I don't know about you, but I look forward to watermelon season every year.  There's something about this simple fruit that seems to bring out the kid in all of us again.  And whether you mix it into a salad or gazpacho or salsa or margarita — or just take a juicy bite out of a big wedge — this fresh, sweet fruit is always such a treat.
That said, figuring out how best to cut into an enormous watermelon can be a bit of a puzzle at times.  So to protect those precious fingers of yours, here's a quick video on how to cut watermelon 4 ways — into wedges, cubes, balls, and "bowls".  Plus, as always, lots of tips on how to select a perfectly ripe watermelon (because I'm pretty sure no one likes cutting into an underripe pink melon after lugging it all the way home!), and links to some of my favorite watermelon recipes.
HOW TO CUT FRESH WATERMELON (4 WAYS!):
Here is my favorite method for how to cut into a fresh watermelon 4 ways — into wedges, cubes, balls, and a "bowl".  Always be extra-careful with that initial cut into the watermelon when the round surfaces are on your cutting board, and keep your supporting hand/fingers out of the line of the knife at all times.  Also, I highly recommend this melon baller ($9 on Amazon, affiliate link) — so fun for watermelon, cantaloupe, honeydew, you name it!
HOW TO SELECT WATERMELON:
In general, you want to look for a watermelon at the market that:
feels very heavy and dense for its size (the ripest watermelons hold the most water in them)
has a creamy yellow "field" spot on the bottom where it sat on the ground (vs. a white or greenish spot)
makes a deep hollow sound when you give it a good knock (vs. a dull thud; the surface should also be nice and hard)
has a little crater on the end instead of a stem (which often means it fell off the vine on its own, rather than being picked too early)
is uniformly shaped (i.e. fairly symmetrical; odd bumps can indicate inconsistent watering)
are in season (peak season runs from May to September, although different regions may vary slightly)

HOW TO STORE FRESH WATERMELON:
Storage time will definitely depend on how ripe your watermelon is the day that you bring it home from the market.  But in general, it's recommended to store an uncut watermelon in a cool dark place for up to 3 days.  Or, if you cut the watermelon in half, wrap it tightly in plastic wrap and refrigerate for up to 3 days.  Or, if you go ahead and cube or ball the watermelon, refrigerate it in a sealed container for up to 3 days.
FAVORITE WATERMELON RECIPES:
Here are some of my favorite recipes to make with all of that juicy fresh watermelon.