Irish Soda Bread
This weekend I decided to make an Irish feast to practice for St. Patrick's Day.
But I have to admit — even though I have some Irish in my family, and had a blast traveling there a few years ago to visit my sister when she studied abroad in Dublin, I have only only spent a wee bit o' time trying out Irish recipes!  So for my feast, I decided to defer to some of my friends' recipes that fall in the more "tried and true" category.
The first recipe for traditional Irish soda bread is from my friend Christin.  She and her family have been making it for decades, and she swears this recipe is the best.  And more importantly, that this recipe is foolproof (which is good for this girl who only succeeds about half the time with baking homemade breads)!
Sure enough, the dough was super easy to make, and the bread baked up beautifully!  Granted, I probably should have cut the "X" a little deeper to make the shape pucker up perfectly.  But overall, I was quite pleased, and it tasted delicious!!!  I thought it was much better, actually, than some of the dry, bland bread we had in Ireland.  It was moist, sweet, and I loved the extra pop of raisins.  And as Christin said, it's "the best when served warm with good butter".  Definitely agreed.
Stay tuned for more fun Irish recipes to follow for your own St. Patrick's Day feast!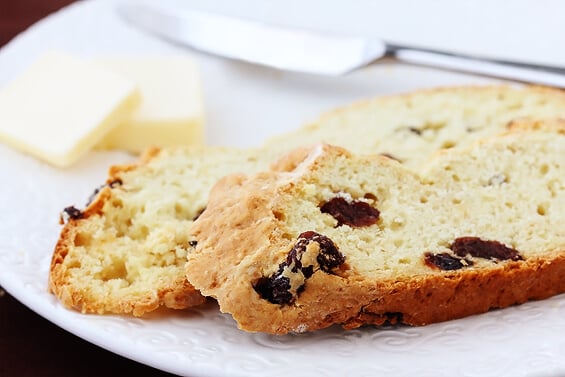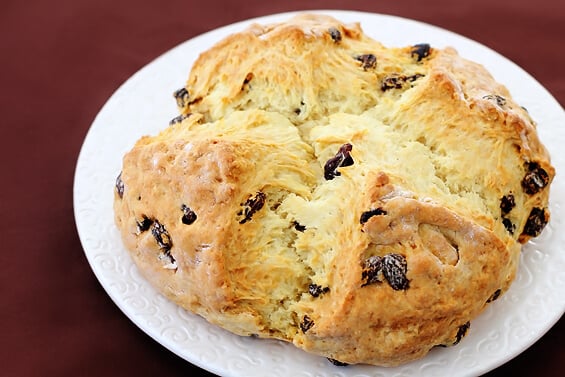 Irish Soda Bread
You will love this fresh Irish Soda Bread recipe. It's fresh, delicious, and easy to prepare!
Ingredients:
2 cups all-purpose flour
2 Tbsp. sugar
1 tsp. baking powder
1 tsp. baking soda
1/2 tsp. salt
3 Tbsp. butter
1/2 cup raisins or dried currants
3/4 cup buttermilk
Directions:
Preheat oven to 375 degrees. Grease a small cookie sheet.
In a large bowl, combine flour, sugar, baking powder, baking soda and salt. Cut in butter with a fork (or with your fingers) until the mixture resembles coarse crumbs. Stir in raisins and buttermilk until the dough is evenly moistened.
Turn dough out onto a lightly-floured surface and knead gently until smooth. Shape into a 6-inch ball, place on a cookie sheet. With a sharp knife, cut a 1/4-inch deep cross on top of the dough.
Bake 30-40 minutes, or until dough is just cooked through and the top is a light golden brown.
Ali's Tip:
To save a step, you can also begin making the dough in a food processor.  Just be sure to stir in the raisins and buttermilk by hand.
My friend, Christin.
All images and text ©
If you make this recipe, be sure to snap a photo and hashtag it #gimmesomeoven. I'd love to see what you cook!