Key Lime Pie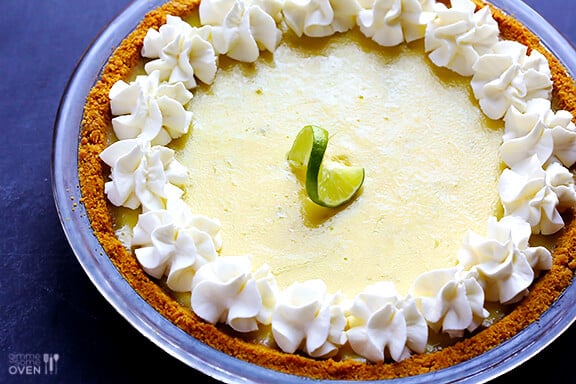 This past week while talking with friends during my adventures in pie-making, I couldn't help but notice one thing:
Everyone has a favorite pie.
And they tend to be very eager to tell you about it.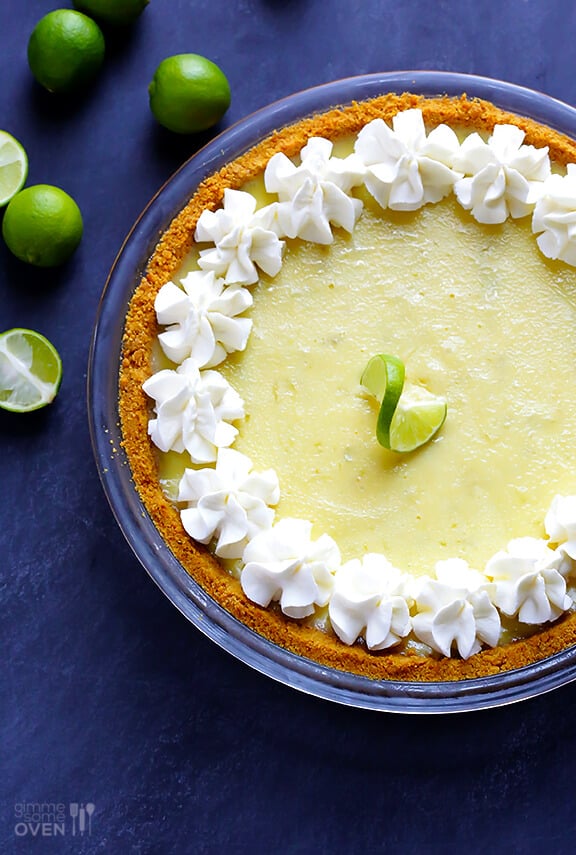 Seriously, I had no idea that friends I have known and loved for years had such deep and strong opinions about their favorite pies!  But perhaps more so, I had no idea that they would all love so many different kinds of pies.  Some people were passionate about their pecan pies.  Some couldn't wait to taste a bite of French Silk.  Others were requesting that bourbon being added to a peach pie.
But I was surprised that the most requested pie — at least amongst my friends — was actually a classic Key Lime Pie.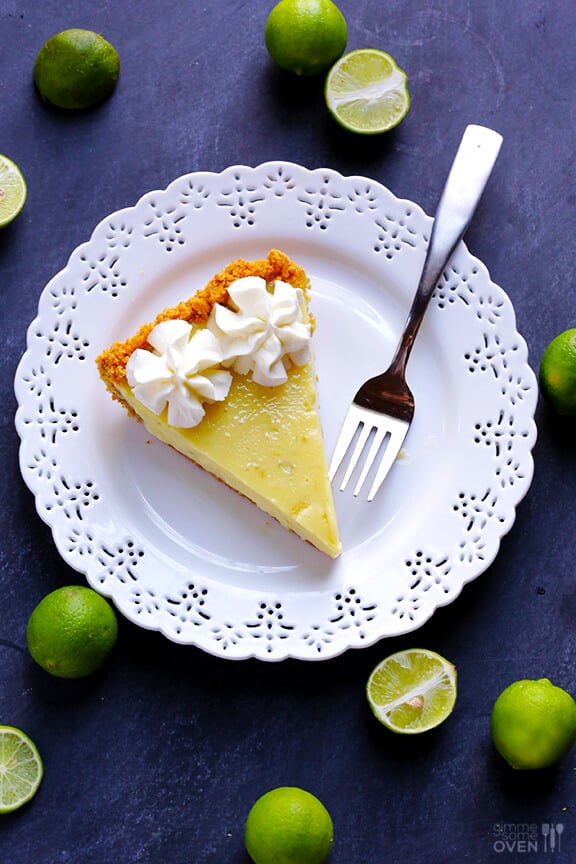 Apparently, people love their Key Lime Pie!
Some friends had made it with their families growing up.  Some said it gave them fond memories beach and fresh lime trees (since you know that we live about as far away from those as possible in Kansas City!).  Some had the tradition of always ordering it at a favorite restaurant.  And some just flat-out loved it.
Whatever the reasoning, Key Lime Pie was definitely a favorite amongst my friends, and they ate in a flash during our night of taste-testing.  Although you'd better believe I also had a slice!!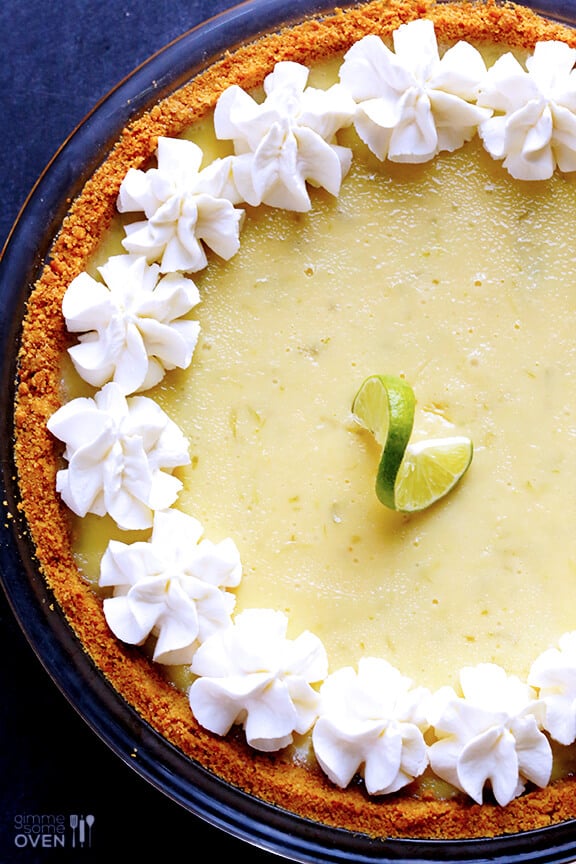 Key Lime Pie was actually the first pie I chose to make in my lineup of pie recipes last week — partly because I love it, but partly because it is one of the easiest pies to make.  I'm not kidding.  This recipe is pretty much foolproof!
All you need is to make a graham cracker crust, whisk together the ingredients for that perfectly sweet and tart key lime filling, bake it briefly then refrigerate for a few hours.  And voila — a delicious Key Lime Pie will be ready to go with less than about 30 minutes of prep work.  (Or less than 20 if you decide to "cheat" and use the bottled key lime juice at the store.  No judging here — if you want to save your fingers from squeezing a zillion limes, it's an option!)
So if you were one of the many who would instantly shout out "Key Lime" if I asked about your favorite pie, you should definitely give this one a try.  Enjoy!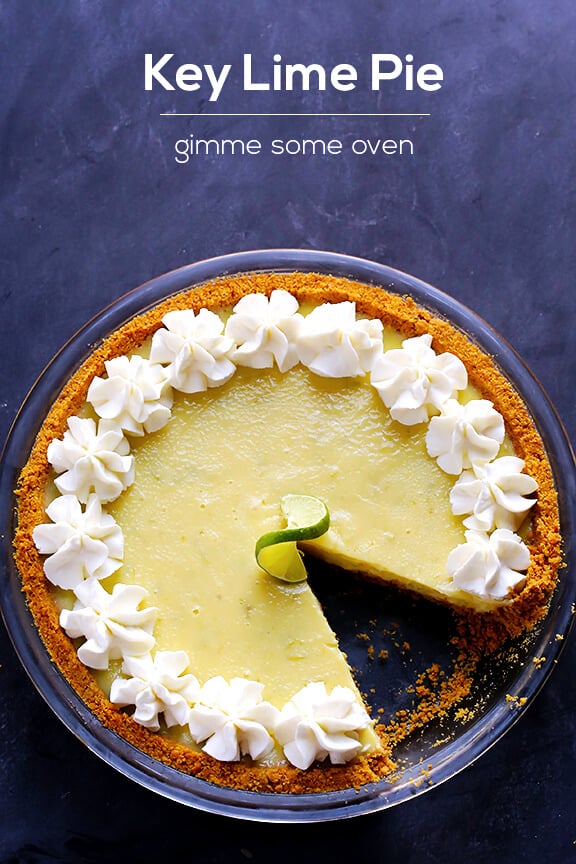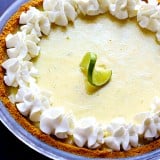 Key Lime Pie
Recipe for the best Key Lime Pie — quick, fresh, and so delicious!
Ingredients:
Graham Cracker Crust Ingredients:
1 1/4 cups finely-ground graham cracker crumbs
2 Tbsp. sugar
5 Tbsp. butter, melted
Filling Ingredients:
1 (14-ounce) can sweetened condensed milk
4 large egg yolks
1/2 cup key lime juice (preferably fresh, but bottled juice also works)
(optional) 1 tablespoon lime zest
(optional topping) 2 cups whipped cream
Directions:
To Make The Graham Cracker Crust:
Preheat oven to 350°F.
Stir together graham cracker crumbs, sugar, and butter in a bowl until evenly combined. Press mixture evenly onto bottom and up side of a 9-inch (4-cup) pie plate. Bake crust on the middle oven shelf for 10 minutes, then remove and let cool.
To Make The Filling:
While the crust is baking, whisk together the condensed milk and egg yolks in a bowl until combined. Add juice (and zest, if using) and whisk by hand for 1 minute until combined and slightly thickened.
Pour filling into crust and bake on the middle oven shelf for 15 minutes. Transfer pie to a cooling rack, and let sit until it reaches room temperature. Then refrigerate for at least 3 hours, or until chilled and set.
Top with whipped cream just before serving, if desired.
All images and text ©
If you make this recipe, be sure to snap a photo and hashtag it #gimmesomeoven. I'd love to see what you cook!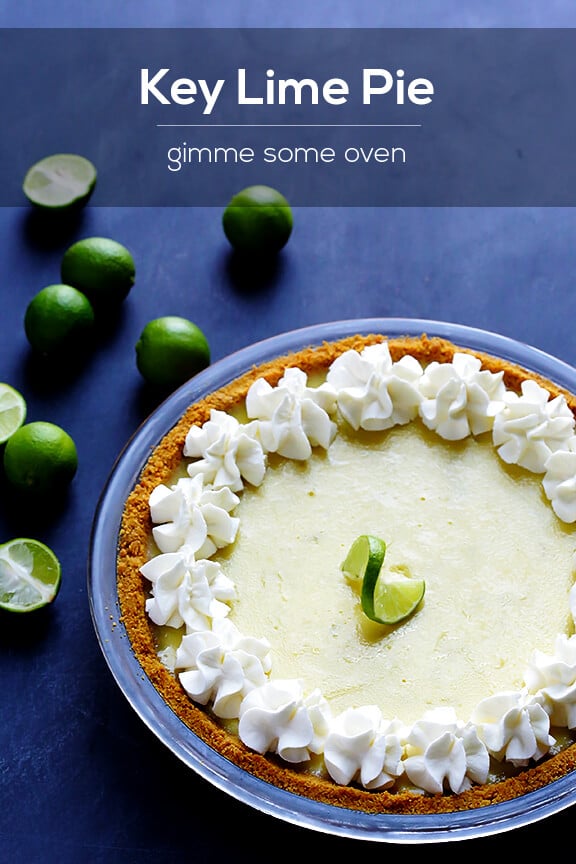 Disclaimer: This post contains affiliate links.