Kitchen Remodel Lighting & Flooring: Lowe's Home Improvement
This post may contain affiliate links. Please read my disclosure policy.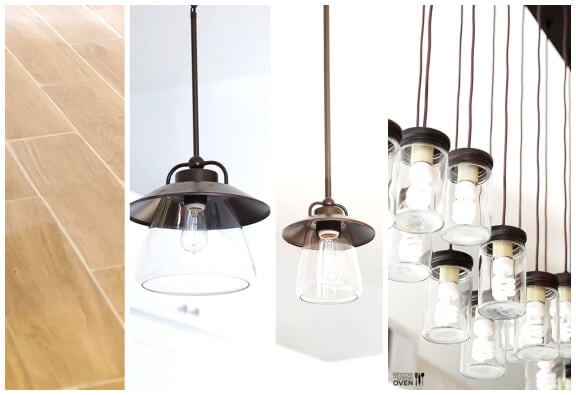 The story of my new kitchen remodel continues today as we look up and look down to discuss lighting and flooring. And I'm thrilled that the sponsor for this part of the project was the store we all known and love — Lowe's!
I have to admit that I had actually been dreaming about this lighting from Lowe's before this loft and this kitchen remodeling project ever came into the picture. Yeah, that's right. I'm that girl who goes into Lowe's to buy some new lightbulbs or a gallon of paint, and ends up spending an extra half hour wandering aimlessly around the lighting department every single time. Let's face it. I'm just drawn to the light. ;)
But seriously, I had been crushing on this beautiful Allen + Roth brand of lighting at Lowe's for years. So you'd better believe they were at the top of my list when I found this loft and began dreaming about a kitchen remodel. Then once we realized that we were going to need to replace the tiling in the kitchen (more on that below), I of course went to Lowe's first to see what options they had, and immediately fell in love with this long driftwood tiling that they offered. So needless to say, I was thrilled when Lowe's came on board as a sponsor, because I already had my heart set on all of their products to begin with.
So without further ado, get ready to crane your head up and down as we take the official lighting and flooring tour of my new kitchen!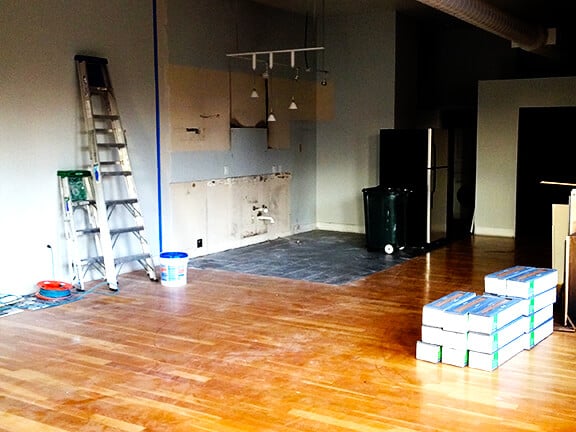 Alright, let's start with the story of the flooring.
First of all, allow me to give you a little visual reminder of the "before" photos of the loft once we had gutted the cabinets and appliances (that had been set on fire by the previous owner). We had an entire loft full of gorgeous wood floors…and a tiny kitchen covered in awful black industrial tile. Our building manager was a fan of it, but yeesh, I just couldn't do it. Plus, we were going to need more flooring anyway if we were going to expand the footprint of the kitchen.
But I'll be honest. My initial dream was to extend the wood flooring through the kitchen and entryway so that it would be seamless and all match. I still think that would have been awesome. But it turns out that whoever installed the wood flooring back in the day used the absolute most irregular size of wood flooring imaginable, and after contacting multiple flooring companies, they couldn't come up with a good match. And then we discovered some problems in the flooring below the tile, and on and on, and it quickly became apparent that wood floors would not be an option.
So it was going to need to be tile…or tile.
I have to admit, I was not to thrilled about this at first. The word "tile" to me screamed big linoleum squares that weren't going to match the kitchen, and were going to look weird up against the wood flooring, and just generally were going to be an eyesore. I really wanted wood.
But when I walked into the tiling section at Lowe's, I was surprised to immediately see a bunch of beautiful wood grain tiles staring back at me!! And even better, instead of being square shaped, they were each in long rectangle planks like wood. I literally had no idea that this stuff existed!
I instantly knew that I wanted to go with this line, but then found myself debating back and forth on color. I initially wanted to go darker and have the black or dark brown tiling contrast with the white kitchen. But I knew that would show dirt in a heartbeat. And since I pretty much tornado my kitchen each day while cooking, that was probably going to be bad news bears. So then I thought about going with white tile. I mean, a white-on-white kitchen would be awesome with white tile, right?? Well, it probably would be. But I had white tile in my old house and knew how impossible it was to keep that clean as well.
So finally I decided to go with the "driftwood" color and meet in the middle. It was beautiful, neutral, and also did not even show the dust that was on the tiles coming out of the box, so I figured the cleaning issue would be a little easier.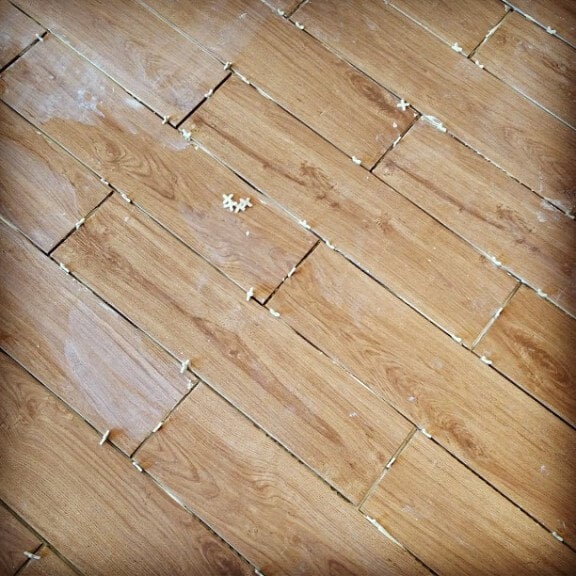 So once our contractor managed to somehow pull up the crazy, heavy-duty, industrial-strength (and u-g-l-y) black tile from the former kitchen, we laid the new driftwood tile down. It was the very first step of remodeling the kitchen after the demolition, and I was a ball of nerves about whether I was making the right decisions on everything. But once it was finally down, I began to feel like everything was going to be alright.
The tile is beautiful.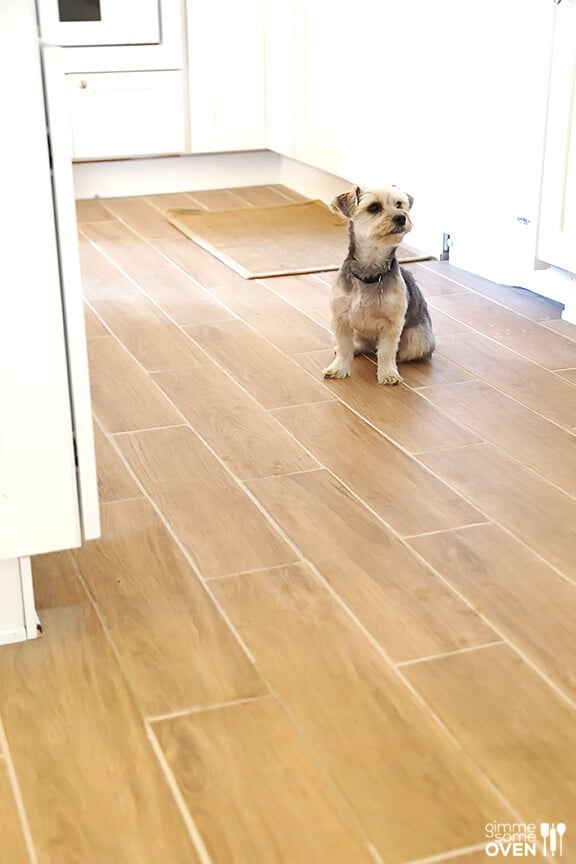 Here's my little flooring model striking a pose. ;)
Seriously, though, this tile truly could not be more perfect for the kitchen. It looks absolutely incredible in person, it is the perfect bridge between the white kitchen and the wood flooring in the rest of the loft, and it is darn easy to clean. Oh man. Just one sweep and Swiffer and it's good to go.
Interestingly, it has also garnered a lot of attention from friends who have come to visit. Everyone kind of does a double-take — initially thinking that it's wood, but then realizing that it's tile. And then realizing how awesome that is.
So if any of you are thinking about new flooring for your kitchen, I highly recommend you swing you your local Lowe's to take a look at this line. It's pretty darn rad.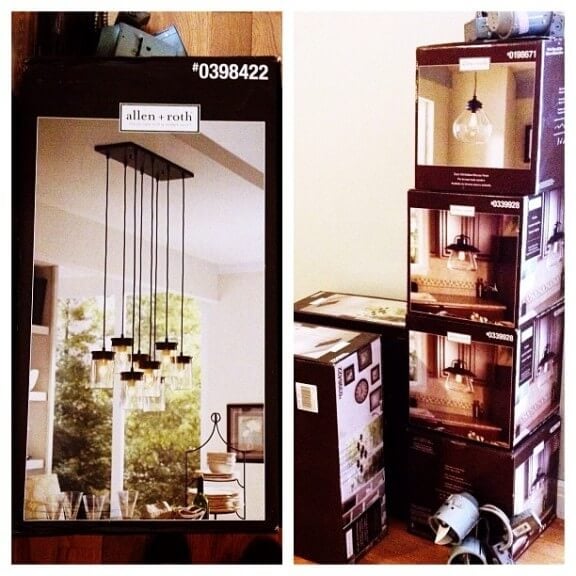 Speaking of all things rad, we must now talk about lighting.
As I said above, I have been an admirer of the Allen + Roth brand of lighting at Lowe's now for years. It is beautiful, it is modern, it is sleek, it is well-made, and it basically has the ability to completely set the design tone of a room.
I knew that I was hoping for a modern kitchen, but also not too modern. I wanted a few "rustic" elements to soften the design and tie in all of the historic brick and industrial elements of the loft. So I was excited when I found a few specific pieces that I thought could bridge that gap.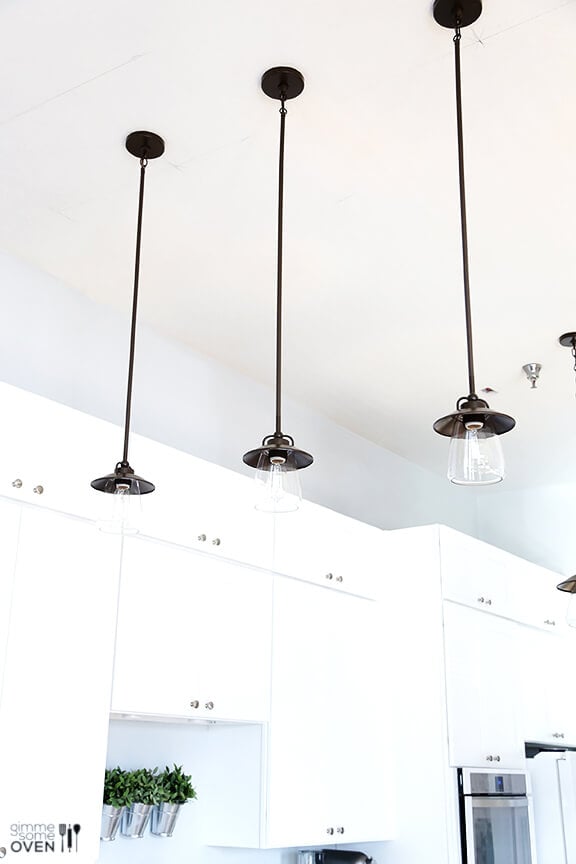 First, let's begin with the mini pendant lighting over the "peninsula". (Yes, I did not know that word until I began this remodel. That's the part of the island that juts out to make the "L" shape.)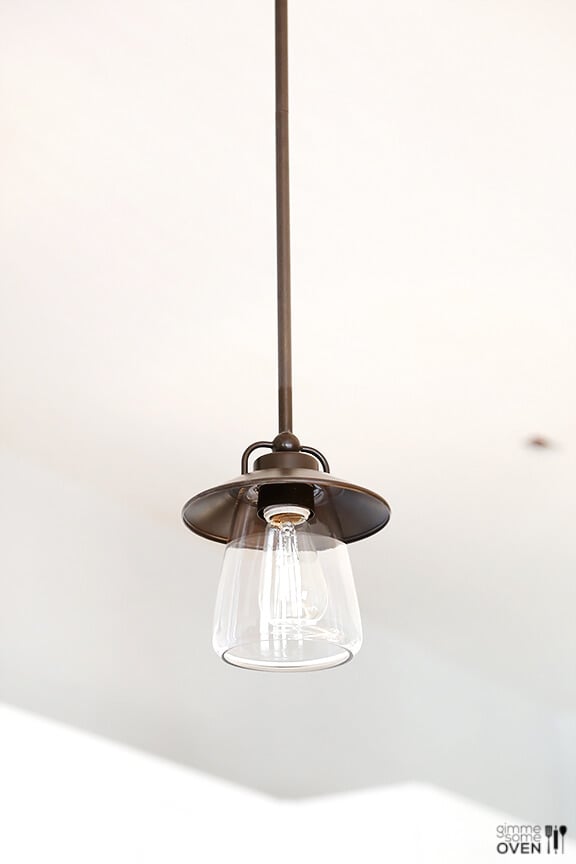 I decided to go with the Allen + Roth 6 7/8-inch Edison Style Mission Bronze Mini Pendant Light with Clear Shades.
Whew, say that 5 times fast.
I chose it because I'm madly in love with Edison bulbs (they look so great in person), and because I liked the bronze/glass combination and the simple design. They seemed classy, clean, and (yes) cute.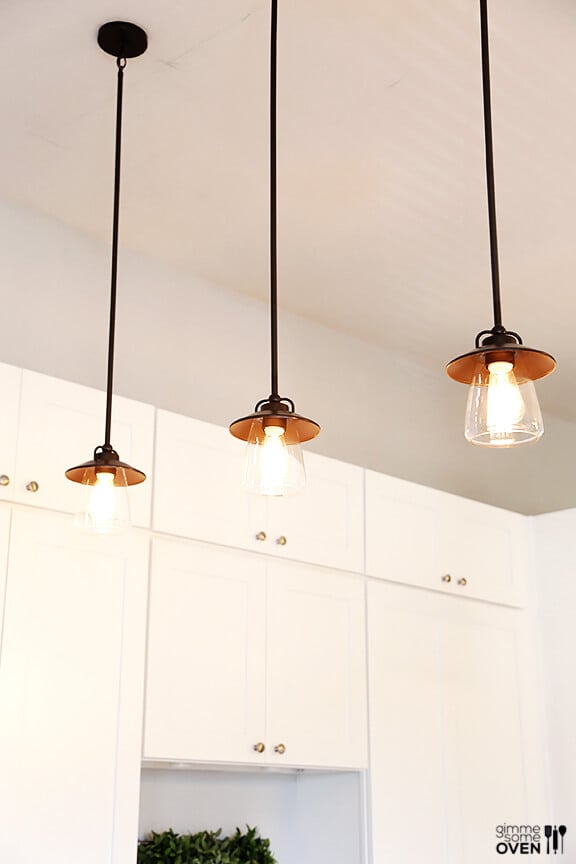 And three paired together? Yep, pretty much wonderful.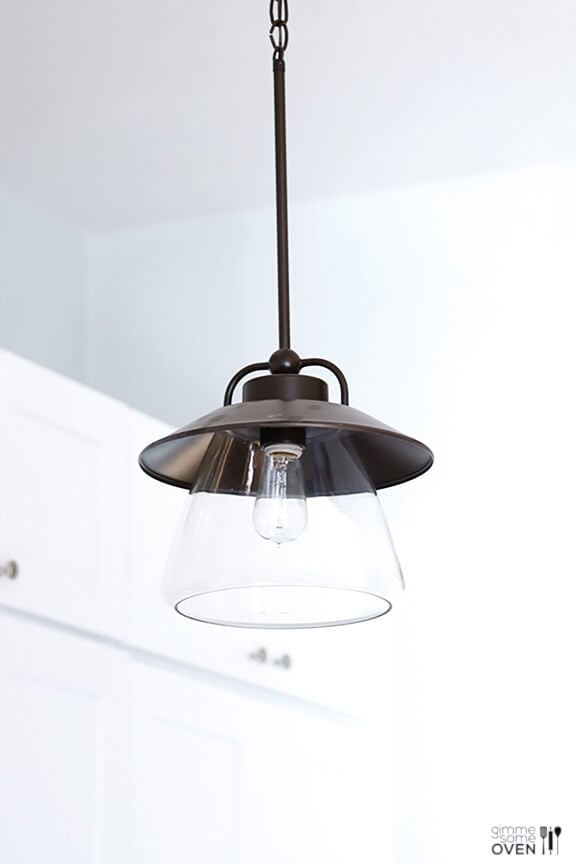 And right beside them is their "big brother", the corresponding larger 12-inch Mission Bronze Pendant Light with Clear Shade. It's basically the same light, but bigger.
And the four of these lights together turned out to look amazing!  I absolutely love the style, especially how the dark bronze contrasts with the white cabinetry and appliances, yet how the glass makes everything look so clean and sleek. And those Edison bulbs are darned cute, although if you're considering them, just know that they don't emit all that much light.
But with all of the natural light in my loft during the day, that was no problem. And if I'm ever in need of extra voltage at night…
…I now have this glorious fixture (the Allen + Roth Oil-Rubbed Bronze Pendant Light with Clear Shade) just a few feet away above the dining table.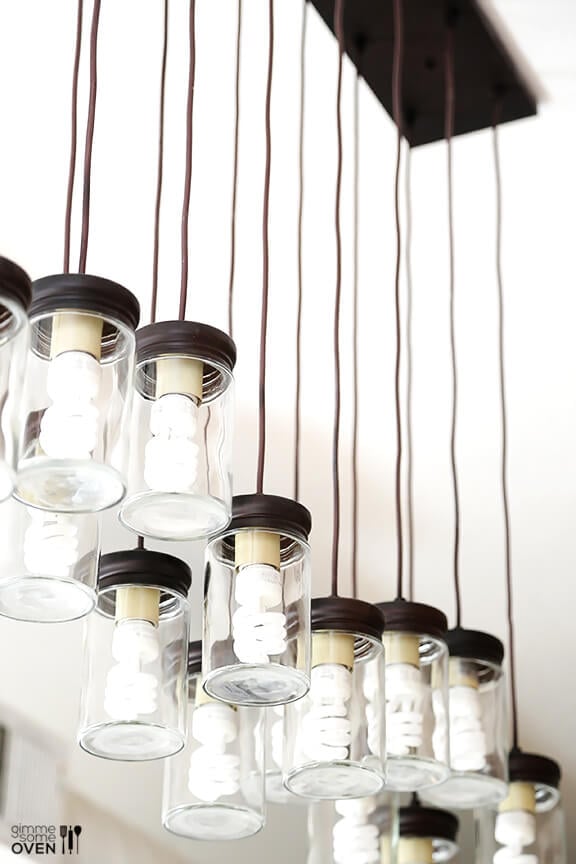 Although, um, I doubled it.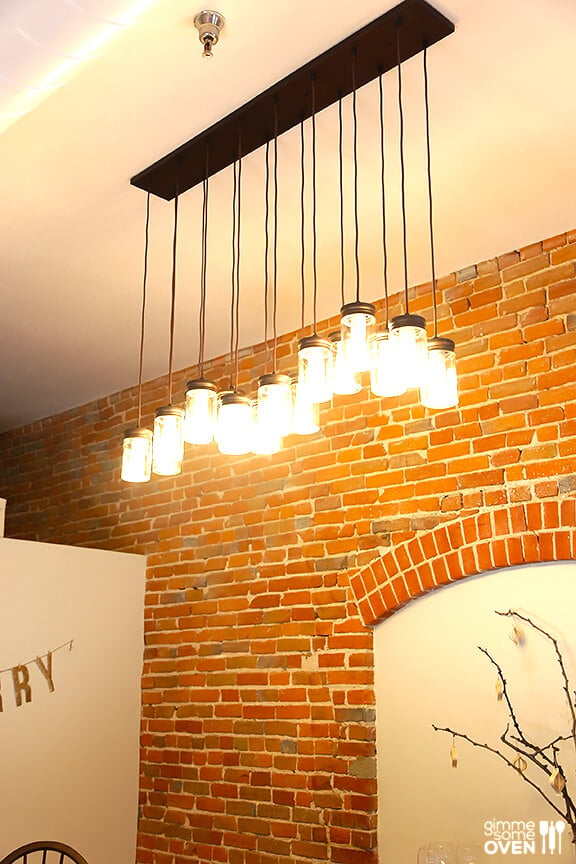 Yep, I knew that the space was large and that I would have a big dining table below it. But honestly, I just thought from the start that it would be cool to have twice as many pendants hanging down with this fixture. So I channeled my inner Clark Griswold, and installed the most epic "interior illumination" that I've ever had in a dining room.
This light fixture is so cool!!!
Yes, it's definitely reminiscent of mason jars. (Which strangely, I've had a bunch of people ask if I made this fixture. No, folks, it's all Lowe's!)  But while you do have the option to attach your own mason jars to the fixture, I stuck with the glass jars that came with the piece specifically because they are not exactly mason jars. I'm well-aware that the trend is probably on its way out. But in person, this fixture actually looks more modern and fashion-forward, and I'm pretty confident it will outlive the mason jar trend.
Plus, it's just a total showstopper, and it emits a lot of light!!! I initially had old school lightbulbs in it, but after a few weeks of those electricity bills, I reluctantly switched to incandescents. Not quite as cute, but a little better for the planet and my electricity bill. ;)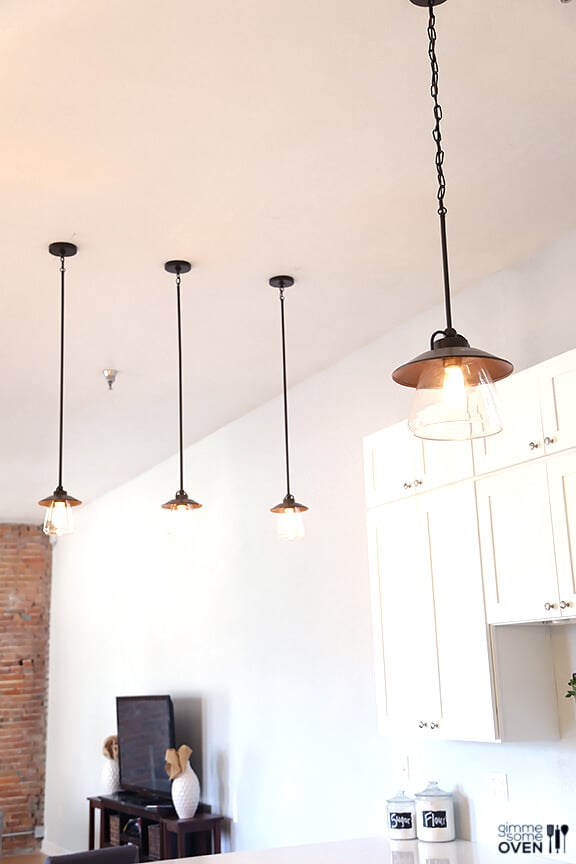 Overall, thought, I am so pleased with how the lighting and flooring turned out. And I love that all of these pieces are affordably priced at Lowe's, versus the crazy high prices you would pay for comparable pieces at a designer store. Even my contractor was really impressed with them, and commented about how he couldn't believe that such "sharp"-looking lighting was so affordably priced.
I'm tellin' ya, it's all Lowe's! It's why I'm always drawn to the light there. ;)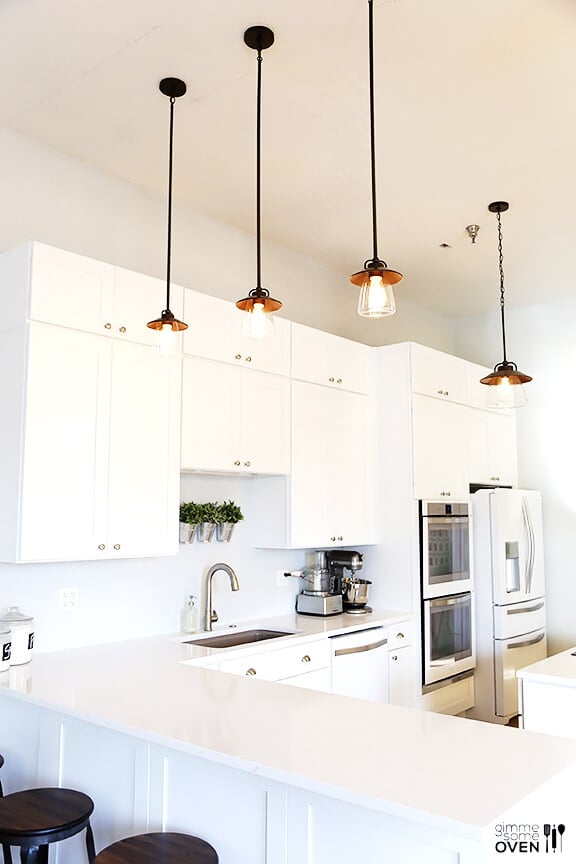 So if you are looking for some lighting updates for your kitchen, or even considering an entire remodel, I strongly encourage you to pay a trip to Lowe's (or look at their website where you can order online) to see their many beautiful options for lighting and flooring. They of course offer a zillion other amazing products at that store. But I can at least vouch that I have found their lighting and flooring to be top notch — especially the Allen + Roth brand, which I'm convinced everyone should consider. Beautiful!!
Thanks again to Lowe's for being such an incredible store for year after year of my home improvement projects, and for being such a cool sponsor of this kitchen remodel. You can visit Lowe's in person, or connect with them on their:
Website, Facebook, Twitter, YouTube & Pinterest
Disclaimer: All lighting and flooring products were generously sponsored for my kitchen remodel from Lowe's Home Improvement. I was not paid to endorse them, and all opinions are 100% my own as always. But I am super grateful for the chance to work with a store I have loved for so many years, and am excited to share about these products with you.