Kitchen Remodel: Part 1
This post may contain affiliate links. Please read my disclosure policy.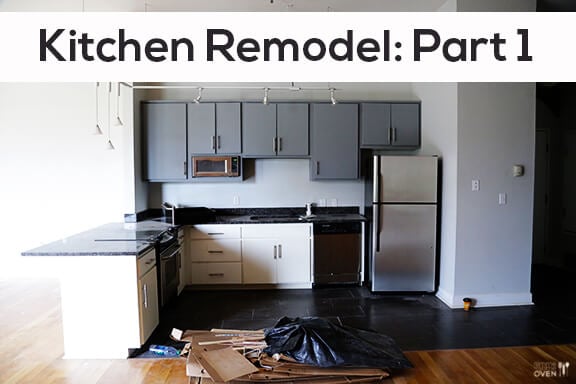 People. It's actually happening.
I'M GETTING A NEW KITCHEN!!!
Actually, I'm moving into a new loft, and we're going to be gussying it up with a brand new kitchen!
Most of you have heard me gush about how much I love my current space. But while it's wonderful and cozy and cute, it also only has about 65 square feet of kitchen space. And since I'm now full-time with the blog and spending hours upon hours a day in the kitchen, it seemed time to pull the trigger and finally move into a slightly larger space.
So after months of looking, I was thrilled to finally find a new loft that felt like it could be home. It's  located in my same historic River Market neighborhood in downtown Kansas City, and is basically a big "box" loft that was just what I wanted — 1 bdrm/bath (wanted to keep it simple after owning a 3 bdrm/2bath house for years), and then a HUGE open living area that is perfect for entertaining. The only catch was that the last owner was a bit of a mess and literally caught the kitchen on fire. And then he tried to cover it up by painting over the nearly-scorched-through cabinets, and also someone managed to destroy half of the appliances. And two of the 5 lights mysteriously did not work. I know.
Still, I was completely in love with the space and caught a vision of what a cool kitchen in there could be. So thanks to the encouragement of friends and some absolutely amazing sponsors, we are going to officially remodel the kitchen! And I wanted to invite you along for the ride!!!

The "Before"
The "before" kitchen in its original intended state was actually a pretty decent kitchen. We considered just trying to work within the existing footprint to give it a facelift. But that open room is huge, and the more we thought about it, the more it seemed like we might as well expand the kitchen if we were already going to be redoing most of everything. So we will be bumping the peninsula (yes, I'm learning all of these fancy kitchen terms!) out about 5 feet to give more space, and then adding an island in the middle.
The Planning
The initial planning stage was definitely the "dreamy" part of the process. It was so fun to start thinking about all of the things I would love to see in a new kitchen — pretty white cabinets, classy lighting, a nice big sink, lots of counterspace, and of course, rockin' appliances (including my dream — double ovens!!). And with this being a loft and basically one big open space, one might think (ok, I totally thought) that anything's possible!!!
Um, let's just say, not so.
We quickly learned that there are quite a few obstacles that come with a historic building built in 1869. I won't bore you with all of the details. But suffice it to say that building codes, problems with the existing flooring, and electrical complications ended up determining much of the layout of the kitchen before we even began. And then once we hired the contractors, one completely flaked out (disappointing) and one had a family emergency (sad), so the entire project kept getting pushed back week after week.
In short, my first big lesson with this kitchen is that there is rarely such thing as a firm deadline with remodeling, and it's best to learn to roll with the punches early on. Still, we moved ahead and…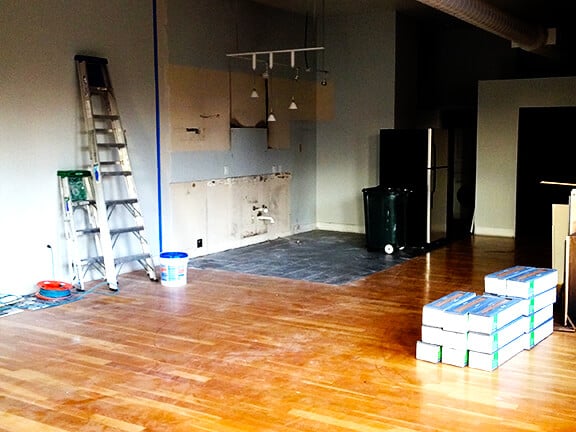 The DEMO!!!
No turning back now!! We ripped out the entire kitchen, and have started tiling this week and will begin installing everything else next week. My heart definitely beat a little faster when I first saw the gutted kitchen — half out of total excitement, and half freaking out just a little bit at the enormity of the project. But I'm stoked, mostly because of the amazing sponsors that we have on board to help make this dream a reality.
I will be telling you more about each individual sponsor as we go, but I wanted to start with a brief introduction!

Oh my goodness. I cannot even begin to tell you how excited I am to be working with Whirlpool on this kitchen remodel! They are generously going to be sponsoring brand new appliances for the kitchen, all from their gorgeous new White Ice Collection. Yep, we're going white-on-white with appliances and cabinetry in this kitchen, which makes me happy. And aren't these appliances breathtaking?!?!? I literally could not stop smiling this past week when I went to get a tutorial on them in person and got to stick my head inside the (just-released!) EPIC Whirlpool refrigerator that's coming, as well as the double ovens (hooray!). The Ice collection (which also comes in black) seriously could not be more beautifully-designed, and the features for each appliance boggle my mind in a fabulous way. I cannot wait to share with you all about each appliance and the amazing things they each can do, and then of course bring you all sorts of tasty new recipes cooked with their help. ;) I am counting the days until they are all installed!!!
Learn more about Whirlpool on their Website, Facebook, Twitter, YouTube & Pinterest.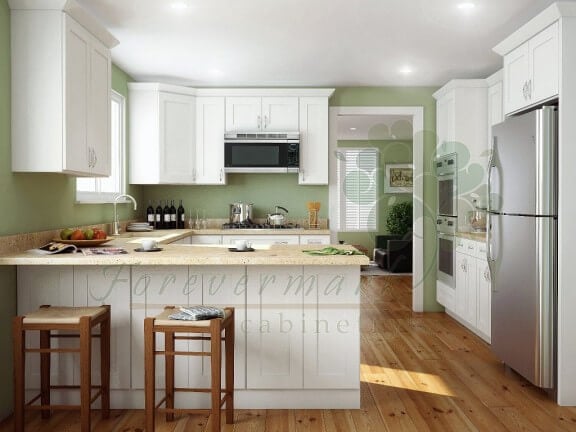 I had really wanted to feature a local company for one of the sponsors. So I'm thrilled that I lucked out and have a national company that's headquartered here in Kansas City sponsoring the brand new custom cabinetry for the kitchen — Cabinet Giant! They have become the go-to cabinetry company for some of my friends, including Liz who wrote all about her new Cabinet Giant cabinetry earlier this year. As beautiful as their cabinets are in photos, they are even more solid and impressive in person. I chose the "white ice" line (same name as Whirlpool — it was meant to be), so that the kitchen would be as bright as possible. And I have been working with a very talented (and very patient!) Cabinet Giant designer to work with all of my kitchen's quirks and create a plan we both feel good about. Can't wait for you to see it!
Learn more about Cabinet Giant on their Website, Facebook, Twitter, YouTube & Pinterest.
I happen to be known for getting happily "lost" in Lowe's for hours at a time (doesn't everyone?). The store is amazing. But whether I go there shopping for a power tool, or a potted plant, or a new doorknob, somehow I always end up in their beautiful lighting department. So I'm stoked that Lowe's is going to be sponsoring all of the lighting (lots of lights!) and tiling for the kitchen. This is just a hint of the many beautiful pieces to be featured, mostly from the Allen+Roth brand at Lowe's, which I love. Their products are fantastic, their customer service has saved me offered great advice countless times, and they have been my go-to home improvement store for years. So excited to actually be working with them!
Learn more about Lowe's on their Website, Facebook, Twitter, YouTube & Pinterest.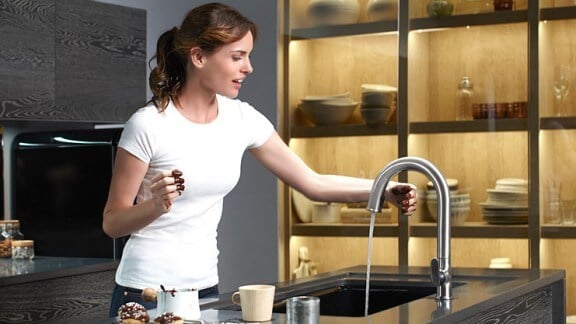 I've always dreamed of having beautiful Kohler products in my home, since they're — well — the best! So I was thrilled that Kohler is going to be sponsoring a gorgeous new (big!) enameled cast iron sink for the kitchen, as well as their fancy new Sensate Touchless Kitchen Faucet. Yep, you see that girl in the photo? That's me like every single day of my life. I feel like my hands are perpetually covered in something messy and delicious, so this touch-free option sounds fab. I also happen to have a serious dread of doing the dishes, so the thought of having a lovely big sink and awesome faucet sounds dreamy. (Bonus: As you read this, I also coincidentally happen to be attending the Kohler Food & Wine Experience in Kohler, Wisconsin. I'll be sharing all about it soon, but follow along with me live on Instagram or with the hashtag #kohlerfoodandwine!)
Learn more about Kohler on their Website, Facebook, Twitter, YouTube & Pinterest.
Alright, that's the scoop folks! There's so much more to share, so stay tuned for another update soon as I share about installation, remodeling tips and tricks I've learned along the way, and sneak peeks of what's to come. :)
Disclaimer: Products for this kitchen remodel are being SO generously sponsored by Whirlpool, Cabinet Giant, Lowe's, and Kohler. All opinions will be my own as always, but I am thrilled to be working with them and grateful to share about it with you.