Kiwi Mojito Popsicles
Ok, I'm not sure whether to be more excited about these Kiwi Mojito Popsicles…or the fact that I actually got them photographed before they melted!!
Holy moly.  I don't know how popsicle photographers do it.  The first batch of these that I made a few weeks ago were slipping and sliding all over the plate, and then melting all over the plate before I could get a decent photo.  But somehow these little guys stayed put yesterday, and I was able to snap a few pics to share with you before the mellllllting…melllllting….began.  (Ok, I'm from Kansas – "The Wizard of Oz" is in my blood.)  :)
But photography aside, these little guys are good.  Minty, limey, and now kiwi-y GOOD.  You can make them sans rum to serve to the kiddos.  Or I'm pretty sure the adults will love these on a warm summer night if you choose to make them "pop-tails".  Either way, they are uber fresh, tasty, and irresistible.  Good luck having just one!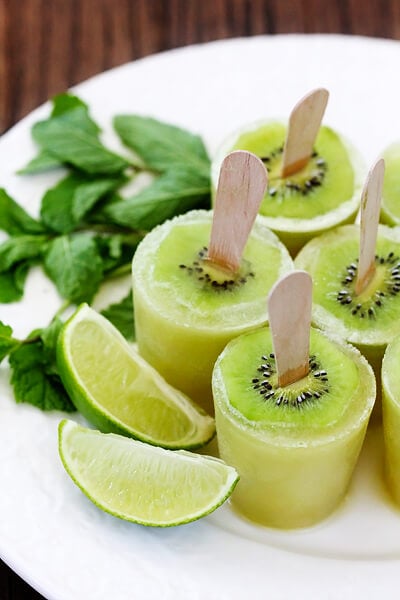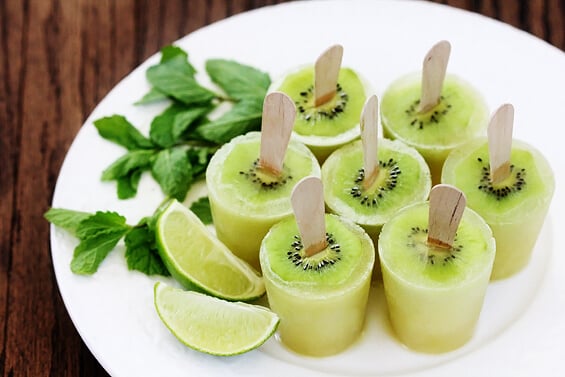 Kiwi Mojito Popsicles
You will love this fresh kiwi mojito popsicles recipe! You can make these with or without rum — so delicious!
Ingredients:
1 cup water
1 cup fresh mint leaves, packed
1/3 cup sugar
1/3 cup rum (optional)
1 cup fresh lime juice
5-6 kiwi, peeled
Directions:
In a medium saucepan, bring the water and sugar to a boil over medium-high heat, stirring constantly. Reduce heat to medium-low, and add mint leaves. Let simmer for about 10-15 minutes, stirring occasionally. Then strain out mint leaves, and pour the strained syrup into a blender. Add the rum, fresh lime juice, and about 4 whole kiwis, and pulse until blended. (If you would like, you can strain the mixture again to remove the kiwi seeds, but it's up to you!)
Pour the mixture into small Dixie cups, and freeze for an hour (or more) until the top of the popsicles are frozen. Then slice the remaining kiwis to make thin coins, and use a knife to make a small slit in the center of each kiwi. Insert a popsicle stick into the slit, and then place the kiwis on top of each popsicle, pressing down just a little bit to be sure that it (just barely) sinks into the popsicle. Freeze until completely frozen.
Ali's Tip:
You can add all sorts of other fruits to make fun mojito popsicles!  Some other fruits I'd recommend would be:
watermelon
mango
strawberry
blueberry
blackberry
All images and text ©
If you make this recipe, be sure to snap a photo and hashtag it #gimmesomeoven. I'd love to see what you cook!