Kohler Food & Wine Experience 2013
This post may contain affiliate links. Please read my disclosure policy.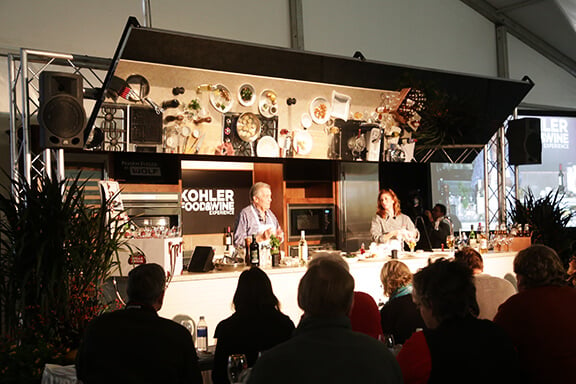 I have to say — I have learned more about Kohler this fall than ever before!
Ok, granted, I have known for years that Kohler is pretty much the standard for gorgeous design and high quality when it comes to beautiful kitchen and bathroom products. (Which is why I'm stoked that we are getting ready to install a new Kohler sink and touchless faucet in my new kitchen!)
But I had no idea until recently that Kohler is also known around the world for their incredible 5-star resort and annual Food & Wine Experience! So I was thrilled when I received an invitation to travel to — yes, it's in Kohler, Wisconsin — for a chance to experience all things Kohler with a group of good blogging friends. It was a delicious, creative, inspiring, relaxing, and completely wonderful weekend. So here are the highlights!
To begin, let me introduce you to this rockstar group of bloggers who I was privileged to spend the weekend with. From left to right (after me), they include Heidi, Sandy, Sommer, Dara, Amy and Amanda. I have known and loved each of these women for awhile now, so it was a total treat to get to spend time together and share in the Kohler experience with them. Huge thanks to Sommer, who visited Kohler the year before, for inviting all of us!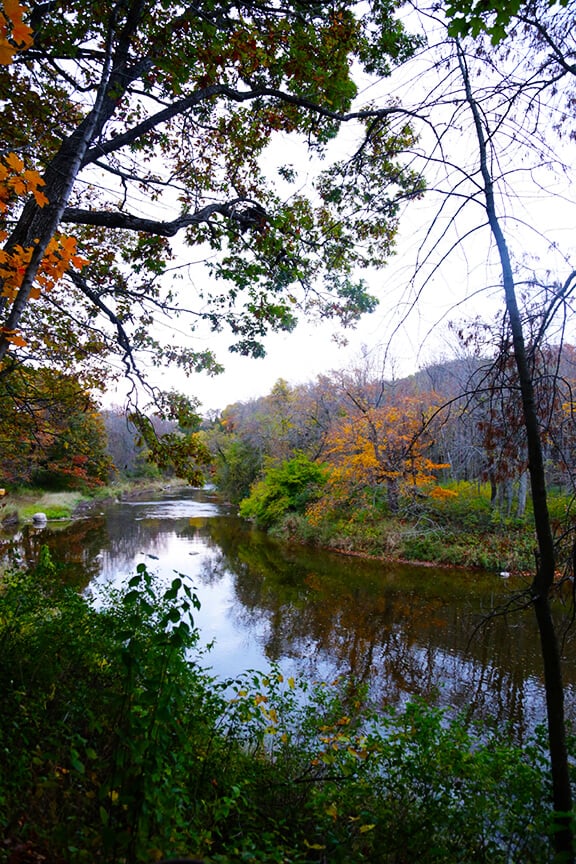 This was my first time visiting Wisconsin, and I was thrilled that we were going to have the chance to visit in the fall. The landscape was on fire with gorgeous, vibrant colors. And once we arrived in the charming village of Kohler, we knew we were in for a complete treat.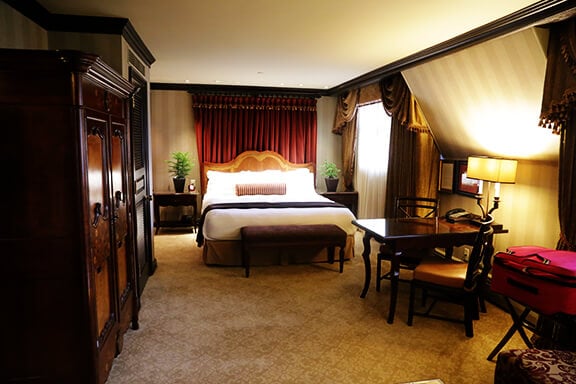 Our home sweet home for our time in Kohler was the famed American Club Resort. The Conde Nast Traveler's magazine poll actually just rated it the top resort in the Midwest, and it is also the only AAA Five Diamond Resort Hotel in the Midwest. So we were all completely honored and grateful to have the chance to stay there!
The historic Tudor-style hotel, originally built in 1918 to provide housing for those working at Kohler, feels just like "home" from the moment you walk in the door. From the beautiful bedrooms…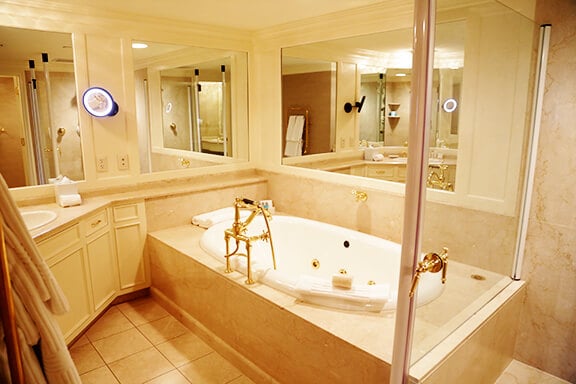 …to the epic bathrooms (decked out — of course — with all things Kohler!)…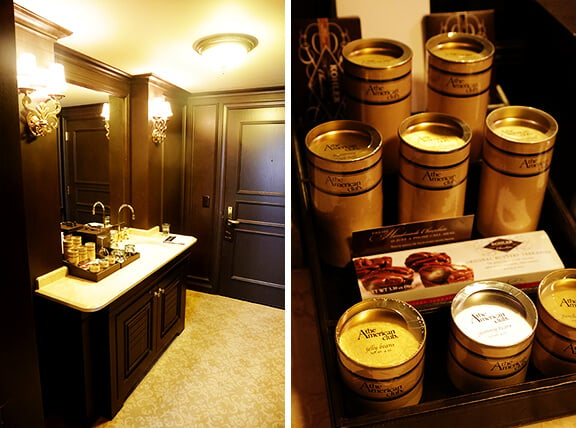 …to all of the little touches everywhere (like turndown service with music playing in the background, complimentary Kohler chocolates, and the outstanding staff), it was evident why this resort is such a favorite with travelers. We all adored it!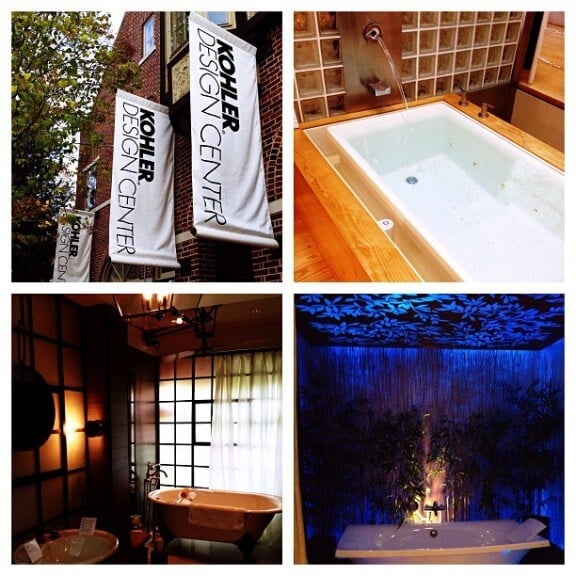 Our first stop upon arriving was the Kohler Design Center and museum. This place is basically any designers dream come true. There are literally beautiful Kohler products as far as the eye can see, all featured in tasteful showrooms with fun themes and designs. From their stunning kitchen and bath products (oh, the bathtubs), to furniture and tile (I had no idea Kohler owns Ann Sacks!), even to their state-of-the-art engines and generators (another surprise!), Kohler's attention to design and quality was evident every step of the way.
Such a fun place to visit, especially if you are looking for new decor and design ideas!
We, of course, had to take a "Kardashian" family photo in our favorite bathroom show room.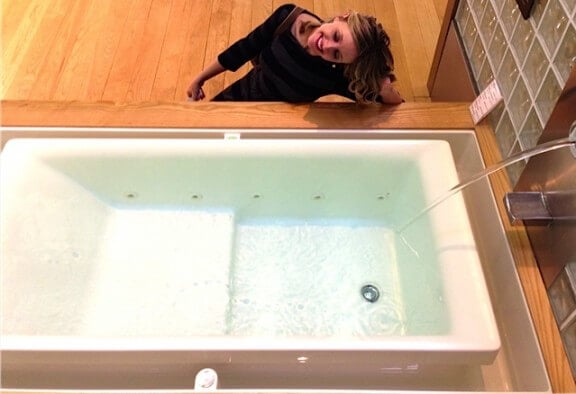 I was ready to call it a day and "take a tub", as Heidi would say, in this gorgeous infinity bathtub.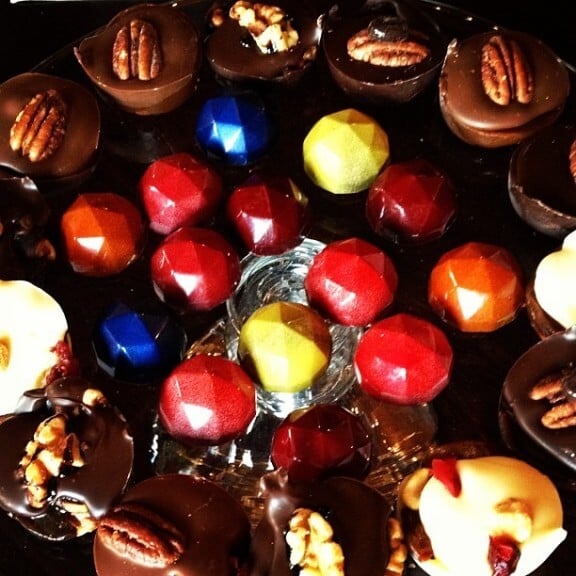 But alas, chocolate called. ;)
I think one of the biggest surprises of the trip for all of us was learning about Kohler chocolate! We paid a visit (the first of a few!) to the Craverie Chocolatier Cafe, where we had the privilege of meeting their head chocolatier, Chef Annette Righi DeFendi. And of course, we had to sample some of their award-winning chocolates. If you ever have the chance to visit Kohler, you must try their signature terrapin chocolates. Throughout the weekend, we couldn't resist coming back for more and more!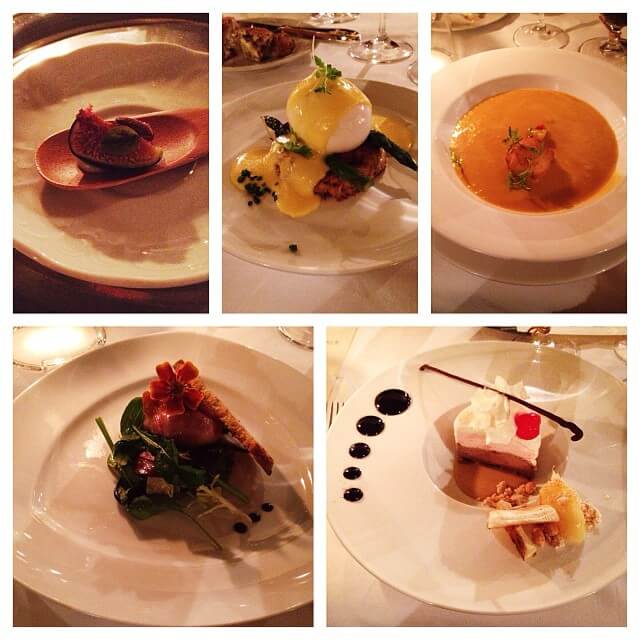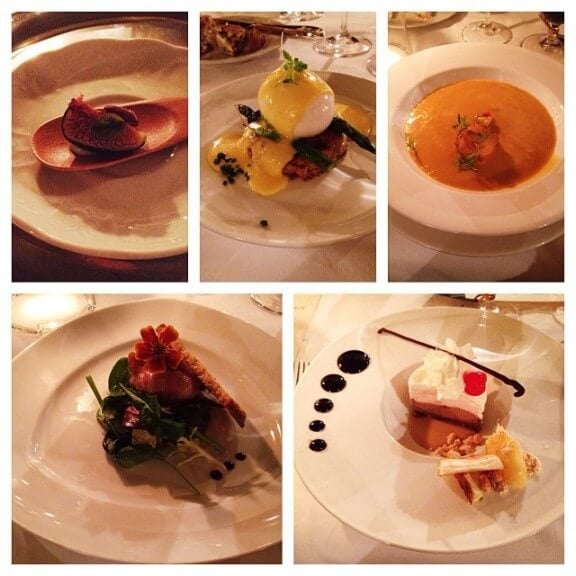 Afterwards, we had the pleasure of having our first dinner at the American Club's Immigrant Restaurant, which is arranged in a series of six rooms decorated in the European style of early Wisconsin settlers: French, Dutch, German, Normandy, Danish and English.
It was an epic start to our Kohler Food & Wine Experience, with five outstanding courses prepared for us by Chef Matthew Bauer, with a wonderful selection of wines accompanying each course. If you ever visit Kohler, this restaurant is a must!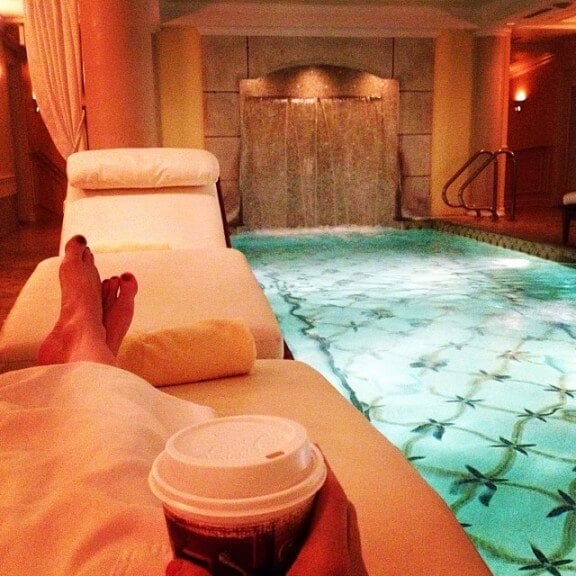 The next day, we had to wake up for a really tough assignment — a morning at the Kohler Waters Spa.  ;)
Oh my goodness. I think this was one of the best mornings of my year. From leisurely time spent exploring the many beautiful pools and baths, to a hea-ven-ly facial, to a lovely light lunch, and more, our time at the spa was the ultimate in rest and relaxation. Such a gift!
I should point out here that while were having our girly morning getting pampered at the spa, Sommer's husband, Dan, was out having the time of his life on the Whistling Straits Golf Course. I'm not much of a golfer. But he confirmed that this world-famous course is pretty stellar.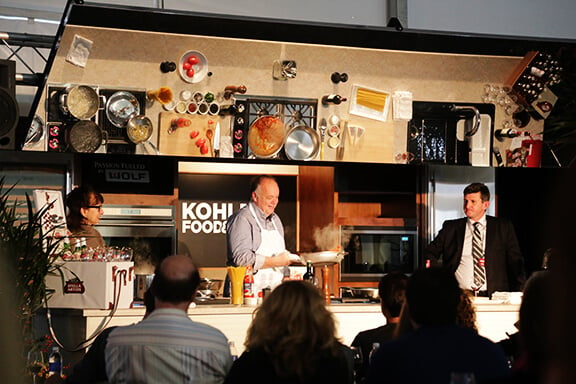 Afterwards, we headed over to the big tents where the Food & Wine Experience was in full swing. We attended our first few sessions…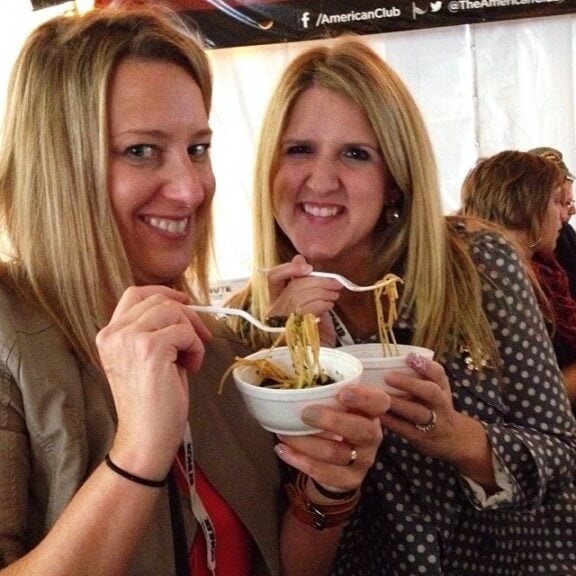 …which all included lots of tasty samples of food…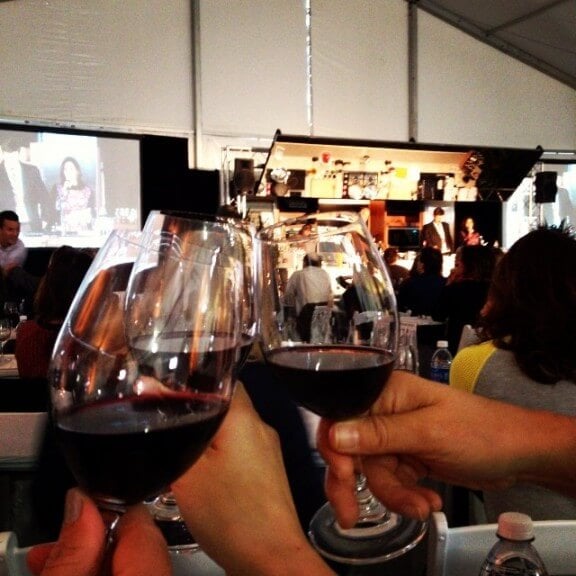 …and wine (get ready — attendees get to start wine tasting at 11am during the Food & Wine Experience!)…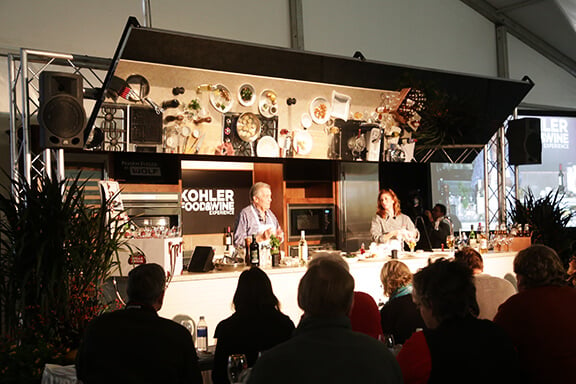 …and amazing demonstrations from culinary legends, like Jacques Pepin and his daughter Claudine. They were absolutely fabulous in person! So inspiring and charming and hilarious. And the food was delish.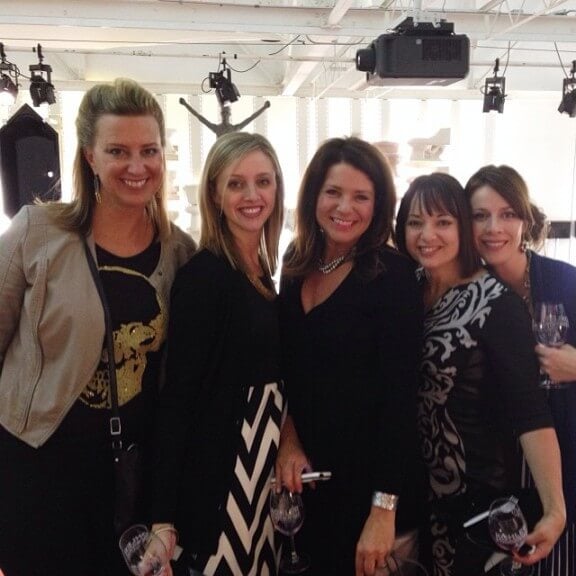 That evening, we got all dolled up to attend the grand opening event of the festival — the Taste of the Vine.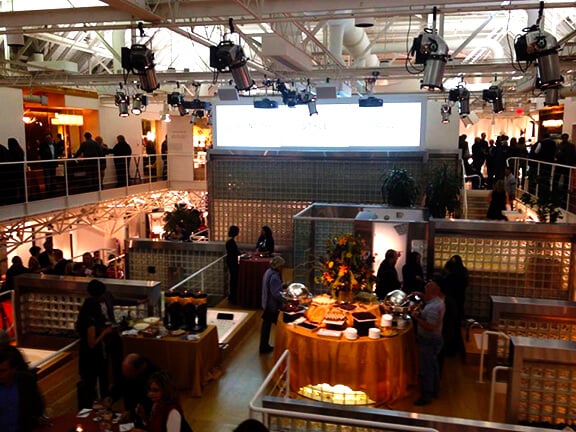 The entire Kohler Design Center that we toured before had been transformed into this epic gala, with gourmet appetizers, wine and beer being served in showrooms all throughout the center. It was my first time eating sushi and drinking cabernet in a swanky bathroom!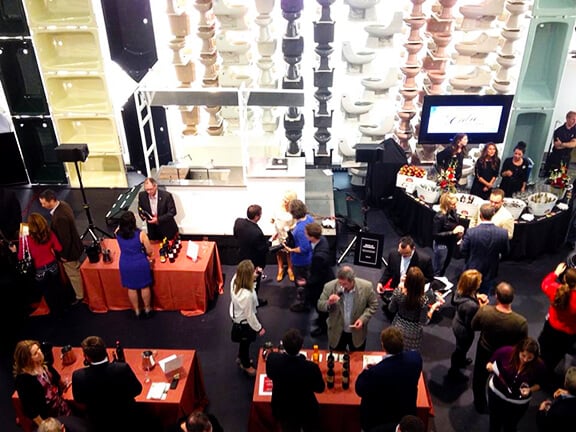 I'm pretty sure every guest had to snap a photo of the famous "Wall of China" as well. This picture doesn't even do it justice. Toilets as high as the eye can see!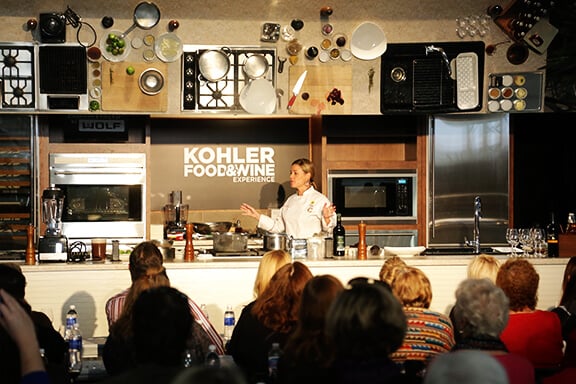 The next day, we were all counting down the hours until we could attend the cooking demonstration from one of our favorite chefs — Cat Cora.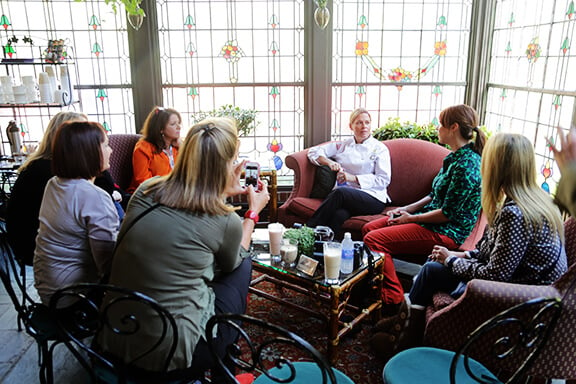 And even better, we had the chance to sit down for an interview with her afterwards!
I think we were all a little starstruck to be in the presence of a woman who has already accomplished so much in the culinary world — becoming an Iron Chef, hosting Around The World In 80 Plates, opening award-winning restaurants around the world, and beyond. All of this, of course, while being a mom of four sons! But Chef Cora was a joy to be around — totally down-to-earth, kind, honest, and awesome. We had some great conversations about work-life balance, food trends, choosing projects you believe in, and more.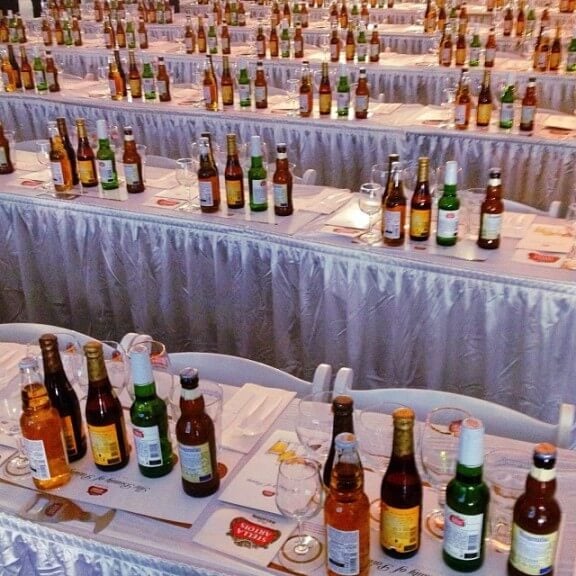 Later that afternoon, we went to our second event with one of the main sponsors of the Kohler Food & Wine Experience — Stella Artois.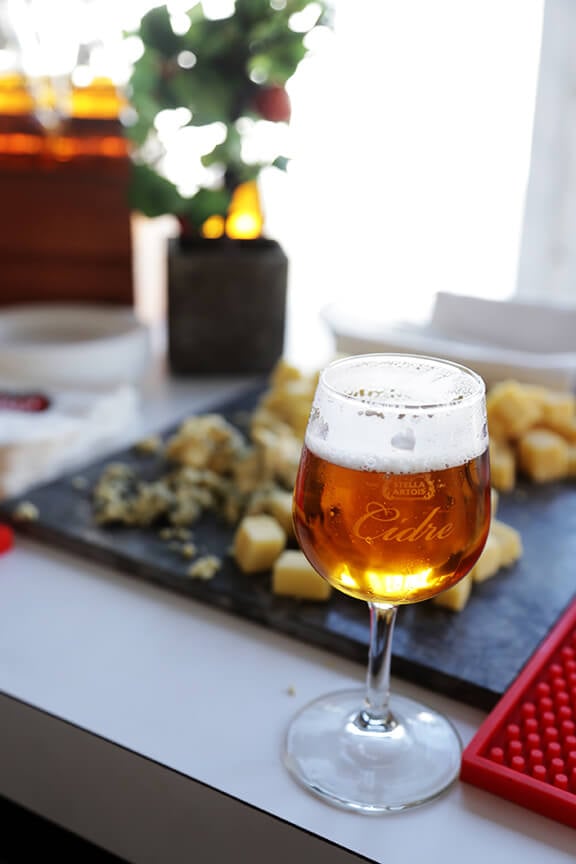 We had the chance to drink some more cidre (pronounced "cee-drah", as we learned)…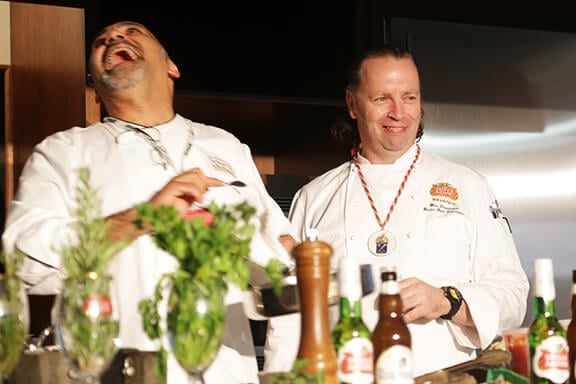 …learn from this amazing duo…
…and yours truly even got to sample one of the soups! Too fun.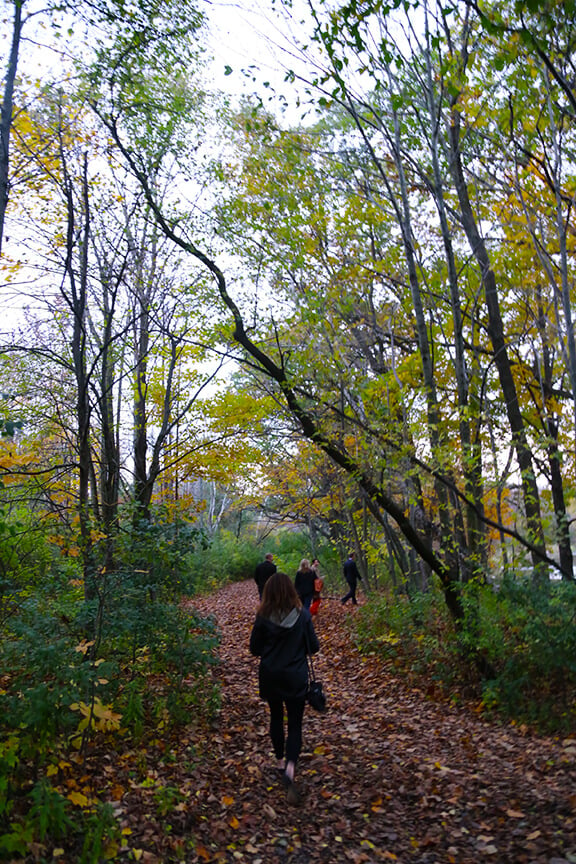 Finally, that evening, we drove out into the woods where we got to talk through the beautiful fall foliage to arrive at our final Kohler dinner destination…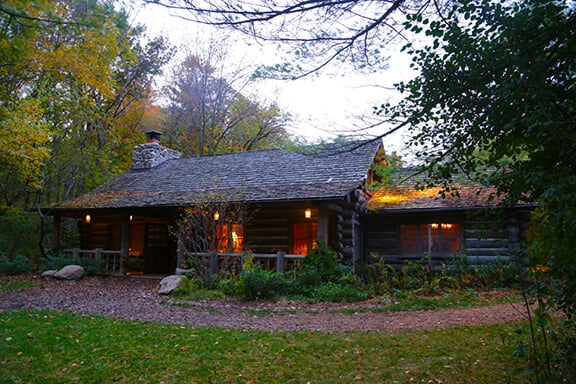 …the River Wildlife Lodge.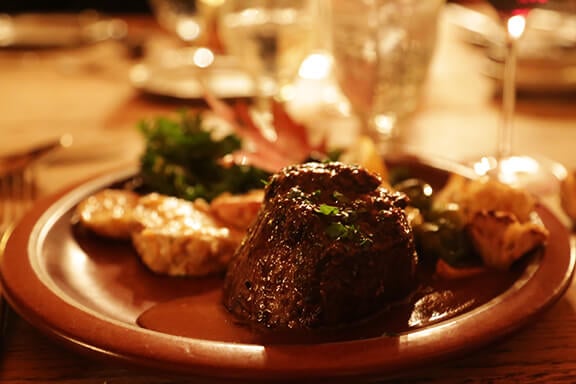 The name is perfect, as this place truly feels like you are tucked in a little rustic log cabin in the woods. We were treated to yet another outstanding meal (I highly recommend the steak!), and raised our glasses to toast an amazing weekend together.
All in all, our weekend at the Kohler Food & Wine Experience was just that — an incredible experience. If you are looking for a relaxing, fun, and delicious adventure to take next fall, I cannot recommend it enough. The village is charming, the hospitality is unmatched, the people are incredible, and the festival is beyond delicious.
Biggest thanks to the wonderful folks at Kohler for such an amazing time!
Disclaimer: My trip to the Kohler Food & Wine Experience was generously sponsored by Kohler. All opinions are 100% my own as always.