Lemon Blueberry Muffins
So, pretty sure we just had our 500th winter storm of the year here in KC this past weekend.
Ok, maybe it was just our fourth.  But still, we have had so much snow this year!
This is fabulous news to my pup, Henry.  He is convinced that a yard full of soft fluffy powder it is the best thing since Beggin-Strips.  It's like watching a little kid at Christmas each time I open the door to a new snowfall.  He stops in his tracks and looks at it — cocks his head to the side and looks back at me see it if's true — wags his little tail — and then literally LEAPS into the snow.  And then of course, he does wind sprints and rolls around and nose-dives into the powder, runs to play with any dogs nearby, and proceeds to cake snow clumps on every little pieces of his fur until I drag him back inside.  Henry loves snow!
I, however, am perfectly happy to admire it outside the windows from the warm comfort of my loft.  And I especially love baking something warm and sweet to celebrate a snow day!  I have been craving some fresh blueberry muffins lately, but happened to have a huge batch of lemons nearby.  (Since Dr. Oz seemed to recently confirm that my addiction to lemon water is not a bad thing!)  So I decided to go a little "zesty" and make some Lemon Blueberry Muffins with a sweet streusel topping.  They couldn't have been more wonderful!
I absolutely love making muffins with fresh blueberries that literally gush with their sweet juice.  And the addition of the fresh lemons and crumbly topping made these feel all the fresher.  Even with all of that snow on the ground, they made me almost believe that it's Spring!
I decided to share the love since I think muffins are always best fresh out of the oven and took them around the halls to share with my neighbors, and they got great reviews.  "Fluffy", "sweet", and "out of this world GOOD" were some of the comments.  :)
So whether it's a snow day or a warm summer day, hope you enjoy these!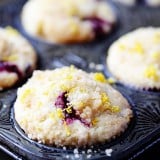 Lemon Blueberry Muffins
Fresh lemon, blueberries and a sweet streusel topping make these muffins all the more delicious!
Ingredients:
Muffin Ingredients:
streusel topping (see ingredients below)
1 1/2 cups blueberries, fresh or frozen
2 cups + 3 Tbsp. all-purpose flour, divided
1 1/2 tsp. baking powder
1/2 tsp. salt
1/2 cup (1 stick) unsalted butter, softened
1 cup granulated sugar
2 large eggs
2 tsp. vanilla extract
7 Tbsp. milk
1 Tbsp. lemon juice
1 Tbsp. loosely-packed lemon zest
Stresuel Topping Ingredients:
2 Tbsp. melted butter, slightly cooled
2 Tbsp. all-purpose flour
2 Tbsp. granulated sugar
1/4 cup raw sugar
Directions:
To Make The Muffins:
Preheat oven to 350º. Line a baking pan (or two if needed) with 16 paper liners, or grease with cooking spray.
Prepare the streusel topping according to instructions below.
In a small mixing bowl, toss blueberries with 3 Tbsp. flour until blueberries are coated. Use a slotted spoon to remove blueberries and shake off any excess flour. Set aside.
In a separate small mixing bowl, whisk together flour, baking powder and salt and set aside.
In a large mixing bowl (or an electric stand mixer), whisk together butter and sugar until light and fluffy. Add eggs, vanilla, milk, lemon juice, lemon zest, and continue whisking until smooth. Fold in flour mixture with a rubber spatula until just combined. Carefully stir in blueberries.
Fill muffin cups about 3/4 full of batter. Sprinkle each cup of batter with about 1 Tbsp. streusel topping.
Bake at 350º for 20 to 25 min, until a toothpick inserted into the center of a muffin comes out clean.
Let muffins cool for a few minutes in the muffin pan before removing to cool on a wire rack. Serve immediately or store in a sealed container for up to 3 days.
To Make Streusel Topping:
Whisk together all ingredients until combined and mixture is crumbly.
All images and text ©
If you make this recipe, be sure to snap a photo and hashtag it #gimmesomeoven. I'd love to see what you cook!
Kitchen Tip: To learn how to fill muffin liners evenly, check out this quick tutorial!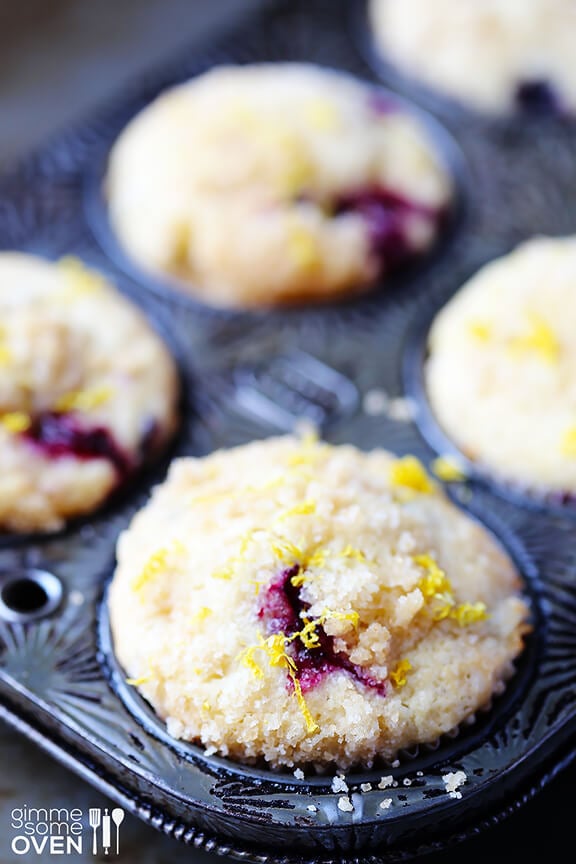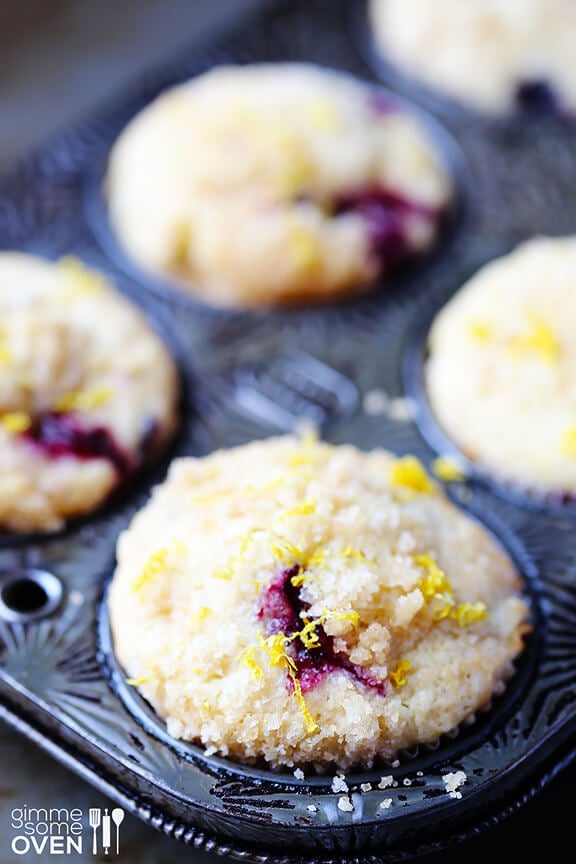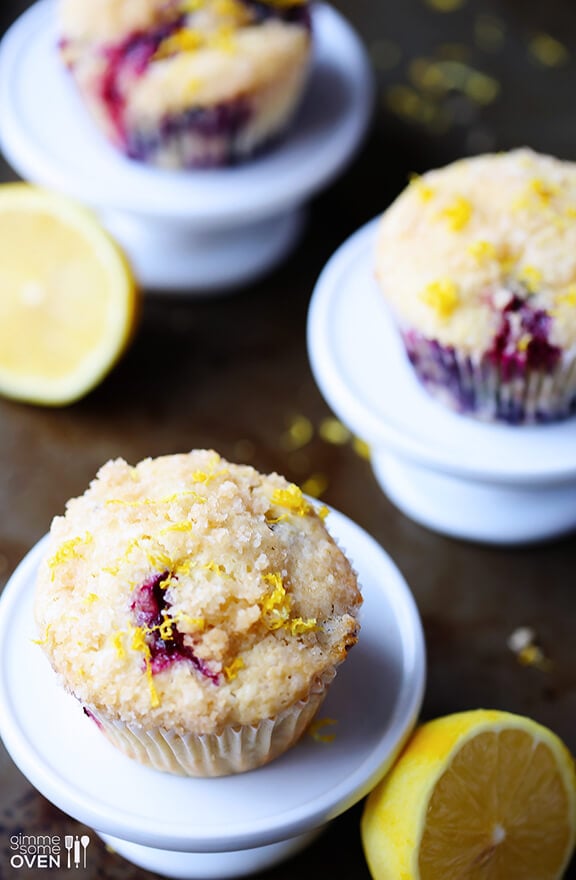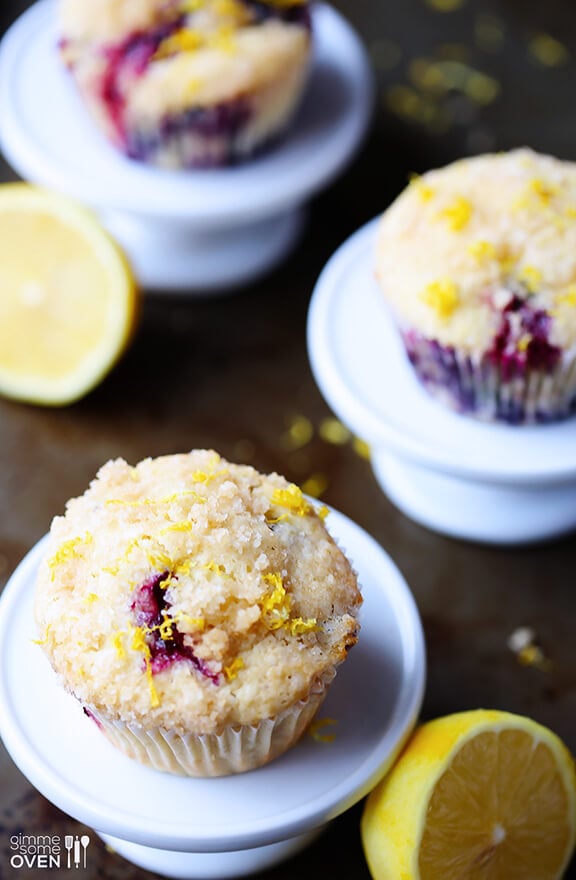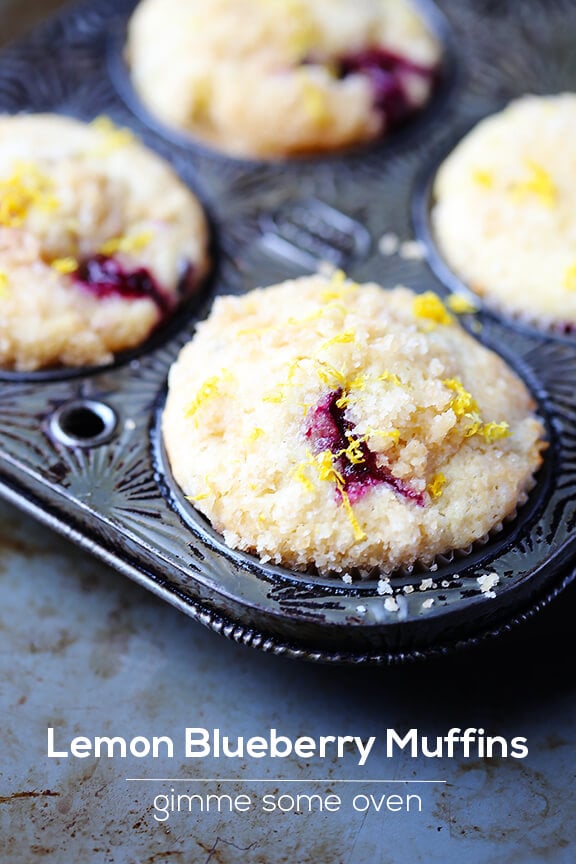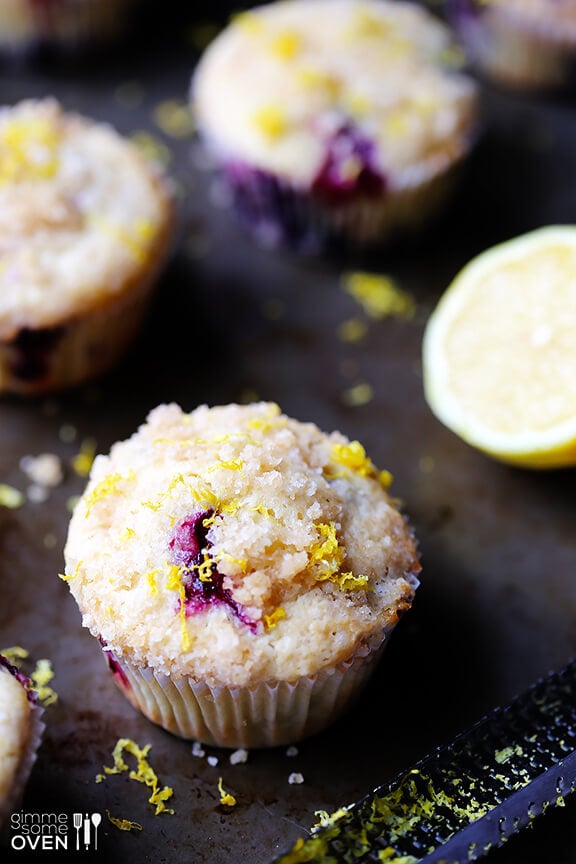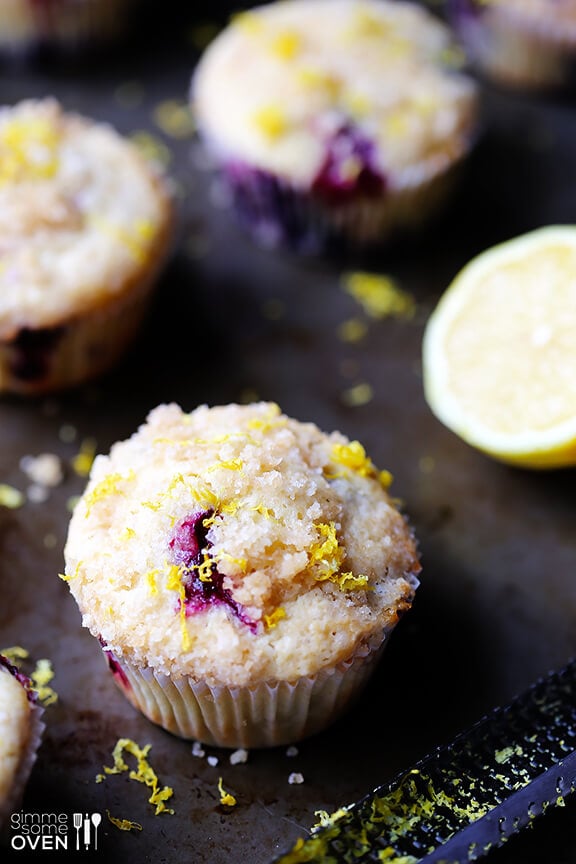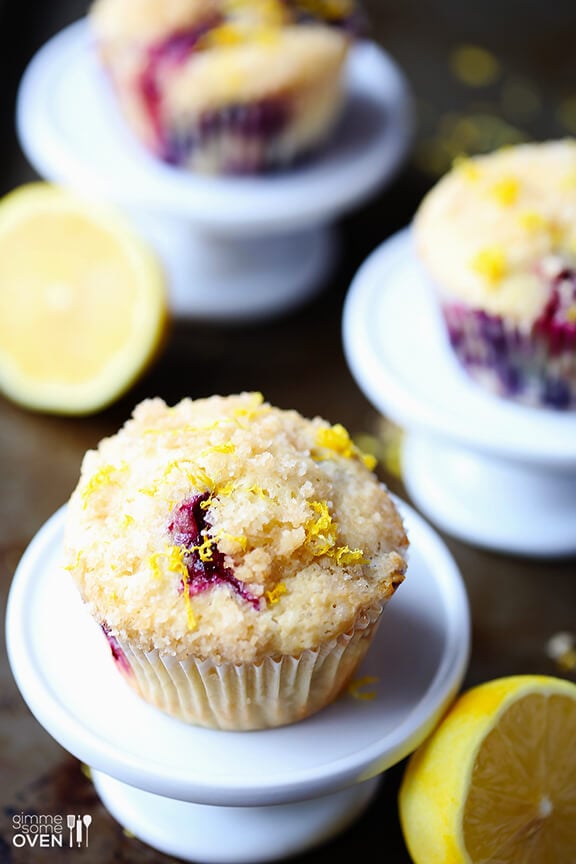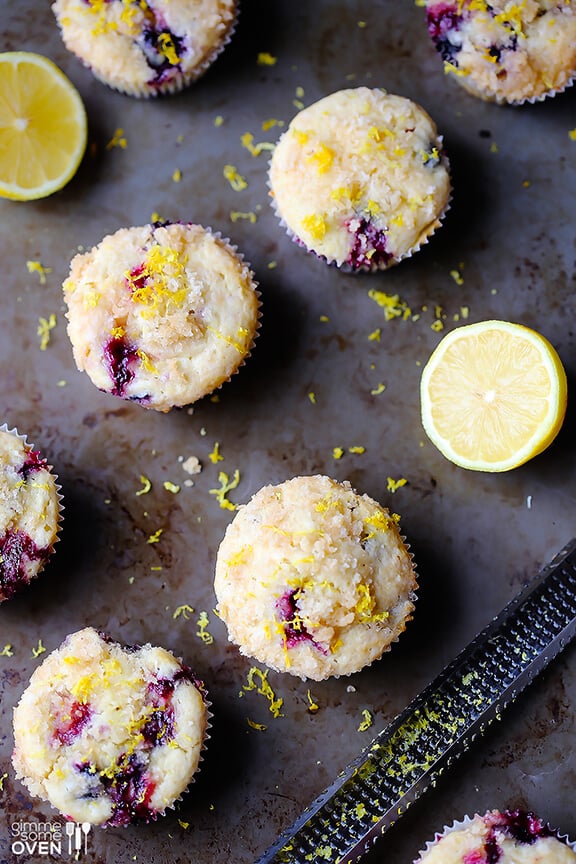 This post contains affiliate links.