Lemon Meringue Pie
Last week, there was a birthday in da house at #neighbornights — my friend, Liam!
Talk about neighbors turned into good friends.  I can't really imagine life in our loft without this guy.  Liam is a born-and-raised New Yorker who followed a job to Kansas City and ended up living across the hall from me.  And during the past two years that I've lived in this building, he has been my #1 neighbor.
He has a reputation for being our building's "dog whisperer", and Henry literally sprints to his door every time we head out for a walk to give a bark and see if Liam's home.  (And Liam returns the love and has graciously watched him during most of these blog trips that you see me taking.)  He is also my #1 taste-tester for the blog, always happy to "take care of" leftovers whenever I'm testing and trying out new recipes for the blog.  In return for food, he has helped me with many a household project.  And always volunteers to be my honorary "roommate" whenever I sell crap on Craigslist, so that I'm not meeting people alone, which seems to happen fairly often with my ever-growing love for Craigslist.  But more than anything, he's just a really swell neighbor and an even better friend.
So when a little birdie (a.k.a. Facebook) told us that his birthday was coming up, all of our neighbors knew that this was a celebration we couldn't miss.  So one pair of neighbors brought him his favorite brats to grill.  One neighbor brought him his favorite beer.  And Yours Truly was in charge of my favorite birthday duty — the cake.
When I texted Liam to ask about his favorite dessert, his reply was "lemon anything".  And I remembered he had a fondness for meringue.  So I decided to tackle a classic lemon meringue pie.
As they say, the (ahem) second time's a charm.  :)
Yes, unfortunately the first time was kind of an epic fail.
Well, epic due to the fact that the crust, filling, and meringue topping turned out absolutely perfect.  But when I pulled out the pie and saw a soggy and raw crust, it suddenly dawned on me that I had left out one crucial step — pre-baking the pie crust.
Gahhhhhhhhhh.
Arghhhhhhhhh.
Boooooooooooo.
I was beyond annoyed with myself.  BUT.  I still had about 4 hours until the birthday celebration.  So I scrapped my plans for the rest of the afternoon and  decided to (literally) start from scratch and see if I could bake another entire pie before our neighbor night.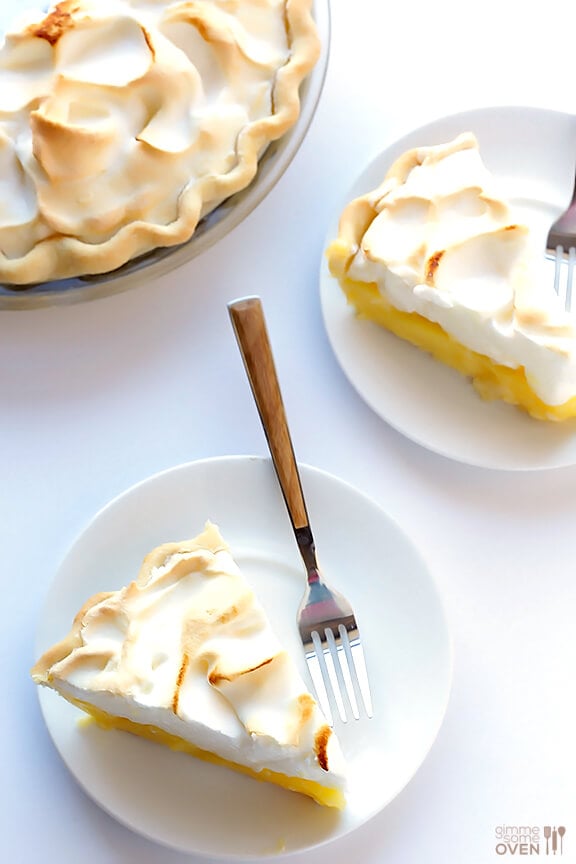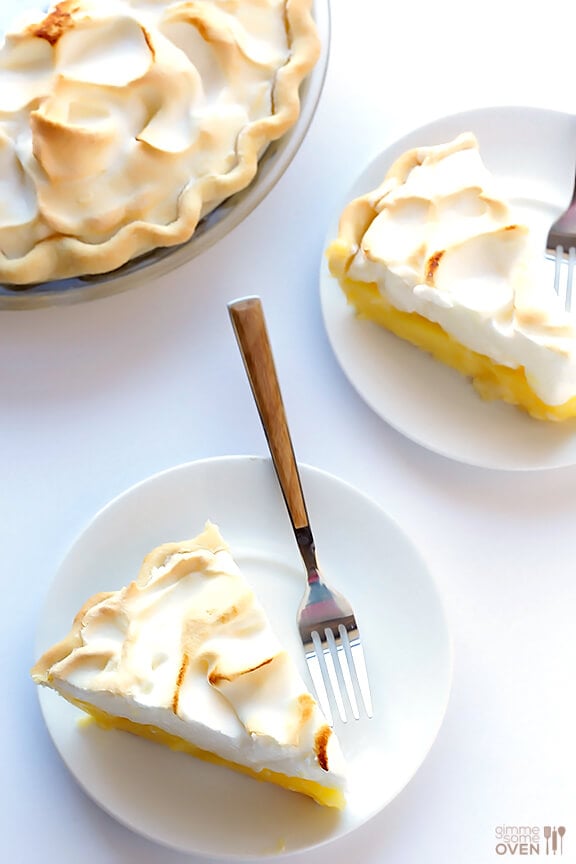 After dashing around the kitchen like a mad woman — making a pie crust and speed-chilling it in the freezer, making a second batch of lemon filling, borrowing eggs from another neighbor to make a second batch of meringue, and then pre-baking the pie crust before assembling the pie — somehow it magically came together in time.
Here's how I made it: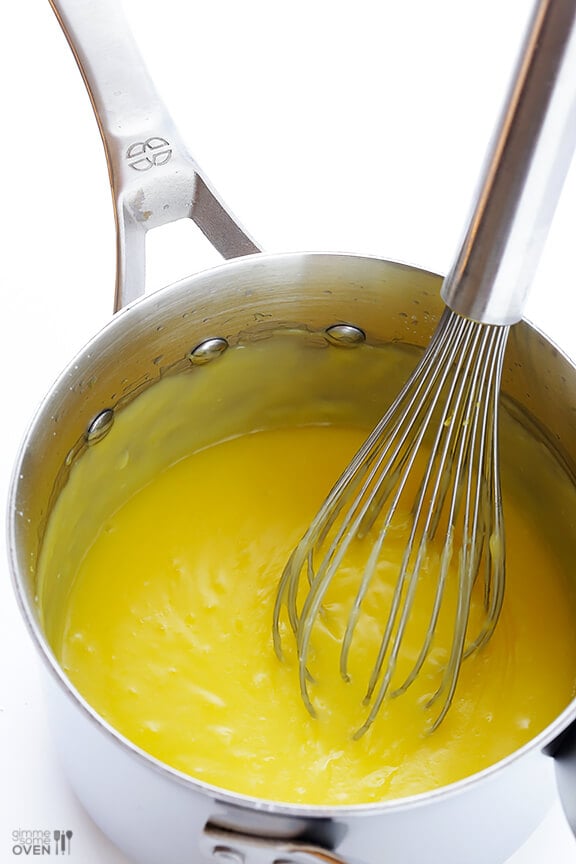 The key to a good lemon meringue pie is delicious lemon filling.  Fresh lemon juice is a non-negotiable here.  It's the star of the show and will make the filling absolutely "pop".  So grab some lemons and eggs and whisk this deliciousness up on the stove.  And then keep stirring it fairly often or cover the top with plastic wrap so that it doesn't form a crust while you wait to add it to the pre-baked pie crust.
(And yes, it really is that bright yellow in real life, with thanks to the egg yolks.)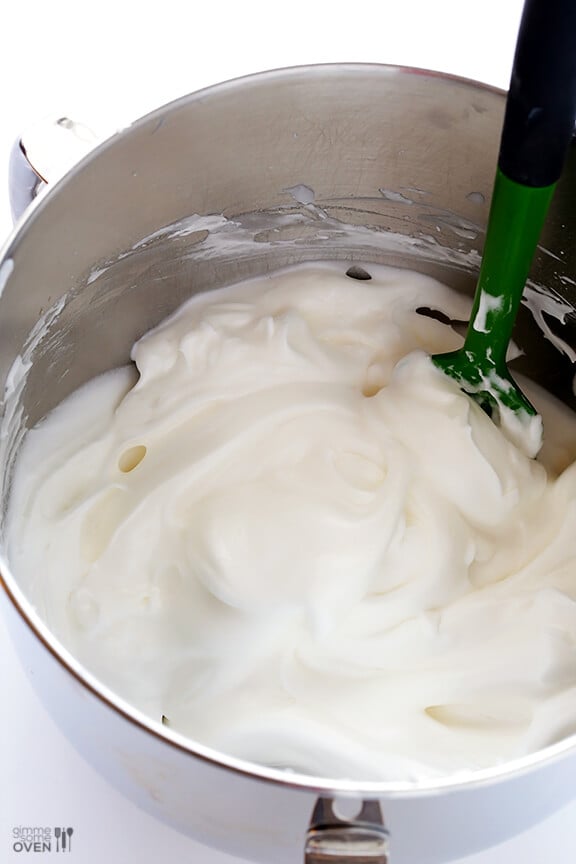 Of course, the other star of the show is the meringue.  I took a tip from Cooks Illustrated and added a cornstarch slurry to the meringue to help keep it thick.  And sure enough, it worked like a charm.
The other key component is — yes — a pre-baked pie crust.  (Maybe if I remind myself of this enough I will not make this mistake again the next go-around.)
I used my favorite homemade pie crust recipe, although if you're really short on time, you can use a store-bought crust.  Once it has pre-baked in the oven, fill it with the hot lemon filling (be sure that it is still hot from cooking, as this will help cook the bottom of the meringue).  Then immediately add the meringue in small globs on top of the lemon filling, beginning around the perimeter and then filling in the center, and then using a spoon to "decorate" it however you'd like.  This technique helps the meringue stick much better to the filling and not shrink or separate while it bakes.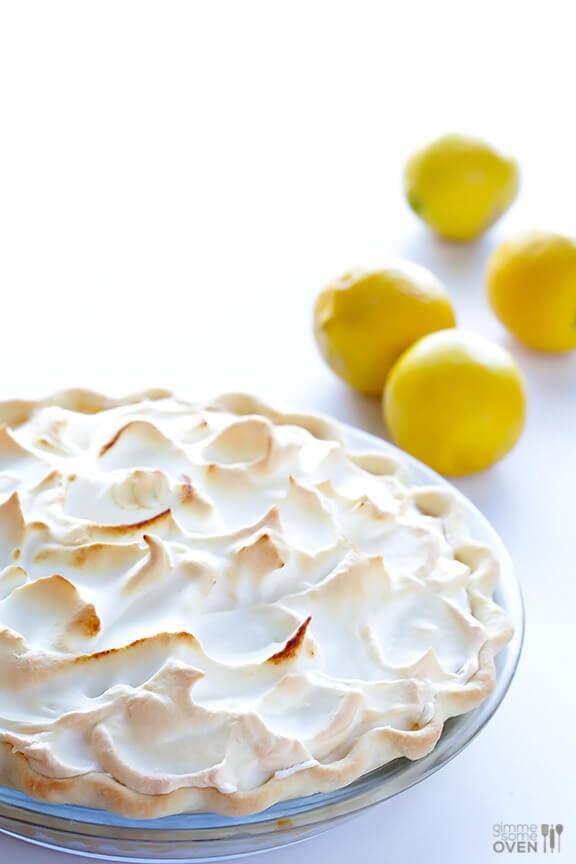 Then pop it in the oven and let the meringue cook low and slow for about 20 minutes until it is lightly browned on top.  You can either remove it at this point.  Or if you want an extra browned top, turn on the broiler to high and let the pie cook for an extra minute or two until the top is extra browned and crispy.  Remove the pie from the oven and let it cool to room temperature, then refrigerate for a few hours to let the filling set.
And when you're ready, dish it up!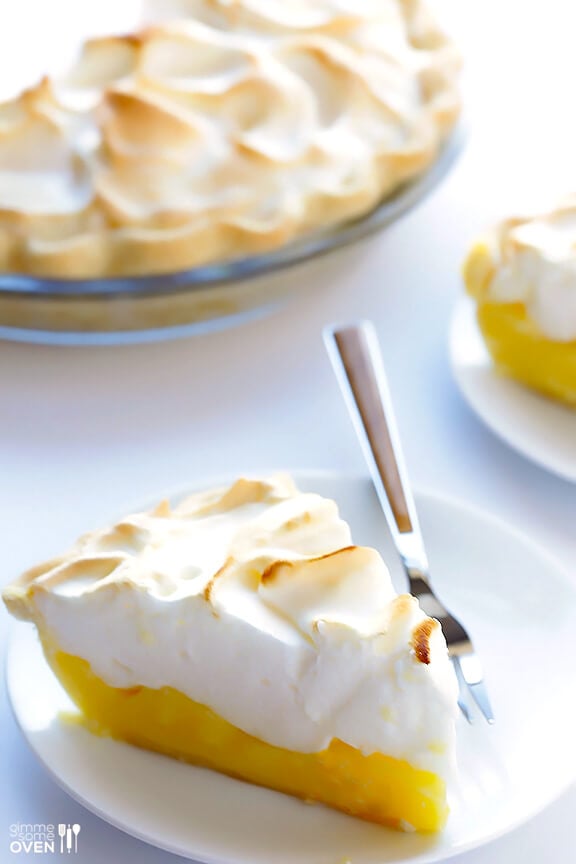 I had forgotten just how beautiful these pies are.
Although ours disappeared in about 3 minutes flat once the neighbors descended upon it.  :)
We did manage to get a tiny candle lit in the evening breeze and sing happy birthday to this guy beforehand, though.  And then everyone dove in, including him.  And through mouthfuls of pie, gave it rave reviews.  I snagged a few bites and happily agreed.
Happy birthday, Liam!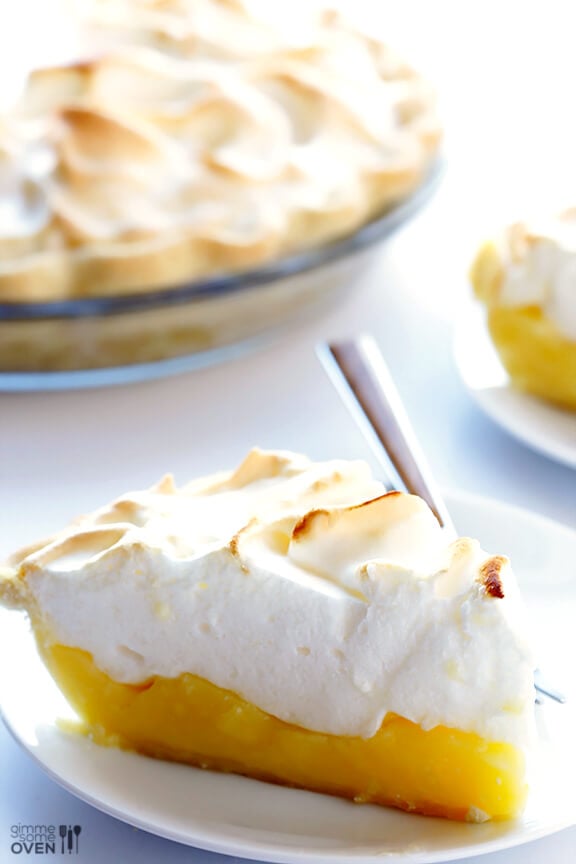 Lemon Meringue Pie
Learn how to make fresh lemon meringue pie with this classic recipe.
Ingredients:
Lemon Filling Ingredients:
1 cup (7 ounces) granulated sugar
1/4 cup (1 ounce) cornstarch
1/4 teaspoon salt
1 1/2 cups cold water
5 large egg yolks
1 tablespoon grated lemon zest
1/2 cup fresh lemon juice (approximately 2-3 lemons)
2 tablespoons unsalted butter
Meringue Ingredients:
1 tablespoon cornstarch
1/3 cup water
1/4 teaspoon cream of tartar
1/3 cup granulated sugar
4 large fresh* egg whites, room temperature
3/4 teaspoon vanilla extract
1/8 teaspoon salt
Pie Crust Ingredients:
Directions:
To Make The Filling:
Whisk the sugar, cornstarch, salt and water in a large (nonreactive) saucepan. Heat over medium heat until the mixture thickens and reaches a simmer, stirring fairly often. When the mixture starts to simmer and turns translucent, whisk in the egg yolks, one at a time. Then whisk in the zest, then the lemon juice, and then the butter. Bring the mixture to a good simmer, whisking constantly. Remove from the heat.
Place a sheet of plastic wrap directly on the surface of the filling to keep it hot and prevent a skin from forming.
To Make The Meringue:
In a small saucepan, whisk together the cornstarch and water until combined. Bring the mixture to a simmer over medium-low heat, whisking occasionally at the beginning and more frequently as the mixture thickens. Once the mixture starts to simmer and turns translucent, remove from heat and set aside.
Adjust an oven rack to the middle position and heat the oven to 325 degrees.
In a small bowl, whisk the cream of tartar and sugar together. In the bowl of a large stand mixer, beat the egg whites and vanilla for 1-2 minutes on medium-high speed until frothy. Beat in the sugar mixture, 1 tablespoon at a time, until the sugar is completely incorporated. Continue beating on medium speed until the mixture forms soft peaks. (*Look ahead to multitask the next step with the lemon filling at this point.) Add the cornstarch mixture, 1 tablespoon at a time, while the mixture is still beating. Continue to beat on medium speed until the mixture forms stiff peaks, about 1-2 minutes.
*When you are about a minute away from finishing the meringue, remove the plastic from the lemon filling and return the saucepan to medium heat. Let it heat for at least 1 minute so that it is nice and hot when you add it to the pie shell.
Once your meringue is ready and the filling is hot, pour the filling into the prebaked pie shell and use a rubber spatula to even out the top. Use a spoon to immediately add small spoonfuls of the meringue all around the edge of the filling, and then add spoonfuls to the center until the entire surface of the filling is covered. Make sure the meringue attaches to the piecrust to prevent shrinking. Use the back of a spoon to create little decorative peaks all over the meringue, or whatever design you would like.
Bake the pie until the meringue is lightly browned, about 20 minutes. Transfer to a wire rack and cool to room temperature. Serve the same day.
*Be sure that the eggs you use to make the meringue are fresh. Otherwise, they may not whip up properly.
If you make this recipe, be sure to snap a photo and hashtag it #gimmesomeoven. I'd love to see what you cook!