10 Things I've Learned: Mollie
This post may contain affiliate links. Please read my disclosure policy.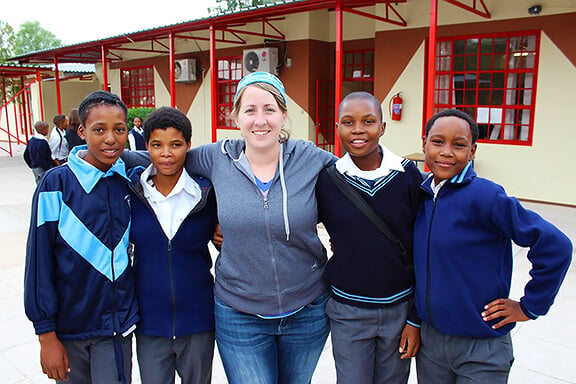 I met today's guest-poster back when we were roommates at Southwestern College, a tiny liberal arts school in southeastern (yes, the irony) Kansas. We were perhaps unlikely friends, as we had hardly anything in common when dorm life first brought us together. I was the introvert, Mollie was the extreme extrovert. I loved all things artsy and indoors, she loved sports and any chance to camp with the bugs in the great outdoors. I would kill myself staying up late to get an A on every test, while Mollie was happy to do her best and not stress herself out. I loved to cook new things each week in our little dorm kitchen, while Mollie had one specialty and literally "stuck" to it. (See #8 below.)  In 100 other ways, we were opposites. But despite that, we pretty quickly discovered a kindred spirit in one another, and became lifelong friends.
Actually, I credit Mollie with being one of the first people to really show me what it's like to be a good friend. The sort of friend who knows how to mega-celebrate life when it's good, listen and ask good questions and just be there with you when it's hard, encourage you to take risks and live beyond your comfort zones, and really take that "greatest" commandment to heart — learning to love the Lord and love people well. You know, the sort of friend who makes you want to be a better friend. :)
Mollie also has a fierce commitment to living life authentically, and as such, it's even more incredible how much of her life she gladly devotes to service and volunteering. Whether that is through her career in youth ministry where she has inspired and built relationships with hundreds of middle and high school students over the years, or volunteering her time with a host of organizations, or traveling halfway around the world to work with her best friend in Africa, Mollie has a deep seated belief in the power of service. For her, it's just a natural, awesome, and important part of life. And though most of her service happens quietly under the radar, she is making a big difference in this world, and leaving countless lives around her changed for the better.
Basically, she's an inspiration. And she's courageous. And she's hilarious. And she's wise. And I have already learned a lot from her in life. So I'm excited to read more of her life lessons here with you as she shares her "10 Things I've Learned". Thanks, Molls!
I've Learned…
1. Everyone has a story.
Have you ever had someone make a judgment about you without knowing you or the background of the situation? Sometimes being in such a public ministry job, I feel like my life is a fishbowl. And people have made comments without knowing "me". I know I'm guilty of this as well. The lady checking out your groceries…do you know her? The guy driving too slow/fast…do you know him? The family in public with loud/crazy kids…do you know them? When I find myself getting impatient, irritated, or annoyed, I remind myself that everyone has a story! So be nice, compassionate, graceful, and loving. We don't know the battles people are facing.
2. Eat the samples.
Take the samples from the cute little lady at the store, smile, and ask how she is doing. It's fun to see the look on people's faces when someone asks. Plus it's free food!
3. I don't like everything.
I don't like Star Wars. It never fails that after I share this with people it's followed by this: (GASP!) "WHAT!? How can you not like Star Wars?!?" I simply don't and no one can convince me to like Star Wars. I know I react this way when people say they don't like things I do. How can someone not like chocolate? :) I have to remember to respect people when they say they don't like something. It's okay not to like things (even personalities!)
4. Being there is a big deal.
Life is full of many joys (weddings, dates, babies, birthdays, graduations, promotions, moves, etc.). Life is full of many sorrows (deaths, illness, break-ups, divorce, lay-offs, moves, etc.). Be there for those you love. Don't miss the big things. Be there for the little things along the way.
5. Comfort zones are restricting.
Get out yours!! Especially when it comes to being around people/cultures that are different than you. A year ago, I was on a trip in Botswana, sleeping outside with lions, hippos, elephants, and other animals that could eat me. I was terrified! I swore I was going to be torn to shreds by morning. Yet here I am today – everything still attached – with an amazing experience to remember and share. It's ok to be scared, but don't let it hold you back from experiencing this amazing gift of life!
6. You don't have to "fake it till you make it".
I've always had a hard time with the phrase, "fake it till you make it." I don't know if there's a time when you should be "fake". If you're having a rough day, let people know! Most of the time people know if you're faking it anyways.
7. Eating alone is not horrible.
When I was younger, I used to get sad seeing people eat alone and wondered why they had no one to eat with. Being single, I eat almost every meal alone. Some are at home. Some are in public. Of course I'd rather be eating with a cute guy or family/friends, but sometimes it's not possible. It took me a while to not be bothered by the host asking, "Just one?" I put my phone away, people watch, and enjoy the food in front of me (well, unless it's gross!). You should try it. In public!
8. Spaghetti brings laughter.
When you think your spaghetti is done, throw it on the ceiling as a test. If it's cooked, it will stick! You will laugh every time, I promise!
9. "Too busy" is a lame excuse.
I am horrible at responding the emails! It takes me forever. And honestly, I don't really enjoy emailing, but I know I have to professionally. One day I was responding to a question a widowed lady had about an upcoming event and, at first, just typed in the answer she needed. Before hitting "send", I realized I sounded kind of bothered by her email. I then typed, "Hope you're having a great day in this beautiful weather." Very simple…but a game changer. She quickly responded "Thank you very much!! It's my birthday!"…and then proceeded to tell me about her special day. Sometimes I need to slow down and not be so busy in my own little world. And especially try not to sound bothered or "too busy" in texts/emails.
10. Serve because you care.
Being in the youth ministry world, I hear a lot of "that'll be great for a resume", or "can you find something to help me/my child to build their resume?" Yes, I understand the importance of building a resume, but it shouldn't "drive" us to help. Volunteer. Serve. Make an impact because you're passionate. Not because of a piece of paper. Not for a cool "tweet" or "status update". Not so others think you're great. Not so you feel great (which naturally happens). Do it because it's who you are. Do it for the better of the people/places you're helping. Do it because you care. And usually if you do things for the right reasons, the resume will fall into place naturally.