30 Things I Have Learned At 30
This post may contain affiliate links. Please read my disclosure policy.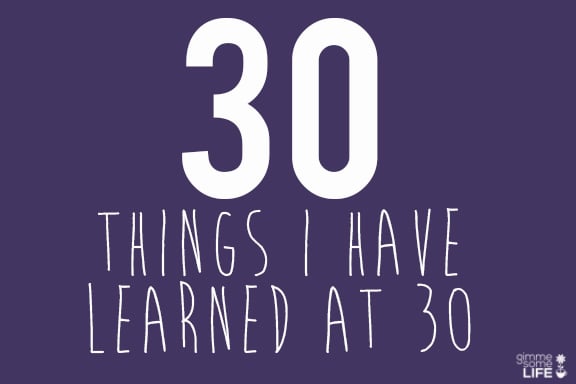 I did it — I turned 30 today!!!
Since decade markers tend to invite a fair share of introspection, I decided to make a list (whoo!) of 30 things I have learned in the past ten years to celebrate. It's far from exhaustive, and I'll warn you that it's super random coming at the end of a long day. But as cheesy as it may be, making these sort of lists have always been helpful for me in gaining perspective and drawing a line in the sand to help see where I've been and where I'm going. (And of course, I'm sure this will be plenty amusing to read over in another ten years.)  :)
So here is my 30 at 30!

30 Things I Have Learned At 30
1. Invest in experiences, not stuff.
The temptation will always be there to buy more stuff — for your home, your wardrobe, your transportation, you name it. But I firmly believe that the best investments I've made in my twenties were in experiences I could share with friends. From nights out, to trips, to cups of coffee, to giving and more. Invest in people and memories.
2. Homeownership is a part-time job.
Buying a home is awesome, but way more work than renting. Only dive in if you're ready to commit lots of extra time (and money) into home repairs and maintenance. It's a fantastic experience if you love it. Otherwise, there's noooo shame in renting. :)
3. Puppies are super-cute, but a super-lot of work.
As much as I've loved raising my little guy from the time he was 6 weeks old, my next dog will definitely be an older housebroken dog who needs a home…who I'm sure will be just as cute!
4. Your college major doesn't matter.
I majored in vocal music performance (opera), and am now a full-time food blogger. And have about 10 close friends who have ended up in equally surprising career fields. Granted, if you want to become a nurse, it's probably wise to get a B.A. in nursing. But for most professions, an undergraduate degree is now just a prerequisite. So don't stress if you don't have your career 100% figured out at age 20.
5. Travel NOW.
We live in a remarkable time in history when travel is accessible and inexpensive. So if you have vacation days, don't hoard them — use them!  Even if it's just to take a day or two off for a "staycation" to explore your city, do it now. The longer you wait, the more excuses you'll have to keep waiting. So wherever and whenever you can afford to go, travel now!
6. Give therapy a try.
My pastor once said that going to therapy should be considered a spiritual discipline. I think there's definitely some truth to that. For all of the time and attention we give to our physical health and wellness, the same attention is needed to keep our minds and hearts on track. So whether you think you "need" it or not, find a therapist you trust and at least once or twice a year — just go. Think of it like going to get an annual "physical" for your mind. It will be a gift to those around you, and most importantly, to yourself.
7. Online dating is not for everyone.
Been there. Tried it (many times). Could probably write a book on some of the amusing dates I have been on, and an even better book on how not to write your dating profile. (Guys, we girls don't want to see a pic of your car, you with your shirt off, your party pic with half of a girlfriend cropped out, a scenic pic where you are 1-cm tall, or a bio line about how you "love a night out, but can also enjoy a quiet night in".)  Ha, ok, back to a more serious note. While I love that online dating is a modern option, and I know many people now who have loved and even met their spouce on EHarm or Match, I've came to the conclusion years ago and finally let myself recently accept that online dating is just not my thing. I'd much rather meet someone through a friend, or my favorite coffee shop. So if it takes awhile longer, so be it. :)
8. Comparison sucks.
And as a zillion Pinterest images will tell you, comparison will rob you of your joy, and so many other good things in life. I know it full well. So when you're tempted to try and compare your life to someone else's, encourage your friends to help you to stop. Your story is uniquely and wonderfully yours, so live it out to the fullest, and trust that it is good and enough. This world needs you to be Y-O-U. :-)
9. A gallon of paint = the best $30 you'll ever spend on decorating.
If you're feeling the redecorating itch, hop over to Home Depot and pick up a gallon of paint. It's way cheaper than buying new furnishings or accessories, only takes an afternoon to complete, and will completely transform the space into something new. As someone who has maybe a little too much experience painting and re-painting a house, I would highly recommend (1) Behr Premium Plus (2) always testing with the $3 mini sample (3) having a paint party and inviting friends to help.
10. Introversion is a beautiful thing.
One third of the population now identifies themselves as introverts – myself included. And while there are still many misconceptions about introverts, it seems like introverts are getting more press lately, and are being appreciated and respected for the strengths they offer. Whether it's in schools, in the workplace, or in social settings, they are being given more freedom to be who they are. And I think that's a fabulous, beautiful thing. So if you love being around people but draw your energy from time alone, do it with pride! :)
11. Often the best mentors are those just one step ahead of you.
When I was 20, there was a lot of talk (especially in Christian circles) about gleaning wisdom from our grandparents and those nearing the end of their lives. But while I adore spending time with that generation and have much to learn from them, I've noticed that some of the best mentors in life seem to be those just one or two steps ahead. If you're in high school, it's the twenty-something's who you will probably most admire. If you're a recent college grad, it's those who are 5-10 years into their careers and can show you the ropes. If you're ready to get engaged, it's the couple who has celebrated a few wedding anniversaries. And on and on. So if you're looking for some advice and inspiration, look to those a few steps ahead. And do the same for those following behind.
12. My parents are cool.
I always grew up thinking my parents did cool stuff. They are entrepreneurs, they volunteer selflessly (and often long-term) with a wide range of projects, they became serious bike-riders upon empty nesting, they travel to interesting places, they give generously, they are avid learners, they are big entertainers, and they have stayed with their same church for nearly 40 years. But the best part is that they don't do any of this because it's "cool". I know many people who have to convince themselves to do these sort of good things because it's what they "should" do, or it's what's hip or popular. But with my parents, it seems like nearly all of this comes naturally to them, as if giving up your summer vacation to go volunteer on a reservation in New Mexico is just what normal people do. I think that's pretty cool. And more importantly, I think that they're pretty cool. :-)
13. Book clubs rock.
Mine is the absolute highlight of my month, for about a million reasons. If you love to read, find one or start one.
14. Friendships can be seasonal, and that's ok.
This is one thing that has been hard for me to learn. My friendships tend to run deep. And when jobs, homes, marriages, babies, or life changes, and individual friendships or social groups begin to shift, my tendency is always to cling to how things have been and work to maintain the same level of depth or social rhythms. But seasons change, and that's a good thing. And friendships can have their seasons, and that's a good thing too. The true friendships will always find a way to sustain during the times when you are extra close, and then times when Facebook or occasional coffee dates or phone calls will help you stay in touch. It all works out. :)
15. I like the Church.
After having spent the last decade belonging to various churches, and even working for 7 years at a megachurch, I have been involved in more than my share of conversations about how people "do church" (an oxymoron of a catchphrase in itself, since the church is the people, right?). Thanks to the church, I have come to know Christ and have my life completely changed for the better. And thanks to the church, I've been hurt and seen many of its flaws and failures way too close-up. But at the end of the day, I still like the church. And I give it props. Any organizational expert would tell you that a church is one of the hardest organizations to organize and lead well, but year after year people keep with it, and do so with lots of selflessness, mistakes, hope, doubt, and love. And the world is overall better for it.
16. Nerds turn out to be the cool kids.
So bookworms, be encouraged. You may not be the most popular kids on the block in high school, but your time will come. Most of the coolest, most artistic, most interesting, most thoughtful people I know would probably classify themselves as nerds or intellectuals. And they are often the ones setting the trends, paving new paths, and pretty much changing the world.
17. Try to break a sweat every day.
Even if you can't fit in a full workout, do something to get your heart rate up at least once a day. It will really make a difference.
18. Never make big decisions (or write important emails) after 9pm.
Just don't. Sleeping on it is always a good idea.
19. Soak up the sun (with sunscreen).
I believe now more than ever that we were created for sunlight. The more of it I have in a day, the better I feel physically, mentally, and emotionally! Science confirms it. My body confirms it. And I'm pretty sure creation confirms it. So soak it up! However, since we live in the enlightened age of 2013, be sure to enjoy it under the protection of the highest SPF numbers you can find. :)
20. I love a good glass of wine.
In my twenties, I have found this to be true. Especially a dry red. Especially with some good cheese. And especially with good friends. Mmm.
21. Chronic pain is exhausting.
Complications from a failed back surgery have left me riding a roller coaster of different levels of chronic pain over the past decade. And although my situation is so minor in comparison to so many, it has brought a new admiration for those who press on through significant pain day after day. In a million little ways, chronic pain just makes living the daily life you want to live, and being the person you want to be harder. So for those in your life who struggle, give them extra support and grace.
22. You can't be anything you want.
Encouraging parents around the world often tell their kids that they can be anything they want when they grow up. And while in some ways that's true, in many ways it's not. Not everyone is given the same opportunities to chase after their dreams. And even for those who have much, you cannot achieve everything through sheer effort. We are all born with different callings, so if something's not going as you had hoped or planned, give yourself the freedom to reassess. And look to your friends and the Lord for input. And then keep recalculating until you find where you need to be.
23. Give thanks…lots and lots of thanks…for good friends.
They are one of the best gifts in this life, and are meant to be treasured. I am so, so grateful for those I am privileged to call friends. :)
24. The Enneagram GETS it.
I have taken SO many personality tests over the last decade. And while all have been informative, none have challenged, encouraged and inspired me like the Enneagram. I am very clearly a "3", and learning more about that has been like a year's worth of therapy bottled into a few books. For those who have not studied it, I highly recommend this book, and for a Christian perspective on the subject, this book.
25. Snobbery is overrated.
I'm all for people developing thoughtful and even strong opinions on a host of topics. But it makes me a little sad to keep hearing the trend of people proudly identifying themselves as a "music snob" or a "literature snob" or whatever their interests may be. I know it may be an issue of semantics, but any kind of snobbery implies judgement and negativity and looking down on others, which closes the door on genuine learning and conversation. So if you're passionate about something, don't be snob. Be a fan!
26. Gummy vitamins are brilliant.
I have purchased an embarrassing amount of vitamins in the last decade. And fallen off the vitamin "wagon" an equally embarrassing amount of times. But whoever invented gummy vitamins is freaking brilliant. Thanks to them, I happily look forward to eating my little bears and getting extra nutrients every day.
27. One person really can make a difference…for better and worse.
I know it sounds cliche, but every little decision you make during the day has the potential to make the world a better or worse place. From the vendors to where you buy food and clothing, to the way you drive down the road, to the people with whom you spend your time, to how you vote, to the words you speak. But especially in terms of social justice, one person's individual efforts can make a tremendous difference in someone's quality of life halfway around the world. And thanks to modern technology and travel, you can now witness that with your own eyes and build a relationship with that person. So take the opportunity to make a good difference, and give generously.
28. Nooch + Popcorn = Heaven
Ten years ago, I would have given you a serious raise of the eyebrow if you had told me that "nutritional yeast" would replace butter as my favorite popcorn topping. But now I know. And now I happily eat it all the time.
29. "My faith is like shifting sand…
…changed by every wave, my faith is like shifting sand, so I'll stand on grace."
Little did I know when I learned this line from a Caedmon's Call song in college how true it would ring. In my twenties, I somehow went on an unintentional tour of Christian tradition and theology — from praying in the Spirit with charismatics, to observing the daily office with the Anglicans, to revering the Lord's sovereignty with the Reformed, to feeling the truth of free will deep in my bones with the Methodists, to worshiping with thoughtful Christians in the inner-city, to serving alongside remarkably selfless believers in the 'burbs, to times of despairing doubt, to relieving certainty, and everything in between. At the time, every season seemed like the natural next step, but looking back I recognize it has been quite the wild ride.
But throughout the subtle and larger changes in tradition or theology along the way, the Lord has remained steadfast. And strong. And exceedingly gracious to me. So although I'm sure my life likely has more shifting sand to come, I am so grateful to at least always know I can stand on the Lord's grace.
He really is faithful.
30. I am ready for my thirties!!
I've loved most of my 20's, but am really looking forward to this new decade. So bring it on, 30's!
Your turn! What would you add to this list?