My 5 Favorite Travel Tech Gadgets
This post may contain affiliate links. Please read my disclosure policy.
Today I'm sharing my 5 favorite tech gadgets that I legit love and bring along with me on every trip!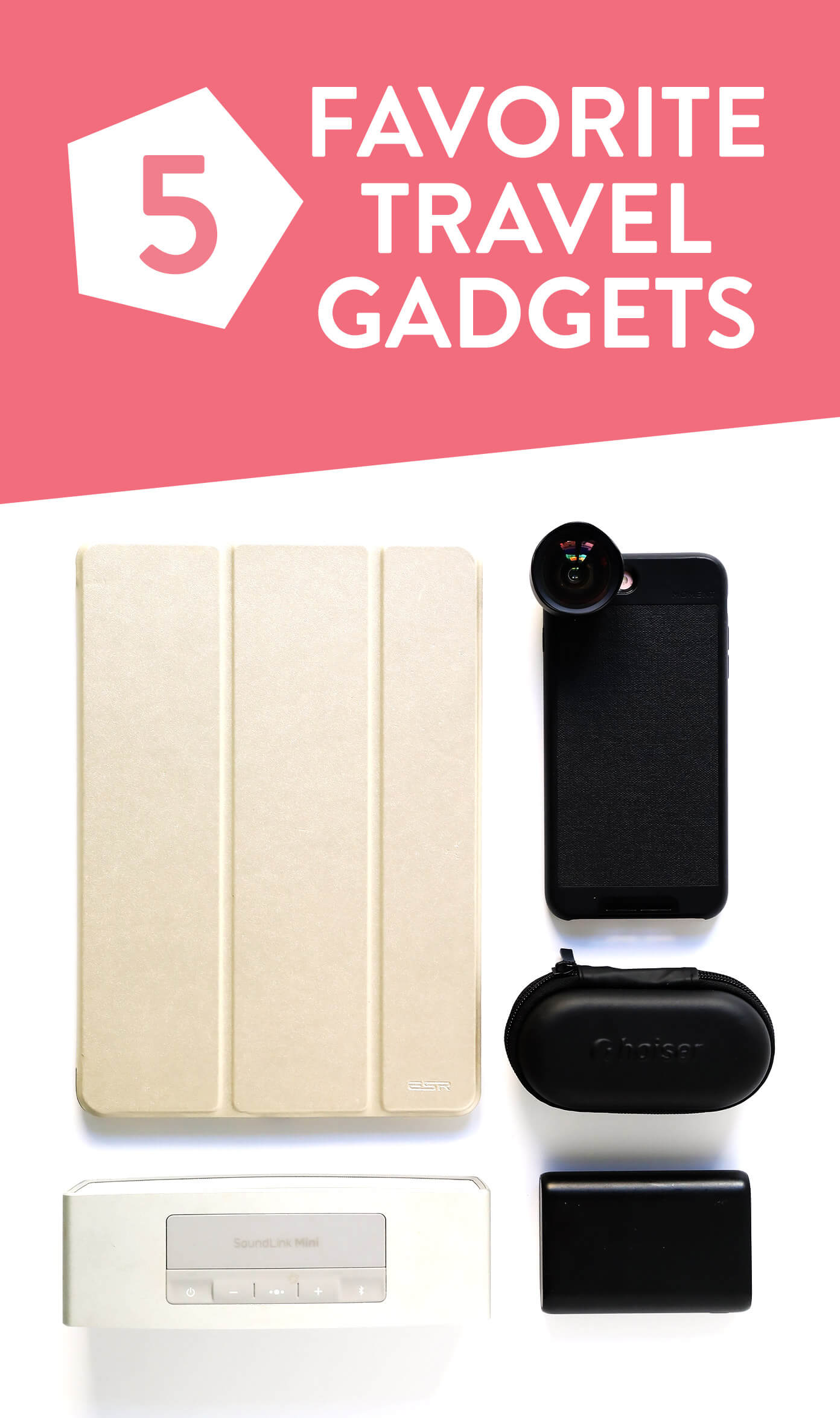 Hey guys! I've been getting lots and lots of questions from you all on Instagram lately, asking about some of the random tech gadgets that I bring along with me while traveling. (Plus tons of questions about travel photography…more on that to come!)  So while I should probably disclaim that I'm about the least tech-gadget-savvy person I know, I do happen to be a mega fan of this little collection of electronics that I bring along with me on every trip.
So today, I thought I'd take a break from recipes and pop in to share a few deets with you!
From a tiny camera lens that has completely changed my photography, to a miraculous charger, to my favorite way to read and work while traveling, to some affordable earbuds that I never lose, to our favorite way to make any place we stay feel extra fun and cozy…these are 5 tech gadgets that I wholeheartedly love and vouch for. I literally just pulled them out of my suitcase to snap some photos, so get ready for some awkward hand modeling. Here they are!
(Amazon affiliate links are included below.)
Why I Love It: This Moment Wide-Angle Lens has been my favorite tech purchase of the year, hands-down. It's a small wide-angle lens that clips easily onto my cell phone, and I have been blown away by the quality of photos it takes. Truly. For years, I used to lug my huge DSLR camera around (with a wide-angle lens) on trips. But thanks to this little lens, I've now switched to 100% iPhone photography when I travel. It's wonderfully tiny (small enough to fit in my purse), it's easy to clip on and off, it only costs $100 (a fraction of the price of a DSLR and wide-angle lens), and it captures those sweeping wide angle shots like a pro. Totally recommend.
Details: This wide-angle lens currently retails for $99.99 on Amazon, although you also have to purchase a special phone case to go with it. (They offer options for different brands/sizes of phones, some with battery packs and some without. I went with the cheaper $30 case). They also offer a Telephoto Lens, Superfish Lens and a Macro Lens.
Tips: Moment also offers its own app, which gives you the option to override your phone's camera settings, and choose the settings that are just right for whichever lens you are using.
Why I Love It: Trips aside…I literally never leave the house without this Anker PowerCore 10000 Portable Charger. ? It holds about 4 iPhones' worth of charges (and can also charge my iPad), it's super small and lightweight (fits in my purse), and it has saved the day countless times when my phone has run out of batteries. It also charges itself fairly quickly, and lasts forever. (Barclay and I still use my 5-yr-old Anker in addition to this new Anker, and both are still going strong!)
Details: My Anker currently retails for $25.99 on Amazon, and comes in three colors (black, white and red). I have the PowerCore 10000 version, but they offer other versions with more power for slightly higher costs.
Tips: Get in the habit of charging this puppy each night, and then you'll never be without power.
Why I Love It: After being a Kindle-lover for the past decade or so, I decided to purchase my first iPad (with this pretty gold case) when we moved to Spain so that it could double as both my reader and computer while traveling. And I've gotta say — it's pretty dang awesome. Granted, I still mostly use the Kindle app on mine each day. But I've also become a daily user of the Texture app on my iPad (think: hundreds of magazines — plus their back issues — for $9.99/month), which is also great for traveling. And we love downloading shows/movies on Netflix ahead of time for long plane rides. And if you happen to be traveling in a country with a new language (or hey, trying to survive daily life as expats), the new camera feature on Google Translate is freaking brilliant.
We've also designated the iPad as our Spotify player in our house on a daily basis, and have it hooked up playing music on our Bose all day long, which we also love packing along on trips with us. (See below!)
Details: There are, of course, all sorts of options when buying an iPad. I went with the iPad Pro, which currently retails for $583.28 on Amazon.
Tips: Some of my current favorite iPad apps (also available on iPhone) include:
Reading:

Kindle (books), Texture (magazines), Overdrive (library books), Feedly (blogs)

Listening: 

Spotify (music), Podcasts (pods), Audible (ebooks)

Watching: 
Travel:

Google Translate, DuoLingo
Why I Love Them: I know that everyone's buzzing about the new Apple Airpods when it comes to bluetooth earbuds. But I can't bring myself to bite the bullet yet on the price…nor do I think there's any chance that I won't lose those puppies in the first week. ? So I've been using these (much-cheaper) Phasier Bluetooth Headphones with my iPhone for the past year or so, and am happy to say that they travel well, work like a charm, and haven't disappeared yet. Plus, they come with like 8 different tip attachments, so that you can choose the ones that perfectly fit your ears, plus a handy little carrying case.
Details: These earbuds currently retail for $35.99 on Amazon.
Tips: If you use these regularly during the day, I also recommend getting in the habit of charging them at night.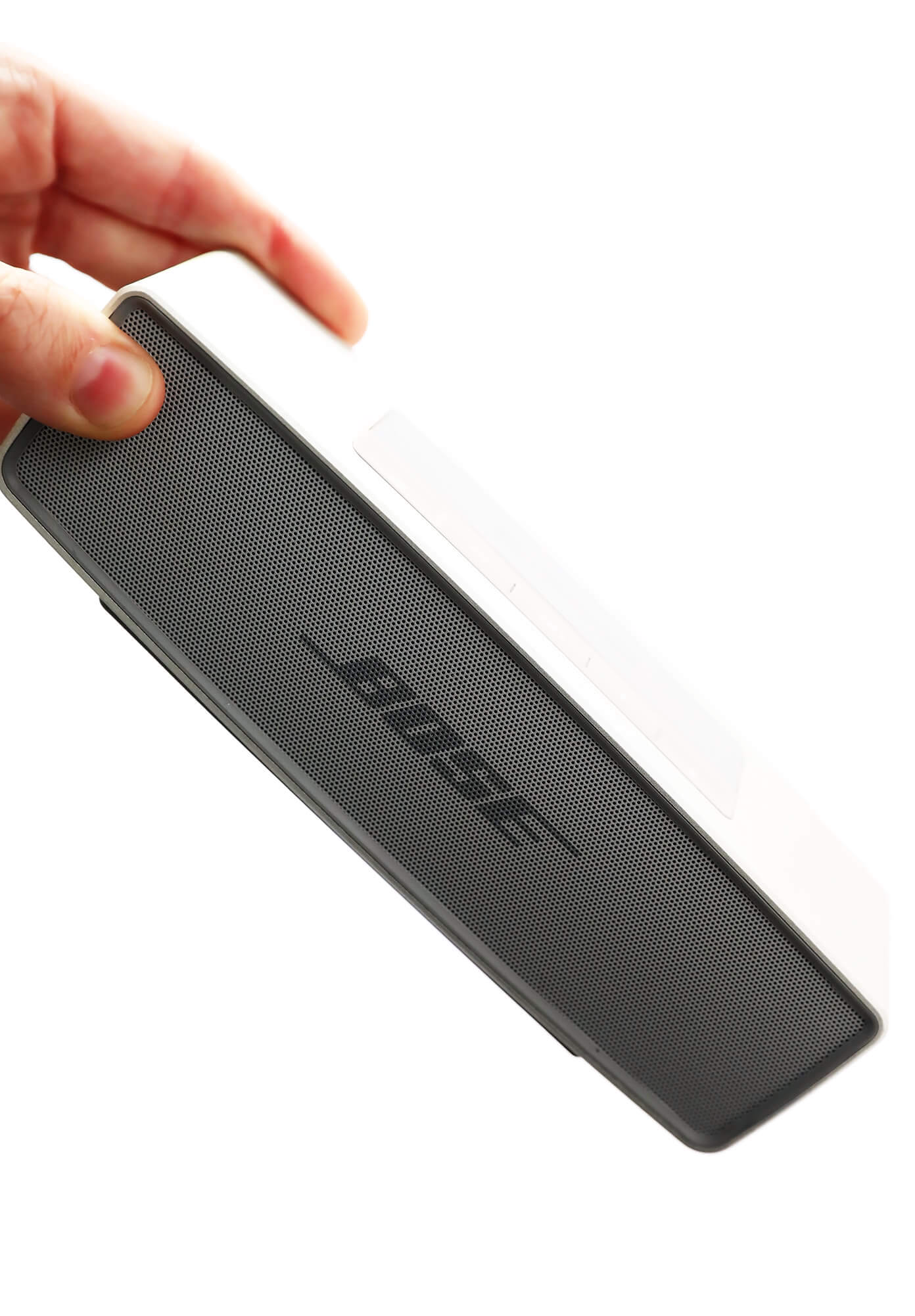 Why I Love It: We're totally that house that has music playing in the background all day long. And awhile back, we realized that we could just as easily pack our favorite little Bose Mini Soundlink II Speaker in our suitcases on trips, so that we could have some tunes in our AirBnBs and hotel rooms, too. Maybe we're music weirdos, but I've gotta tell you, it makes us so happy and adds such a fun touch while traveling!
Also, I cannot begin to tell you how much we love this speaker. We literally recommend it to everyone we know who comes to our house and comments on the music. It's small but freaking mighty, and its sound quality is amazing. It also holds a charge forever, connects to multiple devices, looks sleek, and keeps the tunes flowing in our casita daily.
Details: We have this Bose Mini Soundlink II Speaker in silver, which currently retails for $189.80 on Amazon.
Tips: If you're in the market for a speaker, trust me, this one is so worth it!
Other Faves:
Travel Adapter Power Strip

If you happen to be traveling internationally with different outputs, I highly recommend purchasing a power strip (vs. trying to keep track of a handful of small individual adapters). We love this one because it also has 4 USB inputs at the bottom of it. So it can charge all of our devices easily at once.
Currently retails for $23.99 on Amazon.

Canon PowerShot G7X

When we're looking to shoot some nicer-quality videos while traveling, this is the tiny little camera that we recently purchased and love. (Most of our lifestyle vids on YouTube are shot with it.)  It's insanely more portable than our large Canon 5D DSLR camera, shoots great video in various lighting situations, and just generally performs well.
Currently retails for $679.00 on Amazon.

External HardDrive

On the trips when we're shooting a bunch of video, we also pack this small hard drive, which holds 2TB of storage.
Currently retails for $159.94 on Amazon.
---
This post may contain affiliate links which won't change your price but will share some commission. Also, the prices listed here were current on the day this post was published, but are sure to change in the future. ;)
---
Alright, your turn! Any faves that you would recommend?