7 Blogs That I Totally Enjoy Reading Every Day
This post may contain affiliate links. Please read my disclosure policy.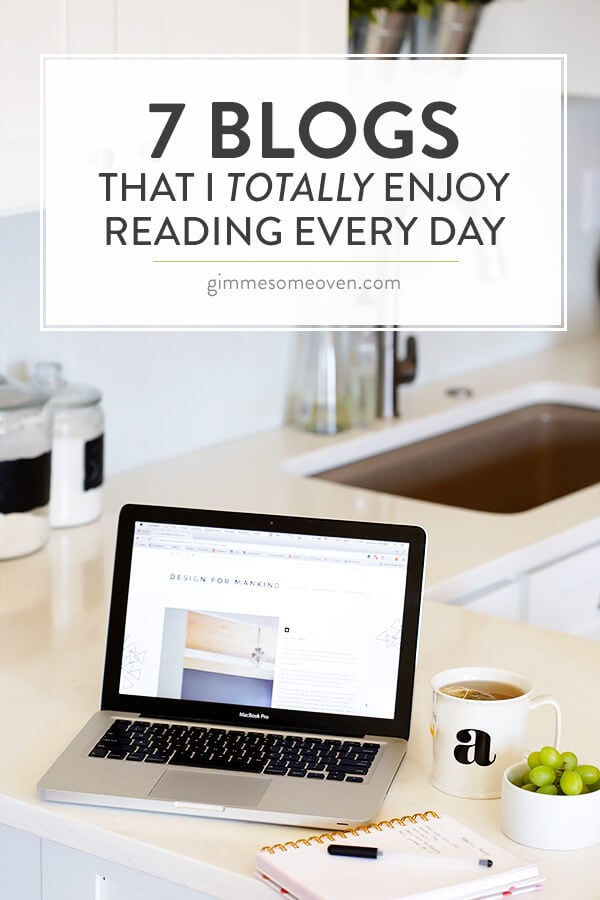 Do you have a handful of blogs that you follow purely for fun?
Over the past few years, I've moved away from following primarily recipe blogs to spending my time enjoying other types of lifestyle blogs, and it has been awesome. I have blog categories on Feedly for photographers I admire, cool people working for social justice, interesting perspectives on faith, DIY stuff I actually want to try, you name it! Mostly they're just blogs that have nothing to do with recipes, and I find that I look forward to reading them more than ever. But that said, the blogs in my reader that get the most clicks by a landslide are in my favorite category that I have oh-so-creatively named — get ready for it — "fun".
And they are just that — blogs I find fun! Some I have followed for years and years, some are pretty new to me. Some deal with 100% light and fluffy stuff, some dig a little deeper into the meat of life. Some of them share the most beautiful prose, some are random and chatty and full of incomplete sentences. But I love them all, and can genuinely say that I look forward to reading them most mornings (after I read The Skimm, of course, which I'm still obsessed with), and also genuinely admire each of the bloggers behind them. ♥
So if any of you are on the prowl for some new non-recipe blogs, I thought I'd share 7 of my favorites with you today. I'm guessing you'll be familiar with a few, but I'm hoping there might be a few new gems in there for you to discover. And hey — if you have some favorites of your own, pretty please share them in the comments below, because I totally want to check 'em out.
Have "fun"!
---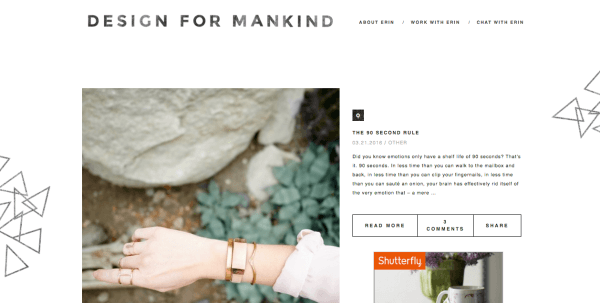 What It Is: A lifestyle blog by Erin Loechner, filled with beautifully-written essays on everything from design to parenting, marriage, work, travel and more.
Why I Love It: I've never met Erin before in person, but she feels like such a kindred spirit. I have enjoyed tuning into her blog for years (like, so many years now!) for a dose of real-life inspiration and lovely prose. Her posts on navigating motherhood and marriage have always been some of my favorites. But I have always especially connected with her posts on slowing down, creativity, and self-care, probably because they're always words I need to take to heart myself. I really admire how open she has been to letting her career evolve and pivot in some big ways over the past decade, and I can't wait to follow along wherever the next roads may lead.
Recommendations: Every single post in her Life archives. All of the links at the bottom of this post. The Live FashionABLE scarf that she designed.
---

What It Is: A lifestyle blog by Joanna Goddard covering everything from style to food, design, travel, relationships and motherhood.
Why I Love It: This is another long-time read for me and one that I still completely look forward to tuning into daily. Her posts are always interesting and fun, and I always look forward to her weekend list of links. Also of note — she has really awesome readers, so the comment sections on her posts are always worth scrolling.
Recommendations: Her Friday link posts. Her "Motherhood Around The World" series. All product recommendation lists (see her style and design categories, although heads up that you've gotta click fast on the links — her readers regularly buy out the items she loves). Everything on relationships and motherhood.
---

What It Is: A lifestyle and DIY blog by Elise Blaha Cripe, full of tons of great inspiration for all things DIY (memory-keeping, home decor, knitting, photography, recipes, gardening), great resources for blogging and entrepreneurship, and an honest peek into daily life with her husband and two cute kiddos.
Why I Love It: I have been following Elise's blog since before I even knew what a blog was. (Yeah, way back before blog readers, she was a favorite "bookmark" in my browser!)  And in that weird way that the internet brings people together, I kind of feel like we've "grown up together" over this past decade. It's been fun to watch her transition from life as a single graphic designer to falling in love and getting married, having one daughter and then another, taking the leap from one creative endeavor to another to another — and sharing stories and reflections and photos of it all on her blog along the way. I just really dig the way she thinks about and appreciates life, and love her style. Now if only I could make myself finish a scrapbook…
Recommendations: Every single project in her archives. Her posts on small business (these resources are great) and blogging and goal-setting. And just generally, any posts where she chats about everyday life. :)
---

What It Is: A lifestyle and fashion blog by Emily Schuman, full of all sorts of great posts on everything from fashion/beauty to decor, recipes, work, and reflections on life with her husband and young daughter.
Why I Love It: I had always heard people talk about this blog, but didn't start following regularly until a year or two ago. Fashion blogs aren't usually my thing, but I feel like Emily posts about trendy things in a fun and helpful and accessible way. Her beauty tutorials are also always fascinating and spot-on. More than anything though (I'm realizing a theme here…), I love the posts when she shares about the relationships in her life, and all of the honest ups and downs of navigating life as a new mom.
Recommendations: All of her beauty tutorials/recommendations. Her personal posts. Her DIY projects.
---

What It Is: A lifestyle blog for "career-driven women", with a team of authors posting multiple times daily about topics from career, to culture, fashion, beauty, travel, wellness, and more.
Why I Love It: I go back and forth between loving and liking this site, but lately I'm loving it, so it's back on the list. ;) In a nutshell, the Everygirl site shares a wealth of content for modern women about what it looks like to live a meaningful, healthy and stylish life.
Recommendations: Everything in the wellness archives. Their entertaining posts. "In The Know" news summaries each Friday. Home tours galore. This mug.
---

Advice From A Twenty Something
What It Is: A lifestyle blog by Amanda Holstein (who actually also writes now for The Everygirl), full of "advice for the modern girl" on everything from fashion to beauty, decor, relationships, blogging and more.
Why I Love It: Don't be turned away by the title if you're not a 20-something. I recently discovered this blog, and have really been enjoying it in my thirties. ;) She shares all sorts of helpful tutorials on all things stylish (from hair tutorials to skincare/makeup tips to fashion advice and more). But then she also has some great blogging and career posts, as well as her trademark relationship advice posts.
Recommendations: Her skincare archives. Everything in the real life archives. Lots of really great styling advice.
---

What It Is: A minimalist blog by Courtney Carver, filled with some of the best articles and tips I've read on how to live a more simple and meaningful life.
Why I Love It: Minimalism blogs seem to be all the rage right now, but Courtney's writing has always stood out from the crowd for me. The site itself has a simple design (I recommend starting here vs. the homepage) and her content is absolutely solid. I read it regularly to re-center, and soak up all of Courtney's good tips for how to actually-factually simplify everything from my wardrobe to my schedule to my digital life and beyond. Bonus — I've also spent time with Courtney a few times in person, and I can vouch that she truly lives this stuff out in a beautiful and inspiring way.
Recommendations: 25 Ways To Simplify Your Life In 10 Minutes Or Less. Project 333 (fun fact, hers was the original capsule wardrobe post back in the day that went viral!). Courtney's life-changing story. Really, just about anything in the archives.
---
What are your "just for fun" favorite blogs to read? Please share!