christmas carols.
This post may contain affiliate links. Please read my disclosure policy.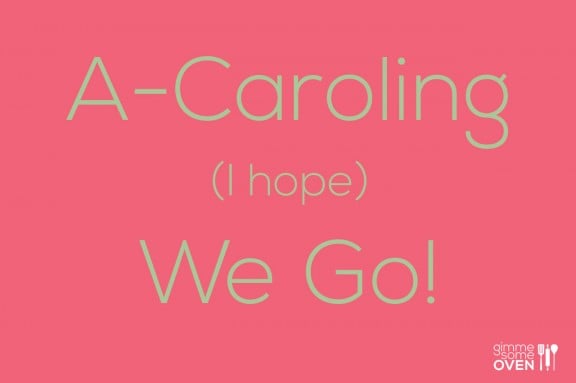 One of my favorite things about teaching music is getting to play and sing lots of Christmas songs with my students each December. The kids love it. The adults love it. And even after listening to Christmas songs for 6 hours straight this past Monday, I still loved it!
Howwwwever.
I have been stunned this year that so many of my students can barely sing through the first verse of some of the most basic Christmas carols. Or even recognize them! (One of my super-talented 17-yr-old Christian students who has a wonderfully wide taste in music told me last week that she had never heard of "The First Noel". Eek!)
Now I should probably clarify that when I say Christmas "carols", I am referring to songs that, even in some small way, reference Jesus and the Christmas story. My students are happily well-versed in all of the other Christmas songs out there, and will eagerly belt out "Rudolph", "Jingle Bells", or "I Saw Mommy Kissing Santa Claus". I even gave an assignment this week for the kids in my singing class to each choose a Christmas song to prepare as a solo for our upcoming caroling trip to a nursing home. And of the zillion songs out there, two of them instantly started arguing about who was going to be able to sing "I Want A Hippopotamus For Christmas". :)  But of course, when I asked the same group of kids to make it through the first verse of "Angels We Have Heard On High", that's about as far as they made with the lyrics.
Granted, I had a ton of exposure to Christmas carols as a child. I grew up with a large extended family that still goes caroling together every Christmas. I was in (and even directed) numerous choirs over the years that covered a wide repertoire of Christmas carols. And — one of my favorite memories — I had a ballet instructor who played beautiful classical Christmas songs on the record player for class each December as we pranced around en pointe, and then held contests to see who could identify the most songs at the end of each class. (Oh yeah, I took home that little mirrorball trophy a few times!)
So I know, I know. I'm probably on the opposite extreme end of the Christmas carol spectrum, knowing far more than my share. And for any of you who take issue with some caroling lyrics, I'm also well-aware that many of the classics paint a lovely-but-probably-not-historically-accurate-or-helpful picture of the Christmas story too. (Um, "the little Lord Jesus no crying He makes"?)
But, I still love Christmas carols more than ever. And it made me sad to think that my students might grow up only learning the Christmas songs they hear on "Glee" or the latest Bieber album. I completely believe there is a reason that — melodically and lyrically — so many of these carols have endured over the course of centuries. Without a doubt, they have been a bit part of shaping my life and faith. And I love how, like any music or story, they have this sort of magical power to bring the Christmas story to life in new and different ways every year.
So I have decided that my little soapbox mission this year is to try and bring back the joy of Christmas carols to my students, and friends, and even any of you who might be interested.
My challenge?
For every recording you listen to of "Baby It's Cold Outside" or "The Christmas Song", balance it out with a lovely "It Came Upon A Midnight Clear" or "O Holy Night". And if you're a singer, consider taking an evening to round up some friends or family and go caroling! More than anything though, would just encourage you to let the lyrics to some of the most classic Christmas carols encourage and inspire your hearts to wonder at the greatest, wildest, most beautiful story in the history of time.
What are some of your favorite Christmas carols?