Day In The Life
This post may contain affiliate links. Please read my disclosure policy.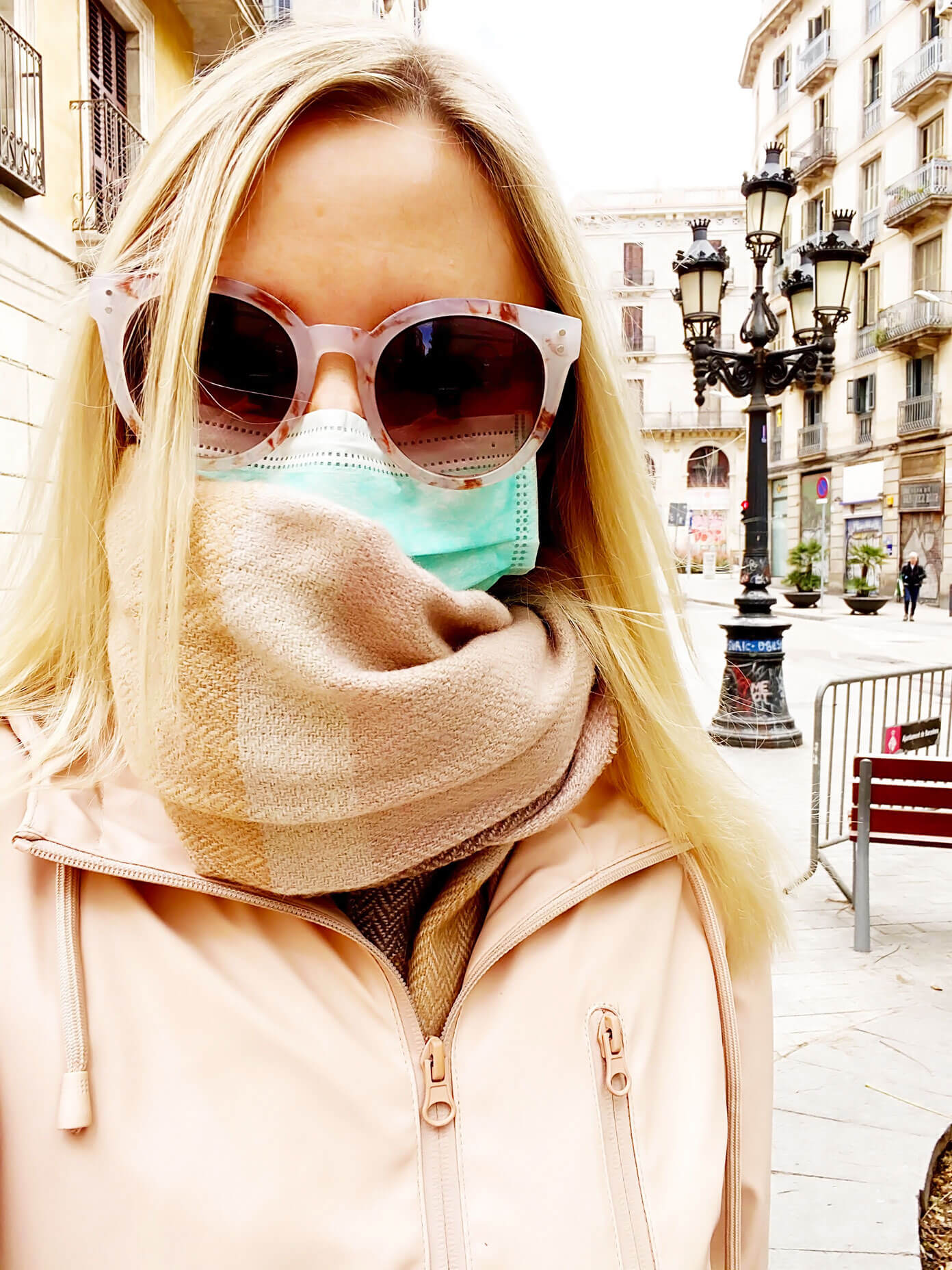 Buenos días from Barcelona, friends!
I've been getting so many emails, comments and messages these past few weeks from many of you, kindly been checking in on us with the situation here in Spain. (Thank you. ♡)   So today I thought I would pop in today with a little life update.
I'm thankful to report that Barclay and I — as well as all of our close friends and neighbors here — are all still healthy and doing well right now. But the situation in Spain is sobering and still getting worse, as the curve here continues to climb and hospitals are becoming more and more overwhelmed.
Here in Barcelona, we are now entering our third week of lockdown, which has become much more strictly enforced by the police as time goes on. (We see them patrolling the neighborhood and stopping pedestrians every time we leave the house now.)  Locals are still able to go out to the grocery store, pharmacy, bank, doctor's appointments. And we are allowed to take the dogs outside up to 50 meters away from our front door a few times a day. But by contrast to a few weeks ago when this all began — when everyone would admittedly make a grocery run each day just to have the "excuse" to go for a walk and get some fresh air — the vibe here has now become much more cautious and anxious, and everyone we know is leaving the house as little as possible.
So, like many around the world, we are definitely feeling the squeeze of having been cooped up inside for 3+ weeks now, without our usual friend hangouts and long walks with the dogs and time outside in the sunshine. (Oh, how we miss our old Kansas City backyard right now!)  But, like many of you, we're adapting to a new social life via Zoom and extra games of indoor fetch, and we are are appreciating the big windows in our apartment right now more than ever! More than anything though, we are just deeply grateful for our health and for all of the amazing health and city workers here in Barcelona who are bravely putting their wellness on the line to care for the city right now. There is an incredibly strong vibe here in Spain that we are all in this together, and everyone seems more ready than ever right now to lend a helping hand and make whatever sacrifices we all need to do to try and flatten the curve and get through this as quickly as possible. So, as we say in Spanish, "a ver" — we'll see. Hoping for the best for this precious country and for the rest of the world right now.
How about you? How is the situation feeling where you are right now? Would love to hear how you doing and what your own "new normals" are looking like lately. ♡  Wherever you are, I hope that you are well, and know that I am sending a big socially-distanced internet hug your way today. We will all continue to get through this together.
And now, for anyone interested, here are some snapshots of my "day in the life" here yesterday in Barcelona!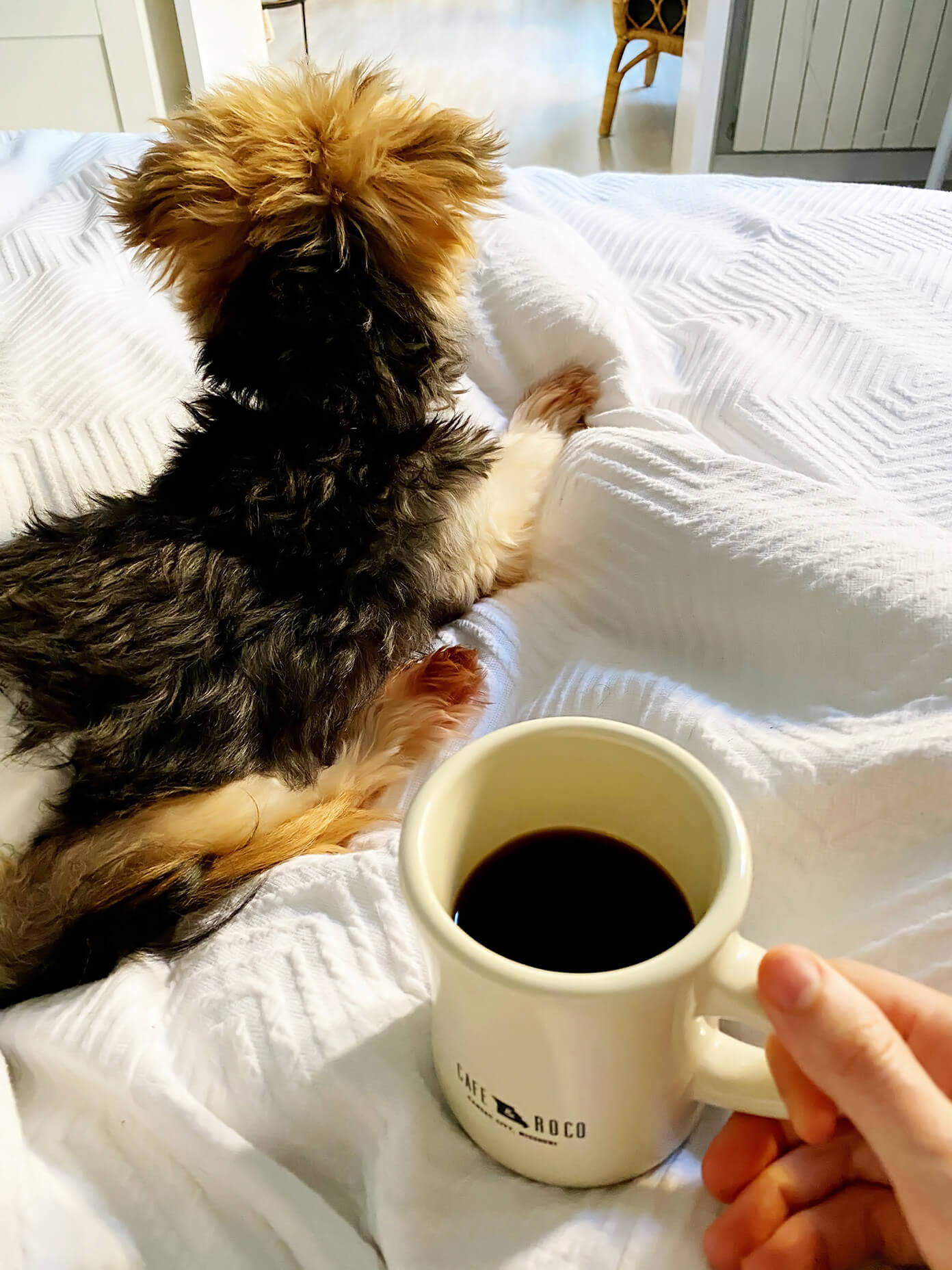 7:45am: Anyone else sleeping in a little later during quarantine life? :)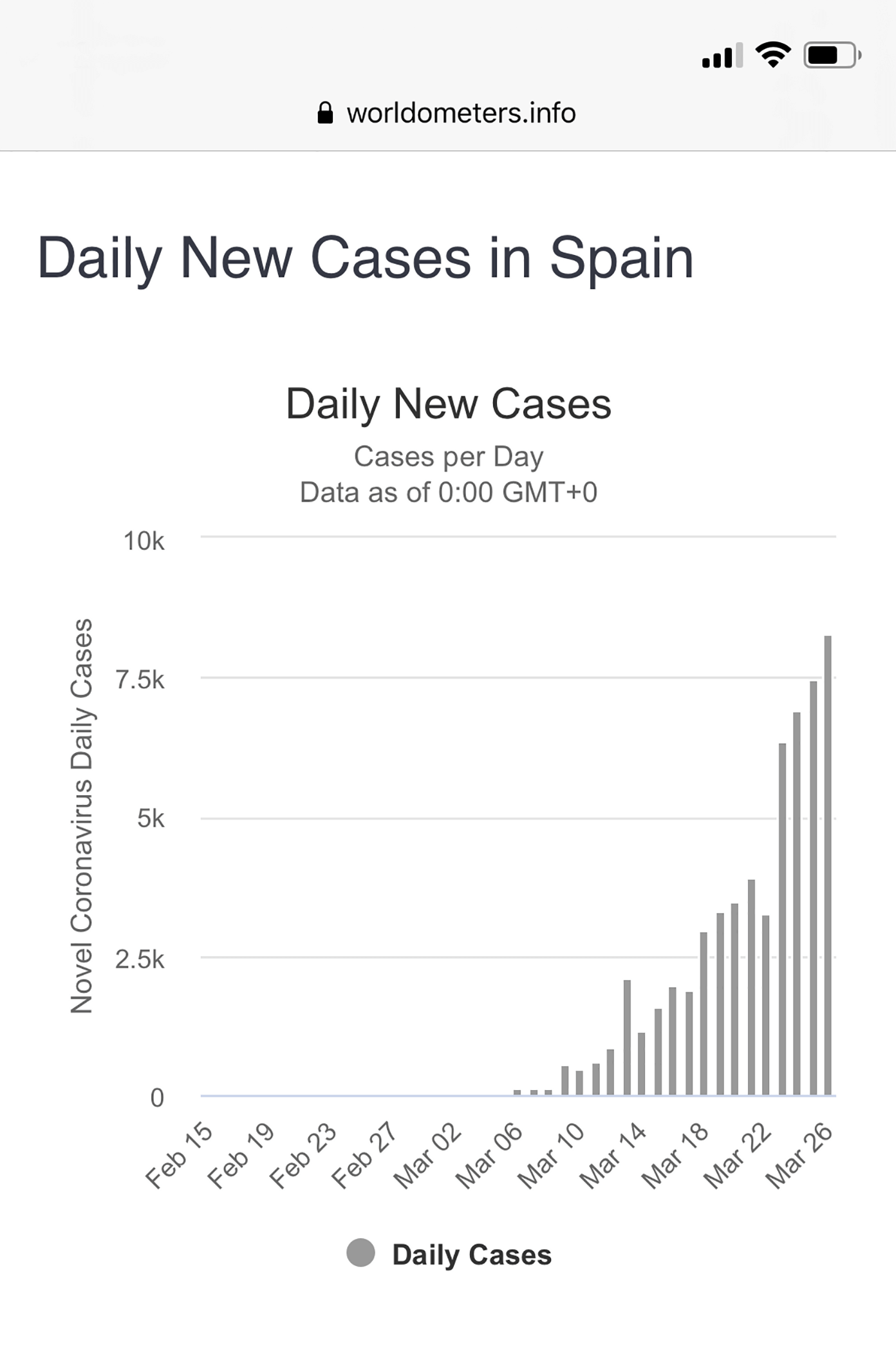 7:50am: For better or worse, the first thing that Barclay and I both do each morning now is check the latest statistics here in Spain. The news yesterday morning was sobering.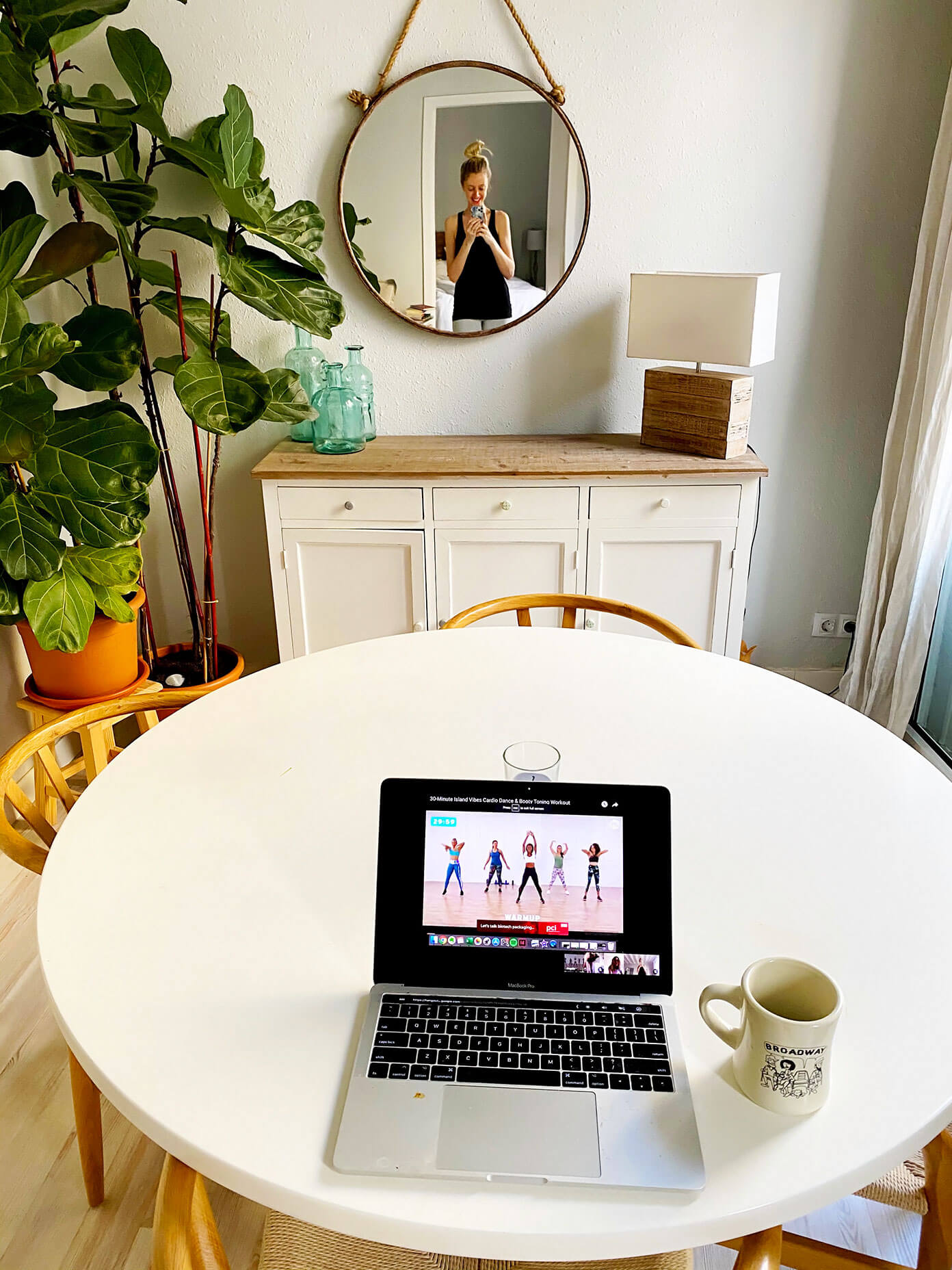 8:30am: Like so many of you, I feel like the last few weeks have been a crash course into how to live every part of our social life now on Zoom. But I have to say…online workouts with my Barcelona girlfriends have been one of my favorite discoveries! Lol, one of my friends picked this "Island Vibes Cardio Dance and Booty Toning Workout" yesterday and it was so fun. (I'm sure that my neighbors who live just a stone's throw across the street were fully entertained.)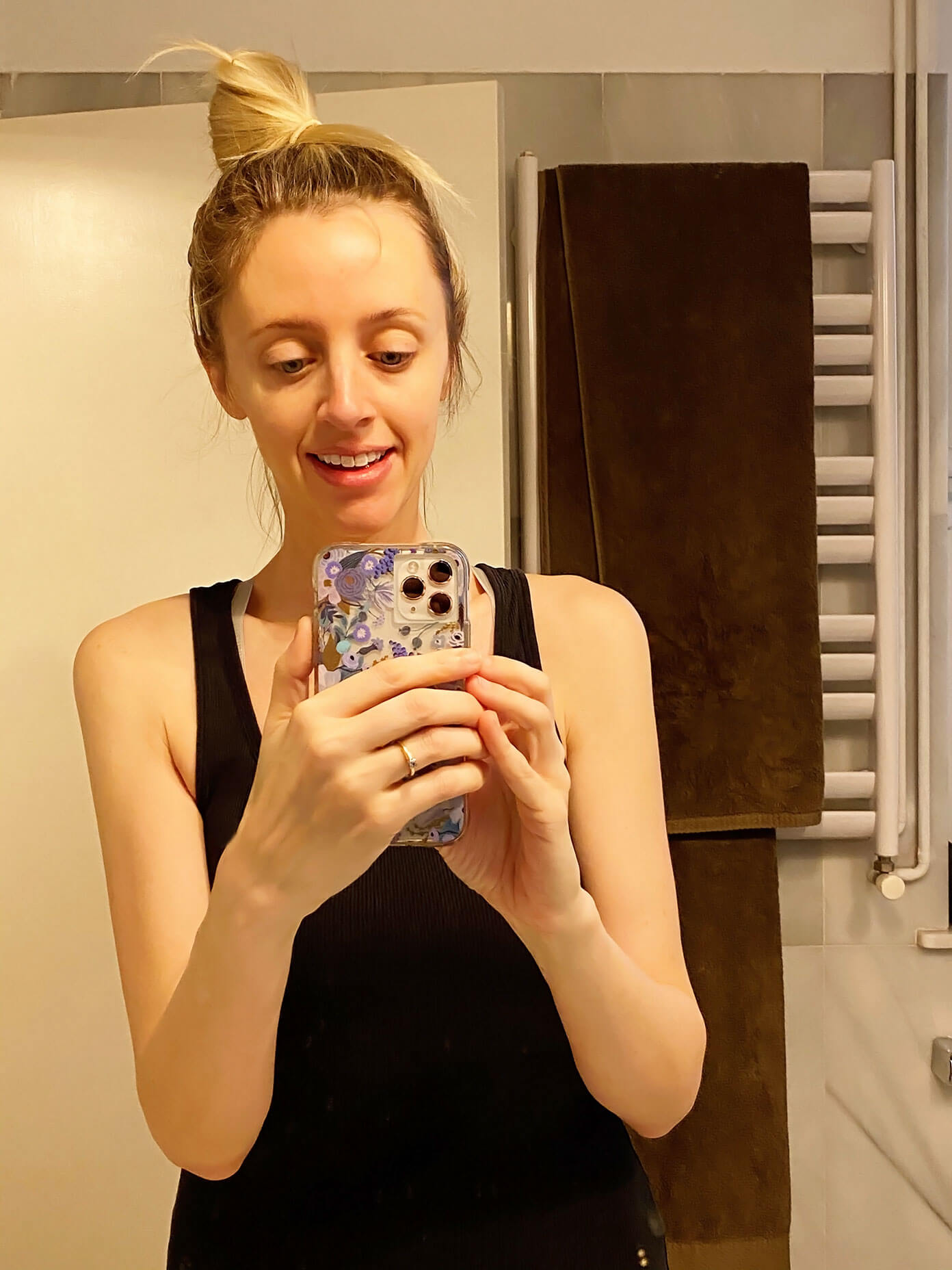 9:15am: Shower time! I had an actual appointment out in the city today, so did my hair for the first time in days. Small win!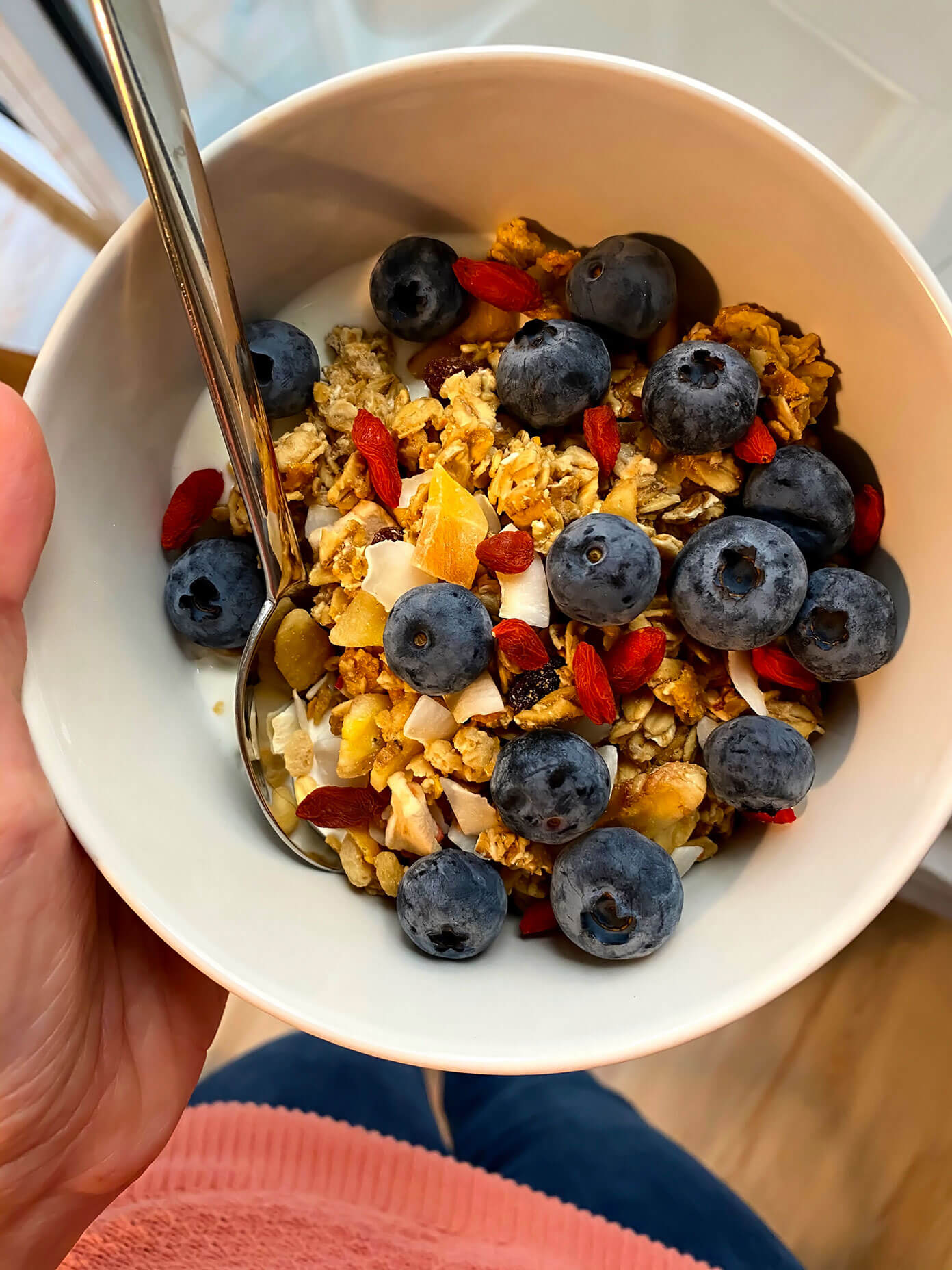 9:50am: Fresh bluebs were restocked at the store this week, so we've been making our favorite granola breakfast parfaits the last few days and have been loving them.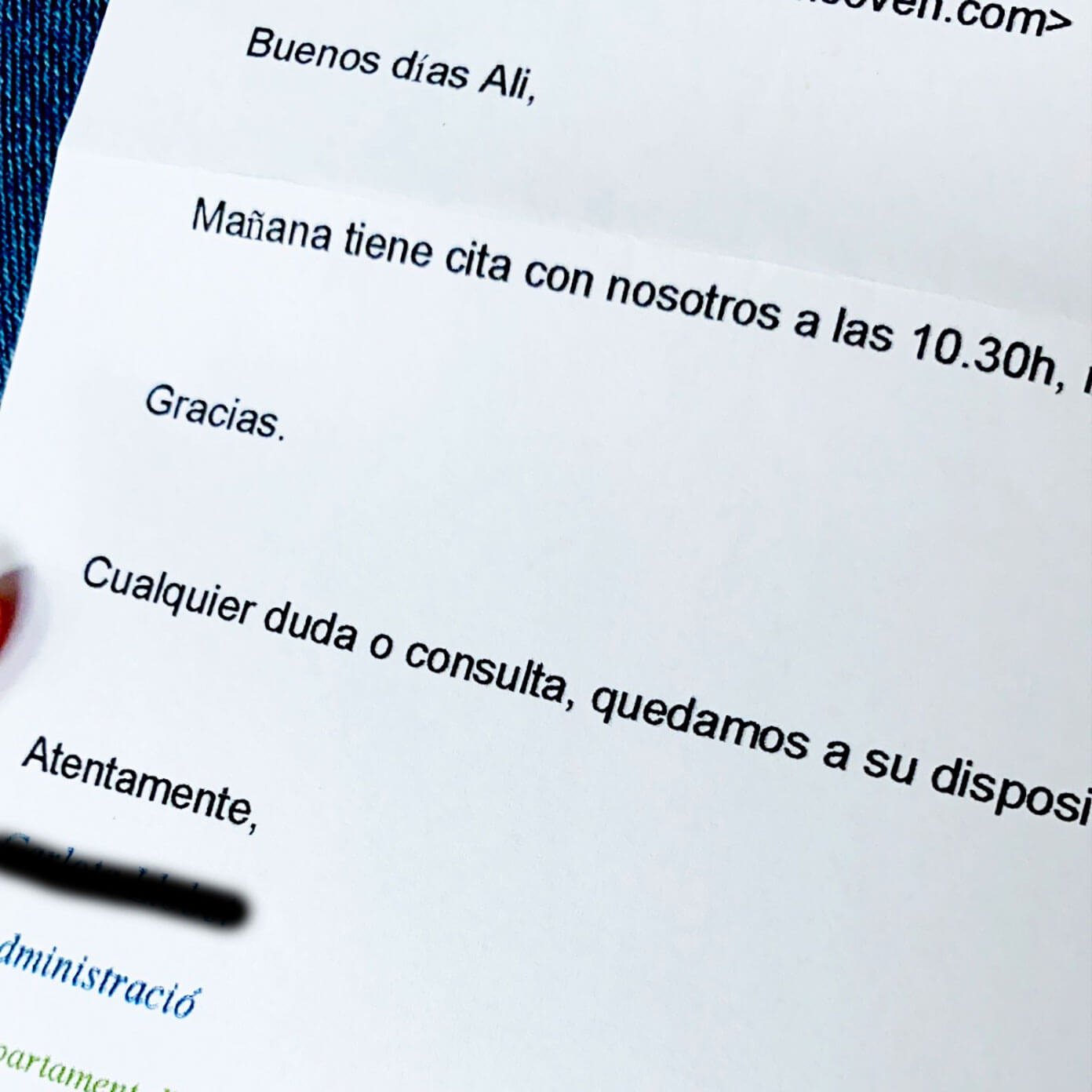 10:00am: Barcelona residents are now required to carry proof of medical appointments, etc, if you have to be out and about in the city. (We regularly hear the cops stopping people on the street below us to ask for proof of their destination.)  I had one of those waves of disbelief wash over me as I was printing this letter out. It's just amazing how much has changed with our doctors' appointments since we began IVF 3.5 weeks ago.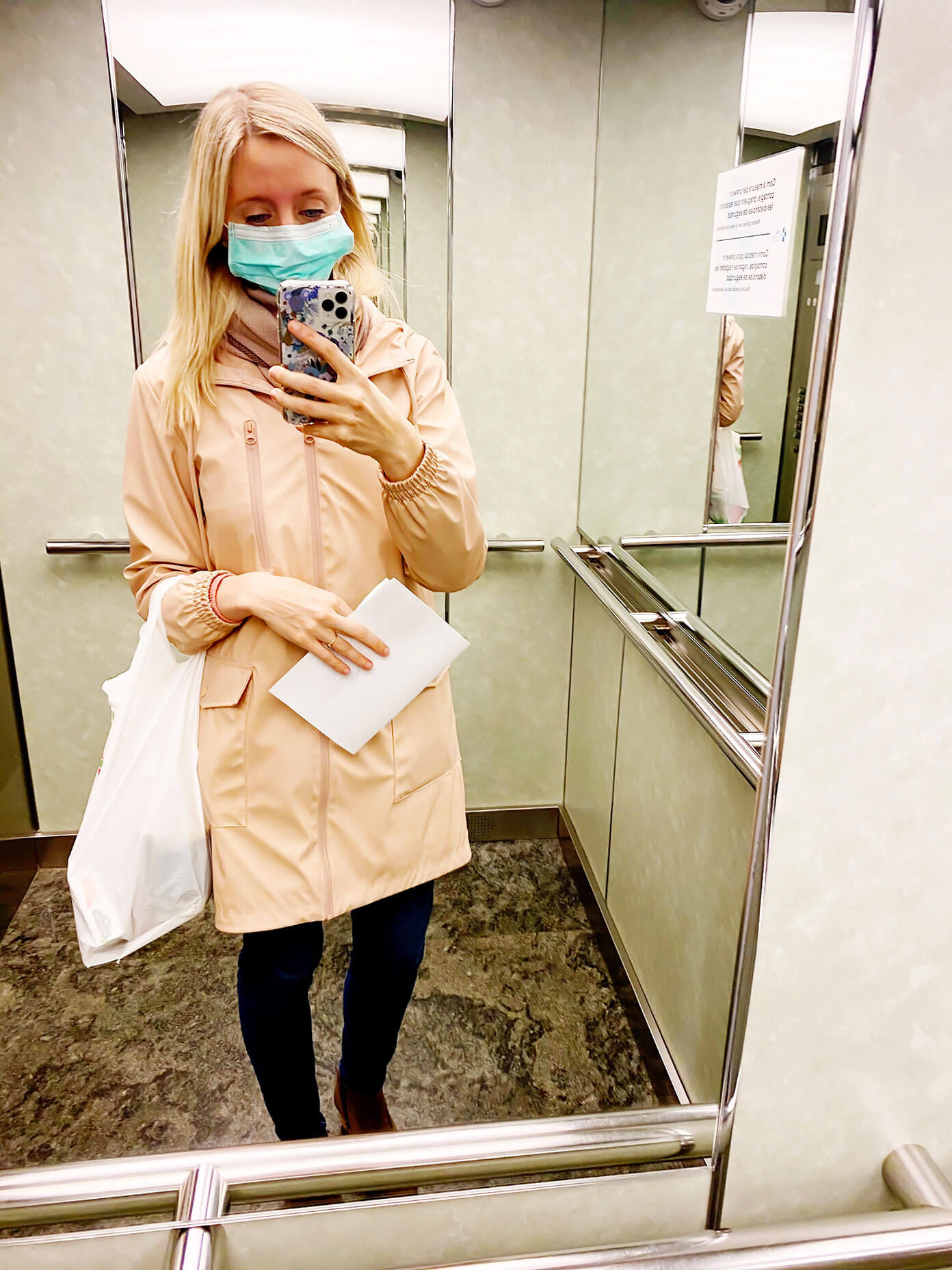 10:30am: Unfortunately, you can't find masks to buy anywhere in Barcelona right now (nor online), so I've been having to reuse this one that only provides light coverage. The government has advised that scarves can really help too, so everyone you see on the streets is either wearing a mask or a scarf or both.
I arrived at our fertility clinic to find the entire place dark, with only one receptionist working the front desk. When I mentioned that I was there for my 10:30 appointment, she smiled and said, "I know. You are our only appointment of the day." Turns out, I was their final IVF patient to have an in-person appointment before everything shut down. I totally cried — we still can't believe how lucky we were to be able to complete the first half of IVF (you can read more about our journey here) before everything shut down.
Thankfully, my doctor said that everything looked good in my post-op appointment. But she did have to officially tell me that the clinic is putting all embryo transfers (the IVF procedure when they actually implant an embryo) on hold until Spain is in a safer place. It was news that we have been expecting to hear — and 100% support — but still, hard to hear that things are indefinitely on hold again.
More than anything though, we are just so, so, so deeply thankful that our 13 little embryos were able to be saved and frozen before our clinic had to suspend treatments. Thinking about them often and excited for the day to come when we can hopefully transfer one of the little guys and see how things go.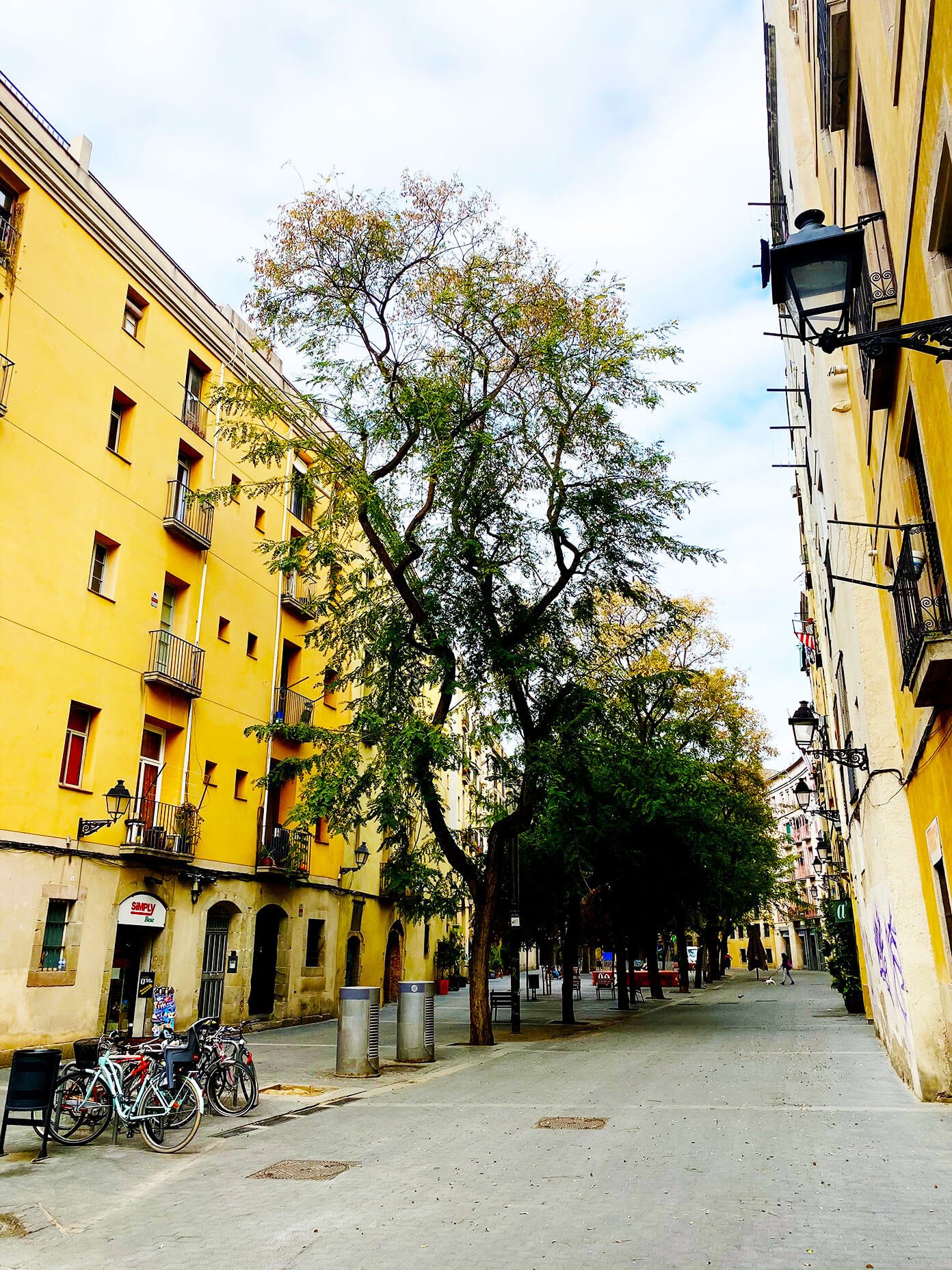 11:25: Soaking up a rare dose of sunshine on the walk home from the clinic. Man, how I miss being out and about in the city.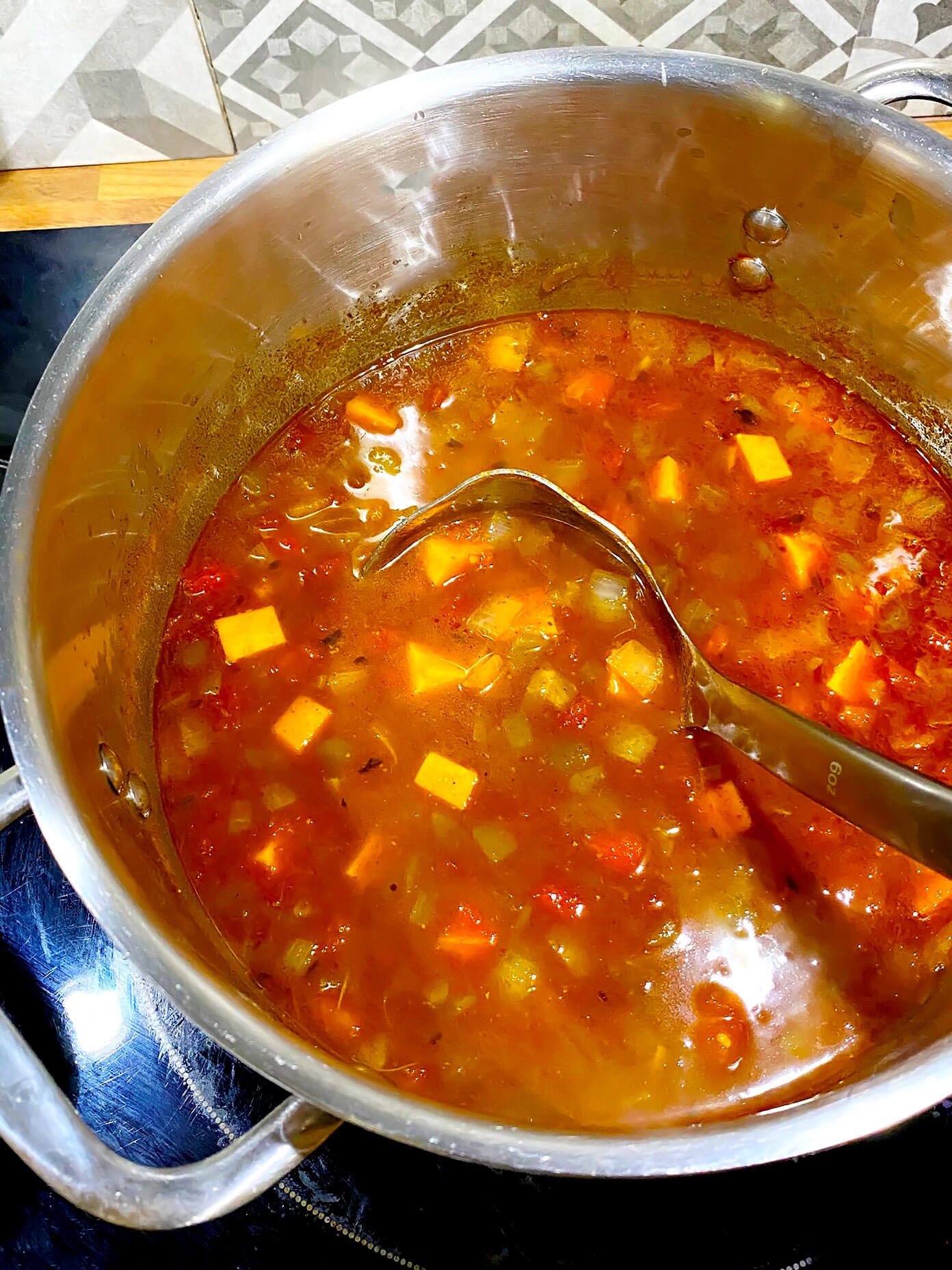 11:50: And….a late start to the workday today. This is the not-so-glamorous behind the scenes of a very delicious sweet potato enchilada soup recipe that will be comin' your way soon!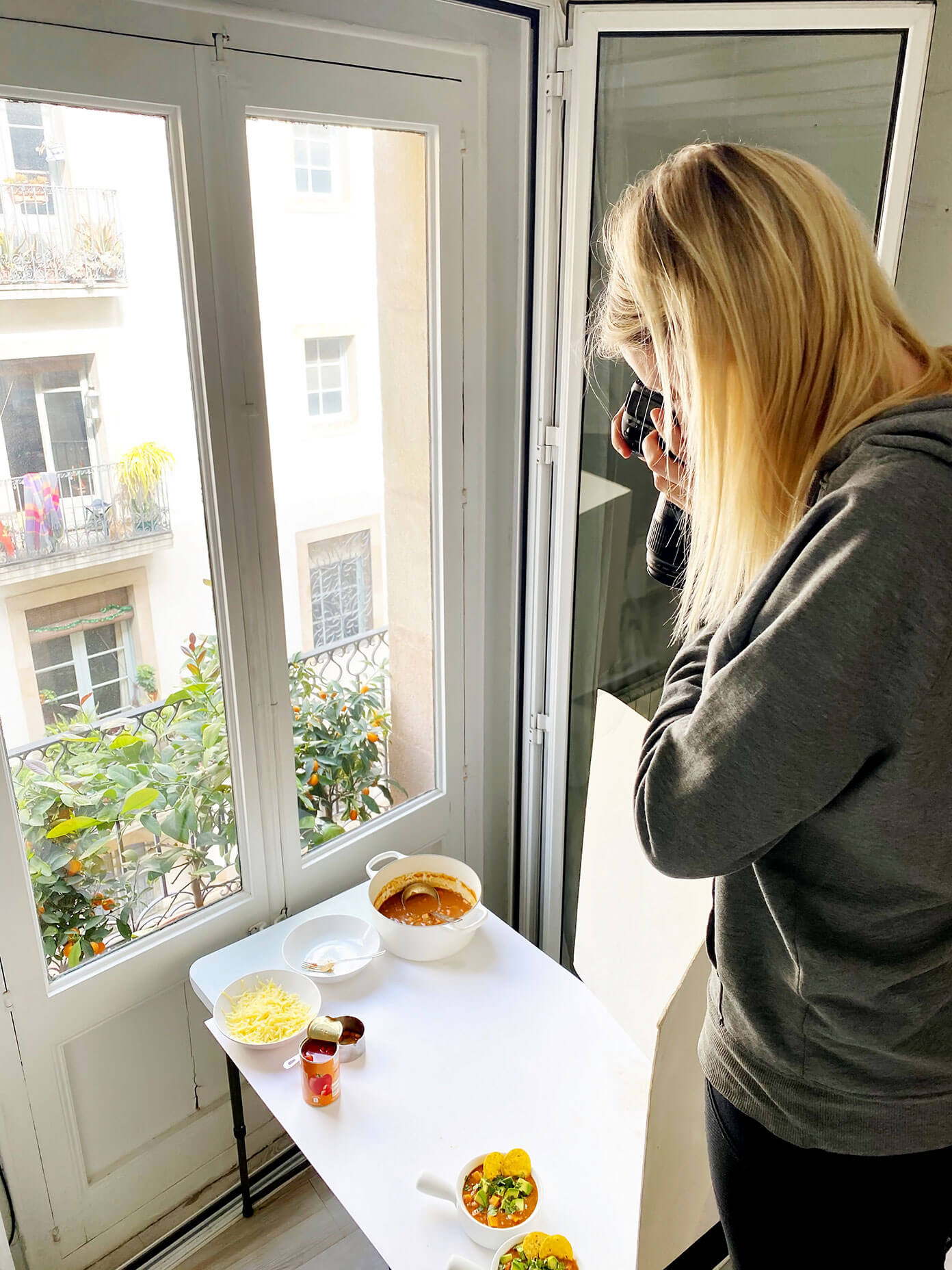 12:10pm: Photo time.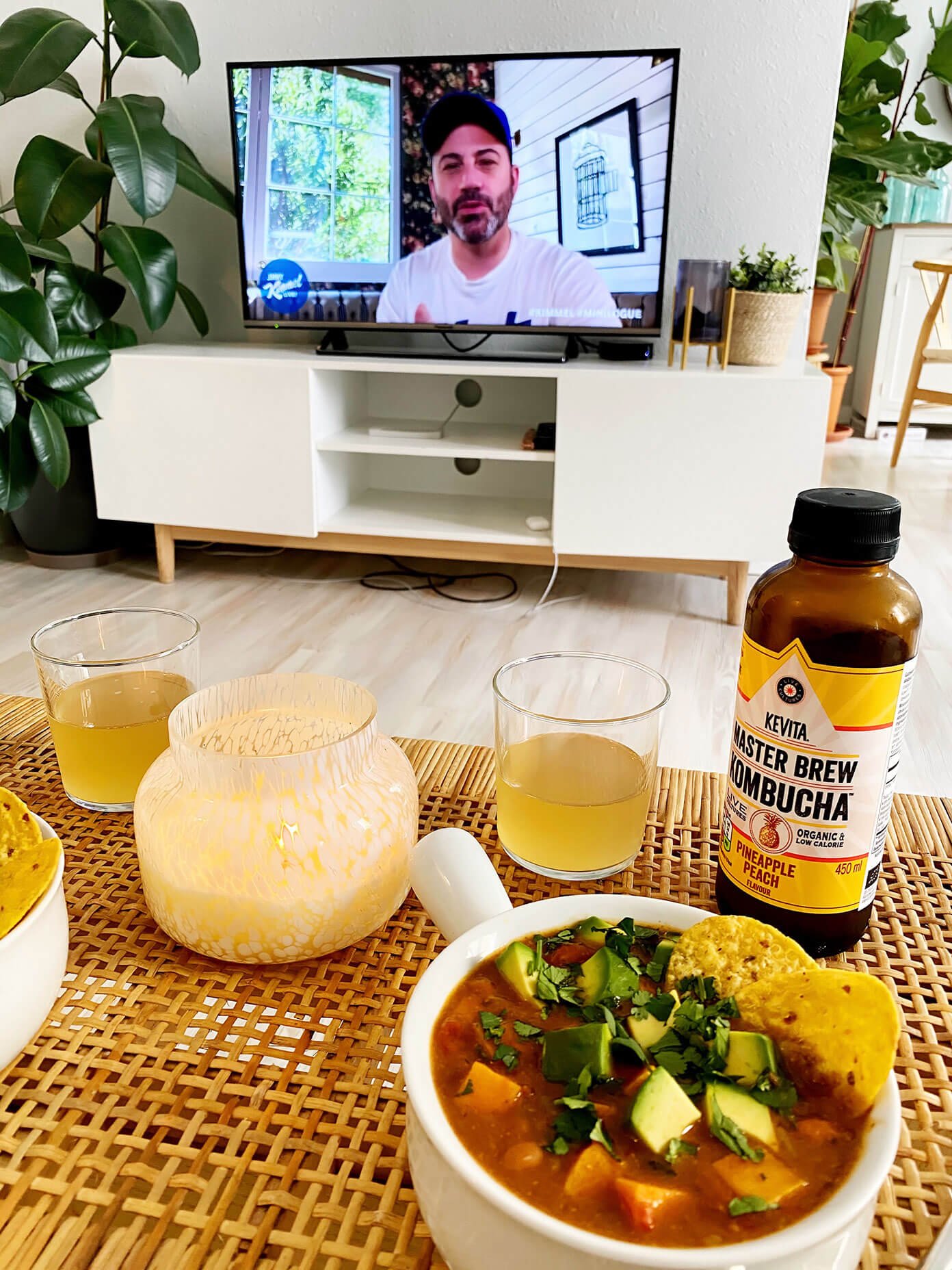 12:30pm: And…lunchtime, with Jimmy and Trevor. ♡  Anyone else watching the nightly shows now on YouTube? It definitely took us a few days to get used to their monologues without the laugh tracks. But now we're totally hooked. Something about seeing those guys continue to do what they do every day has been so comforting.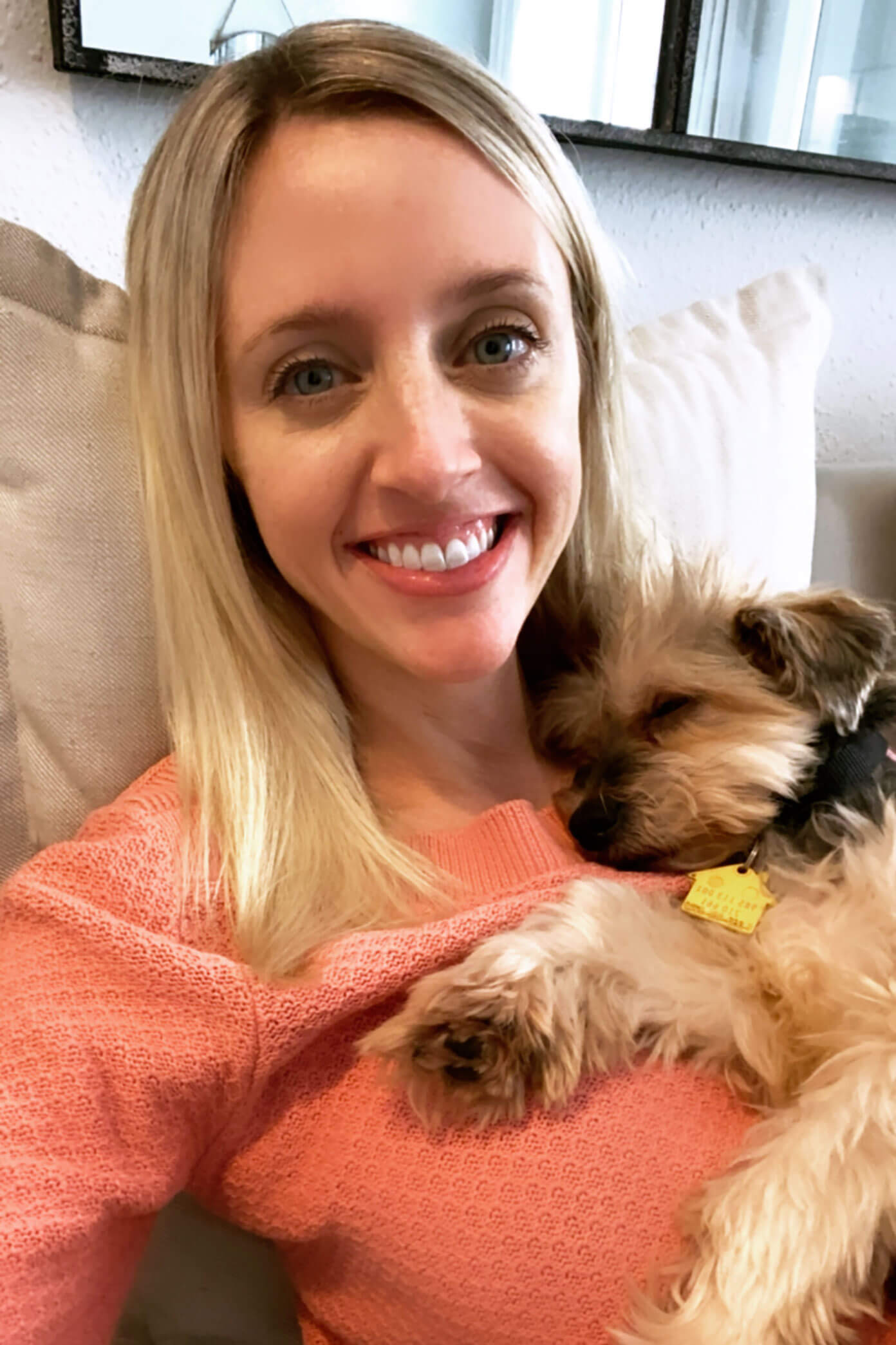 1:15pm: Settling in for an afternoon of photo editing and computer work. But I also randomly decided to do an "Ask Me Anything" Q&A on Instagram, in between editing photos. Henry and I answered a handful of questions all about IVF and infertility, quarantine, the dogs, our lemon tree, learning Spanish, cooking, singleness and more on Insta stories. For anyone interested, the Q&A is saved in my highlights here.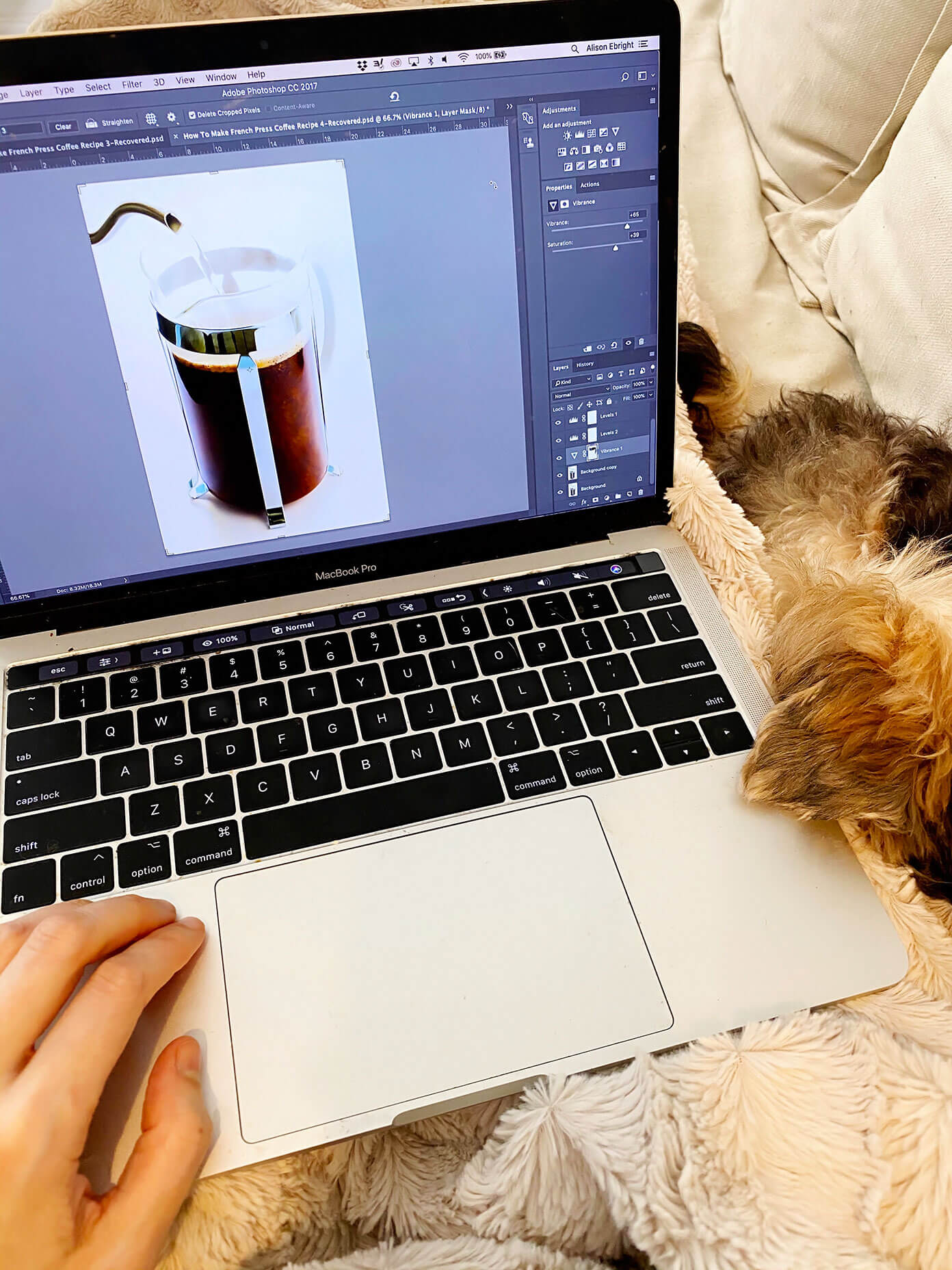 3:45pm: Still editing photos, answering emails, responding to comments on Insta. Feeling very grateful for a job that I can do from home with this fuzzy blanket and this (snoring) fuzzy pup.
4:30pm: Found Fiona by the door waiting for her daily visit to our neighbors' place across the hall.
You guys, this has been the sweetest thing. Our 10-yr-old neighbor absolutely adores Fiona and has been begging his mom for a dog for years. So for the past few weeks, we've been sending Fiona over for a long visit (or two) each day. And it is the cutest win-win! Our neighbors love having her around the house for a few hours, and Fiona wags her tail like crazy when she sees them and has the best time. We both leave our doors cracked open a bit, and whenever Fiona is ready, she heads back home to our place. She's loving it.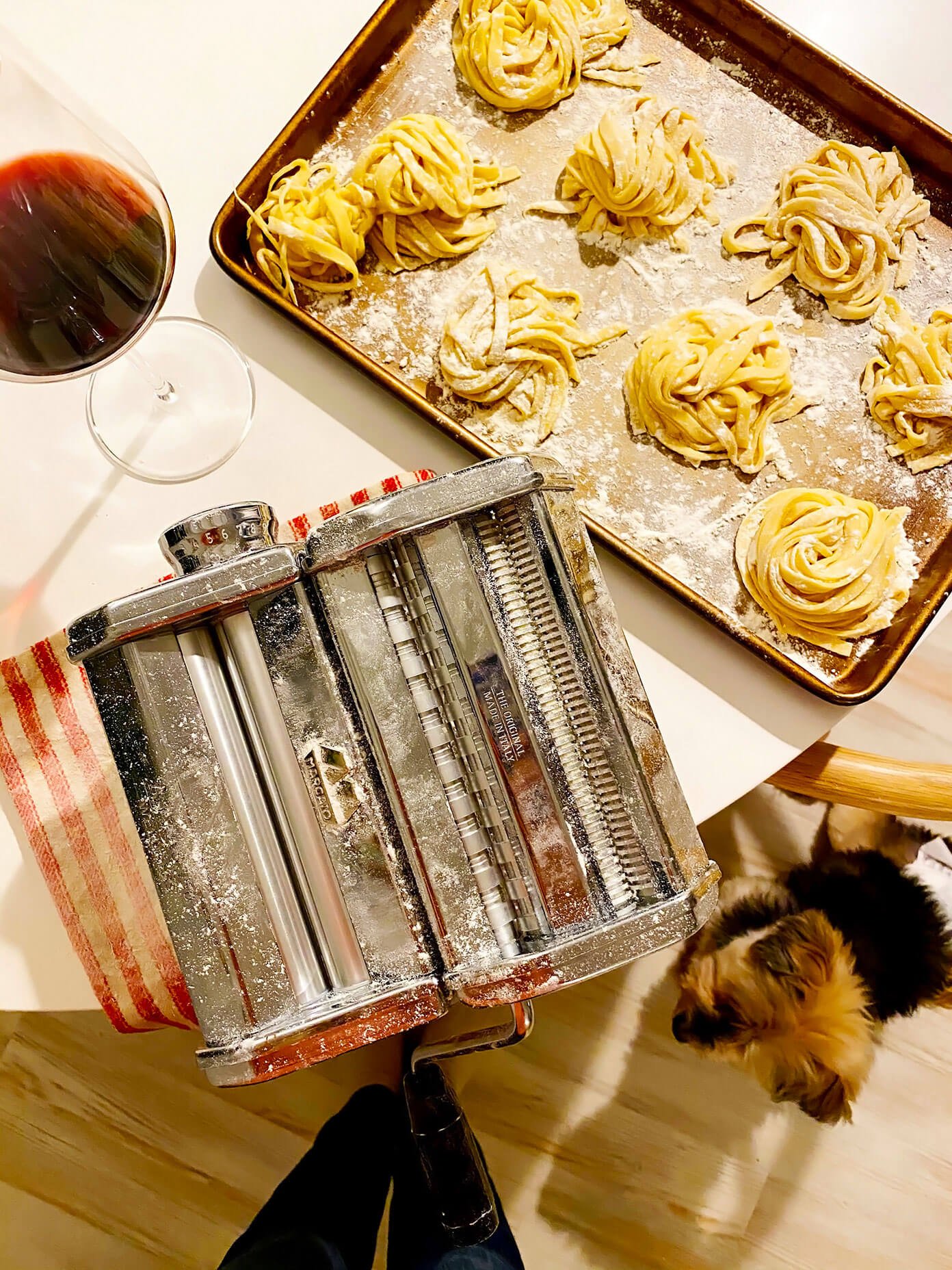 6:30pm: Done with work for the day! Barclay and I have both been working overtime this week and had been looking forward to having a dinner date together on Friday night. So I whipped up a batch of my homemade pasta to make cacio e pepe (still our fave)…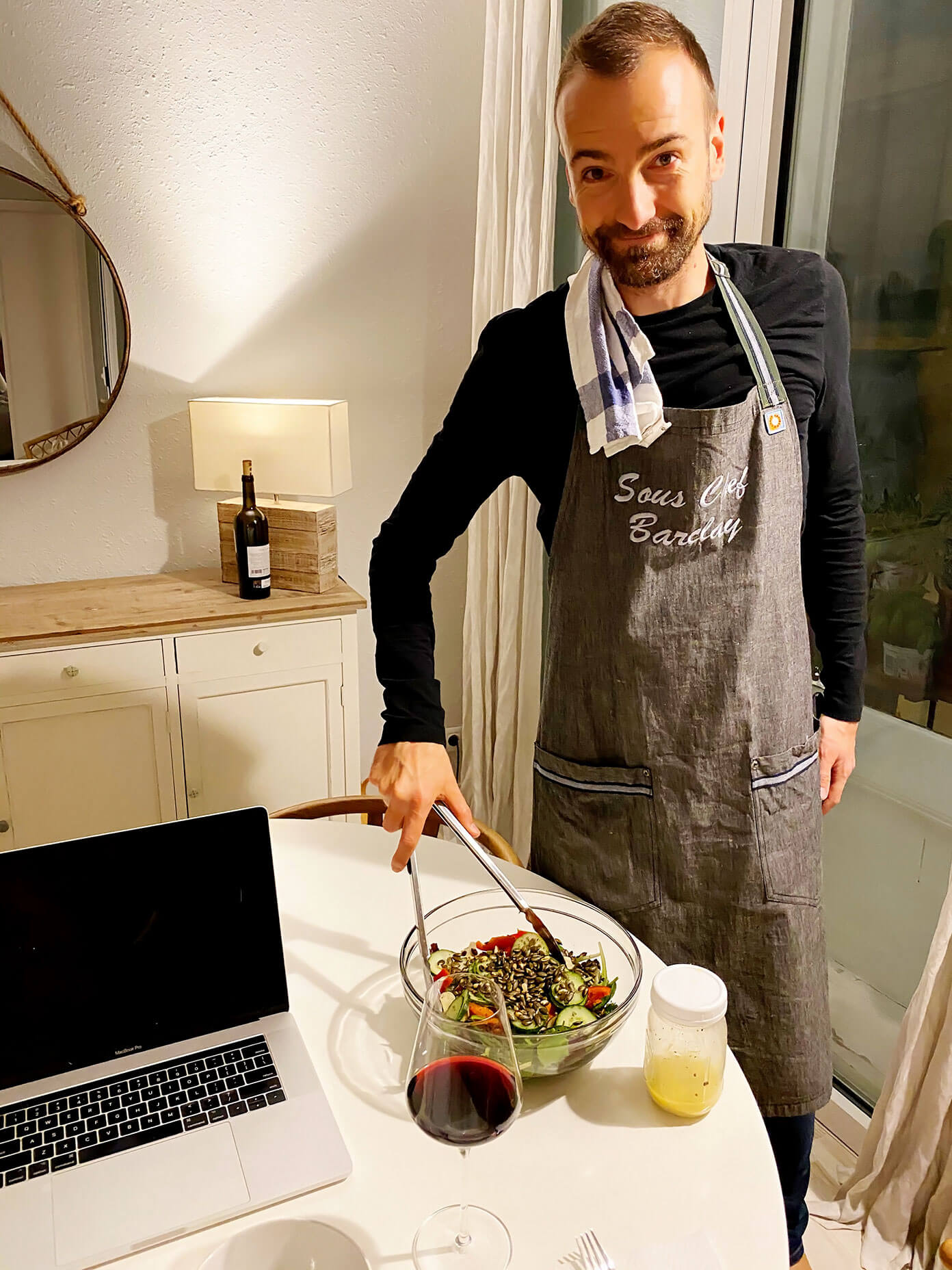 7:30: …and Barclay whipped up one of his famous salads and we opened our favorite Spanish red, and set the table for dinner with friends via Zoom.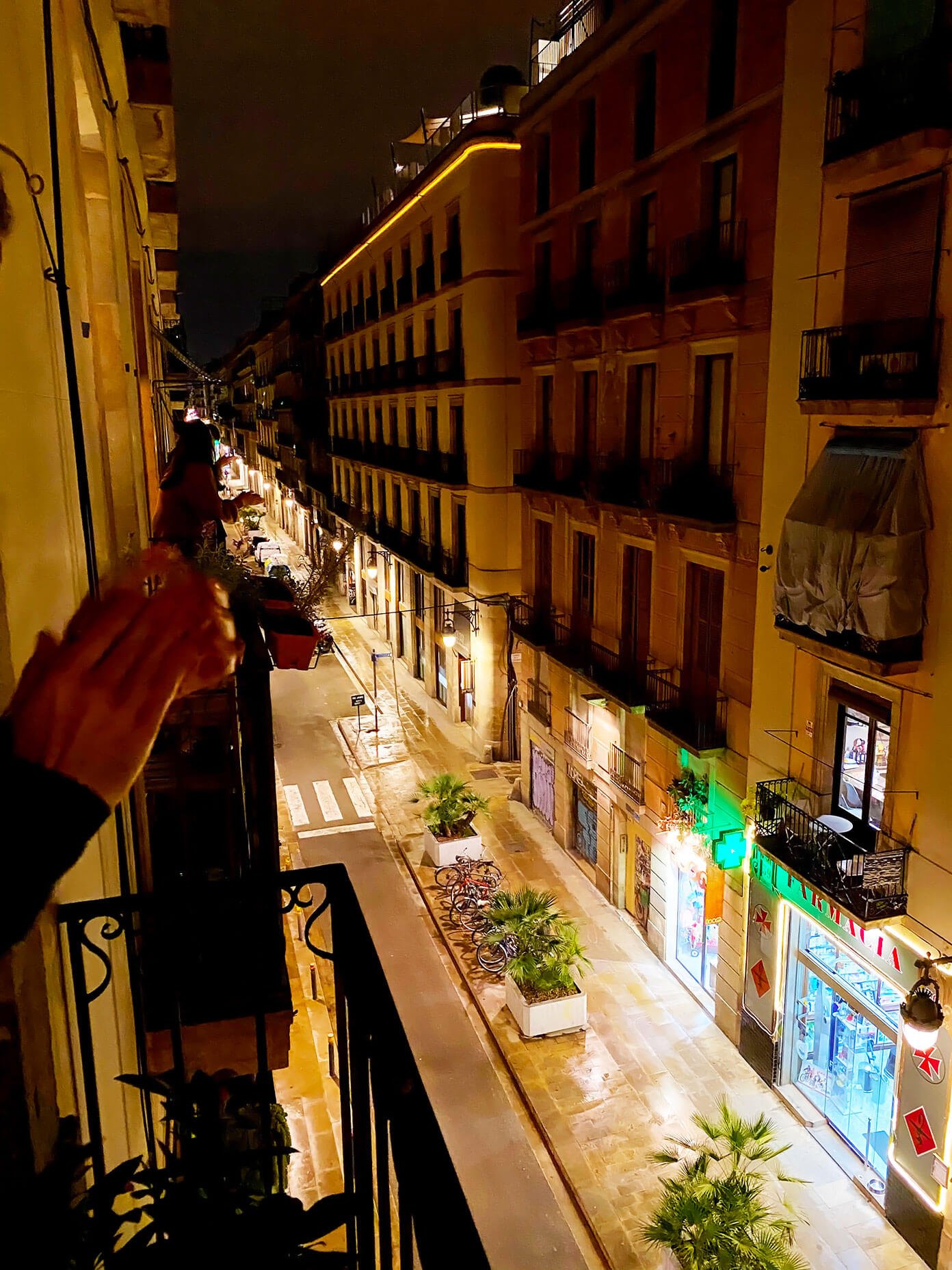 8:00pm: Dinner was supposed to start at 8, but we all bumped things back a few minutes so that everyone could go outside for "aplauso" — Barcelona's new tradition where everyone goes outside each night at 20h to clap and cheer for all of our health care workers. (Here's a better video that I posted to give you a sense of the vibe.)  It's always one of my favorite moments of the day and I'm so happy it has continued.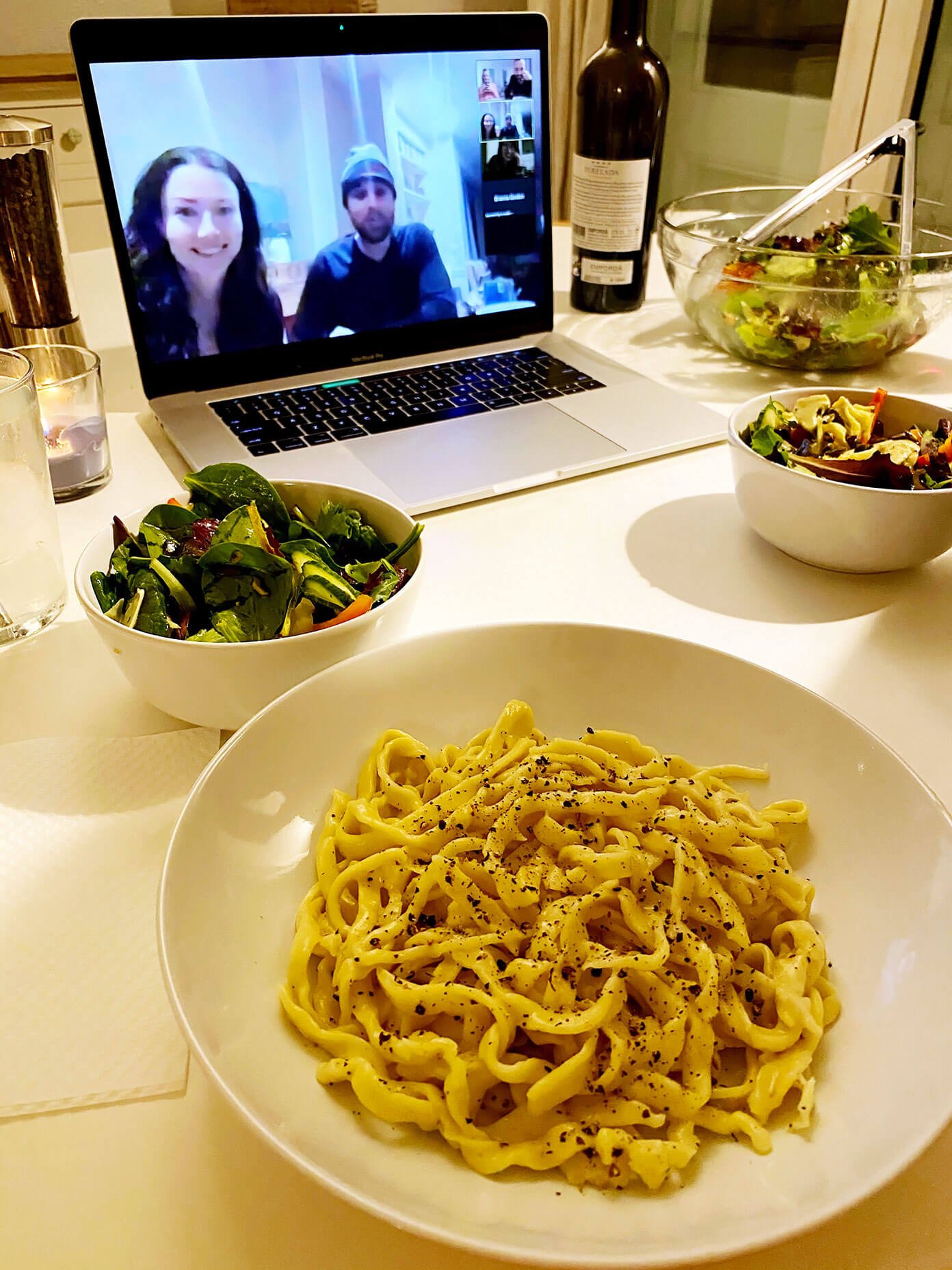 8:05pm: Finally…dinnertime. Omg, this pasta hit the spot.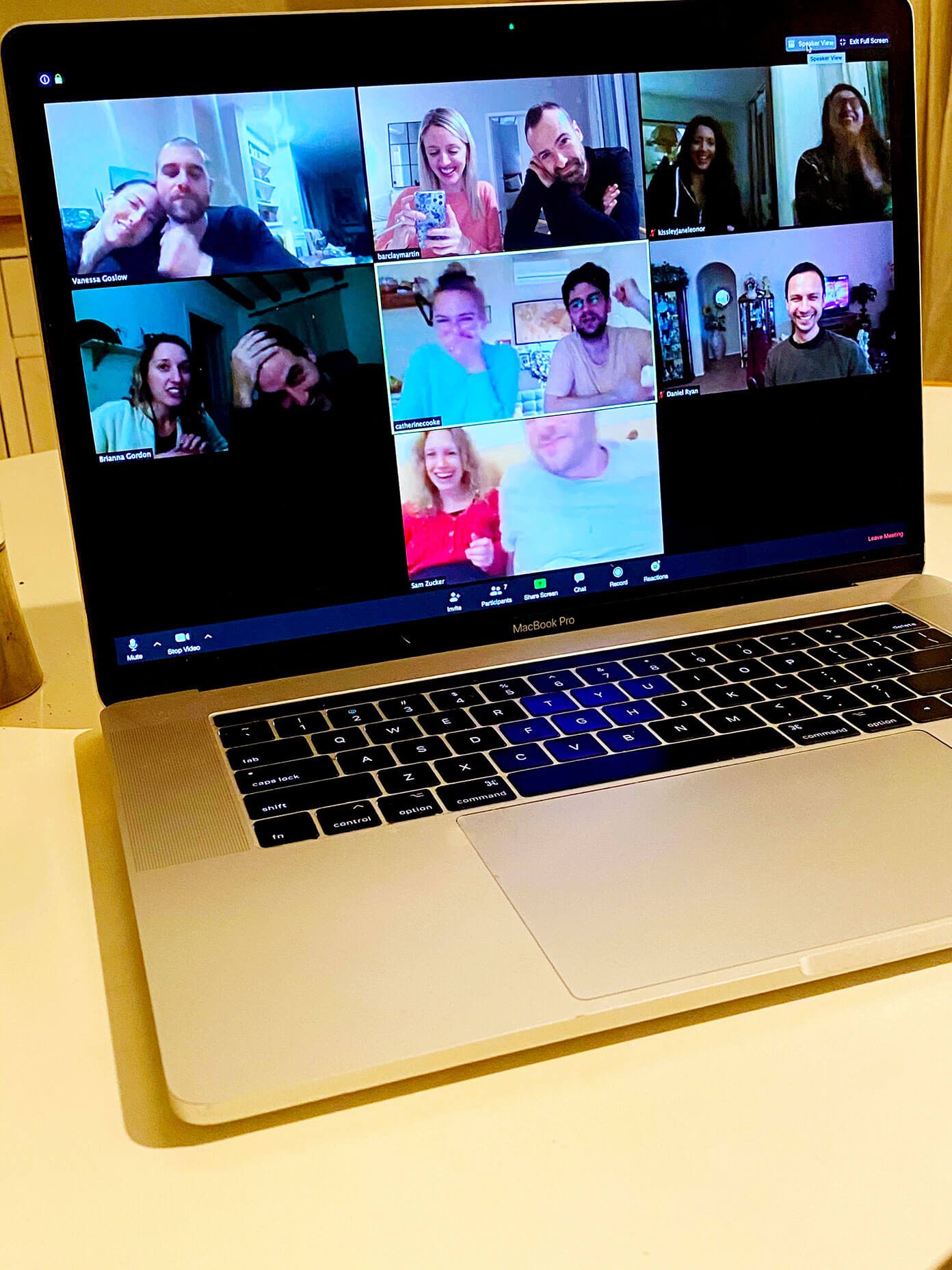 10:30pm: Also had the best time with this crew. ♡♡♡  Loving our Zoom hangs so much lately.
11:00pm: This one was curled up in a ball on my lap the entire time, btw. Fiona's our independent girl who likes to be on her own, but if Henry had his way, life would be 100% snuggles. (Well, with a bit of mischief mixed in.)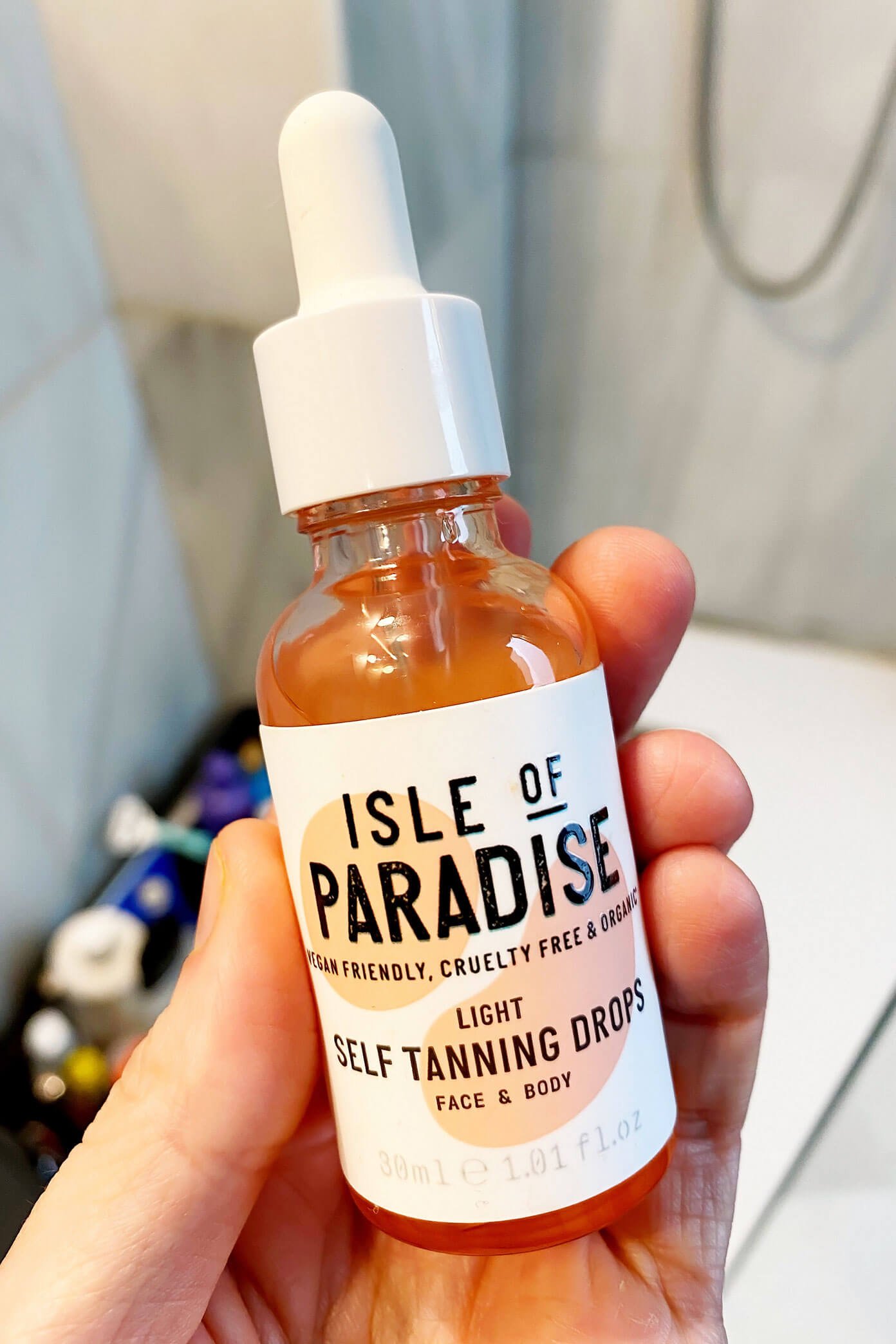 11:05pm: Time to get ready for bed. Random recommendation — I've been adding 2-3 drops of this stuff to my moisturizer once or twice a week lately and have been loving it. I'm feeling so pale and blah lately without time in the sun, so the extra color has been a really nice pick-me-up. Highly recommend.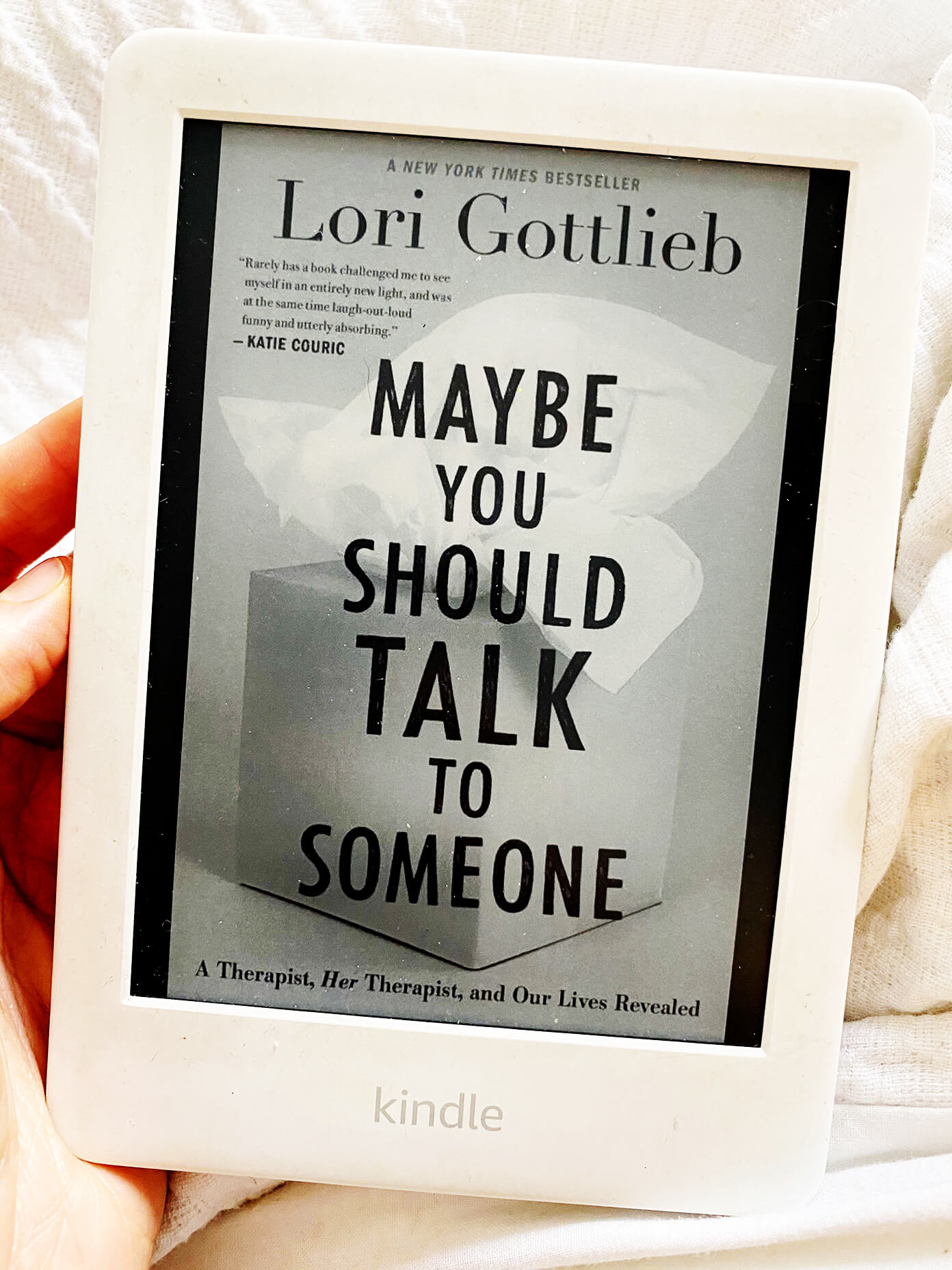 11:15pm: This book just came through at the library for me, so I was excited to dig in. Are you all reading anything good lately? Do tell.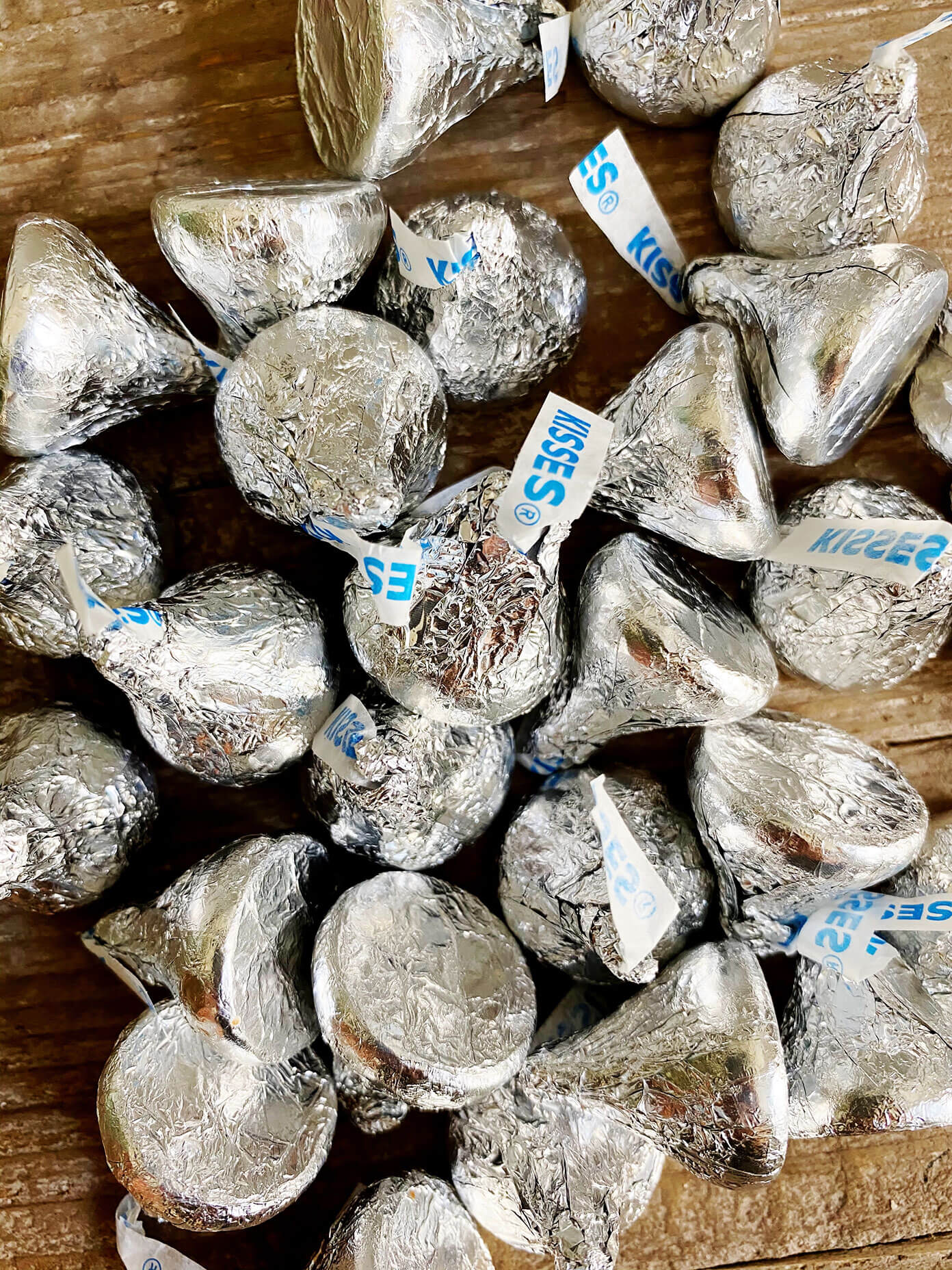 11:45pm: And that's a wrap for the day. ♡  Abrazos and besitos to all of you from Barcelona!