Day In The Life
This post may contain affiliate links. Please read my disclosure policy.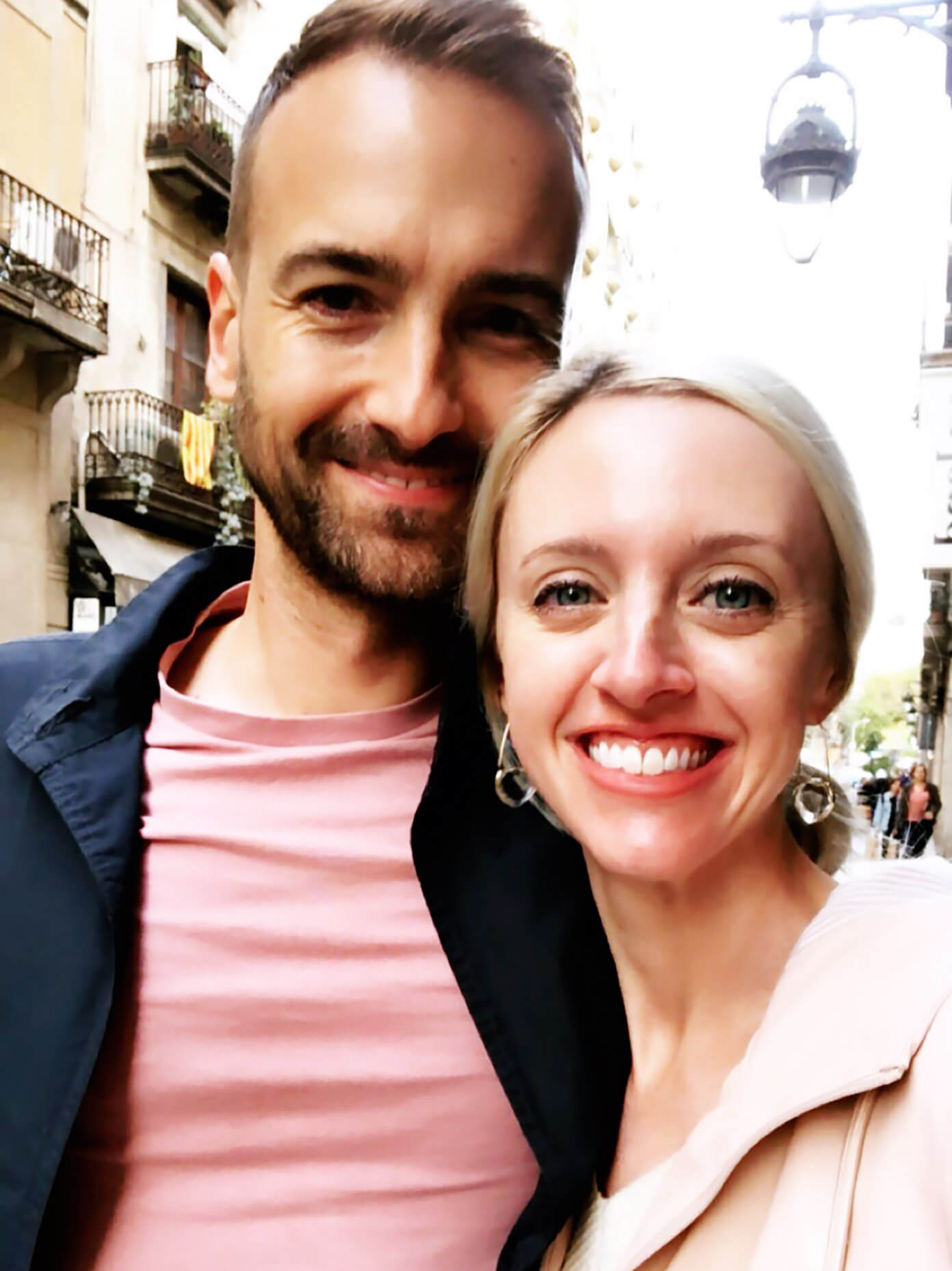 Hey friends! ♡
I thought I would try something new today and move my little "Day In The Life" series from Instagram over to the blog for a change. I always love a good peek into someone else's everyday life. So for anyone interested, here's a little snapshot — ha, well lots of little snapshots — into a what a normal Wednesday tends to look here in Barcelona.
¡Que disfrutéis!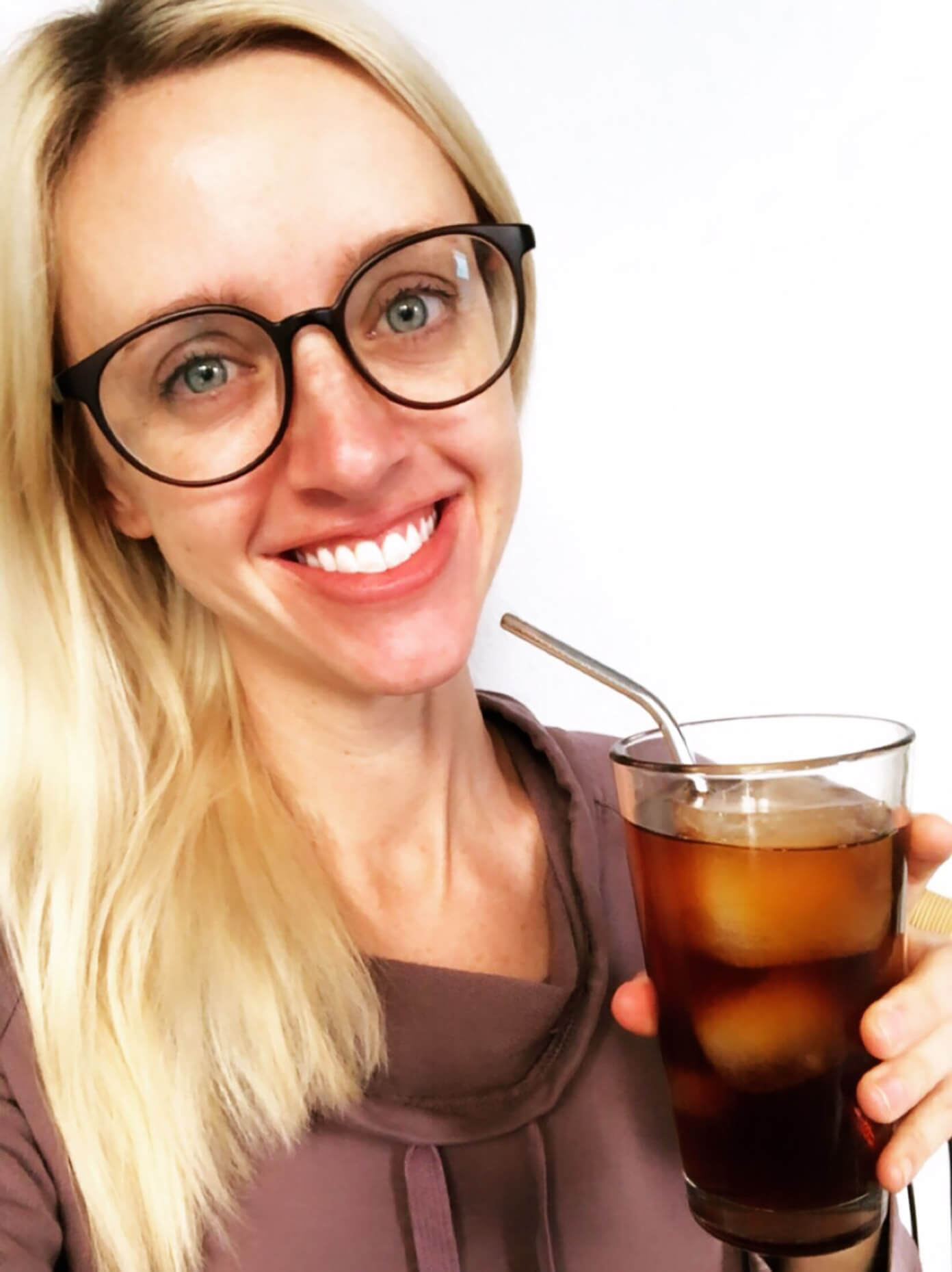 6:45am: Our friends would tell you that Barclay and I are officially the only people up at this hour in Barcelona. ;)
But hey, 7am the only time that works for me and my Spanish tutor (who's actually from Barcelona, but lives in Italy and has to be at work early) to meet together. So twice a week, we both roll outta bed early and log onto Verbling and make it happen. Big thanks to my sweet husband who always makes me iced pour-over to "take to class".
7:22am: Workin' on those masculine and feminine articles today. (Turns out if you put the the word la in front of cometa, it goes from being a comet…to a kite!)
8:02am: Found this handsome fella in the kitchen making us breakfast after my class.
8:12am: I still can't quite get into egg yolks. (Sorry, just not a big fan of their texture any way that they are cooked!)  So my sweet husband makes me fried egg whites sprinkled with a lil' everything bagel seasoning…and they are delicious.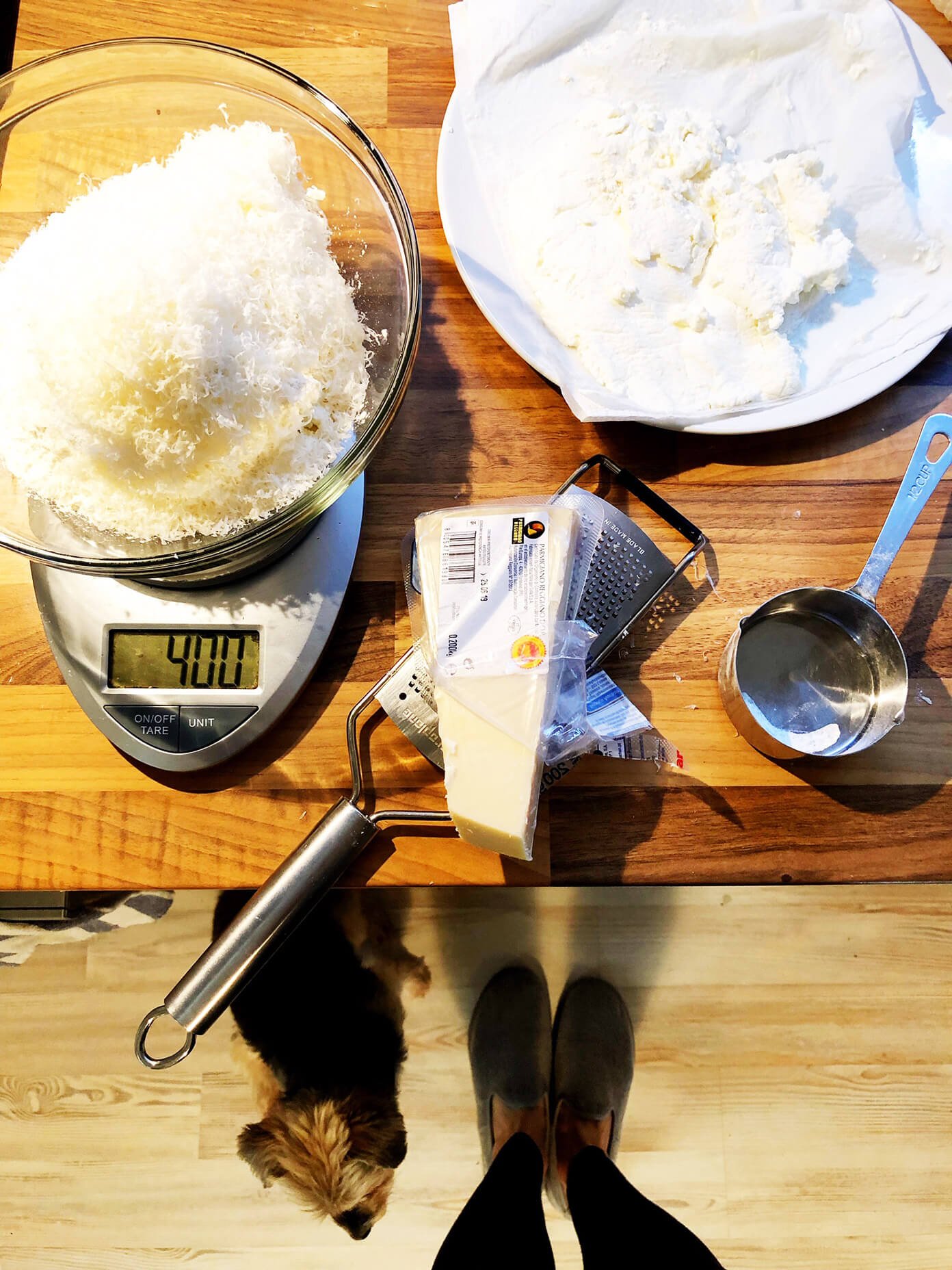 8:32am: Getting an early jump on cooking today because I'm hoping to shoot three recipes this morning. I usually like to shoot content for the blog about two weeks out, but I've fallen behind this spring with all of the visitors we've had passing through Barcelona. So I'm hoping to do some good catching up today (along with my #1 little crumb catcher).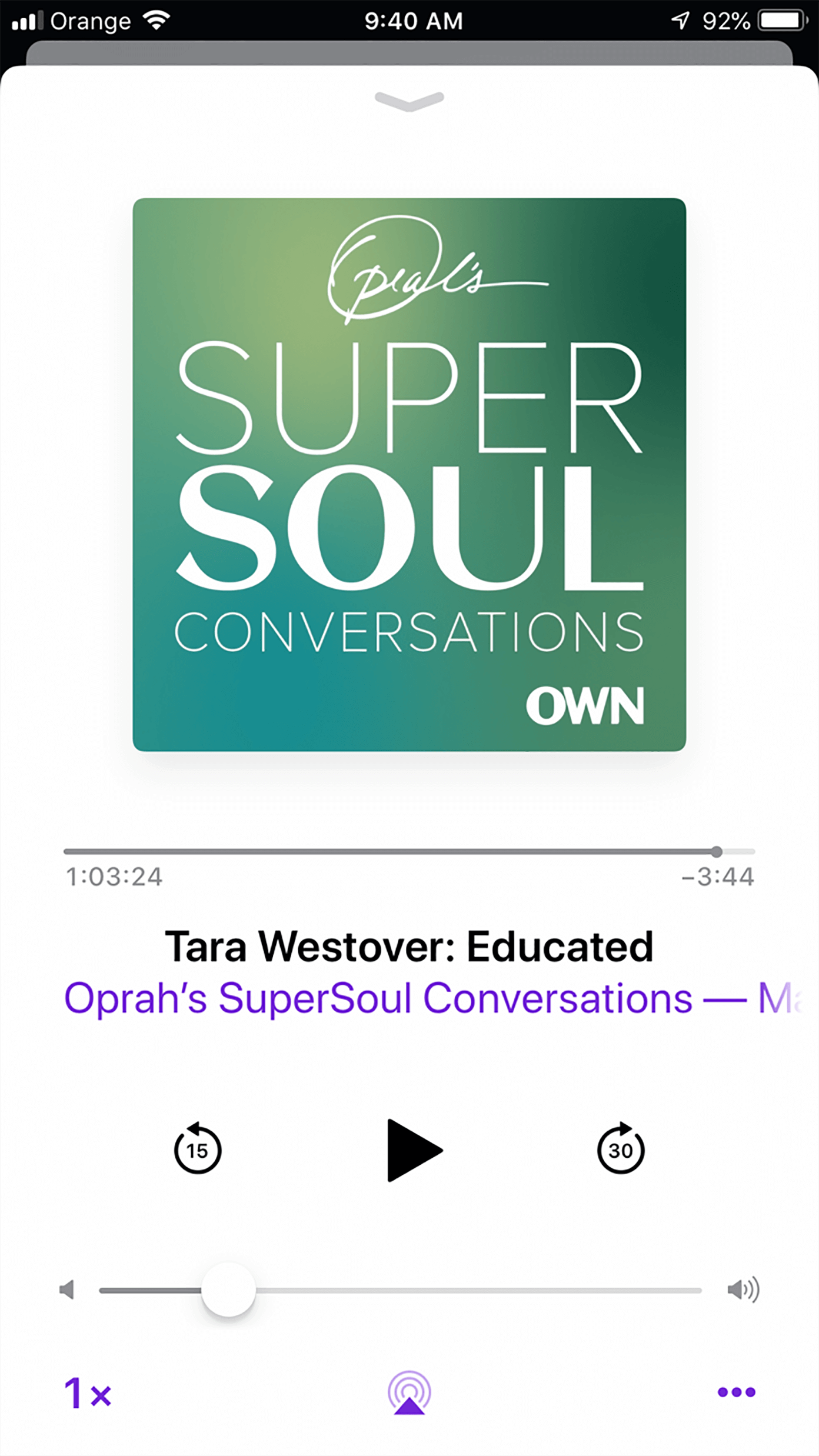 9:40am: Excited to catch up on some pods while I work this morning too — Tara Westover (loved her book) on SuperSoul, Brené on Goop, plus the latest episodes of The Daily. (All so good.)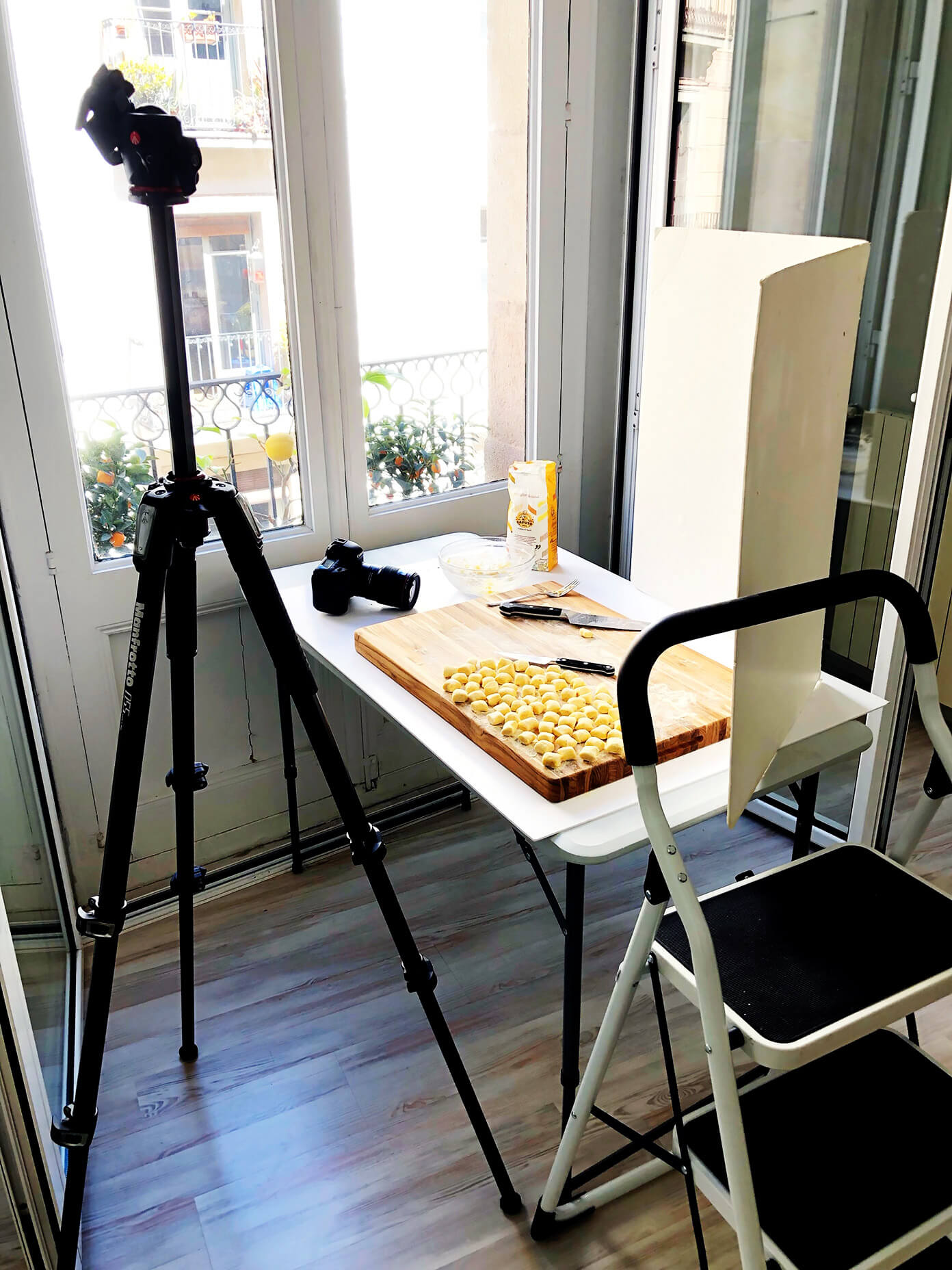 9:45am: Alright, time to shoot! First up today — the quickest and easiest and most delicious little gnocchi. (You're gonna love these!)
10:42am: Next up — a very special no-knead bread. After staring at this one for 20 minutes, though, I actually decided that I wasn't happy with the styling and am going to redo it tomorrow. (Maybe also with white parchment paper?)
You may have also noticed that a food photographer's camera is always coated in crumbs. Hazard of the job! ;)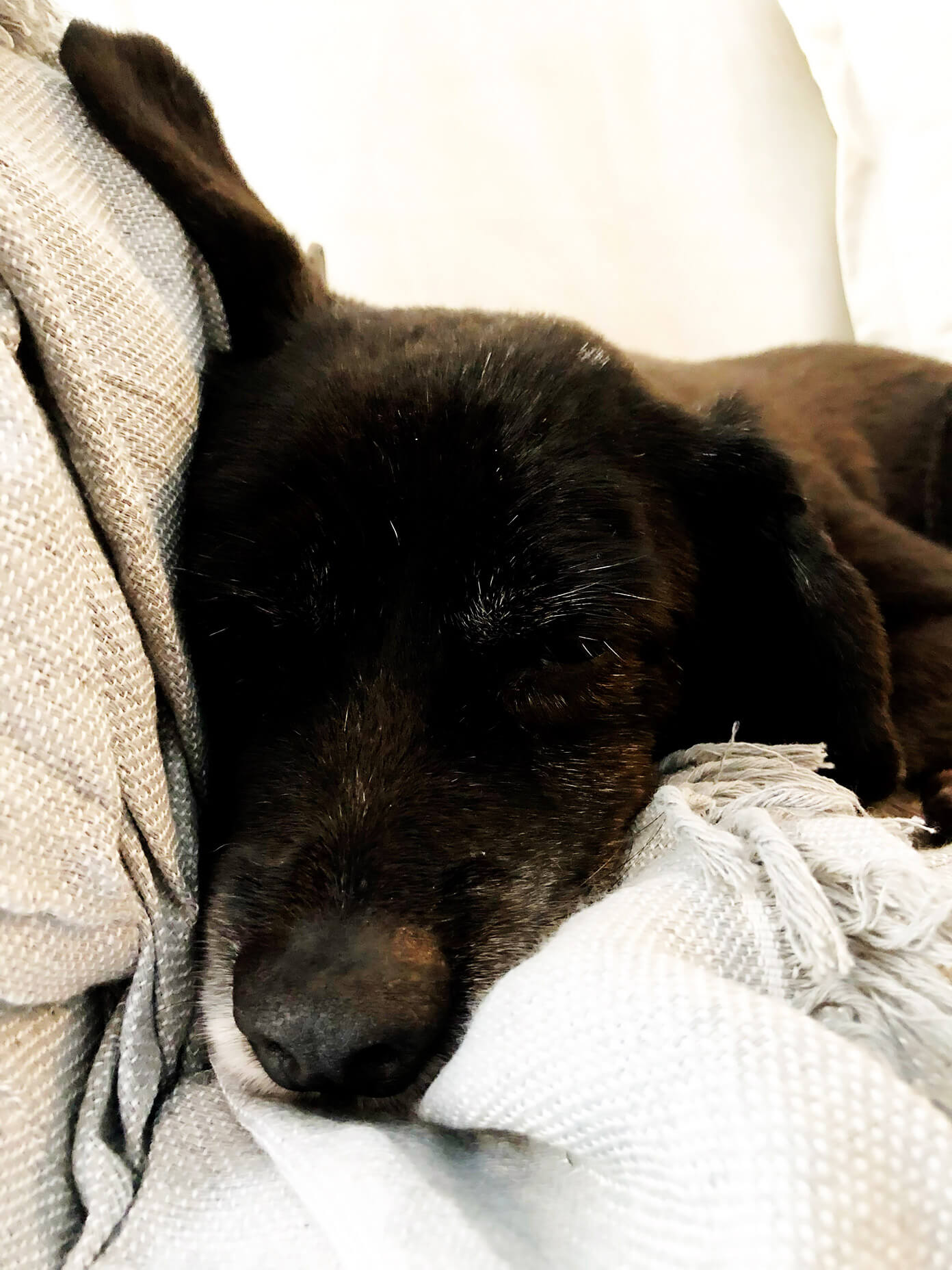 11:08am: Cuddle break with this cutie.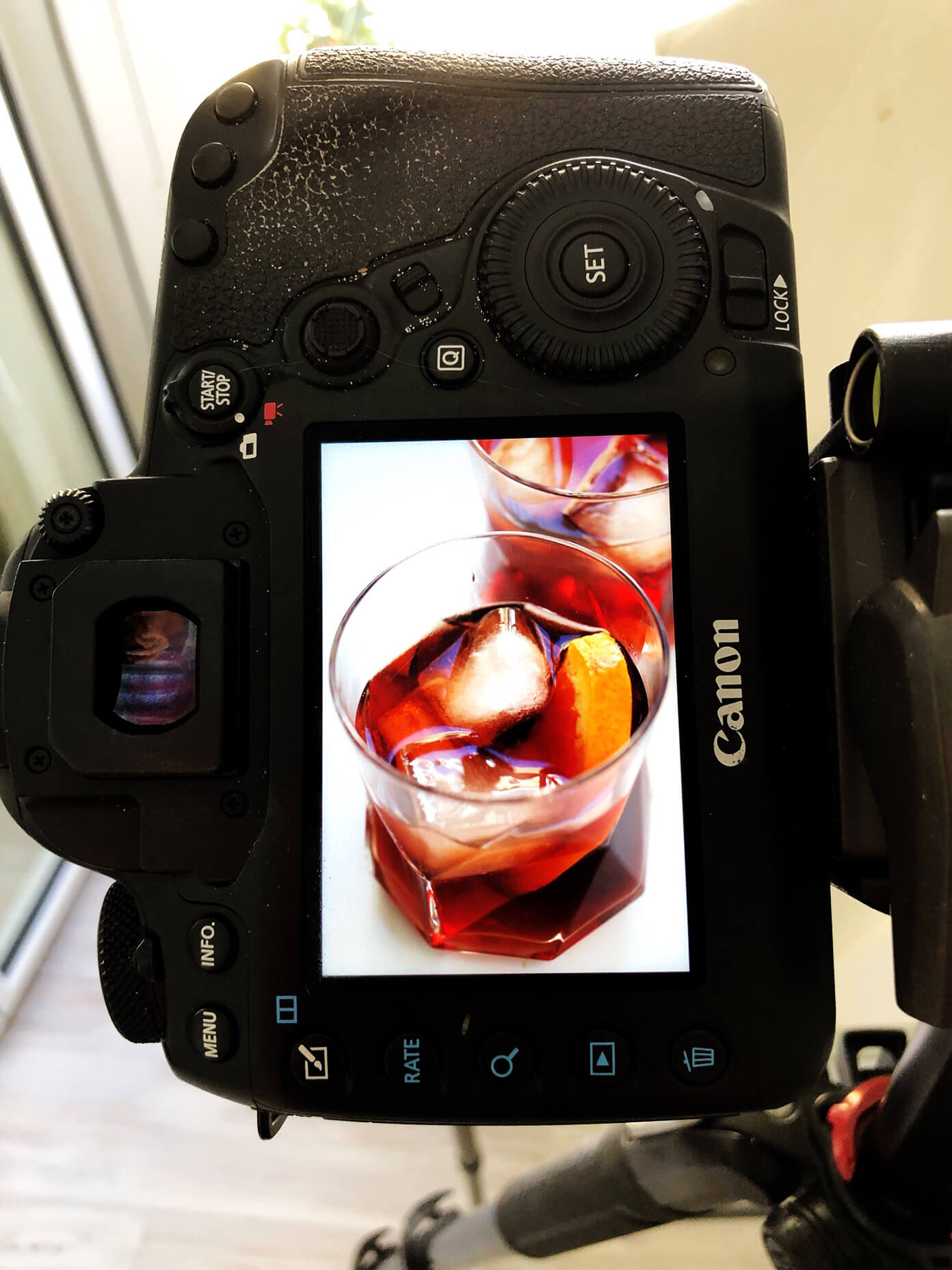 11:38am: Finally, last shoot of the morning with my new favorite mezcal cocktail.
(Yep, cocktail shoots always happen in the mornings around here, since that's when the light in our apartment is the prettiest.) :)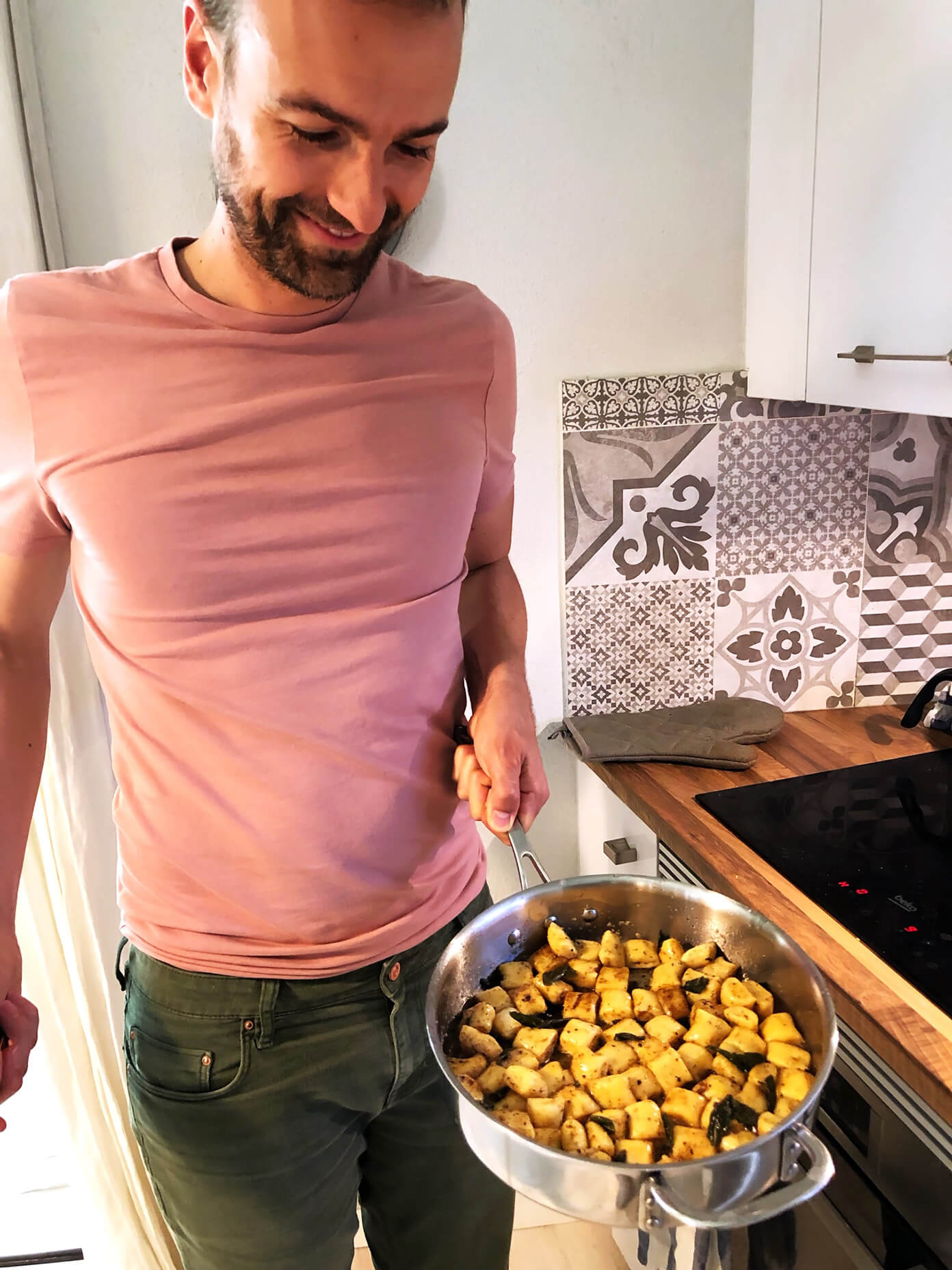 12:29pm: Barclay's working from home today, so he offered to cook up a brown butter sage sauce for the gnocchi for our lunch.
12:30pm: Wowza. ♡♡♡♡♡♡♡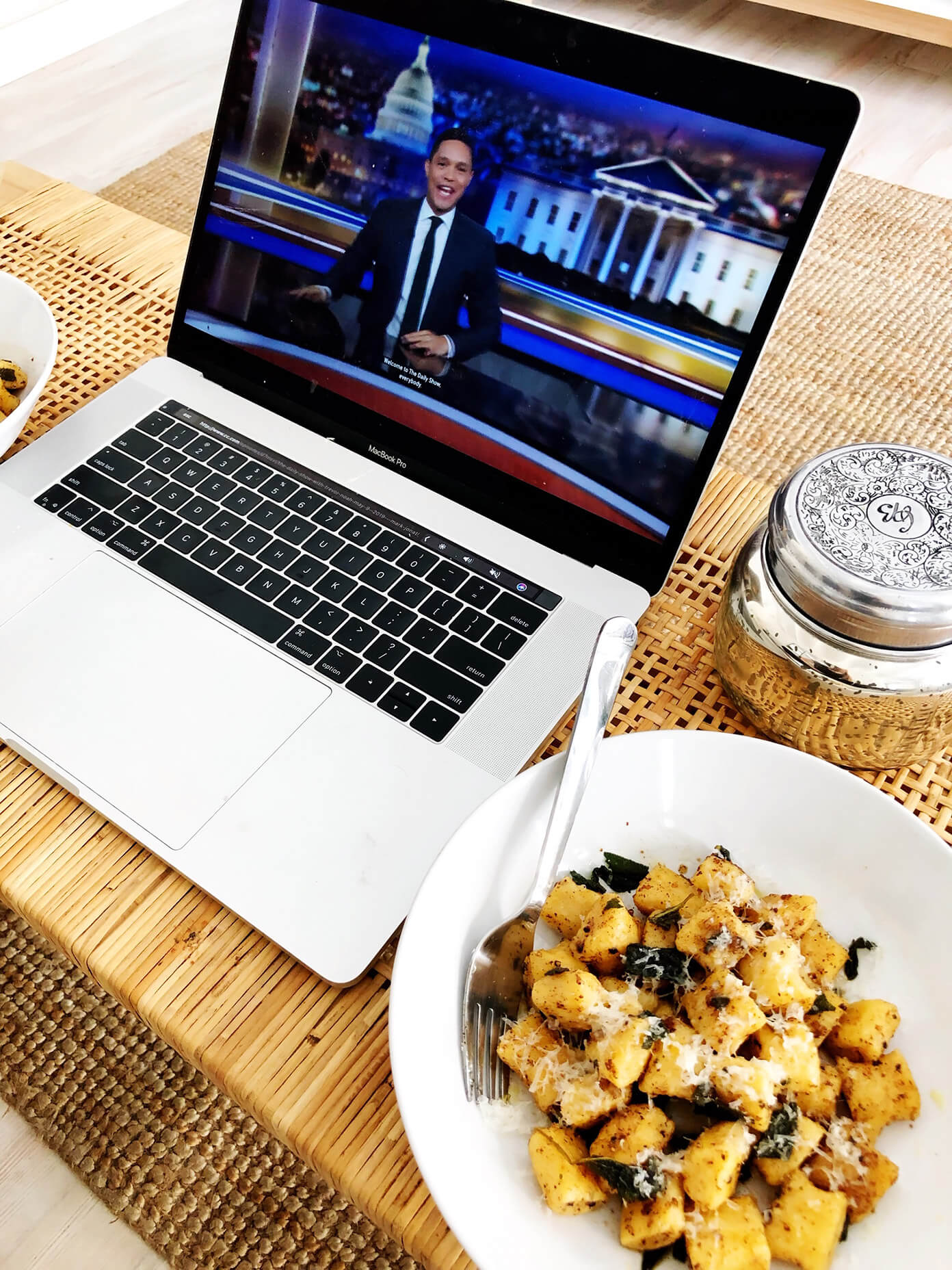 12:35pm: Lunch break with Trevor! Catching up on an episode we missed last week while our cousins from New Zealand were in town.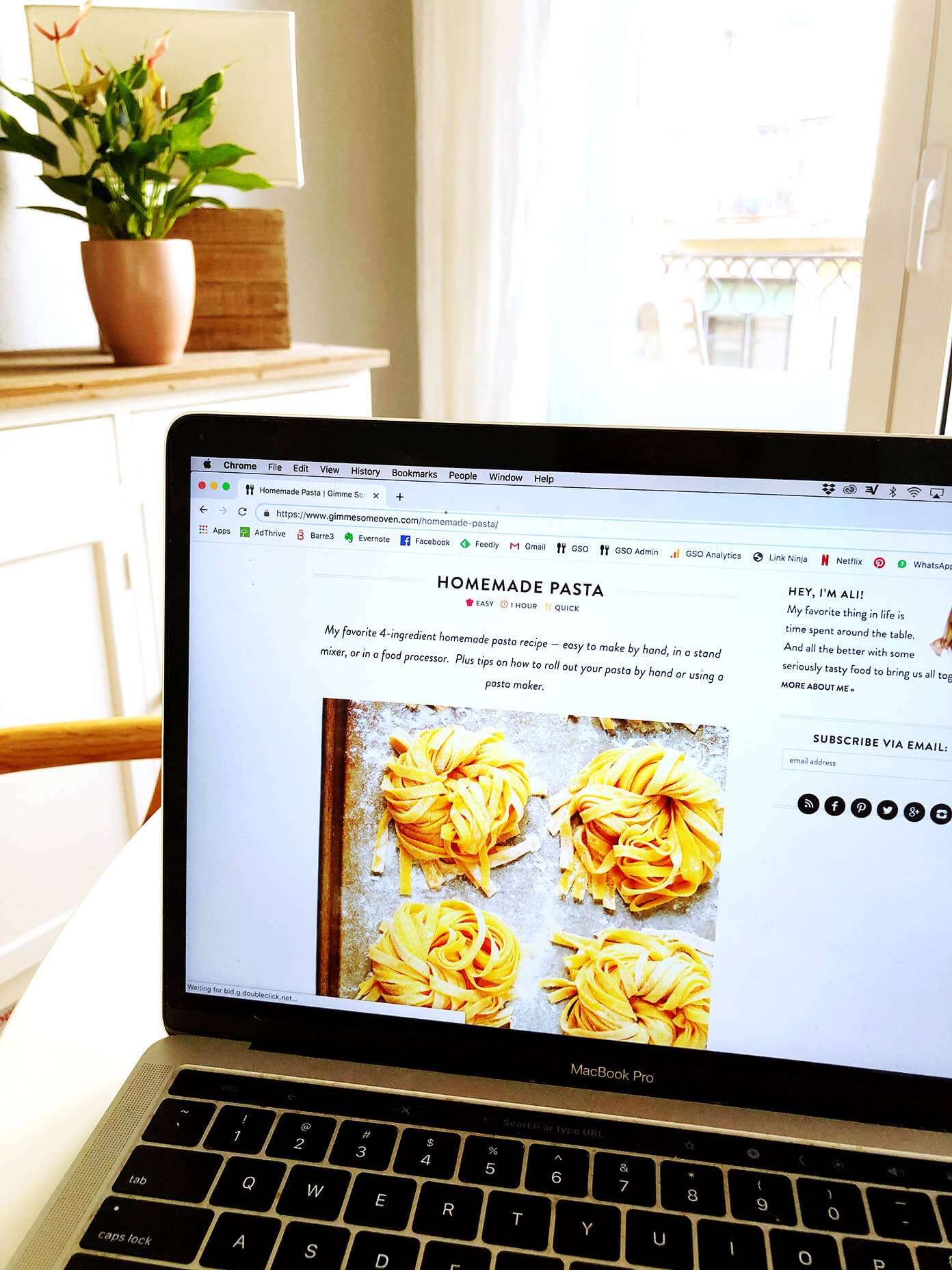 1:00pm: Annnd back to work. Quick glance over today's new blog post, then onto email and photo editing.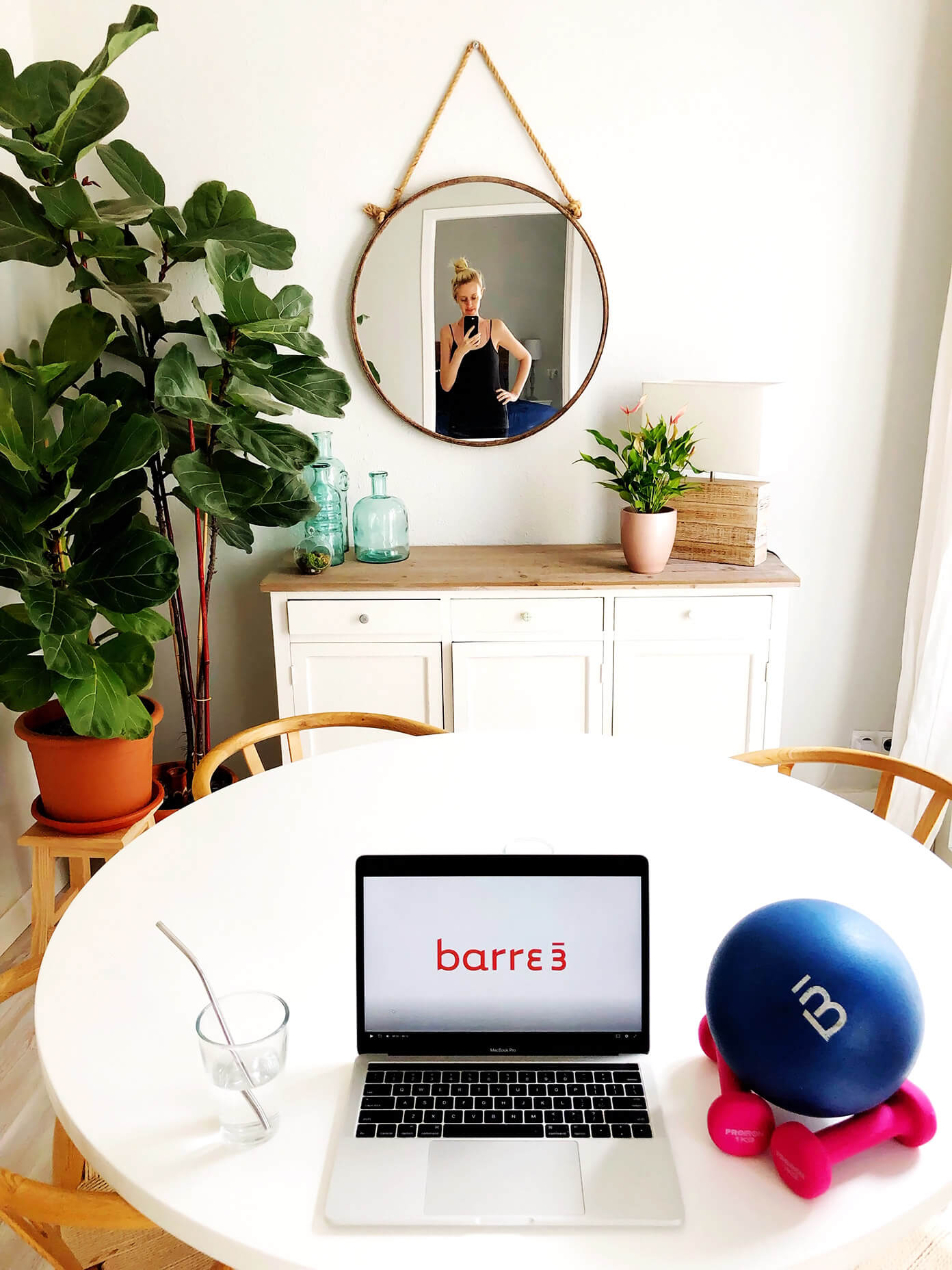 2:20pm: Whoops, forgot that we have an appointment today at 3pm. Squeezing in a quick workout and shower (finally) before heading outta the house.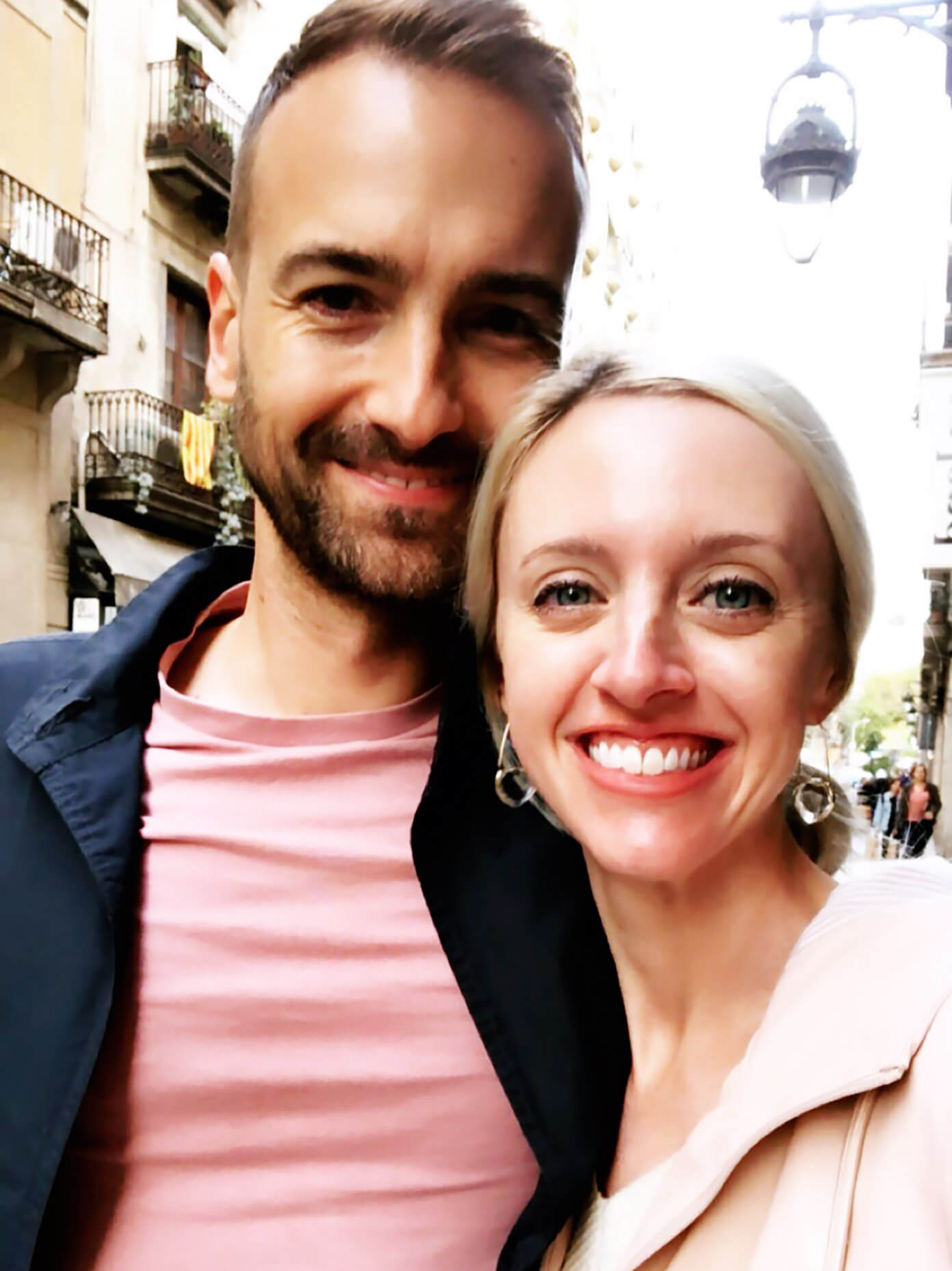 2:55pm: Afternoon house hunting date! Well, more accurately, ever-so-slightly-dipping-our-toes-into-the-Barcelona-real-estate-market date. ;)
Our current lease here is up at the end of the summer and currently all options are still on the table about what's next for us. (Stay in our current flat, move to a different flat, move out of Barcelona…we haven't decided yet!)  If we do decide to stay in Barcelona, we're interested in possibly investing in a place here in the city center. So we're starting to poke around and learn more about the home-buying process here in Spain (very different than in the States) and see what our options might be.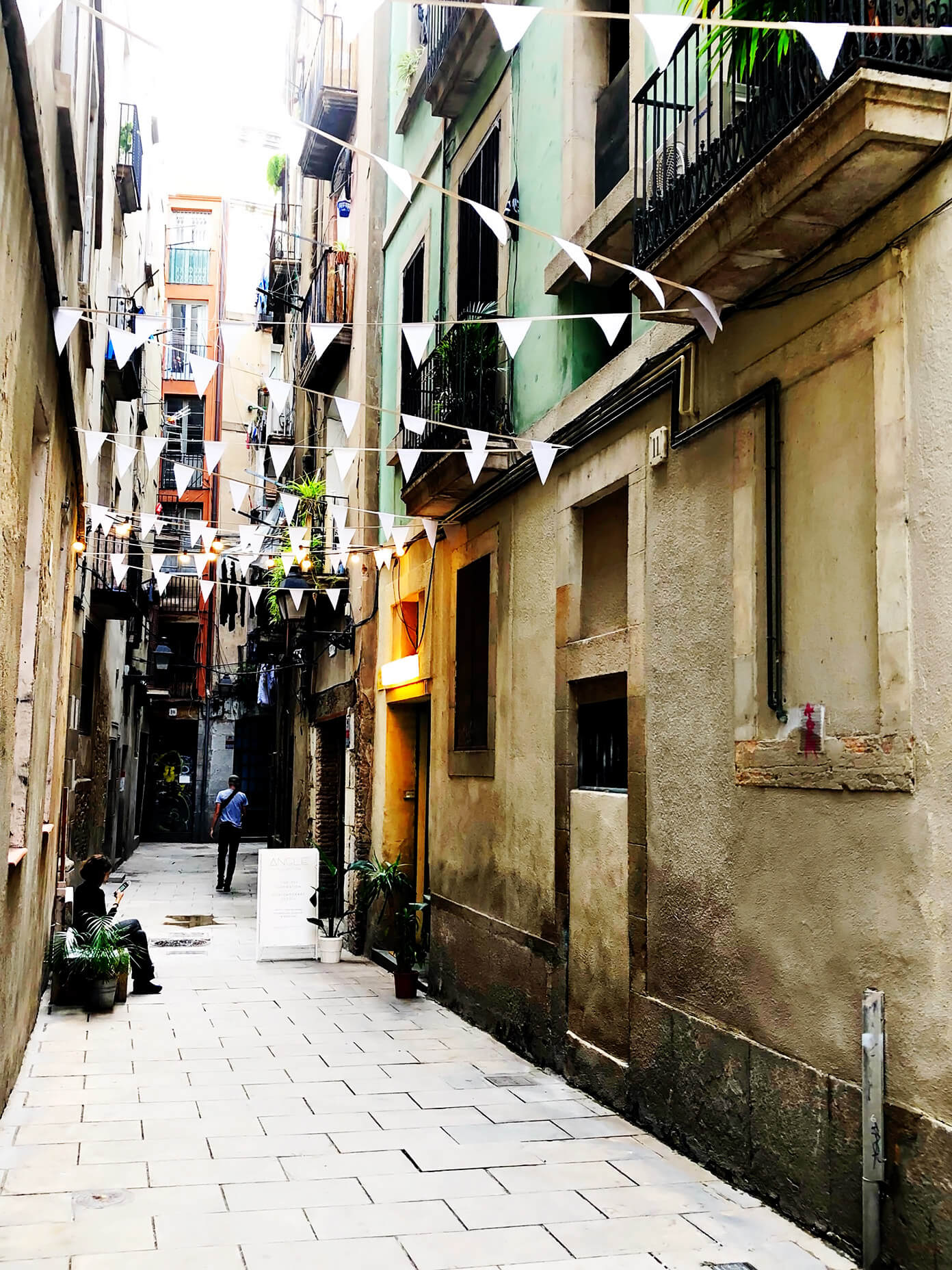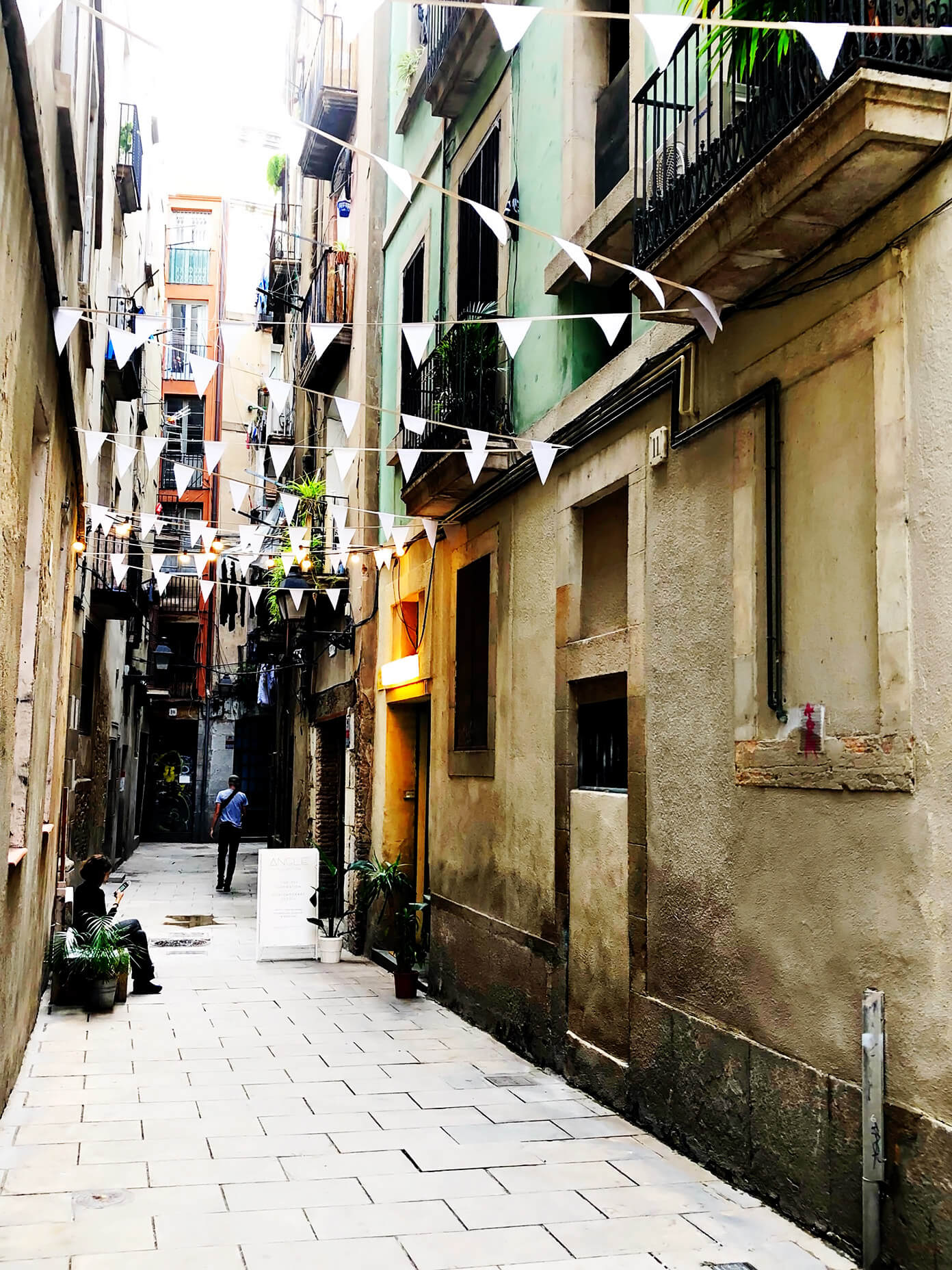 3:00pm: The flat we are visiting today happens to be near my favorite little street in Barcelona. Always makes me smile. :)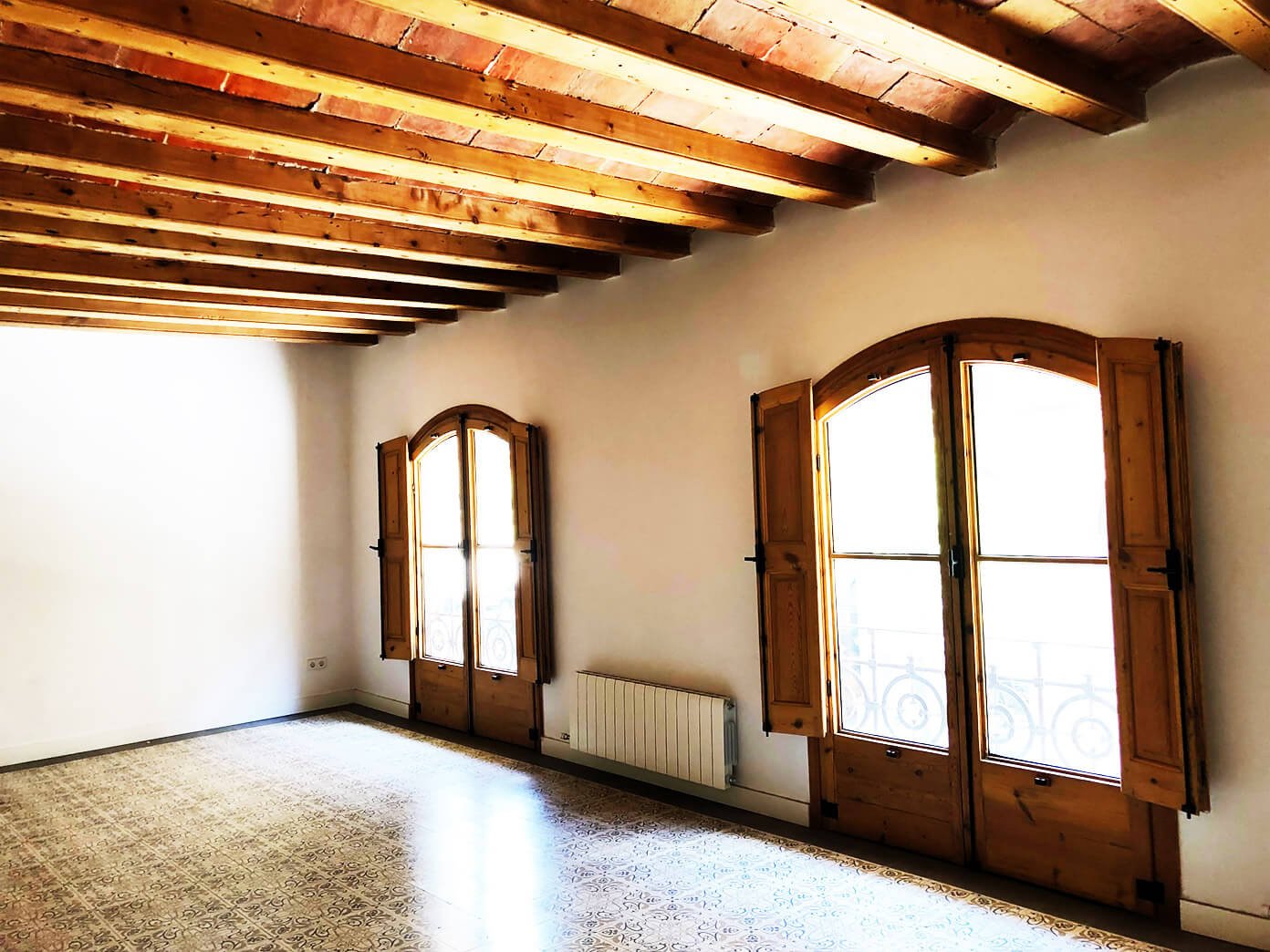 3:10pm: Cute, cute, cute…but not quite right for us. We met a very nice new realtor, though, who has another flat that she wants to show us next week. So, vamos a ver.
By the way, one thing that's different about real estate here in Spain is that realtors can typically only show you the properties that their specific agency has listed. So instead of working with one designated realtor, who can show you any house on the MLS, you meet lots different realtors as you search around the city.
3:30pm: Happened to spot these beauties on my way home…
3:35pm: …couldn't resist. One can never have too much fresh basil, right?! I also restocked our fresh menta (for all of the mint mojito iced coffees we've been making lately) and picked up some tulipanes (because…spring).
Also, shout-out to my friend, Megan, who gave us this Apolis market bag as a wedding present. We use it literally everyday to carry everything around here in Barcelona, and it's our absolute fave. So strong and durable and cute, plus we love the story of the company behind it. Thank you, Megan!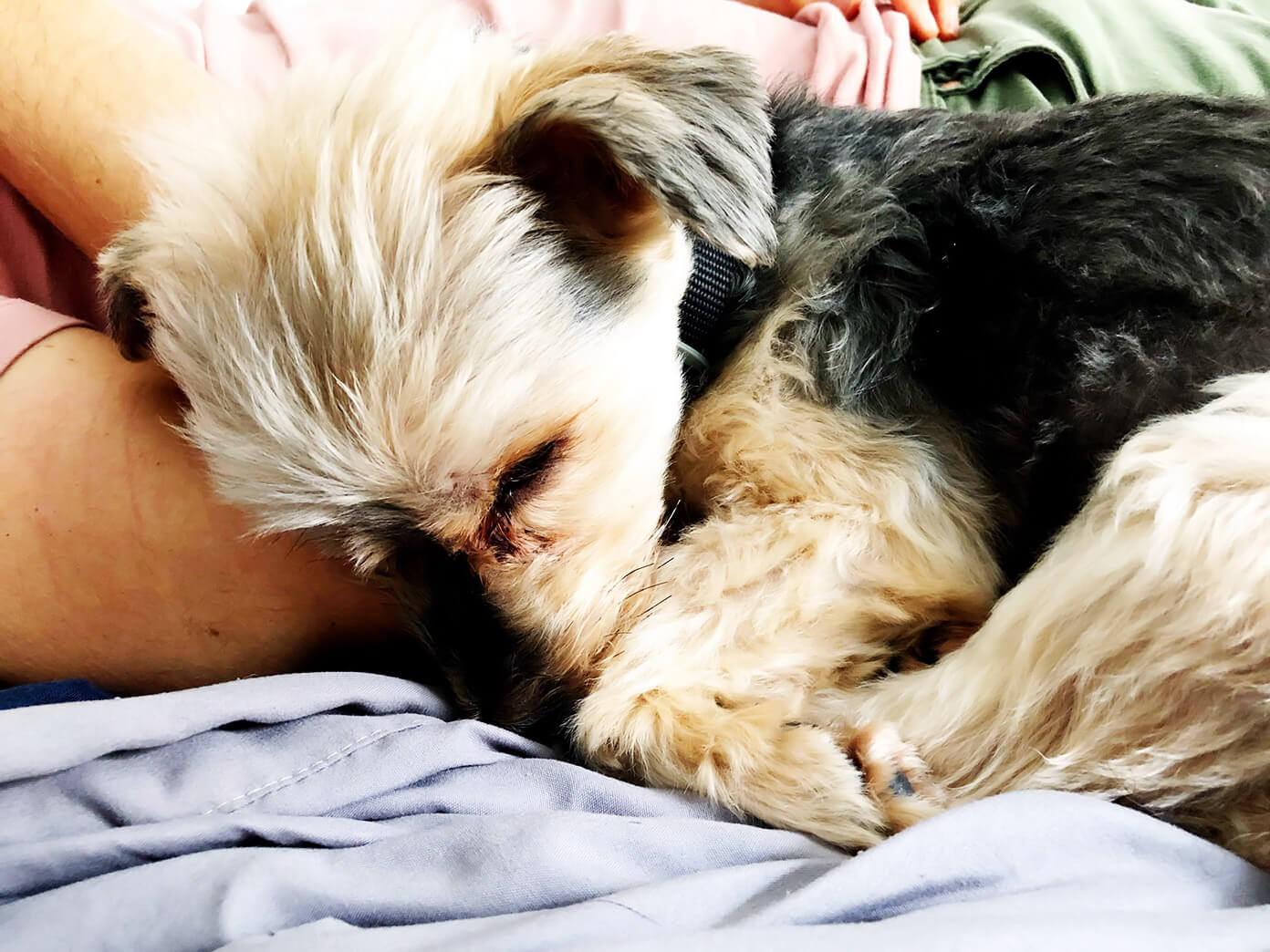 3:45pm: Found these two taking a little siesta. ♡♡♡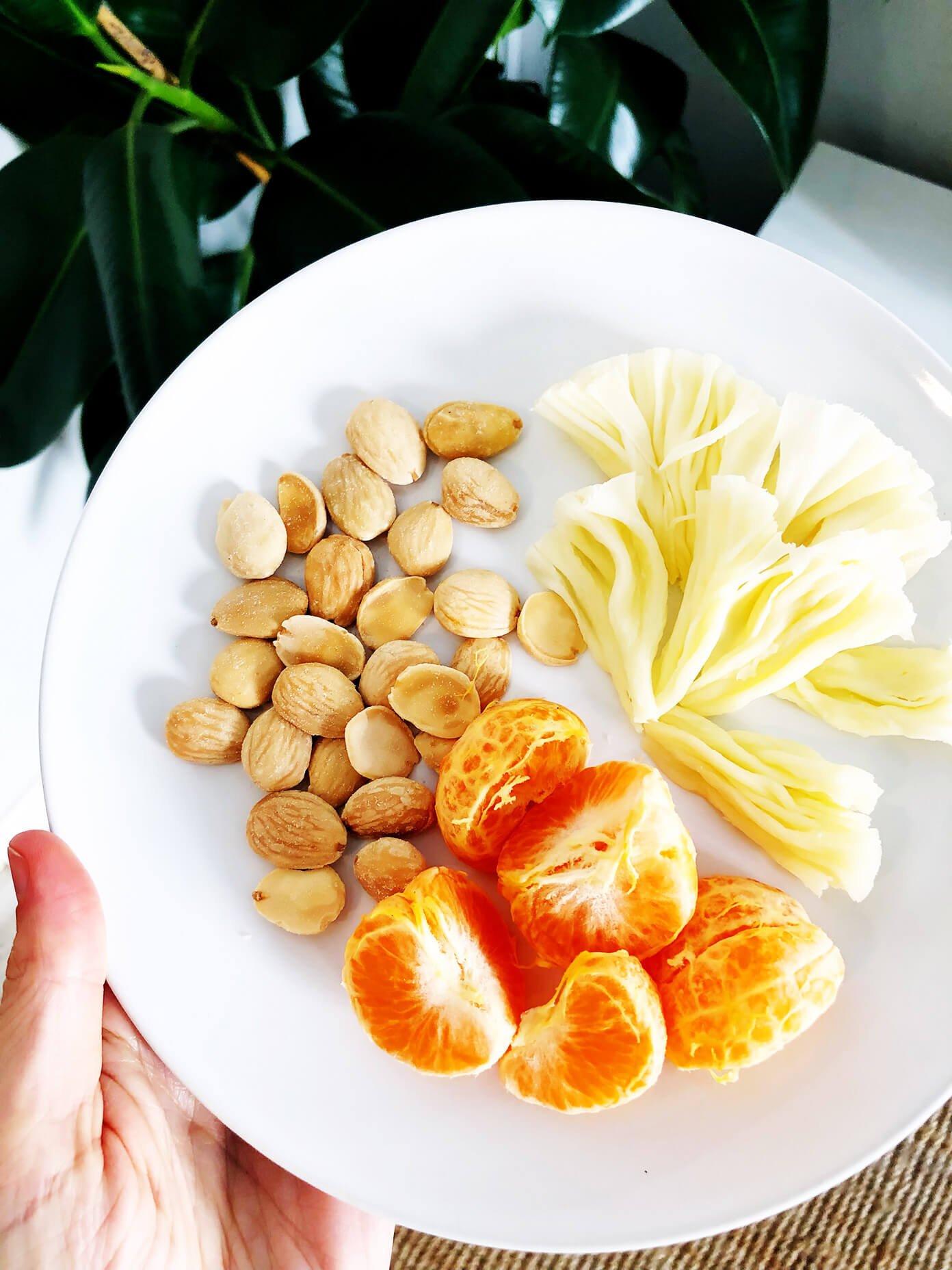 3:50pm: Back to work for a few more hours. Since dinnertime in Spain isn't until after 9pm, we do lots of afternoon snacking!
6:55pm: We also try to drink tons of water here at home, especially since you have to pay for it at restaurants. This one is my favorite aguas con gas — I consider it the Topo Chico of Cataluña. ;)
7:00pm: Catchin' up on Marco Polo with some friends from the States. This app has become one of our go-tos, especially when having to navigate 7 or 8-hour time zone differences.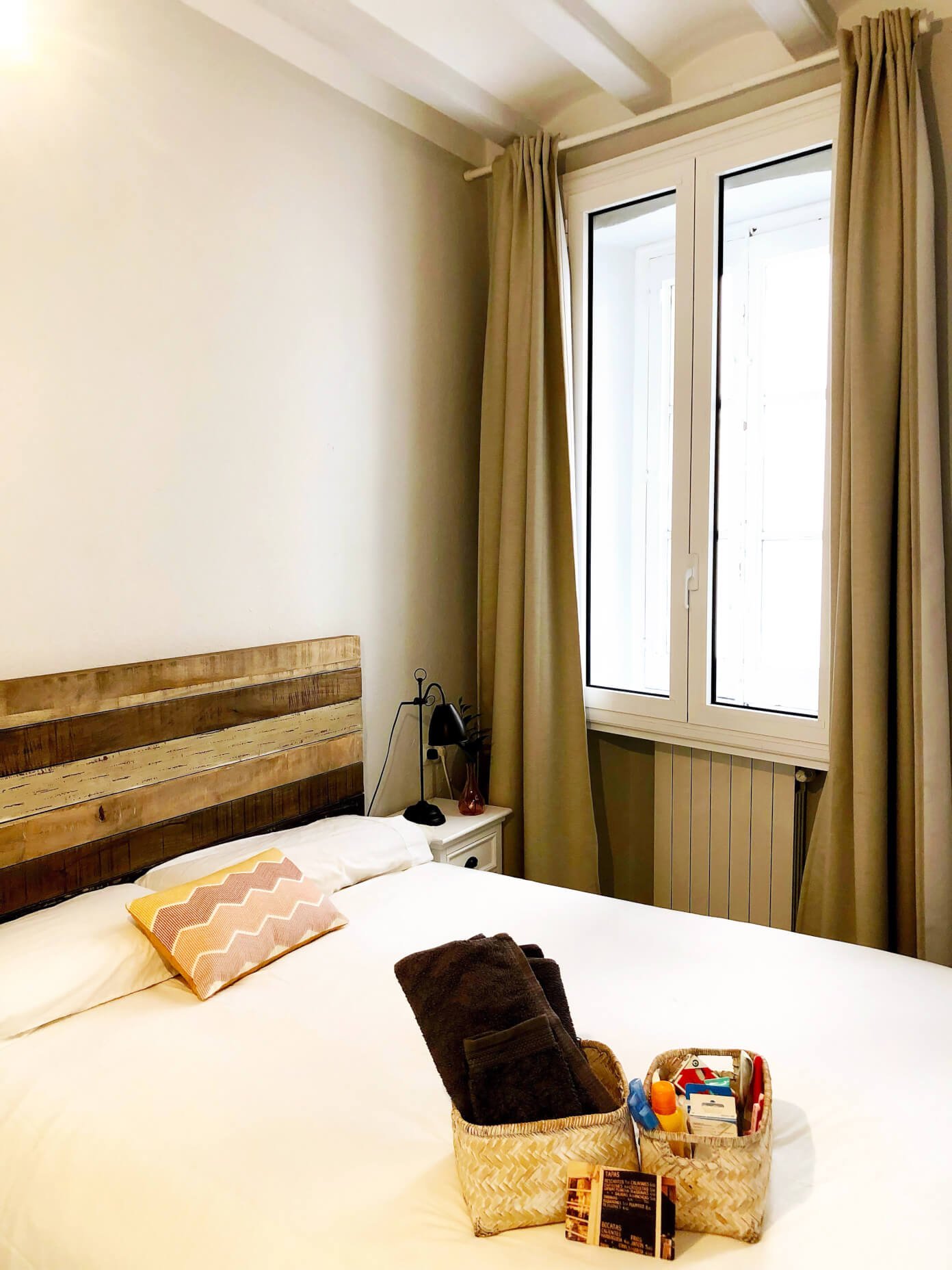 7:55pm: Getting our lil' guest room all ready for our next round of visitors tomorrow. Josh and Heidi, we're ready for ya!
8:15pm: Annnd off to dinner….Spain-time. Love that it's so light out in the evenings now!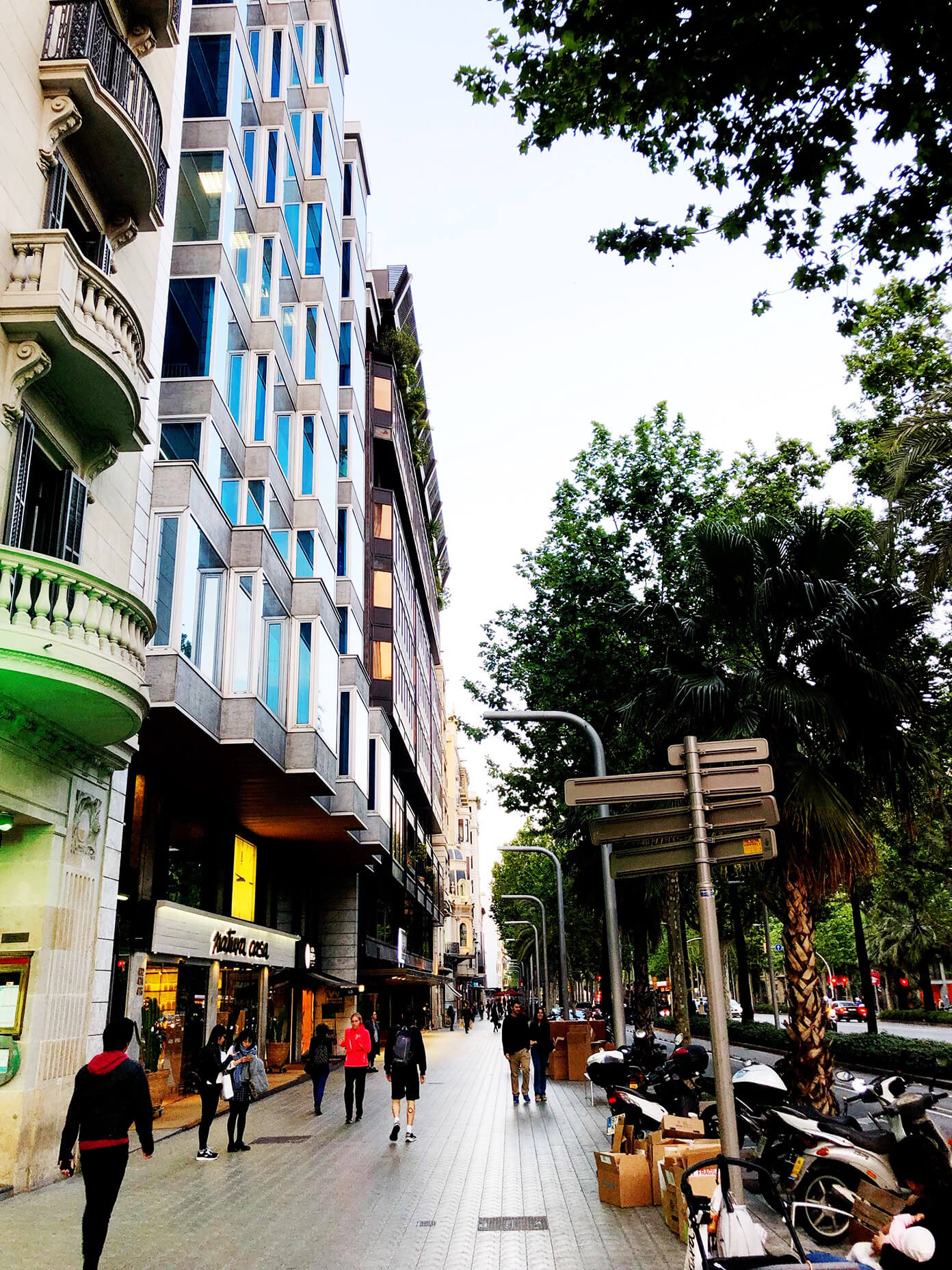 8:55pm: We walk pretty much everywhere in Barcelona and love it so much.  Haven't missed driving once since we've lived here.
9:00pm: Dinner with some friends across town at our favorite, no-frills, all-you-can-order sushi joint.
Most of the sushi restaurants in Barcelona offer a "buffet" where you can order unlimited things on the menu which — as you can imagine — can often result in some pretty sub-par sushi. But we happened to find this hidden little gem of a restaurant about a year ago with the most amazing sushi (and miso soup, and fried rice, and gyoza…which all only costs 15€/person). So ever since, we all try to pretty much as often as possible. ;)
11:25pm: Even a "quick" dinner in Spain lasts at least a few hours. We were pooped, so we decided to skip the walk and take a bus back to our neighborhood.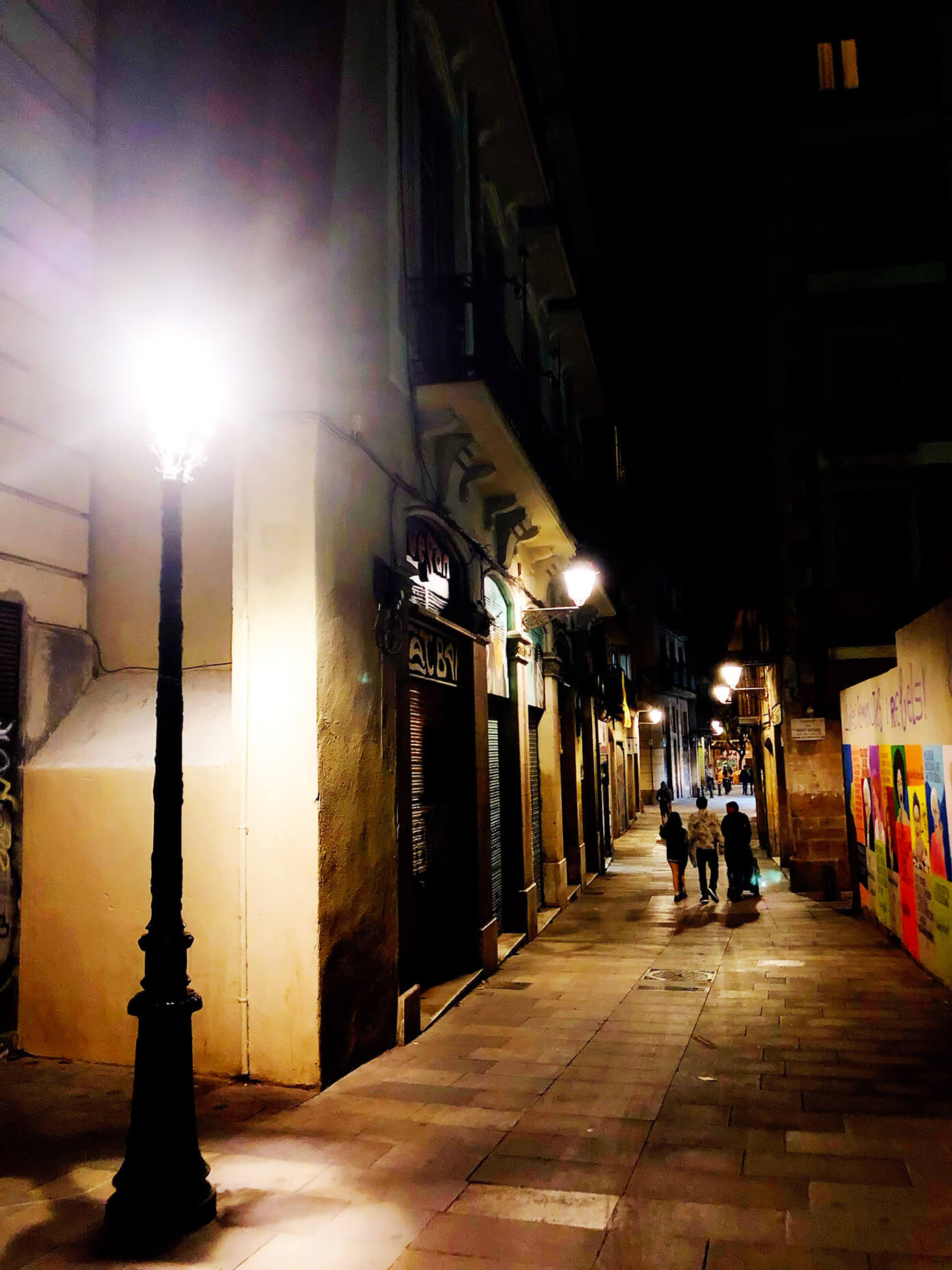 11:45pm: If you come to visit Barcelona, you will notice that no one is on the streets here at 7am. But everyone's still out and about around midnight…even on a weeknight!
12:05am: A few pages of my friend, Sarah's, new book (affiliate link) before bed.
12:15am: And finally, sleep. ♡  Buenas noches, everyone.