Europe 2012: Day At Sea
This post may contain affiliate links. Please read my disclosure policy.
Today was one of the most relaxing days I've had in a long time. We spent the day on the ship "at sea" en route to the port of Palmero (Sicily). And oh, what a wonderful place to spend a day. From meeting new friends, to trying to eek out some Italian, to exploring the ship, to music everywhere and more, it was a lovely day. Here were some highlights…
My day actually began a little late…because I slept in. Something I pretty much never do. And it was glorious.
Upon waking, I stepped out onto my cute little deck to see the gorgeous blue sky and feel the wind on my face as we sailed across the sea. So refreshing, and always a nice change for this Kansas girl. I love being on the water!!!
After cozying up with a warm cup of coffee and enjoying some delicious hot breakfast, I started my adventure of exploring the ship.
Somehow I hadn't put two and two together, and it turns out that it's not just my room that has musical decor everywhere. My ship, the Costa Pacifica, is actually known as the "music ship"! Literally everywhere you turn, there is either some sort of music paintings, sculptures, art decorating the ship, or some fabulous live music playing.
From the doors…
…to the names of each floor…
…to the zillions of huge murals everywhere you turn…
…even to this cute little drummer sitting at the head of the swimming pools. It definitely makes this music major smile. :)
While the weather is still much warmer than home, it was a little chilly to be up on the top deck today.
So of course, half of the ship could be found hanging by some of the many pools and hot tubs everywhere. Ah, vacation.
After spending some time exploring the various shops, restaurants, gym, chapel and more, I discovered my new favorite little nook — the library! For some reason, my Kindle has not been updating (and I forgot to load new books beforehand). So I was excited to see a library with a little English section that happened to have one of the books I've not read by Jane Austen – Northanger Abbey.
Even better, I met a wonderful new Italian bookish friend who is going to explore Sicily with me tomorrow. (She, along with many others, even thought I was European. I think it may be because of my scarf addiction.)  :)
A group of us went to go see the staff's welcoming show before dinner. Can you guess which song from "Rent" was on the program?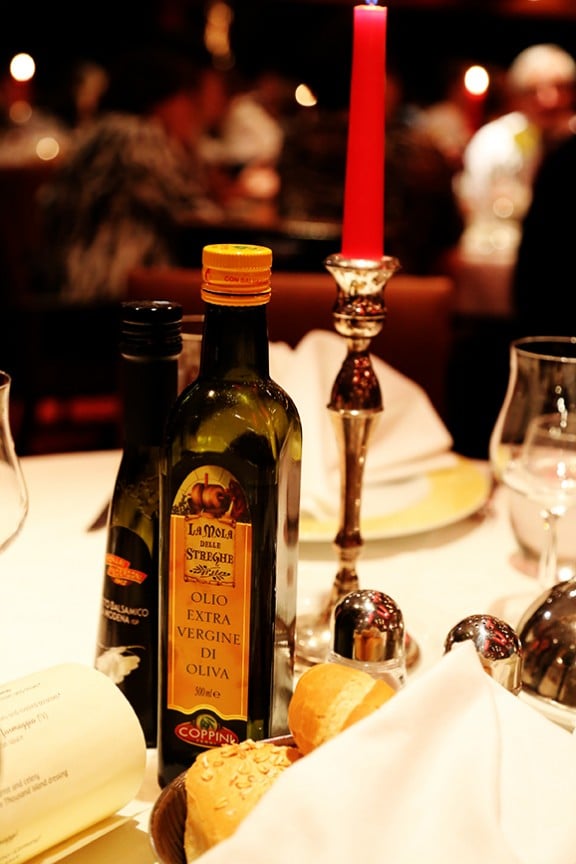 Finally came one of the parts of the day I was most excited to experience — dinner! I have been on a few cruises before, and know that dinners are always one of the major highlights. But one of the best parts of tonight was being seated with a table of delightful people who spoke English!! After spending the day speaking lots of Spanish and some very broken French and Italian, it was fun to kick back with a group of Americans and an awesome college student from China (studying at Cambridge). Such fascinating conversation about everything from the Cultural Revolution, to eating fish eyes, to the wonders of raising boys, to Utah politics, and so much more. I love meeting new people!!!
For my 6-course dinner, I chose the chicken mousseline, beef consomme, poccheri pasta, grilled whole sea bream, mixed salads, cheese plate, and oh yes – chocolate cake with Grand Marnier frosting. So much food! But so good — especially when enjoyed at a leisurely pace instead of the American wine-and-dine-in-an-hour-style.
And yes, Mom, I even at this smiling fish. Although while Echo, my new Chinese friend, said that the eyes and head are very popular in China, I decided to go head-less this time. :)
After our long and leisurely dinner, we all went to attend the evening's show, and sat wide-eyed through the entire thing. Stunning! There are some seriously talented actors/dancers/singers in the cast. They covered everything from the Beatles, to Aretha Franklin, to La Vie En Rose, to Chinese medleys, and everything in between. Really well done.
Off to sleep before heading to Sicily tomorrow! Ciau!!
Disclaimer: A special thanks to Costa Cruises for sponsoring my time on the Costa Pacifica. All opinions in these reviews, as always, are my own!