What To Expect On A Viking Ocean Cruise
This post may contain affiliate links. Please read my disclosure policy.
Lots and lots of details about our recent experience sailing on a Viking Ocean Cruise!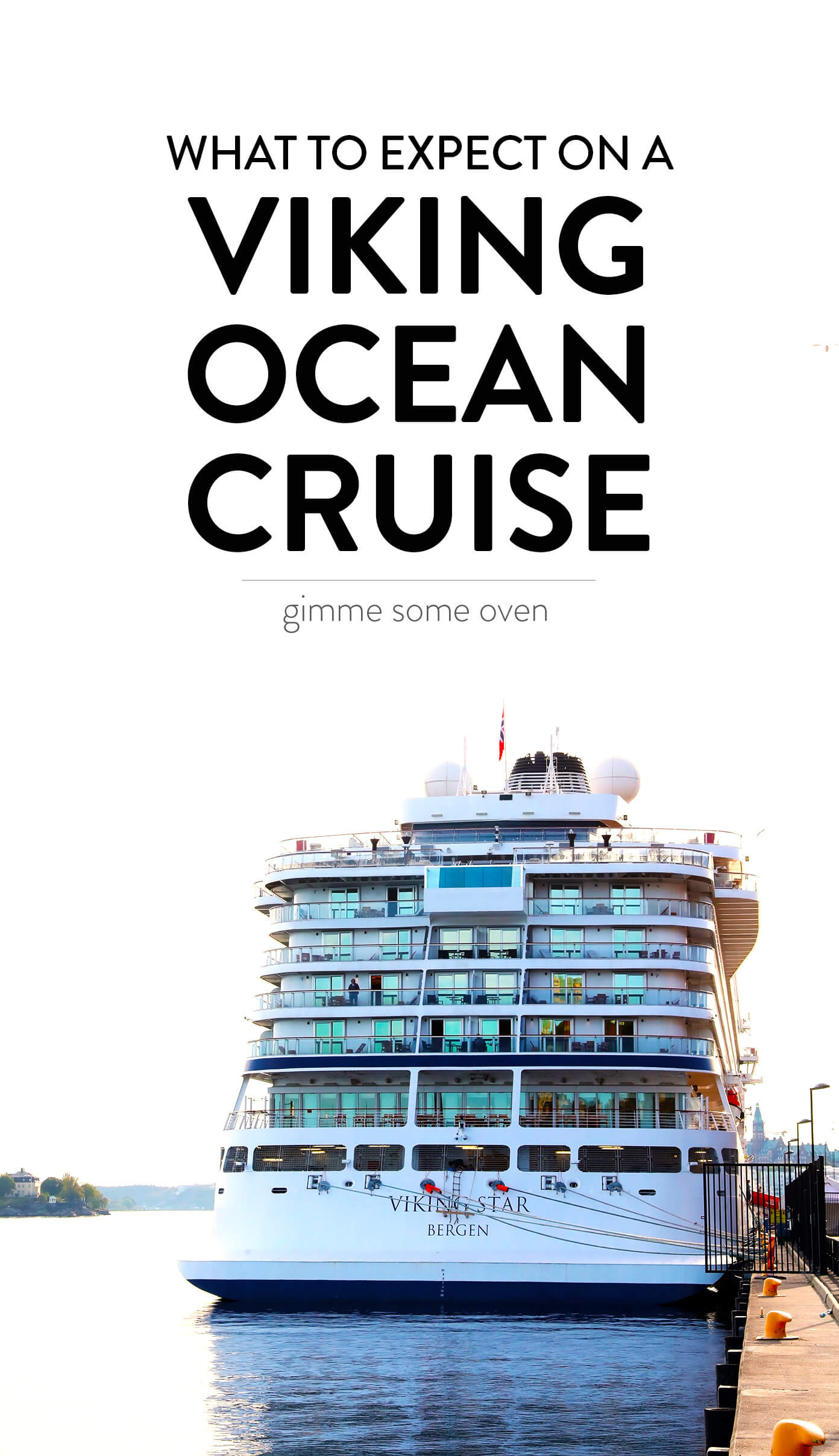 Alright guys, cozy up. (Long post alert!)  Today I'm finally sharing all about our recent sail through the Baltic Sea with Viking Ocean Cruises!
As I mentioned in my post about spending three days beforehand in Stockholm, this trip was both Barclay's and my first time visiting each of the countries on this cruise — Sweden, Finland, Russia, Estonia and Poland. So we were excited and curious to experience this part of Europe. (Spoiler alert: we were surprised how much we loved it!)  And also, super curious to experience our first Viking ocean cruise.
As some of you might remember, we actually had the chance to sail through France on a Viking river cruise a few years ago, which we both really enjoyed. But we were curious how the Viking vibe would translate to a much larger ocean cruise ship, and how the experience overall would differ. Turns out, it was pretty different. But also, incredibly fun. We had a blast, and were hopelessly spoiled on board, and didn't want our week to end. So to answer the question a hundred or so of you asked — yes, we would totally recommend it!
That said, the Viking ocean cruise experience was definitely apples-and-oranges different from our Viking river cruise experience. So for any of you considering an upcoming cruise for yourself, I wanted to follow up my river cruise post with an ocean cruise post, and tell you all about it, and also offer a few thoughts about how to choose which kind of cruise might be best for you.
So here's the scoop on everything about our Viking ocean cruise, including details on:
The Ship (staterooms, restaurants, spa, entertainment, gathering spaces, and more)
The Cruise (our itinerary, tours, things to do, destination travel recs)
The Food (this one gets its own category, naturally)
Our Best Tips (a few things we've learned)
Ocean Cruise vs. River Cruise (some closing thoughts)
The Ship
Alright, let's chat first about our home at sea during the week — the Viking Star.
As you can see, this is not one of the small river boats that you saw advertised on Downton Abbey commercials years ago. This is a legit cruise ship. 9 floors, 465 staterooms, 4 full restaurants, 3 pools, a gorgeous spa, endless comfy deck chairs and beautiful lounges to hang out in, and about a million things to do.
Basically, we learned that on a Viking ocean cruise that the ship is totally a destination in and of itself.
There are so many things that you can choose to take part in each day, so many restaurants and bars and food you can sample, so many places to relax and hang out, and so many amazing staff members working hard to make everything run smoothly. You have the option of trying to squeeze as many things as you can in a day on the ship. Or hey — if you want to just kick it for a few hours and soak up some introverted-time-with-a-view from your room's private balcony — room service is also completely included all day long. Basically, the ship is the epitome of "you've got options." ;)
Barclay and I especially loved our specific ship because it was:
Beautiful. Think bright, clean, modern, Scandinavian design everywhere you turn. And windows everywhere. Basically, a Vitamin D lover's dream come true. :)
Not crowded.  One of the things we love about Viking cruise ships is that they only bring on board about half the number of passengers as most other cruise ships their size. Which means that you get all of the amenities or a large ship, but it's not crowded at all. Truly, we couldn't believe how easy it was to find a deck chair, walk up to a buffet, find an open hot tub, and attend any activity we wanted all week long. In our experience, lines were almost non-existent.
Efficient. Speaking of lines, as someone who nerds out on efficiency, I was also blown away by Viking's ability to move 1000+ passengers around so quickly and smoothly. Our onboarding check-in when we arrived literally took less than 5 minutes (no lines!), the initial safety presentation was quick and organized, and all of our excursions were prompt and easy to navigate.
Tranquil. Similar to our experience on the Viking river cruise, we were also impressed with how quiet and tranquil the ship was in general. Especially after busy days in port, it was always nice to come back to such a relaxing environment.
Nerdy. By contrast to some of the casinos and clubs on other cruise ships, we both loved that this ship was proudly nerdy. From PhD guest lecturers on board each day, to an extensive ship library, to TEDTalks being streamed daily, to the most organized jigsaw puzzle station we've ever seen — the ship is designed for people who really love to learn. We dug it. :)
All-inclusive. This was a big one. By contrast to some other "all-inclusive" ships and hotels, Viking prides itself on not nickel-and-diming you every step along the way. Case in point? Daily shore excursions, 24-hour room service, unlimited wifi, daily spa access (with the most amazing hot tubs!), beer/wine/soft drinks at every meal, specialty teas and coffees, port taxes and fees, laundry machines, and ground transfers with air purchase are all included. Amazing.
Let's take a quick tour!
Gathering Spaces/Lounges/Bars
As I said, beautiful spaces abound on the ship to sit and hang out, relax, enjoy a snack or a drink, read a book, take a dip, do a puzzle, and soak up all of those scenic ocean views. (The photos above only capture a fraction of the ship!)  We spent most of our time in the various spaces on the upper decks, soaking up as much sunshine and fresh air as possible. Some of the main gathering spaces included:
Viking Living Room: A central place to relax, read a book, talk or listen to music each evening. There was a classical trio on board during our cruise, whose music we really enjoyed after dinners.
Explorer's Lounge: Decorated with memorabilia from far-flung travels, this lounge is a good place to relax and hang out while enjoying top-notch views from the front of the ship.
Sun Deck Lounge: For those who need that extra dose of sunshine, this open air lounge will take you as high up on the ship as you can go.
Wintergarden: A beautiful, sunlit, serene spot where they serve afternoon tea with live music.
Acquavit Terrace: One of our favorite places to dine al fresco over lunch, or take a dip in the pool (or hot tub) under the Nordic skies.
The Atrium: A good place to sit amidst the backdrops of a curated art collection inspired by the destinations along the cruise route.
Torshavn: Where guests go for dancing and drinks, with a live band every night.
Library: Loved this!! They had plenty of titles available if you were in need of a good read.
Restaurants/Bars
One of the biggest changes going from a river to an ocean cruise was that this ship had multiple restaurants to choose from!! Guests are all invited to make a special reservation one night on board at the Chef's Table (fine dining) and also at Manfredi's (Italian). But otherwise, you can be impromptu and decide each day where you would like to eat eat meal. And — even better — you can order whatever you'd like! As I mentioned above, wine, beer and soft drinks are also included. And room service is as well, in case you would prefer to have a meal brought to your room, though the menu for room service is limited.
There are also a variety of bars and pop-up buffets that are sprinkled throughout the ship, but the main restaurants available include:
The Restaurant: Full table service is available for breakfast, lunch and dinner, with an extensive changing daily menu (that is different from Manfredi's Italian Restaurant and Chef's Table).
Chef's Table: A pre-set tasting menu for those who like innovative, creative fine dining.
Manfredi's Italian Restaurant: Exactly what we had hoped — dreamy, decadent, delicious Italian food every night.
World Café: A casual dining experience, with a dozen or so different buffets available for all three meals of the day, inspired by flavors loved around the world. (We took advantage of the sushi and gelato buffets daily!)
Pool Grill: Casual fare for a relaxed lunch or afternoon snack, including different daily salad bars. (I was obsessed with their Caesar Salad bar.)
Mamsen's: A cozy bar and cafe located at the bow of the ship overlooking the ocean with the most amazing waffles.
Spa and Wellness Center
We were super impressed with all of the wellness options available on board. Some of our faves included the:
LivNordic Spa: Impressively, spa access is completely included for all guests on board! You do have to pay extra for salon or spa treatments (hair, massage, facials, nails, grooming, etc). But the gorgeous thermal suite is available to all guests on board all day long. The suite is inspired by Nordic bathing traditions, and features an enormous thermal hot tub (my fave), an additional hot tub, cold water pool, cold ice water splash bucket, sauna, heated stone chairs, and — get this — a "snow grotto". Yes, a room in the suite where it literally snows all day long. Crazy. We spent at least an hour hanging out and warming up in the thermal suite each day and absolutely loved it.
Fitness Center: We were also daily visitors of the gym on board, which featured a great selection of workout machines and a spacious room where we could do yoga. It was also sparklingly clean, with fresh towels and water bottles available everywhere.
Main pool: We also spent some time at the main pool and adjacent hot tub, which have a retractable roof above them for temperature control. (It stayed closed during our cruise, since it was pretty chilly out.)
Sports Deck: We didn't spend much time up on this deck, but putting greens, gym equipment, and shuffleboard courts are available.
Entertainment
Every night, our lovely stateroom attendant would drop off our "Viking Daily" — an informational brochure with absolutely everything we needed to know for the following day. From forecasts, to excursion details, to upcoming menus, to the dozens of activities that would be taking place on board, there were always so many options to choose from. Some of those included:
Lectures: Our ship had a resident historian on board, as well as other professors and experts on the places and themes we were experiencing on the trip. They gave daily presentations on the culture and history of the Nordic region, and also kept office hours if you wanted to ask more questions.
Movies and documentaries: Viking curated a diverse collection of movies and documentaries for guests, which were available in each stateroom, and also some were shown as special presentations in the comfortable Star Theater space.
Live Music: Our ship had a classical trio (flute, cello and violin), a guitarist playing instrumental music, a pianist playing live on the ship at various times each day, and a live band to get people on the dance floor every evening.
Cultural Presentations and Shows: Each day, Viking prepared special events ranging from an Irish magician to a cultural performance by the Russian group, the Mariinsky Theater Singers.
The Kitchen Table: Viking now offers cooking classes on board! We didn't end up getting the chance to go, but love this idea.
Afternoon Tea: From 4-5pm every day, high tea would be hosted in the Wintergarden, while accompanied by live music. Pinkies out! 
Cocktail Hour: Every night, there were drinks and music available in various spaces throughout the ship.
Other Amenities
Shops: A few stores were available if you wanted to pick up some travel goods, souvenirs, or jewelry during the cruise.
Wifi: Despite sailing the open sea, wifi was available on the boat some of the time. Granted, the signal was pretty slow, and cut out for hours (or days) at a time multiple times depending on our location. But when it worked, it was nice to have.
Computers: If you didn't bring your own device, there were computers with internet access available on board for passengers to use.
Reception: We loved the reception area because it was rarely crowded, so we could get help with whatever we needed right away.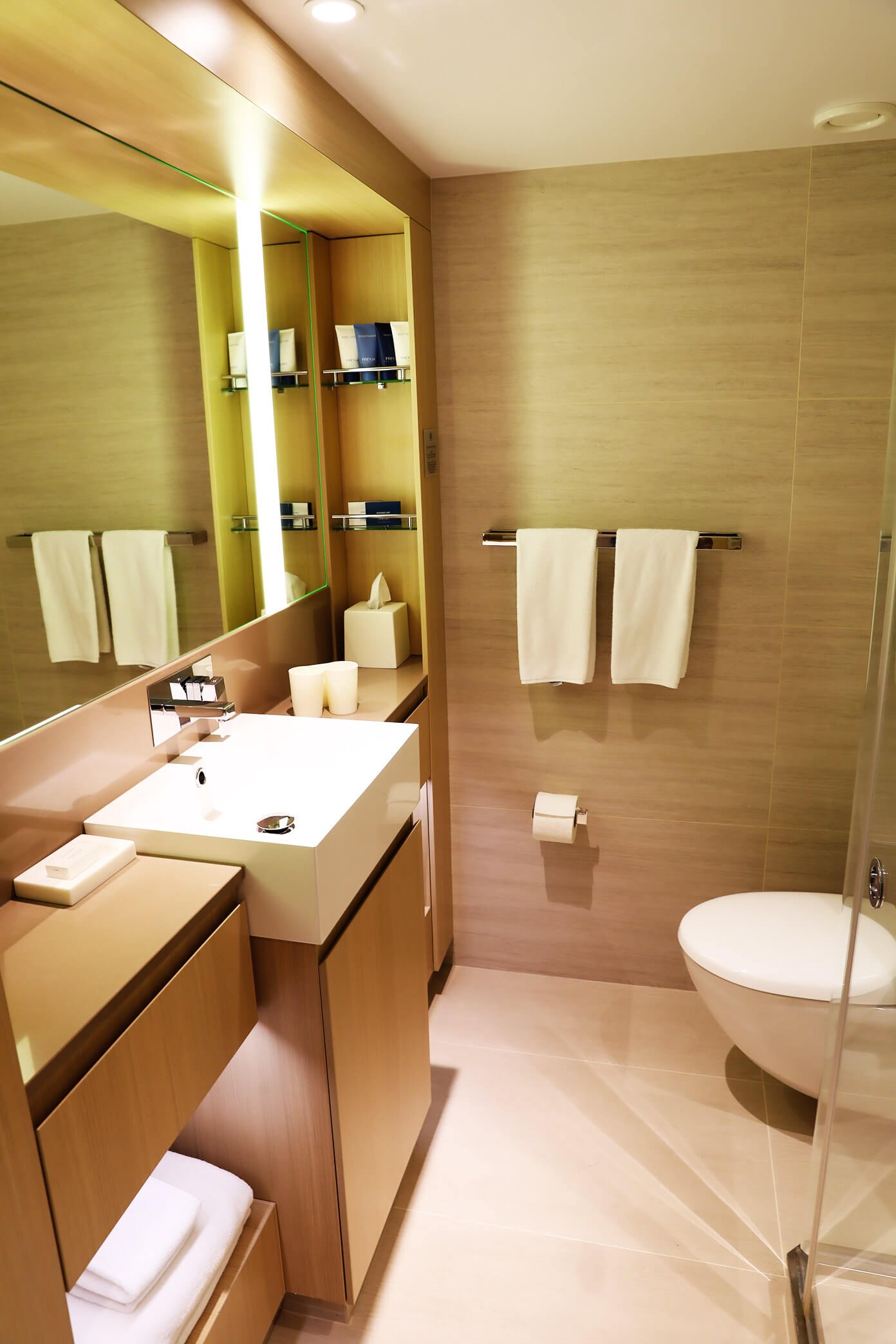 The Staterooms
Alright, onto the question that so many of you asked — "How were the rooms?!"
Short answer: SPACIOUS.
And, by contrast to many other cruise ships, every stateroom on Viking ocean cruise ships comes with its own balcony — which was where you could find me pretty much anytime we were (awake and) out at sea. Man, that little balcony was good for my soul. Loved all of our little "dates" out there, served up with a nice dose of sunshine, ocean breezes, a good book, and maybe a round of margaritas.
Some other favorite things about our stateroom (Deluxe Veranda) included:
A very comfy bed: Queen-sized, or you could have the option of two twins.
Ample closet space: Not sure how they squeezed in so much closet space into this stateroom, but we unpacked everything we brought and still also had room to store our suitcases.
Bathrobe and slippers: Always a plus.
Big bathroom: With a nice glass-paneled shower, heated floors, and all sorts of toiletry goodies.
Binoculars: Fun for days out at sea.
Full-size umbrella: Which we totally needed! Very thankful that Viking thought to include this in our closet.
Large tv: Stocked with movies galore, TEDTalks, recordings of lectures given on board, and more.
Plenty of outlets: Both 220v and 110v, as well as USB ports.
Stocked mini-bar: Which is re-stocked (once for free) every day.
We also had the sweetest stateroom attendant, Cindy, who took such thoughtful care of us. We loved chatting with her each day and were sad to say good-bye!
The Cruising
The Itinerary
We were invited to join a group of press and bloggers for half of the Viking Homelands cruise. So we actually only sailed the first week of the full 2-week cruise, but it felt like the perfect length of a cruise for me. Our itinerary (and corresponding port excursions) included:
Day 1: Stockholm, Sweden

No excursions; we were boarded around dinnertime.

Day 2: Stockholm, Sweden

We actually skipped our excursion here and spent the morning with some local friends. Then came back on board by the time that our ship took off mid-afternoon.

Day 3: Helsinki, Finland

We took the included Glimpse of Helsinki bus tour, passing by parliament, Senate Square in the Old City, Helsinki Cathedral.

Day 4: St. Petersburg, Russia

We took the included Panoramic St. Petersburg bus tour which passed by Church of Our Savior on Spilled Blood, St. Isaac's, Peter and Paul fortress.

Day 5: St. Petersburg, Russia

Morning: We took the (paid) Hermitage Winter Palace and Gold Room tour, which was a must-see for art lovers. (I saw one of my favorite paintings — 'The Return of the Prodigal Son' by Rembrant.)  However, we were racing through the Hermitage to try and see things in just four hours. If you really love art, I recommend booking the longer excursion.
Evening: We took the (paid) St. Petersburg's Canals, St. Isaac's and Church of Our Savior on Spilled Blood tour. It lasted 4 hours, but the canal cruise part of excursion lasted only about an hour. The rest was covered by tour bus and on foot.

Day 6: St. Petersburg, Russia

We stayed in port an extra due to high winds on the Baltic, missing our port of call in Gdansk, Poland. Here, Viking made arrangements for additional excursions (available for purchase at a discounted cost) for our unanticipated extra day in Russia. Barclay did a walking tour of the town and really enjoyed it. I spent the morning in the spa. ;)

Day 7: Tallinn, Estonia

We took the included Tallinn Old Town Walking Tour, which was a lovely introduction to the historical and modern sides of this city that's said to be emerging as the "Silicone Valley of Northern Europe." Loved Tallinn.

Day 8: Full day at sea.
Day 9: Berlin, Germany

We disembarked in the morning and took a bus from the port into Berlin, and the cruise continued on toward Denmark.
The Excursions
As I mentioned above, one of the things unique about Viking is that one complementary excursions in included in each port of call. They are usually pretty short — just 3 or 4 hours — which give you a nice introduction to a place, but not a deep dive. They always use small earbud headsets, so that you don't have to be clumped around a shouting tour guide. And the tour guides are fantastic.
You have the option when booking your cruise to choose your complementary excursions online. (Or you can add/change your excursions once you're on board.)  And, if you'd like, you can also book additional paid excursions. We mostly stuck with the complementary excursions, and then added in two paid ones in Russia — mostly because our visas didn't allow us to be out and about on our own there, so the only way to spend more time in St. Petersburg was through additional excursions. We also skipped the excursion in Stockholm because we had already been there a few days ahead of time and had seen most of the sights included on the tour.
The Food
My favorite subject! ♡  Ha, the night that we booked the cruise, I literally made Barclay sit and listen as I read aloud descriptions about every single one of the restaurants on the Viking Star. So to say that we arrived on board hungry and ready to eat is a bit of an understatement. Thankfully, we were not disappointed. We ate sooooo well during our week on board.
As I mentioned above, Viking Ocean cruises provide "Destination-Focused Dining", which meant that we had all sorts of options of restaurants and cuisines to choose from each day. Some of our food highlights included:
The sushi bar: We made friends with Johan, the sushi chef, during our very first day on board, and joked that we would probably be back each day to see him at the World Cafe. And to his surprise — ha, we totally followed through. Barclay and I are both obsessed with sushi, and his freshly-made rolls each day (plus the king crab legs and shrimp) were absolutely delicious. So we got in the tradition of having a little sushi happy hour for dinner each night, and enjoyed every bite.
The special brunch buffet: During our day at sea, the kitchen staff hosted a crazy-impressive brunch buffet for the entire ship on the main deck, with chefs making made-to-order fresh pasta dishes, salads, frittatas, sushi, and mimosas. Plus an elaborate selection of pastries, artisan breads, cheese boards, seafood buffets, and so much more. It was beyond impressive. And as such, we assumed it was a well-oiled tradition on board, but the chef told me it was actually only their second time giving it a try! I hope that the brunch becomes a regular thing on all Viking ships — it was a total highlight of our trip.
The Silver Spirits Package: We also splurged on this extra package, which includes unlimited premium cocktails, wines and beers throughout the trip. We mostly used it for margaritas by the pool, and nicer wines for dinner, and thought it was a great deal.
Manfredi's: Of all the various restaurants on board, Manfredi's was probably our favorite. We both adore good Italian food, and Manfredi's extensive menu did not disappoint.
Lunches and happy hours al fresco: Any time we were on board during lunch, and always during happy hour, we loved taking our food and drinks outside. And wow, especially when the ship was sailing — talk about a view that can't be beat!
High tea: We decided to try out the high tea in the Wintergarden during our day at sea, and it was even lovelier than we expected. Their fresh scones are perfection.
Complementary room service and mini bar: We didn't really expect to use either of these. But once we found out that we could have coffee (and breakfast!) delivered first thing in the morning, we were hooked. We also regularly raided the mini bar for snacks (nuts and dried fruit) to bring with us into port each day.
Also, I want to give Viking major props for their attentiveness to dietary restrictions. Guests are asked in advance if they have any specific needs, including vegetarian, heart-healthy, low sugar and gluten-free options. And they did not miss a beat making sure that Barclay always had vegetarian options. He received a special print-out each evening of the next day's vegetarian menu options. And they were always delicious.
Good grief, this is making me hungry. Wish we were back there right now. ♡
Our Best Tips!
Get to know the staff. For so many reasons. First off, the staff members on board are wonderful, inspiring people from all over the world and have all sorts of great things to teach us. Second, they were some of our favorite people to chat with about our days in port, in part because they travel the route so often and know it well! Most importantly, though, they are simply such rays of light on the ship, and work so hard to take care of everyone, and deserve as many "thank you's" as you can give them. (And if you happen to be traveling on the Viking Star, please give Cindy a hug for us. Best stateroom attendant ever!)
Book excursions in advance. We (whoops) dropped the ball on using our My Viking Journey online portal to book our excursions early on, and booked them at the last minute the week of the trip. And consequently, a few of the time slots we would have preferred were already full. Book early! :)
Book morning excursions. That said, I would also recommend booking morning excursions whenever they are available. We found them to be a great introduction and jumping-off point in a new city, and then we could explore new spots or go back to earlier locations for a deeper dive later in the day.
Stay in port as long as possible! (And do your research.)  This is probably my biggest tip — stay in port as long as you can. I know that it's tempting on an all-inclusive trip to head back to the ship for lunch or coffee or gelato. But I would highly recommend staying in port and exploring your destination as long as possible. We researched a good lunch and coffee spot in each destination we visited, and then took tips from the locals about where else to explore once we were in port, and it ended up being a great rhythm for us. Again, your Viking staff (especially guest services) know a ton about each port too, so feel free to ask for their recommendations too.
Don't miss the spa! I say this because so many guests we spoke with on board didn't realize that the thermal suite in the spa was free until the last few days of the trip! It was easily my favorite place to relax and unwind on board.
Make use of the gym. I'd also recommend getting in a rhythm right from the start of using the gym. There are about 5 million delicious calories that you will want to eat in a day, and the gym is really nice and a great place to burn off a few.
If you like cocktails and/or good wine, get the Silver Spirits Package. If you plan to drink at least one cocktail a day, this package is already a good deal. We also really enjoyed the wider selection of wines available through this package at dinnertime.
Bring anti-nausea pills if you get seasick. We literally never felt the boat move on our river cruise. But the waves were formidable at times on the ocean cruise. If you tend to get sea sick, I definitely recommend bringing along the anti-nausea patch or medications.
Book a few extra days on the front end of the trip, if possible. If you have the time, we would also highly recommend booking at least a day or two in advance on the front end of your trip. Especially if you're coming from the United States, those extra few days can really help with jet lag. Plus, our extra few days diving deep into Stockholm felt like a nice balance to the on-the-go-ness of a cruise.
Is A Cruise Right For You?
Alright, let's talk about FAQ. The question that I was asked most often during this trip was simply whether or not we would recommend cruising in general — especially in Europe, especially with Viking, and especially as a 30-something. ;)  To be sure, everyone has different traveling styles and budgets to work with. But in general, I would say that a Viking cruise is right for you if:
You don't want to mess with transportation logistics.  As someone who has had the privilege of traveling quite a bit around Europe, I've come to believe that navigating foreign transportation systems, hauling luggage through cobblestone streets, messing with check-in times at hotels and AirBnBs are usually some of the most stressful parts of traveling. With a cruise, though, you can unpack your bags once and then magically wake up in new countries each day without having to lift a finger. It really is incredible. Plus, if you purchase airfare through Viking, they will also handle your transportation to and from the airports.
You want to scope out some new destinations. Cruises often get a bad rap for just being in a port of call for a day or two. But I actually like them for that reason! They're not meant to be a deep dive into a destination. Rather, I like to think of them as a destination "sampler", where you can check out some new potential spots on your list and see where you might like to return some day. For us, for example, our surprise highlight of the trip was Tallin. We were only there for a day, but we had an amazing introduction to the city and both agreed that we would like to return again soon for a longer stay.
You like all-inclusive vacations.  Again, as I mentioned above, there are plenty of cruises and hotels around the world that claim to be all-inclusive, but then stick you with a million upcharges and add-ons along the way. Not Viking. If you would like a trip that actually costs what you anticipate ahead of time, at least in our experience, this is the way to go. We impressively had zero unexpected costs come up.
You want a relaxing, calm vibe on board. If you're looking for a place to party and go dancing and clubbing and stay up until 2am each morning, this is probably not the cruise line for you. The vibe on board both Viking river and ocean cruises is really peaceful and respectful.
You are not bringing children. It wasn't until our third day on board that Barclay and I looked around and said, "Wait, where are the children?" Turns out that Viking recently made the move to limit its cruises to age 18 and older, for anyone who has booked a cruise since August 1, 2018. So if you're looking to cruise with kiddos, you will need to find a different cruise line.
You really love to learn about new places. Viking really does set the tone for curiosity and adventure on their cruises. And as such, it attracts people who love to learn! We loved getting to meet our fellow guests and swap travel stories and recommendations and explore new places together. It's an inspiring crowd, for sure.
Viking River Cruise vs. Ocean Cruise
While the Viking values are consistent throughout all of their cruises, Barclay and I did feel that there were some very notable differences between our river and ocean cruise experiences. So if you're trying to decide which is right for you, here's what we would offer:
Consider a river cruise if you:
Enjoy sightseeing while at sea. Some of our favorite memories on our river cruise were sailing through the narrow rivers and charming towns throughout France, which were literally a stone's throw away from the ship and easy to see up close. Granted, we enjoyed seeing the various ports on our ocean cruise from a distance. But our day at sea on the ocean cruise was literally sailing through the open ocean, versus winding through cute towns and countrysides via a river cruise.
Really like getting to know your fellow guests more intimately.  There are simply far fewer passengers on a river cruise. (I think ours had about 200.)  So over the course of a week or two, you can get to know them pretty well, especially during dinners.
Are looking for an extra-tranquil vibe. As peaceful as our ocean cruise felt, our river cruise was even more quiet and calm, which some people may love more or less. We found it to be really peaceful.
Tend to get seasick.  At least in our experience, the river cruise was a far smoother sail than the ocean cruise.
Consider an ocean cruise if you:
Enjoy a wide variety of food options. We loved the food on both of our Viking cruises. But wow wow wow, the selection on the ocean cruise was next level. So many different options for various types of cuisines, and various places to dine and drink.
Want lots of options for things to do on board. With a bigger ship, there are inevitably far more options for things to do, spaces to hang out, and various amenities on board. As I said earlier, this cruise ship felt like another whole destination in and of itself!
Want the option of more anonymity/alone time. With nearly 1000 passengers on board, it's much easier to keep to yourselves, or pick and choose when you want to be social.
Want more options for excursions. The list of possible things to do with the ocean cruise was impressive.
Love spas. And dreamy hot tubs and rooms that snow. :)
Of course, probably the biggest deciding factor with Viking would simply be your choice of destination, as most ports are available via either river or ocean. But whichever kind of cruise you choose, I feel like you will be in incredibly good hands with Viking.  We loved both of our trips for different reasons, but loved them both wholeheartedly. I've highly recommended them to so many of our friends and family, and now, to you guys too. ♡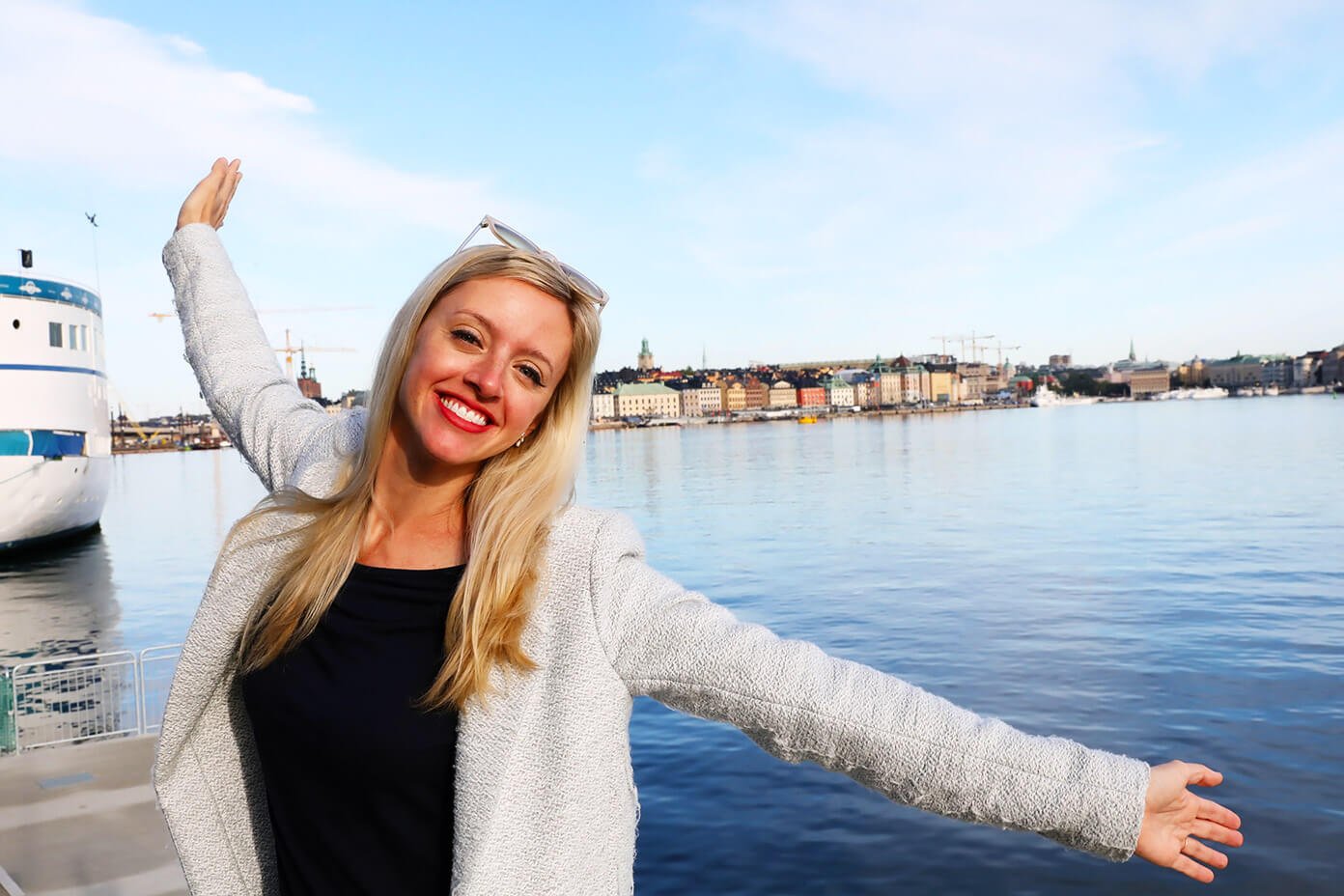 Final Thoughts
All that to say — we had an amazing time on our Viking Ocean Cruise. And if you're thinking about giving it a try, I would highly, highly recommend pulling the trigger! It's a low-stress, convenient, relaxing way to visit a handful of new places. And Viking Cruises, in particular, will make sure you feel incredibly well cared for every step of the way.
If you have any more questions about our trip, feel free to ask below and I will do my best to answer.
But otherwise, thank you so much for following along with our adventure! And major thanks to Viking Ocean Cruises for inviting us to come on this unforgettable experience. We loved every minute of it!