'Friday Night Lights' Trivia
This post may contain affiliate links. Please read my disclosure policy.
Ok, I couldn't resist doing one more post on Friday Night Lights. Today we're talking FNL trivia!
Since I watched the show on Netflix, I didn't get the chance to see all of the bonus footage and interviews on the DVDs, which is always a "must" after I finish a show. So over the past week, I did a little investigating of my own and found a wealth of articles, interviews, reviews, and where-are-they-now articles on all things FNL. So I thought it would be fun to share a few of my favorites here.
You know — just in case you thought you couldn't love the cast (and Kyle Chandler) any more… :)
Enjoy!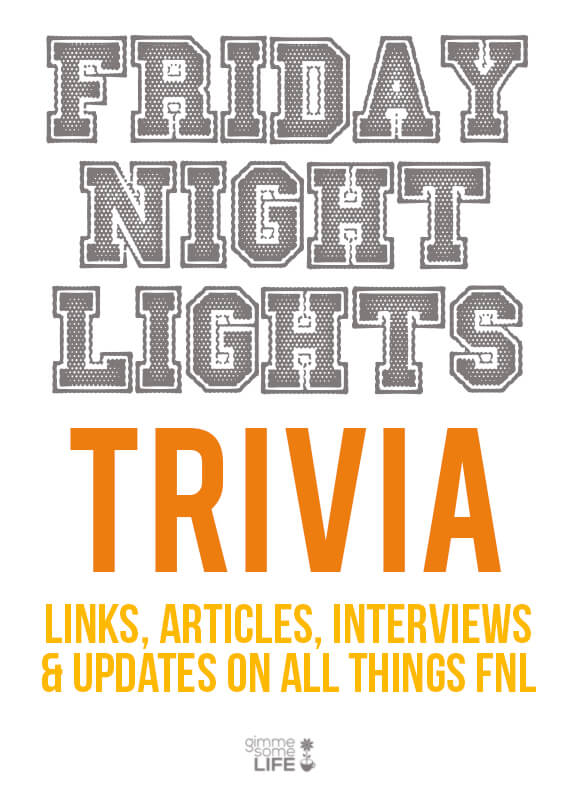 Where Are They Now? — Updates from ABC News on this incredible cast.
Friday Night Lighter Personality Quiz — Which Character Are You? — Heck yes, I'm Tami!
10 Things You Never Knew About Friday Night Lights
NPR: Behind The Scenes of 'Friday Night Lights' – Fresh Air interview with producer Peter Berg.
Executive Producer Jason Katims Reveals The Ending You Didn't See — Be sure to scroll to the bottom to watch the cast's reflections on the show's finale.
Friday Night Lights Comes To An End: Producers and Cast Remember Building Dillon — TV Guide interview with cast and producers.
On Character: The Stars of 'Friday Night Lights' — NY Times interview with Kyle Chandler and Connie Britton.
The Lights of Kyle Chandler's Life — Men's Health interview with Kyle Chandler. (Thanks for the link, Kristen!)
Had to mention — did you know that Tim Riggins is going to be starring opposite Julia Roberts and Mark Ruffalo in a new movie? And that he's a blonde?!?
Friday Night Lights: A Town, A Team, And A Dream – Look forward to reading this.
Friday Night Lights Merchandise Store – Oh yes, this exists.
Do you have more favorite links to add to the list? Share away!