June Dare: 30 Days Of No TV
This post may contain affiliate links. Please read my disclosure policy.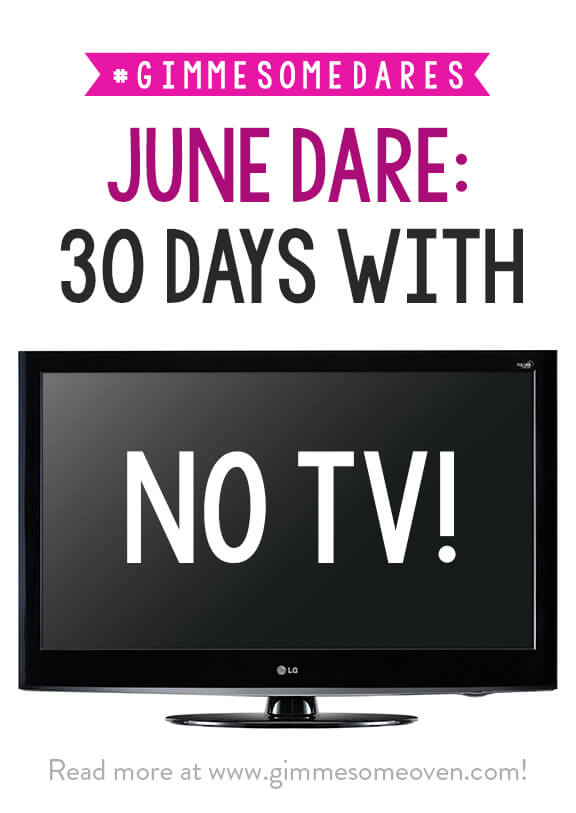 I know.
Having just recently finished a 3-season House Of Cards marathon, watched the dramatic season finales of my favorite network shows, and (yes) gotten suckered once again into a new season of The Bachelorette, this month's dare seemed a little dramatic to me. But it's happening, and I'm strangely excited about it, and would love for you to join me. I'm going 30 days with no tv!
Why?
Well first off, I'm convinced that June is the perfect time of year to go tv-free. All of the best network shows are on summer break (ok, minus the double-bachelorette-a-thon, which annoyed me enough this season that I seriously need to give it up). The summer sunshine has arrived, calling everyone away from their screens and outside for some barbecues and hikes and ball games and picnics galore. And June is a 30-day month, which makes for the perfect 30 day challenge!
And let's be real, 30 days is not that long. There's a good chance I might turn this month's dare into this summer's dare, we'll see.
You can define "no tv" however you'd like you want — either by just passing on traditional TV shows, or even broadening that to movies and YouTube and whatever else may typically fill your screens. Personally, I'm bidding a fond farewell to anything on my flatscreen, as well as any tv shows on Hulu and Netflix that I often watch on my laptop. If a night comes up with friends to go see a summer flick at the theater, I'll consider it. But the goal is to be intentional about using that time instead for summer activities that we all enjoy.
Need some suggestions?
People time

Friends, family, neighbors, co-workers, you name it! Be intentional about making plans in advance to see the people you love. And hey, also be spontaneous when you can and grab an impromptu cocktail after work or go for an evening walk together. Summer seems to be the time when everyone's out and about, so rally your tribe to soak it all up together!

Reading time

Are you someone who loves indulging in lighter "beachy" reads during the summer? Or maybe catching up on all of those magazines? Or reading your favorite blogs out on the porch with your cup of coffee in the morning? Make a summer reading list and enjoy getting a jump on it with your extra time this month.

Listening time

Crank up the music! Discover a new podcast! Download some audiobooks for your workouts! Whatever makes those ears of yours happy, crank it up.

Outdoor time

Our May dare last month was simply to #gooutside, and I fully intend to carry that all through the summer. I want to be outside as much as possible this time of year! I'm guessing most of you do too. But if you need some fresh inspiration for how to spend more time outside, check out the ideas shared in last month's post.

Workout time

Any kind of workout will probably burn more calories than sitting in front of the tv. So turn off those screens and get movin'!

Sleep time

I'll admit that I'm often one to stay up a little too late watching a show. So for anyone else in a similar boat, let's use this month to get to bed at a reasonable time.
You get the idea. Bottom line, the goal is just to say sayonarra to our screens, and a big YES to even more summer fun.
I "dare" you (and would love for you) to join me!
(And if you do, feel free to hashtag #gimmesomedares on social media so that we can all cheer one another on!)