I've Been Dying To Tell You Something For Awhile Now…
This post may contain affiliate links. Please read my disclosure policy.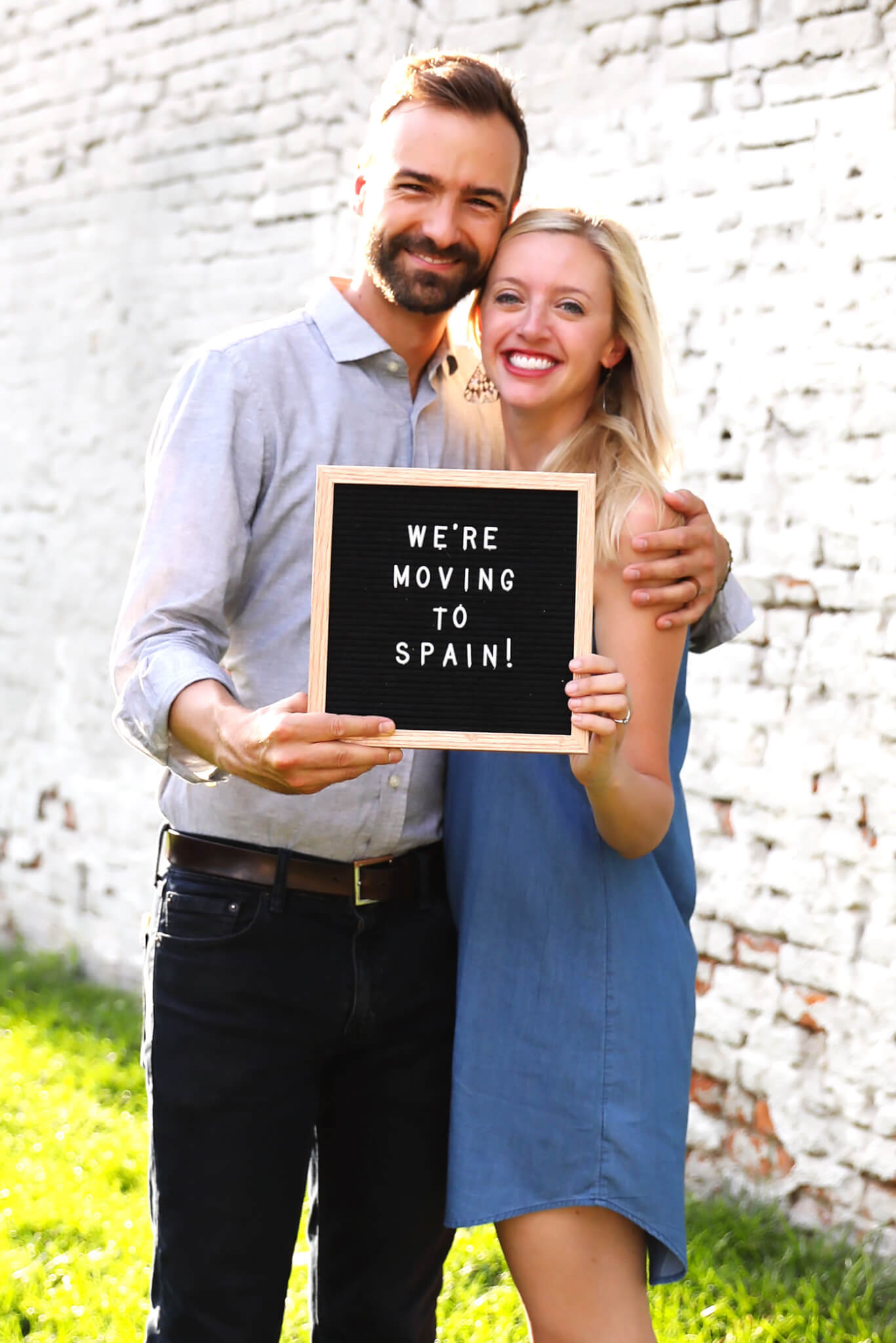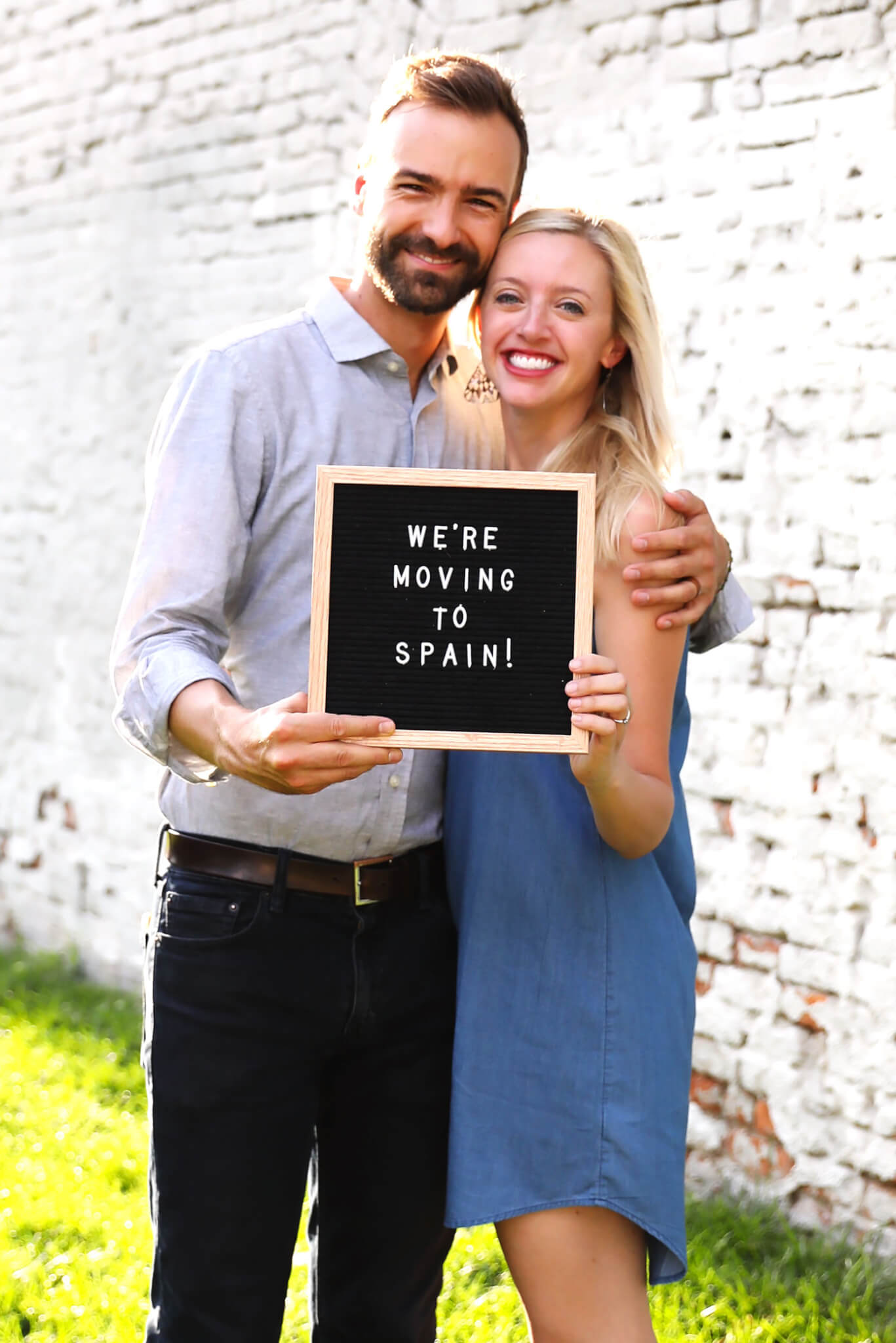 WE'RE MOVING TO SPAIN!!!
Specifically…Barcelona!
In just 3 months!
And I'm thrilled to finally tell you all about it today! ??? Seriously, I'm the worst at keeping secrets, so it has been killin' me to keep this on the DL these past few months while while we have been wrapping up some logistics. But I'm happy to say that our plan is now officially a go, and in three short months, Barclay and I are going to be packing our bags and flying across the ocean to our new home sweet home in Barcelona. And we cannot wait to get this adventure started.
So for anyone interested, here's the FAQ on our big move!
(And quick spoiler alert: In case any of you were wondering, hakuna matata — I'm not quitting the blog. ?  All things Gimme Some Oven will totally be continuing here just like usual while we're in Spain, although you can definitely count on some new tapas recipes comin' your way soon!)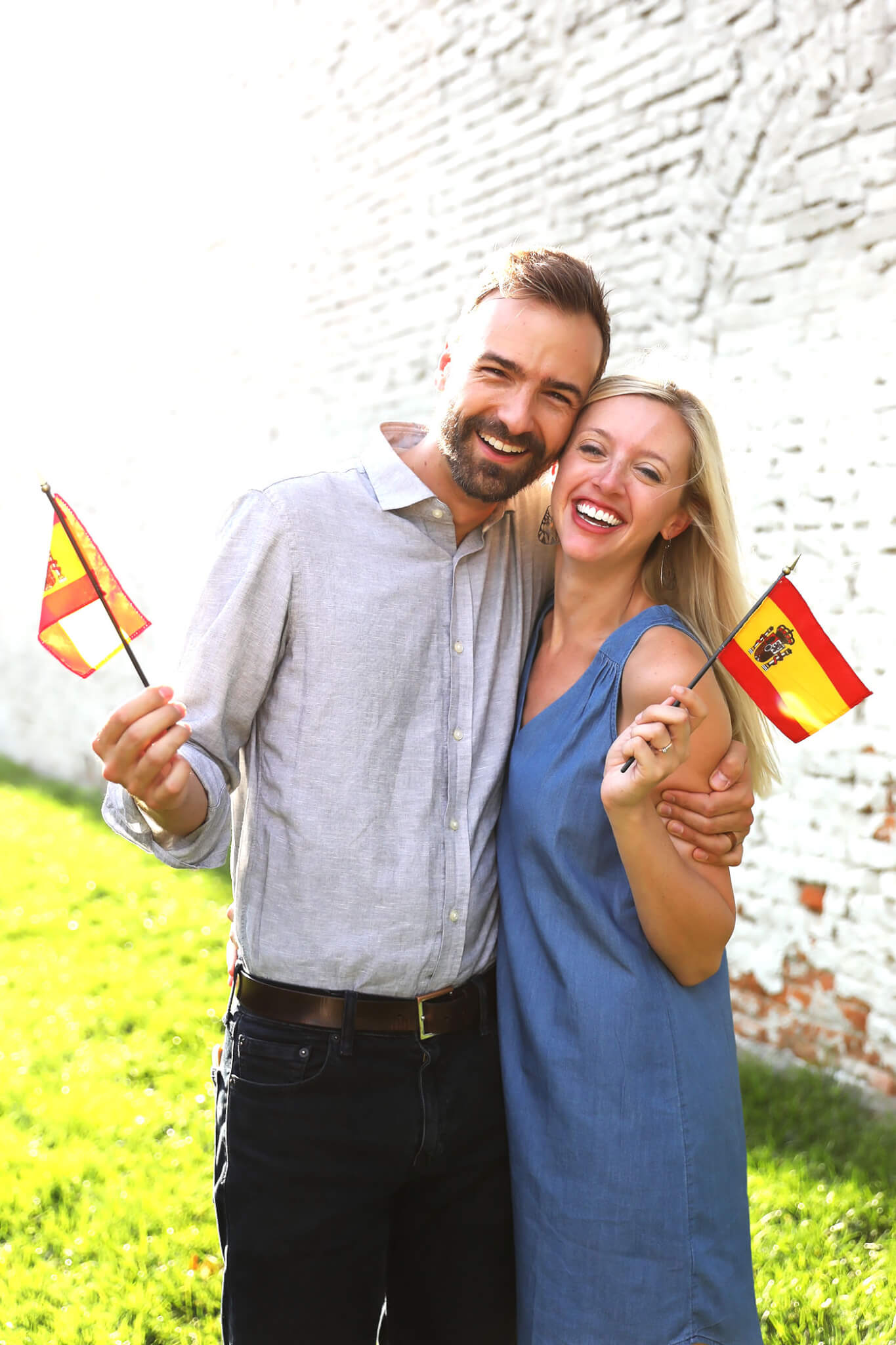 FAQ!
Wait — what?! You've moving abroad?!? How long have you guys been planning this?
We've actually been planning this move for nearly 9 months now. And believe it or not, we've actually been talking about it ever since our first date, when we were amazed to learn that we both dreamed of living in a Spanish-speaking country someday. I think we figured that a move abroad might happen somewhere down the road, maybe 5-10 years from now. But the more we talked about it, the more we realized that our stage of life right now — both of us in good health, no kids yet, flexible jobs — made so much sense. Plus, we loved the idea of starting our marriage off with an adventure, and knew it would force us to lean on one another and grow in ways we might not experience with all of our amazing support systems here at home.
So anyway, we settled on the idea of moving to Spain around the time we got engaged (last Christmas), and then we have been working on the logistics to make it happen ever since (<– slowly working, that is, since simultaneously planning a wedding and moving houses and putting a house up on the rental market turned out to be a lot of work ?). Now that we're home and everything else has wrapped up, though, we're excited to finally have the bandwidth to primarily focus on getting things ready for Spain. And of course, making the most of our last 3 months in Kansas City. ?
So when are you moving?
Tentatively October 1. We may have to bump things back a few weeks if our visas are not ready by then. (<– We had to wait until this summer to apply, since my name change affected nearly all of our application documents, passport, background checks, etc. So we're cutting things a wee bit close with the visa application timelines.)  But if all goes according to plan, we'll be there in less than 3 months.
How long will you be living in Spain?
Right now, we're planning for about 2 years there. But who knows, we'll see how life unfolds!
Why did you choose Spain? And specifically, Barcelona?
Good question! Both of us have spent considerable time over the years studying Spanish, but are not yet completely fluent. So when we started talking seriously about living abroad, it was a no-brainer for both of us that we wanted to choose a Spanish-speaking country in hopes of making some significant progress with the language. We considered just about every Spanish speaking country in the world, and narrowed things down to Costa Rica, Argentina and Spain. But while the latter two would have been awesome, Barclay and I both just really really love the city of Barcelona. We love the vibe there, we love the incredible food and wine, we love the people we've met, we love the creative and international and friendly feel of the city, we love the public transportation, we love the climate. AND some of the next places on our traveling bucket list (Portugal, Greece, Iceland…) and some of our favorite countries (France, Italy) and the country where Barclay runs a hand-washing project (Mali) all happen to be a short flight away from Barcelona.
Oh, and did I mention Spanish food and wine?!? ?
For so many reasons, Barcelona feels like the perfect spot for us at this point in life.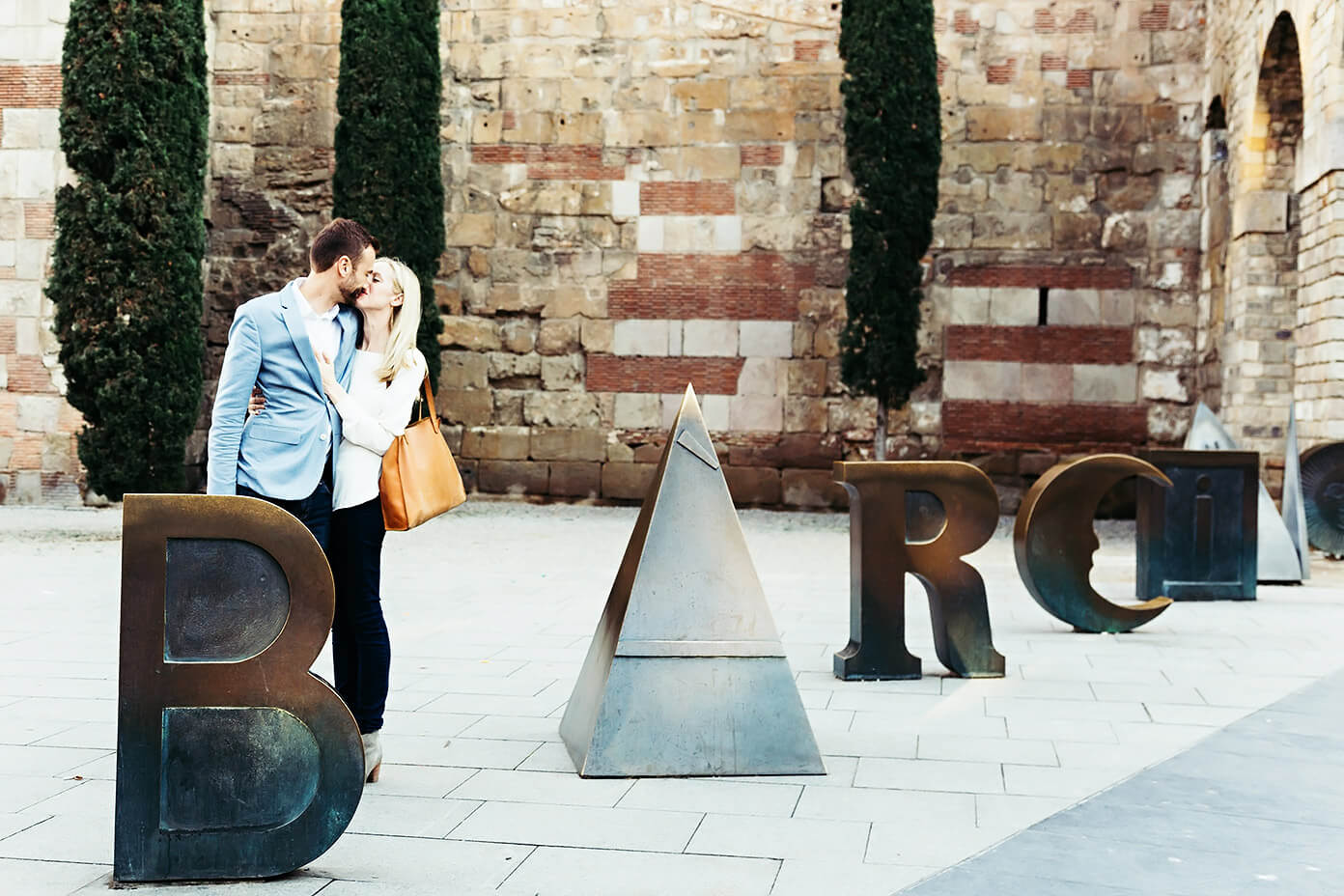 So did your impromptu trip to Barcelona last February have something to do with all of this?
Hehe…yep. ?
Some have you may have noticed that we did exactly ONE touristy thing while we were in Barcelona for a week. Ha, well, that was because our time there was actually spent scouting out the various neighborhoods in the city where we might want to live. We did some research before we left, and narrowed things down to four neighborhoods that sounded cool — Gracia, Born, Eixample and Poblenou. Then we basically just picked one neighborhood a day, and took ourselves on an all-day walking tour around each one to soak up the vibe of the streets, the restaurants, the shops, the public transportation, and the people we met. Of course, I also made Barclay stop and take a peek in every market and bodega and cooking-related store that we passed, so that I could get a sense for what it would be like to go grocery shopping in Barcelona.
And it was a huge success!
We learned a ton about each neighborhood during our trip, and also picked up lots of really helpful information along the way about life in Barcelona (and moving to Barcelona) from some kind folks we met. More than anything, the trip just fully confirmed in both of our hearts that this was definitely the city where we wanted to be. We were so glad that we went!
Do you have an apartment picked out in Barcelona?
Not yet. From what we've learned, the rental market is hot in Barcelona and places get booked quickly (and are move-in ready once they go up for rent). So our plan is to stay in an AirBnB for our first few weeks there, and hopefully book a longer-term place quickly once we arrive.
That said, my new favorite hobby is browsing Spanish apartments online, and I'm dying over the amazing tile work and architecture in so many of the homes we've seen. Can't wait to find a good one of our own!
Do you both speak Spanish?
¡Si! Well…at least somewhat. ? Barclay is nearly fluent (he uses Spanish regularly at work, and also studied for a semester in Ecuador) and I'm decently conversational (studied in Costa Rica for a few summers in high school/college). So I definitely have much more to learn between the two of us, but we're both ready to do lots of practicing.
That said, both of us have always studied/spoken Latin-American Spanish in the past. So Spain Spanish will be a different ballgame. (Hello, vosotros verb conjugations. ?)  Also, both of us are complete beginners when it comes to Catalan, the primary language spoken in Barcelona. So I think we'll stay busy with lots to learn.
Do you already know anyone in Barcelona?
Interestingly, my first-ever AirBnB stay six years ago was in Barcelona, and I hit the jackpot there with two amazing hosts (hey Mark and Sandra! ?) who have stayed in touch and who finally got to meet Barclay in February. Can't wait to hang with them more. Then we also spent time on this last trip with our neighbor, Joan, whose family lives nearby in Lloret — and they couldn't have given us a warmer welcome. We instantly wanted to adopt them as our Spanish familia, and feel comforted knowing they'll be close by.
Other than those great people, though, we will be totally starting from scratch socially…which is probably the thing about this move that most excites and most overwhelms me, especially considering what an amazing circle of friends we will be leaving in Kansas City. But, we already have a handful of friends-of-friends whom we're looking forward to meeting. And Barc and I are excited about being intentional about inviting new people over for dinner parties, and venturing out around the city regularly to try new things and meet new people. We're also weirdly excited about scouting out our favorite neighborhood coffee shop and yoga studio and church and restaurant where we can become "regulars" and get to know the crowds there.
Hopefully we'll find our kindred Spanish spirits there quickly. But while we transition, I'm so thankful to know that my favorite person will be there right by my side every day.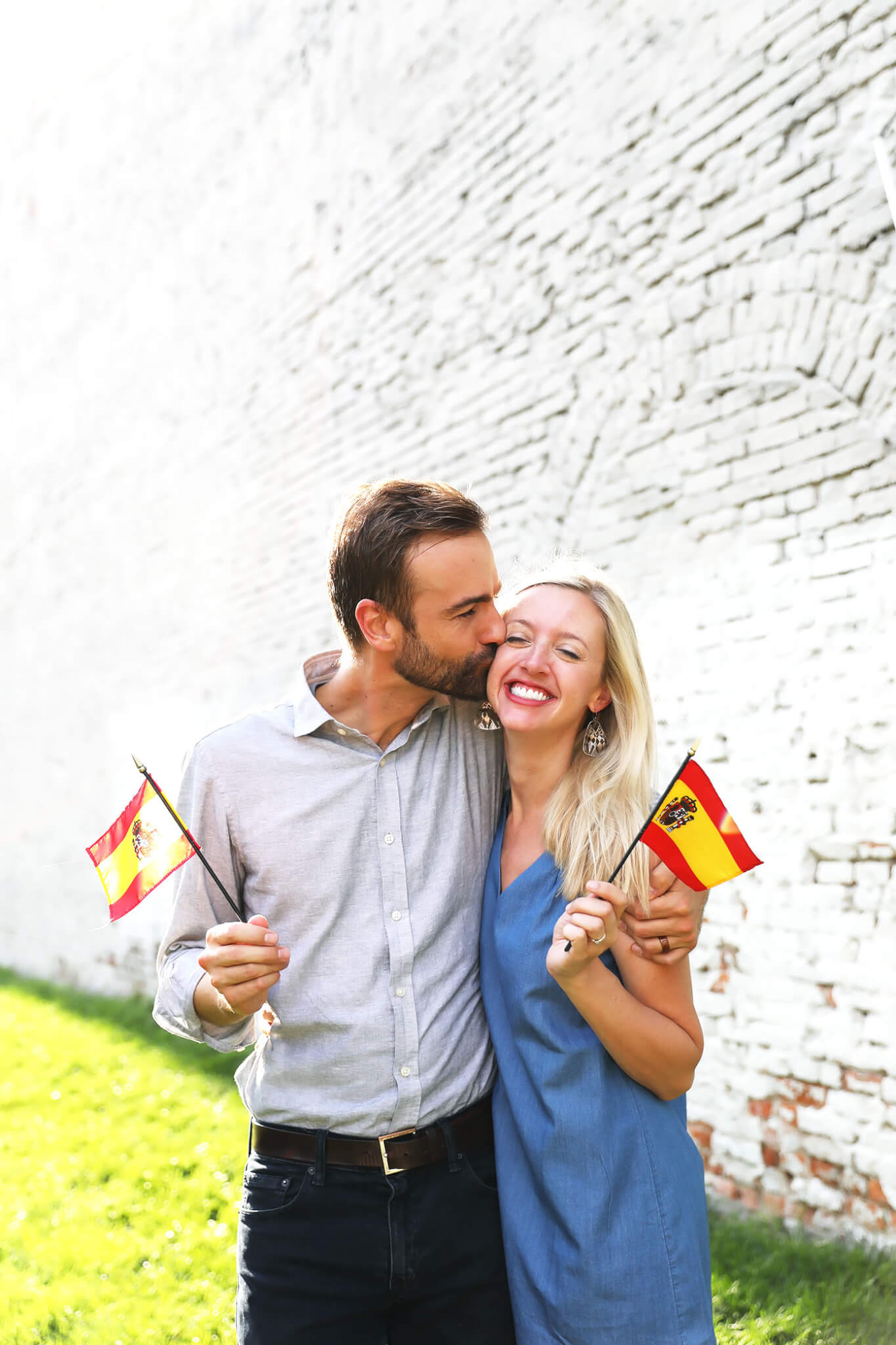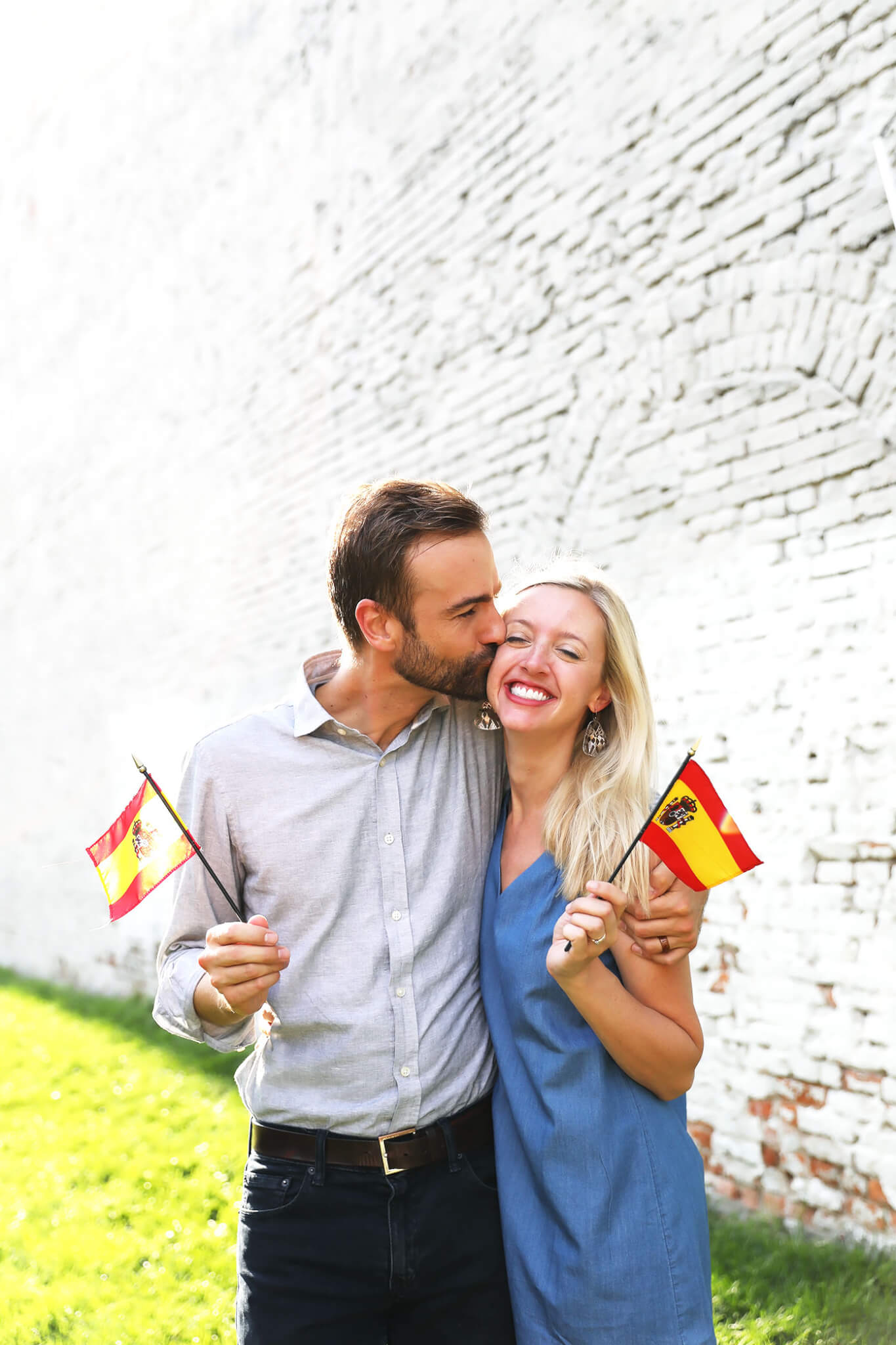 So…what are you going to do about the blog?
Guys, I'm going to keep blogging like usual…just from Spain! ?????
Honestly, probably very little will be changing around here. I'm planning to keep posting the same kind of recipes here each week, all with normal fresh ingredients that you could find just as easily in the U.S. as in Spain. And the blog business itself will stay based in Missouri, so I look forward to continuing work with some of of my favorite U.S.-based food brands while we're away. And my talented videographer, Laura, will continue making recipe videos here for the blog in Kansas City.
Really, the only difference you'll probably notice is that the stories you read and many of the recipes I share will be inspired by our daily life in Spain instead of Kansas City. But that said, I am definitely excited about doing a deep dive into Spanish cooking while we're there, and promise to report back to you with all that I learn. And Barclay and I have also been toying around with the idea of doing some vlogging while we're there, in order to better share with you some glimpses into our daily life in Barcelona and travels around Europe. (Is that something you'd be interested in?)
Anyway, I'm really excited to keep the blog going like usual. And honestly, I have all of you to thank for that. You are the ones who make it possible for me to do what I love to do everyday. And — since all I really need is a kitchen and a camera and a computer to make it happen — you all are in large part the ones making this sort of international move even possible for us! So from the bottom of our hearts, Barclay and I both say THANK YOU for helping this little corner of the internet continue. We're excited to bring new life to it from our new little corner of the world.
And what's Barclay going to do?
We're still TBD on that one. For the past five years, Barclay has worked with Unbound, an amazing international non-profit based here in Kansas City that has offices in 20 different countries around the world (including Spain, actually). We're hoping that he will be able to continue working there in some capacity while we're in Spain, but we will see how things shake out.
For sure, he will be continuing his work with The Wash Project, a really beautiful handwashing non-profit that he founded in Mali. You can hear a little more about that project in his TEDxTalk. (So proud of him. ?)
And what are your plans for the dogs?
Eeee…I'm excited to say that we're bringing them with us!! Spain seems to have pretty friendly policies for welcoming foreign dogs into the country. And honestly, our hearts couldn't bear the thought of leaving our two best buds here at home, especially after Henry recently (and very suddenly) went blind. So we're working with our vet to gather all of the paperwork, and plan to either bring the dogs with us right from the start, or a friend has also offered to fly over with them a month after we arrive. Either way, we're really excited about our little family of four exploring Barcelona together.
Now we've just gotta teach these dogs some Spanish…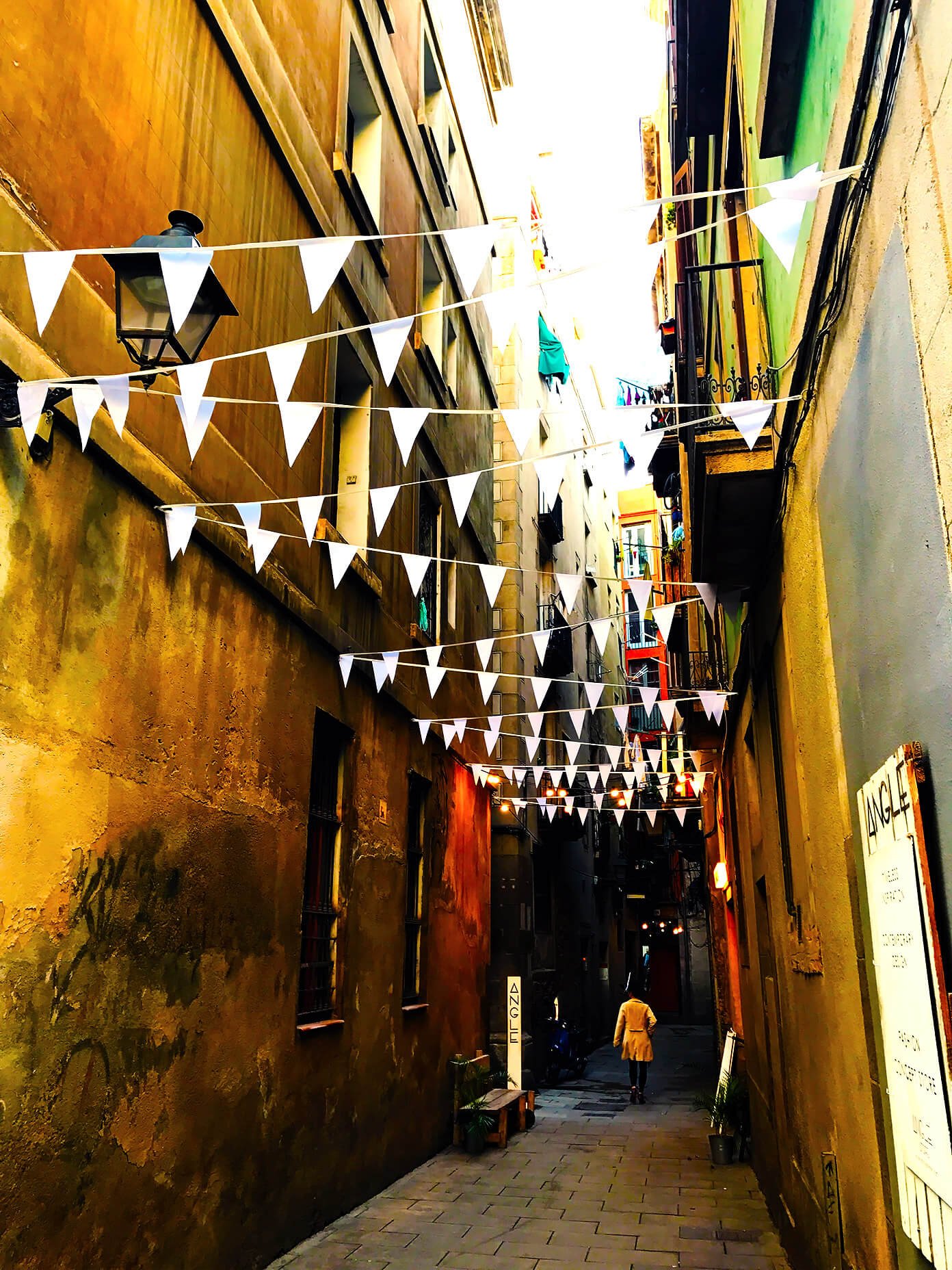 What are you doing with your houses and all of your stuff in Kansas City?
Well, our loft downtown has always been a rental, so we will be letting go of that lease at the end of September (and bidding a fond farewell to the kitchen that has been my home sweet home these past five years). Then we have decided to put Barclay's house on the rental market this August. We actually decided to try offering it as a furnished rental, since we have a ton of furniture that we weren't interested in selling or storing. So we'll see how that goes! The movers are actually showing up today to move most of the major furniture in the loft over to Barclay's house, so we are going to be making do with an ultra-minimalist home here for the next three months until we move to Spain.
But otherwise, we're planning to sell both of our cars, and as much remaining stuff as possible. We've already Marie Kondo-ed our places, and continue to be in major purging mode, which feels incredibly freeing. Thankfully, apartments in Spain are mostly furnished, so we won't have to take much stuff with us or buy much when we arrive.
It's feels great to minimize!
What kind of visas are you applying for in Spain?
Because unemployment is currently so high in Spain, work visas are very hard to come by. So we are applying for what they call "non-lucrative" visas, which require that our employment be based in the U.S. (not Spain).
We are squarely in the middle of finishing said visa paperwork right now, which has been ridiculously complicated to round up. (Think: expediting FBI records and new passports, making doctors appointments, collecting bank records galore, purchasing Spanish health insurance, plus 10 other things…and hiring notaries and certified Spanish translators to validate everything.)  One of my friends who moved to England years ago joked that applying for her visa had felt like a full-time job, and now…we get it. ?
Thankfully, we are making good progress. And once we travel to Chicago in two weeks to turn everything in, hopefully it will all be done and go smoothly from there. Fingers crossed!
Are you going to be coming back to visit the U.S. while you live in Spain?
TBD — probably occasionally. We would like to come back and see friends and family once a year. And since both of us travel for work, we may occasionally pop back on short trips here and there. But for the most part, we want to focus our travel time while we're there on Europe, and the long list of bucket list places we'd like to visit there. And of course, spend lots of time traveling around Spain itself!
WOW. So how are you feeling about the whole thing?
Right now, I think it's safe to say that we're officially feeling all the feels.
Mostly, we're just feeling incredibly excited and lucky that we have the opportunity to take an adventure like this. Plus, we're so excited to get to move abroad together. We literally nerd out about all of the Just-Thinks every day. ("Just think, babe — soon we'll be taking dogs for walks along the beach!"… "Just think — soon you'll have all of the Spanish ham nearby that you could ever dream of." … "Just think — soon we'll be taking a siesta at this time in the afternoon!" … "Just think…soon we'll be able to hop on that 6-hour train to Paris anytime we'd like.")  Plus a thousand more. We are excited about all of the tiniest details. And more than anything, so excited to just be swept up in the newness of a brand new place with so much to explore and so many new memories to be made. Can't wait.
That said, it's also sinking in just how much we are going to miss our friends and family here back home. And how much life we're going to miss out on here while we're away. It's been those little moments where it hits us most — like, freaking out upon hearing one of my best friends is pregnant with twins…and then realizing I won't be here to meet and snuggle them in January. Or realizing that this may be the last Easter we celebrate at our amazing church for a few years. Or calling up friends on a hard day for an impromptu happy hour…and then wondering how long it will be before that's possible with friends who know you well in Spain. There are a thousand big and small things we're noticing lately.
But, that's the bittersweet goodness about our life in Kansas City — we love it so much, which simply means we're going to miss everyone here so much. ?
With each passing day, though, the reality of this amazing adventure ahead is starting to feel more and more real. And we absolutely can't wait to get there and get it all started!!! So thank you in advance for following along on the blog and coming there with us. It's an extraordinary gift and a comfort to know that you'll still be here with me, and I can't wait to share all about the highs and lows of our adventure here along the way.
Love you all. And cheers to new adventures ahead!