My First Stitch Fix
This post may contain affiliate links. Please read my disclosure policy.
To all of the friends who have been twisting my arm to give this a try, I finally did it.
I Stitch fix-ed.
Ok, when I say friends, I mostly mean my blogger friends. Because ever since Stitch Fix came on the scene recently, every blogger I know has been raving about it! And then they have been showing up to conferences and events in the cutest clothes. So after months of holding out, I finally caved in and filled out my style profile online and ordered my first "fix". So I thought I would share about it with you!
But many of you may be asking — just what is Stitch Fix?!?
What Is Stitch Fix?
The concept of Stitch Fix is actually pretty cool. Basically, you go online and fill out an in-depth profile asking everything from your sizes, to your budget range, to your style preferences, and more. Then once you get approved (I think there is still a small waiting list), you can sign up to receive a "fix" however often you want.
A "fix" of 5 different pieces (ranging from all sorts of clothes to jewelry) is chosen by a stylist with your specific preferences in mind. And then within a few days, a cute little box shows up in your mailbox so that you can try the 5 different pieces on in the comfort of your own home. Then you have three days to decide what you want to keep, and the rest can be mailed back easily in a prepaid Priority Mail shipping bag. Brilliant!
There is a $20 styling fee for each "fix", which is waved if you choose to buy any of the pieces. But if you return all 5, you have to pay the $20. If you choose to keep all 5, though, you get a 25% discount on everything. Not too shabby.
The other fun bonus is that if you refer friends and they order a fix of their own, you get a $25 credit. So if any of you want to give StitchFix a try, I would love it if you go through my referral link! :)
Why I Signed Up
I initially signed up because I:
a) tend to get stressed out going shopping
b) don't always trust my sense of style, and love the idea of getting some new ideas
c) lovelovelove the fact that it shows up on your doorstep – convenience is a winner with me!
My September "Fix"
That said, after seeing my friends wearing all of these adorable Stitch Fix clothes, I was super pumped to receive my first "fix". But I have to admit, I was a little "meh" about most of the pieces this first time. In general, they seemed a little pricier than I'm used to paying, and didn't totally jump out at me as much as I'd hoped. But here they are!
**Sidenote: I know the "thing to do" is to post a zillion selfies of clothes, but this was soooooo awkward! Ha, next month I am going to get a little more creative with photo taking. ;)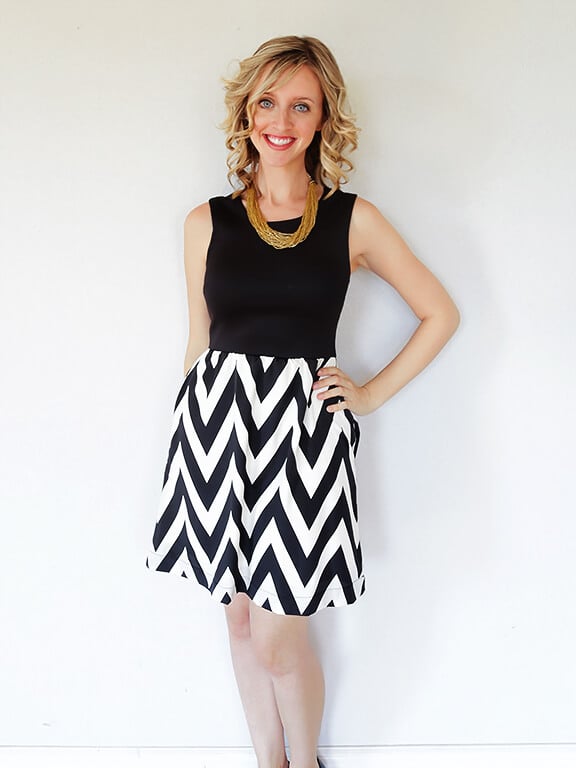 Harriet Chevron Print Detail Dress (41 Hawthorn) – $58
The chevron print of course jumped out at me as soon as I saw it in the box. And while I currently don't own any chevron (is that trend almost over??), I have to admit that I really liked it on! And it fit like a glove. I'm always looking for dresses for weddings and events and such, so I decided to keep this one. I figured that even this winter, it could be fun with some black tights and a cute cardigan.
Laurey Crochet Back Maxi Dress (Mystree) – $68
Ok, this one arrived in chilly September, so it was hard to get back in the mindset of maxi dresses! That said, I did actually like this one, but the material felt really thin and I didn't trust that I could wear this one much through the winter. And I'm not yet feeling like buying for next summer, so I decided to pass. Plus, for the t-shirt-y fabric, seemed a little expensive.
Alec Solid Side Gathered Tank (Tart) – $78
Hmmm. I debated on this one for a second. It's definitely cute and classy, and I love that periwinkle color of blue. But I just couldn't pay $80 for a tank top that seemed like something I could probably find in a handful of other stores for half the price. Wished this one was a little cheaper, and had some other unique detailing.
Coloma Wool Belted Drape Coat (41Hawthorn) – $98
Loved this coat. Like loved it. But I ended up deciding to pass on it too, because I couldn't quite figure out when I would wear it?!? It was made of thin, but very warm wool. And even in the time it took to stand there (with the blue tank top on underneath) and take the picture, I was sweating immediately. The sleeves were also super tight, and the belt was really awkward to get on and off, and I just couldn't see myself fitting this over any of my normal winter-y clothes. And if worn on its own, I would burn up. Boo. But that said, I loved all of the angles and the design. Just kind of wished it was a cardigan!
Martina Square & Stripe Print Cardigan (THML) – $78
I did get a compliment on this one from my neighbor when I wore it down the hallway briefly. ;)  This falls under the category of something that I probably would not have picked off a hanger, but it turned out to be pretty cute on. And I loved that color combo — especially for fall. Again, though, didn't think it was quite worth $80 for me. If it was half that, I probably would have said yes in an instant.
The Verdict
(Whew, awkward photos done!)
So, this month I ended up only keeping the first dress and sent the rest back. I've heard from friends that Stitch Fix really does take your feedback on each piece into review when they are selecting your "fix" for the next month. So I'm game for giving this a few more months to see what shows up.
Overall, though, I absolutely love the concept and the convenience and just the fun of it all. It felt like Christmas when my Stitch Fix package arrived in the mail! :)  Definitely something to look forward to.
If any of you want to sign up for Stitch Fix, feel free to use my referral code. And definitely let me know what you think!
Disclaimer: Just so you know, this is not a sponsored post. I had just been curious to try Stitch Fix, so thought I would share about the experience. As I said, I do receive a credit if people sign up through my referral link, which is included multiple times on this page. But other than that, nada! :)