On Friendship: Being Known
This post may contain affiliate links. Please read my disclosure policy.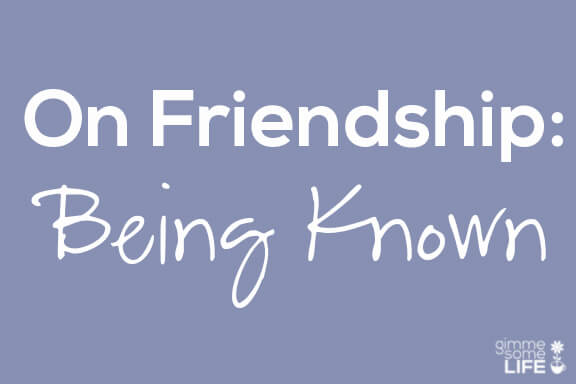 When I was a kid, I remember our old pastor always used to close the worship services each week with his trademark benediction: "The One who knows you the best, loves you the most. Thanks be to God."
While I know this is profoundly, wonderfully, and mysteriously true with the Lord — and that may be a blog post for another day — I also believe this is also one of the best things about friendships.
Tonight while I was enjoying a glass of wine after dinner on a sunny spring evening with my good friend Amy and her husband, I was caught off-guard by this moment of profound comfort and gratitude that washed over me. As we continued to sit there talking and laughing and tearing up through our normal all-over-the-map conversations, my mind wandered a bit and I tried to reason why. It wasn't just that I really like Amy and Tim, or that I have known her for nearly a decade as we dive into our 30's. It wasn't that our conversation was particularly more deep or meaningful today. And it wasn't just because we have this uncanny history of being able to relate on a number of things. (Even fashion — we have a history of showing up to hang out wearing the exact same clothes!)
I think I was just blessed by the simple fact that Amy knows me. Like, really knows me. And I believe I can say the same for her.
That, in itself, seems to me a wild and wonderful thing.
When life boils down, that's all I really want.
Of course, on any given day, I know there are about a thousand things on my to-do list that I also really want to check off. And I have an even longer list of things I hope for and want for the bigger picture of my life — lessons to learn, seasons of life to experience, places to travel, people to meet, and goals to achieve. But goodness. If I get the chance to spend the rest of my life learning the art of getting to know people along the way, and letting myself be known in return, count me in.
We all know that honest friendships can be hard, and any 18-year-old or 81-year-old could tell you that they require huge doses of patience, grace, courage, time, vulnerability, strength and love. And I also know that sometimes the process of getting to honestly know people can bring tremendous pain when we come face to face with one another's brokenness, and it can be confusing to figure out how to love best in return. But through it all, I still have to step back and give props to the Lord for His sheer kindness in giving us all a chance — many chances — to experience this crazy gift called friendship. It is a gift. And one that I hope never to take for granted with the people I have been given.
So tonight when I was sitting there with Amy I couldn't help but think that — after a decade of conversations, laughs, tears, sillyness, prayers, road trips, concerts, weddings, career changes, and walking through the countless ups and downs and surprises of life together — I wouldn't trade that comfort of being with a good friend for the world. Not for the world.
Or to put it in a food blogger's context, I wouldn't trade it even for a plate of bacon. ;)