10 Things NOT To Say To Single People
This post may contain affiliate links. Please read my disclosure policy.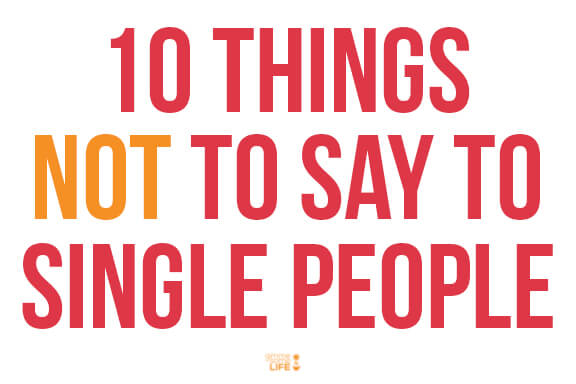 Ok, back to this conversation of being single!
Today I'm tapping into my inner Clinton Kelly, and am going to give you my conversational "makeover" tips on what not to say to single people. Oh baby, do I have some experience with this one.
I think I have heard just about every singleness cliche under the sun, notably coming from both single friends and married friends. 99% of the time, I fully believe that each of these comments are well-intentioned and meant to be encouraging. But the fact remains that they typically make single people feel the opposite of encouraged. So, I won't claim to speak for single people everywhere, but I thought it might be fun and helpful to name my top 10 singleness cliches, and offer a little explanation for why the world might be a better place if we can avoid them from now on.
Big thanks to lots of my single and married friends who weighed in on this topic (especially my book clubbers!). Also, fair warning — I got a little doodle-y on an airplane ride and made some "visual aids" to illustrate each point. As opposed to my sister the AP art teacher, my stick figures never really advanced beyond the first grade, so prepare yourself. ;)
Let the top 10 countdown…..BEGIN!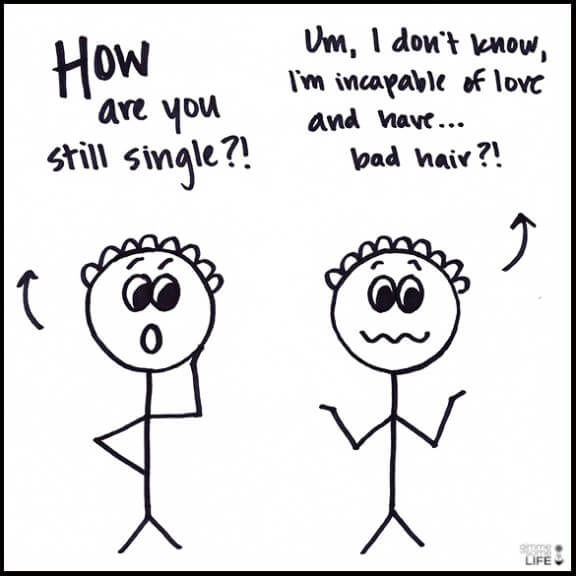 10. "How are you still single?!"
I think the bigger question is — how exactly is anyone supposed to respond to this question?! I know it's usually intended as a compliment to a single person. And whenever I hear it, I try to take it as such and avoid rolling my eyes and politely demanding that they owe me a dollar for adding to the ridiculous number of times I've heard that.
The problem with that comment is that it (a) infers that I (or any reasonably normal, cool, marrying-aged person) should not "still" be single and (b) makes me feel like I have to defend or provide some justification (or at least an explanation) for said singleness. The truth is that most days, I totally dig my single life. Yes, there are ups and downs that come with being single, just like there are with being married. But I would much prefer a happy single life to settling for the wrong relationship any day.
So if that means that I am "still" single at this point in life, bring it on!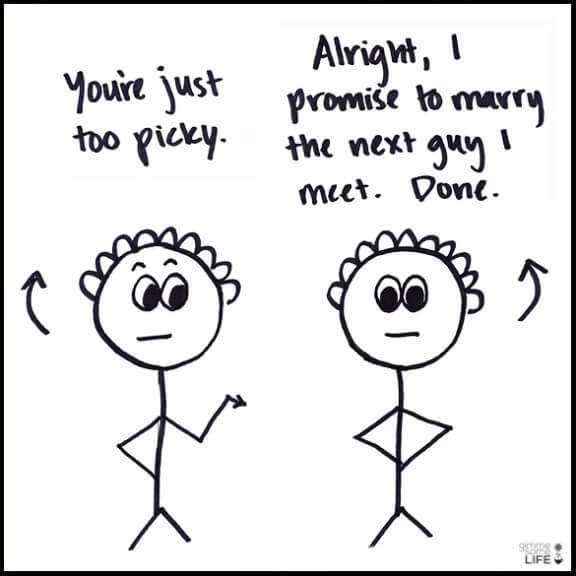 9. "You're just too picky."
To everyone out there who has ever been accused of being too picky, I say the opposite — power to picky-ness!!!
Now, I know that there is a time and a place for giving someone a chance. But I would much rather have my friends err on the side of picky-ness and have the confidence to hold out for someone they feel is right for them, rather than yield to the pressure to be in a relationship with the wrong person.
So trust your single friends' guts. If they aren't feeling it with someone they are dating — even after just one date — support them. And if you do happen to strongly feel like they should give someone a little more time or a second chance, then if you are a close friend, say that. But do not accuse them of being too picky.
8. "Oooh, I heard that __(insert ANY unmarried human being)___ is also single! Want me to set you two up?"
OH. And you think I'm exaggerating. :)
I cannot tell you the number of times I have told someone I'm single, and before asking if I even want to be in a relationship, the person instantly starts racking their brain for anyone — anyone — they could know for a set-up, no matter how distant the connection.
Don't get me wrong, this is usually 100% well-intentioned and I totally appreciate friends in the past who have thoughtfully introduced and/or set me up on dates with people they think would be a good match. But the problem is that more times than not, the person either (a) does not know the guy very well, or (b) does not know me very well, or  (c) sometimes knows neither of us well at all but (d) always somehow thinks that this equation is fully sufficient for successful matchmaking. Suffice it to say, those set-ups usually don't end well.
That said, my parents met on a blind date. And many of my closest friends have met via set-ups. So I'm totally open to the possibility. We just need to have a little more in common besides both being "single".
7. "You will meet someone when you least expect it."
This comment was definitely at the top of the list for many single people I've talked with recently. And I know it is overused because it can be true. Lots of people do genuinely meet someone they love when they "least expect it". I've seen it happen many a time.
But here's the thing — telling a single person that they will meet someone when they "least expect it" is simply not helpful. Even if that may end up being the case, and even if it is meant to be encouraging, the comment comes off sounding like the single person is doing something wrong by "expecting" "it" — whatever those two words even mean. And how is a person even supposed to respond?
I think my bigger issue with the comment is the fact that it's simply not always true! Lots of my friends have met their spouses in settings where they are fully expecting (maybe a better word is pursuing) a relationship — like online dating, or asking friends for set-ups, etc.
6. "Man, I wish I were still single."
In my experience, this comment usually comes with some sort of conversation about all of the "freedom" that single people have…which I get. There are definitely some stellar perks that come with being single.
Single people get to set our own schedules, manage our finances just as we'd like, make big decisions on our own, choose our own meals, have opportunities to travel, and all sorts of other freedoms — which I fully appreciate! But there are a lot of challenges that come with being single too.
On the flipside, there are tons of freedoms that come with being married or in a relationship. Married people have the freedom of not having to bear the weight of making every decision on your own, they have the (potential) support of a second income, help with housework, the freedom to start a family and have kids, and on and on. But there are a lot of challenges that come with being married too.
So while I "get" that there may be things about being single that married people miss, I'm pretty positive that most of the time people who say this really don't mean that they wish they were single. (Unless they are in an unhappy marriage — that's an entirely different conversation.)  So married people, let's not glorify being single. And single people, let's not glorify being married. Let's just be real about them both.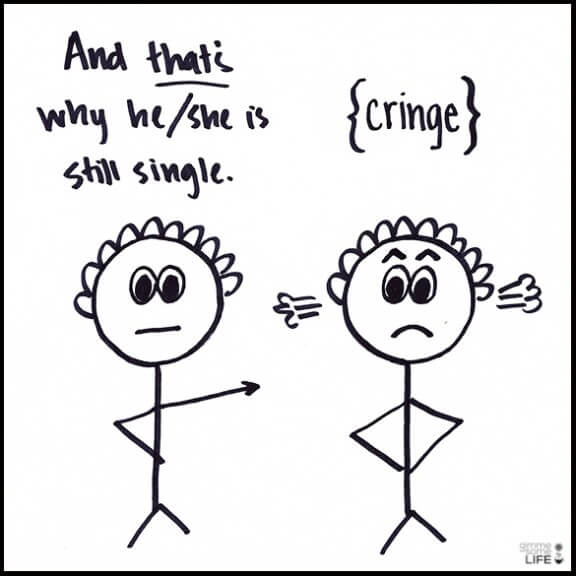 5. "…and that's why she/he is still single."
Please just promise that you will never ever say this to a single person or about a single person. Ever.
I like how my friend Sarah puts it. "Usually, this is said for comic effect when discussing the shortfalls of someone not present. First of all, let's keep the discussing-the-shortfalls-of-someone-not-present stuff to a minimum. We're (usually) better than that. Second of all, it implies that if someone is single, there's a massive character flaw behind that social status. There are a lot of reasons someone may be single, and most of them have to do with choices, preferences and priorities…not huge hangups."
4. "You must have so much time on your hands!"
Yes, single people definitely do not have the time demands of spending time each day with a spouse. And single people without kids do not have the time demands of spending hours a day raising children.
But most single people I know have other demands on their time, thanks to their wonderfully full lives. They spend time diving into their careers, they spend time traveling, they spend lots of time with their friends and family, they spend time living the best life they can. But they do not sit around all day with endless "time on their hands" watching rom coms and twiddling their thumbs waiting for their time to come. Oh my gosh, that would be miserable.

I also had a surprising number of single friends ask me to mention that being single and childless does not mean that they want to be asked to babysit constantly. If the single person loves kids and offers to babysit, awesome — ask away! But automatically assuming that single friends want to spend their weekend evenings babysitting while married friends go on dates? Not so.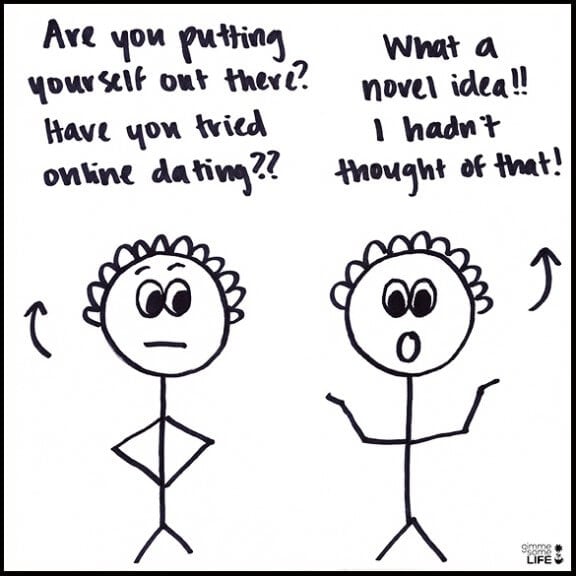 3. "So, what are you doing to meet people? Are you putting yourself out there? Have you tried online dating?"
Trust me — if a single person wants to meet someone, they have thought long and hard about what they want to be "doing" about it.
Everyone needs to be true to what feels best for them on this. Some love online dating, some love meeting new guys in bars, some love asking for lots of set-ups. But to be honest, I think most of my friends would say that they are over trying to "do" something about being single and are happy living their lives as they are. If a great guy comes into my life, then awesome! But in the meantime, I'd rather focus my time and energy on the people I already know and love.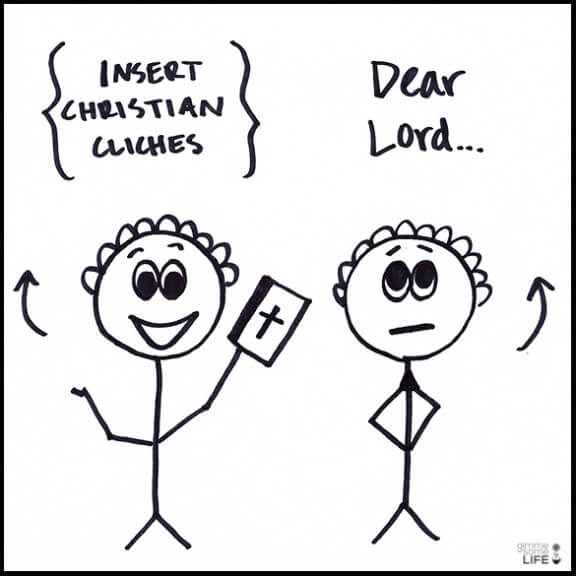 2. "Scripture says that being single is a gift, so God must think you can handle it." /  "You are lucky to have this time to learn from your married friends and prepare for marriage." / "If being married is a desire of your heart, then God will give it to you." / "You know, two are better than one." / "I know an awesome singles' group you should visit!" / "Just kiss dating good-bye." / "When you're ready, God will send the perfect person."
Now these I have heard way too many times. That was one of the side effects of working in a megachurch for 7 years where often complete strangers felt it their duty to offer me their unsolicited advice about being single. Again, intentions were almost always good, but the results were often not.
Let me say clearly that I am a Christian and my faith and scripture and prayer and church absolutely play a part in how I process life as a single person. On the hard days, they are often what get me through. But soundbites like these are annoying and often flat-out theologically misguided. So if I want to talk about faith and singleness, I want to talk about it in a longer conversation with friends who know and love and want the best for me. Not in passing with someone I barely know.
Also, let's not forget that Christianity is centered upon someone who rocked it as a single guy into His thirties…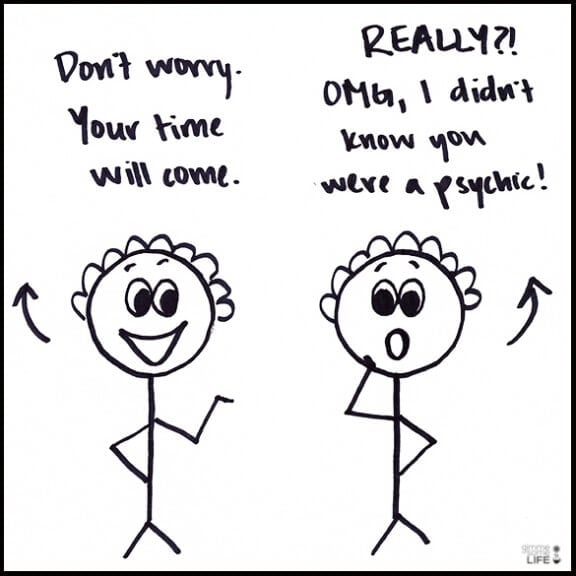 1. "I know you'll find someone." / "Your time will come."
This is another comment that is usually meant to make a single person feel better. But I feel like it is more often said to make the person saying it feel better, or to bring a conversation about being single to a close. For years, I always tried to make the person saying it feel validated, responding with something like, "I hope so!" or "well, we'll see". But I'm over it now, and try to respond instead with something like, "actually, it may not happen, but I'm ok with that".
You see, telling a single person that they will find someone is problematic because no one actually knows if that "someone" will come along. And the single person may not even be looking for someone, and may not dig the idea that their good time in life has not already come. Either way, though, it definitely puts the single person in an awkward position for a response, since there's no good answer to that one.
So instead of giving assurances about what we don't know, why not celebrate what we do?  I know that at least I and my single (and married!) friends would so much rather focus on the good things in life today than whatever may be to come. So carpe the singleness diem, baby!
Check Out Other Posts In This Singleness Series: