Us.
This post may contain affiliate links. Please read my disclosure policy.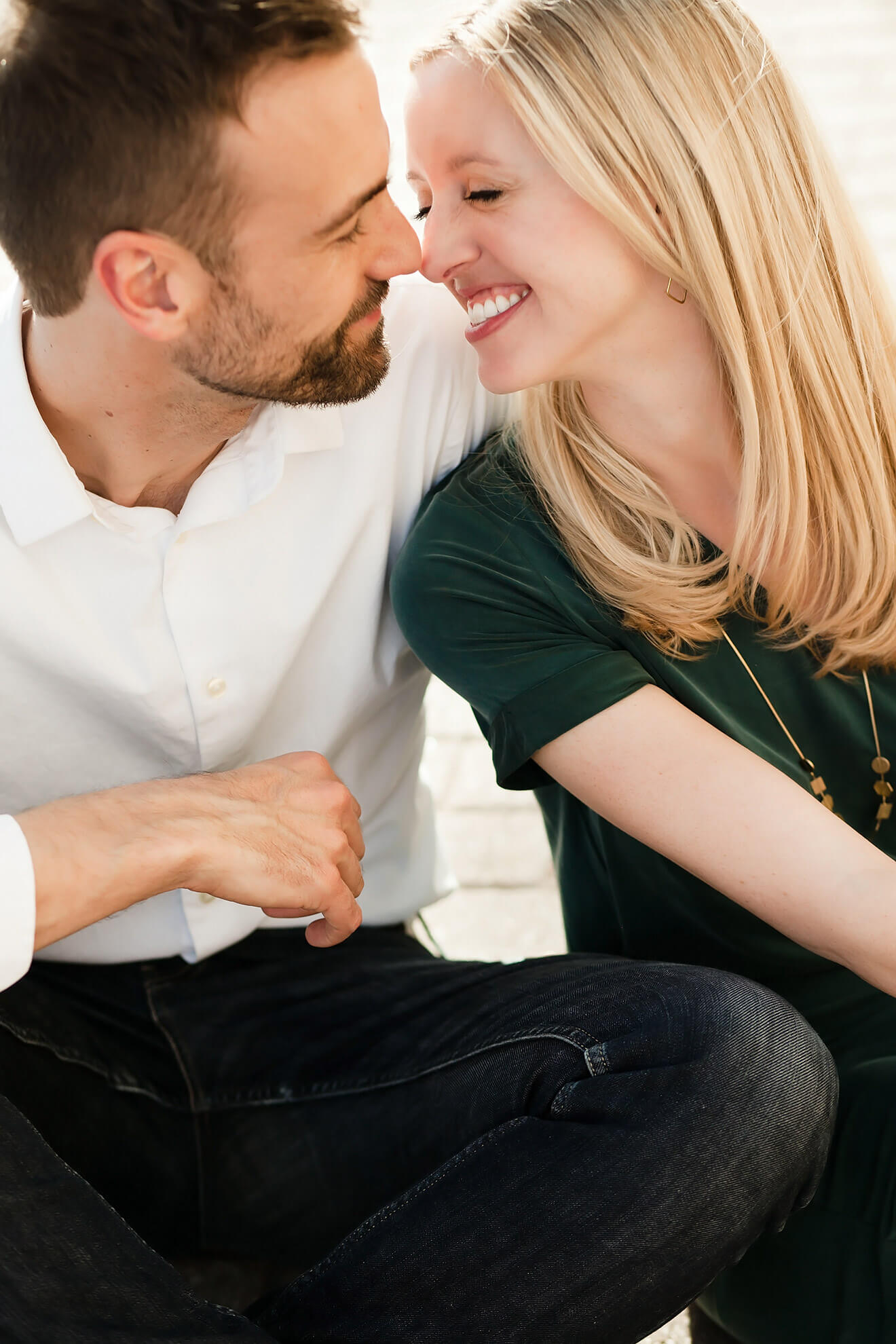 Our engagement pics are in!
And they're making me all –> ? ? ? ? ?.
Truly, Barclay and I love them so much. And, I've gotta admit that I especially love them because — as opposed to 95% of our photos up until this point — they're not selfies! ?
Seriously, it was so nice to have someone else behind the camera for a change. And not just anyone else, at that — Barclay and I were thrilled that our dear friend, Becca, agreed to briefly come out of wedding-photography-retirement to shoot our wedding and engagement pics. I have been a total fangirl of her photography for years, so it was a treat on many levels to get to spend this time together, hanging out and seeing her in action doing what she does best. And — while I had initially been on the fence about whether or not to even do engagement pics — I was so thankful that Becca wisely suggested we take that time together as a "practice sesh" before the wedding, so that Barclay and I could get used to being followed around on camera. I naively figured that would be NBD for my and Barclay's photographer selves. But as it turned out, I got super nervous and awkward the second the camera was turned around on me! Ha, thankfully, Becca's warm and encouraging energy put me more at ease as the afternoon went on. And of course, Barclay was cool as a cucumber (as always), and kept a constant stream of snuggles and inside jokes going the whole time that kept both of us smiling. He's the best. ?
We were also really thankful that Becca was on board to come down to my neighborhood and craft a shoot that felt so like "us". Both Barclay and I have been fairly turned off by the generic "look" and pressures of the wedding industry these past few months, and have tried to be intentional about making decisions throughout the whole planning process that feel personal and fun and genuinely true to us. So — nothing against random alleys and open fields and sunsets — we were excited about the idea of a (literal) snapshot of our current everyday life that we love.
So on a sunny Wednesday afternoon, Becca came down to the River Market in Kansas City and spent time with us doing what we actually do IRL — we cozied up with a cup of coffee at our favorite spot, took a sunny walk through the neighborhood, went to pick up some groceries at the market, and then came home to my place to cook dinner for a date night "in". Oh, and it just happened to be National Margarita Day. So of course, we had to pick up some limes and make those happen too. ?
All in all, it ended up being a totally fun afternoon, and I'm thrilled and thankful with the images that we ended up with. So excited to actually print and hang them on our walls when we move in together in two months. And more, have them to look back on fifty years later when we're old and gray and have hopefully lived a wild and wonderful life together, remembering this early season together for the sweet gift that it was.
So anyway, for anyone interested, here are some of my faves!