Week in Barcelona
This post may contain affiliate links. Please read my disclosure policy.

Have you ever traveled to a new place before that just instantly feels like home the moment you arrive? Like, without even knowing completely why, it just feels like you so naturally fit in there? And feel like the city itself fits…you?
This was me, two months ago, stepping out of the subway into the streets Barcelona. ?
I know it may sound dramatic, but the moment I climbed out of the subway and stepped into the city's bustling streets, something about this place just clicked into place in my heart. And I felt this incredible rush of excitement, gratitude, peace, adventure, and sheer delight to be standing back in this city that first captured my heart five years ago. And…I was so dang excited to have Barclay by my side to soak it all up together!! I had been telling him about my love for Barcelona ever since we started dating, and the two of us had talked and talked about finding a time to head over and explore it together. So the moment we got engaged, we decided it would be a fun place to go and celebrate — especially once we found some super-cheap tickets online (holla to Google Flights!) and booked them strategically at the beginning of February (the month when I officially lose patience with winter in KC each year).
The trip seemed all sorts of meant-to-be.
Unfortunately, as many of you followed on Instagram stories, my sweet fiancé had that moment-of-a-lifetime walking up to the check-in counter at La Guardia…when he realized that his passport was sitting at home on his dresser in Kansas City. ? Yep. Thankfully, we rebounded quickly, and Barclay graciously sent me on ahead to soak up time in the city while he masterfully maneuvered a plan to overnight his passport with a friend-of-a-friend-of-a-friend on a flight to New York the next day. (<– Which worked and got him to Barcelona just 24 hours later! Amazing!)  So I got to spend a day exploring the city on my own before he arrived, taking myself on a tour of all of the various markets around town, sampling cheese and hams and seafood and fresh juices galore. (Dreamy.)  Then Barclay arrived and joined me for the rest of our week there together. And I have to say, I think it won the award for my favorite trip that we've taken together so far.
We absolutely fell in love with Barcelona.
Since we had both traveled there before, we decided to pass on some of the traditional tourist-y things this time, and just relax and hang out and pretend like we were locals for a week. Which — let's be real — is my favorite way to travel anyway. But we both agreed that our chillax-ed approach to traveling felt especially awesome this trip. We both left Kansas City feeling fairly stressed with various work projects and wedding planning and house-renovating chaos and…winter.  So we decided to make rest and relaxation our priority for the trip and keep our days in Barcelona very simple — waking up and starting the day with breakfast and yoga at our hotel, venturing out to find some good coffee nearby, and then setting out on foot (Barcelona is wonderfully walk-able) to a new neighborhood that we could explore for the day, popping into cute little places for good food all along the way. And it ended up being the perfect rhythm for us.
We focused our time this trip on the neighborhoods of Gracia (where we stayed), Eixample, Ciutat Vella, and Poble Nou — all of which I fully recommend to anyone visiting Barcelona. Then on our last day in Spain, we took a little day trip out to Lloret and Girona to visit some dear friends, which filled our hearts to the brim. By the end of the week, we realized that — even with our relaxed pace — we actually managed to experience lots of the city! And not feel exhausted by the end of it! And best of all, we got to experience it all together, which was quite literally the best dream come true for me. I still remember walking those city streets years ago, and falling in love with the rhythms and sights and smells of Barcelona, and wishing so deeply that I had someone there with me to share them with. So to be able to return and walk those same city streets again hand-in-hand with my fiancé, soaking up the Spanish sunshine, meeting new friends, listening to great music, savoring amazing meals, and falling even deeper in love with this city…man, my little heart was just filled to the brim every single day. One of the best weeks of my life. And such a gift.
Anyway, all that said, Barcelona = AWESOME. If you've ever thought of visiting, I can't recommend booking a ticket and making your way there soon enough. The city is my favorite mix of beautiful, quirky, historic, multicultural, flavorful, accessible, affordable, and absolutely bursting with life. We spent most of our time there being totally spontaneous and just Yelp-ing our way around. So if you want a more well-researched travel guide, ha, I'd probably recommend looking to a more reputable source. But for anyone interested in the places we went, where we stayed (major recommendation), and what we ate — here are some of our faves!





Where We Stayed
As many of you also observed on Instagram stories, we pretty much won the lottery with this awesome hotel/hostel we stayed at — Casa Gracia.
Barclay and I stumbled upon the place online when we were researching hotels in Gracia, our favorite Barcelona neighborhood, and thought that their rates (some of the lowest we found amongst hotels nearby) seemed too good to be true. But the more reviews we read about the place, the more amazing it sounded. So we decided to book a stay there, and couldn't have been more glad that we did. It is seriously the coolest hotel!!!
Well, actually I should say that we discovered that it's half-hostel, half-hotel. We stayed on the hotel side, which had a variety of options of different kinds of traditional hotel rooms with great city views (mine had French doors that opened up to a balcony overlooking the Passeig de Gracia, which was so fun), tall ceilings, funky decor, modern bathrooms, speedy wifi, a/c and heating, comfy robes and slippers, and yummy bath products galore. But then all hotel rooms also include a free breakfast each day, which was extensive and so fresh and delicious. AND guests are invited to attend free yoga classes at the hotel in the mornings, which Barclay and I attended daily and completely enjoyed. (<– Seriously, don't miss these classes if you stay there — the teachers were amazing and taught in English!)
Honestly, though, our favorite thing about staying at Casa Gracia was probably exploring the rest of the hotel beyond our rooms. When you arrive, the staff greets you by saying, "Welcome to our house!" — which they have literally designed to feel like a house! There are all sorts of cute and funky sitting rooms galore around the hotel, including a gorgeous rooftop terrace and a sunny library and yoga room and a variety of places to sit and enjoy breakfast. Then on the main level, there's a killer restaurant and bar (see below), that was buzzing with visitors at all hours of the day. But then, we were surprised to discover that there was yet another level of awesomeness down below in their basement, where another beautiful bar is located. And it's also where they hold these microdegustación teatral events a few times a week, which translates to "theater mini-tasting"…and the concept is brilliant. Basically, they are just these tiny little 15ish-minute theater dramas that you can pop down to attend before or after your meal, where a few actors (two, in the one we attended) perform live in a small room in front of a handful of guests as the audience (there were probably 10 guests at ours). And it was so hilarious and fun! Heads up though — ours was in Spanish, so I'd check on the language before you attend. But even if you're not fluent, you'll still probably be able to pick up on what's happening, and the vibe is just really great.
Anyway, I think that Barclay literally told me at least twice a day while we were there that we "had to recommend this hotel to everyone we know". So…I'm officially passing on the word to you. ? If you happen to be planning a trip to Barcelona, and would like to stay in Gracia (my favorite neighborhood), and are looking for a fun and lovely and trendy and affordable hotel, we both wholeheartedly recommend checking out Casa Gracia after this trip. The staff couldn't have been more helpful, our fellow guests (and yoga teachers) we met were awesome, their daily calendar of things to do was (actually) awesome, their restaurant was a highlight of our trip, and it ended up just being the perfect home base for us that week. Our "casa".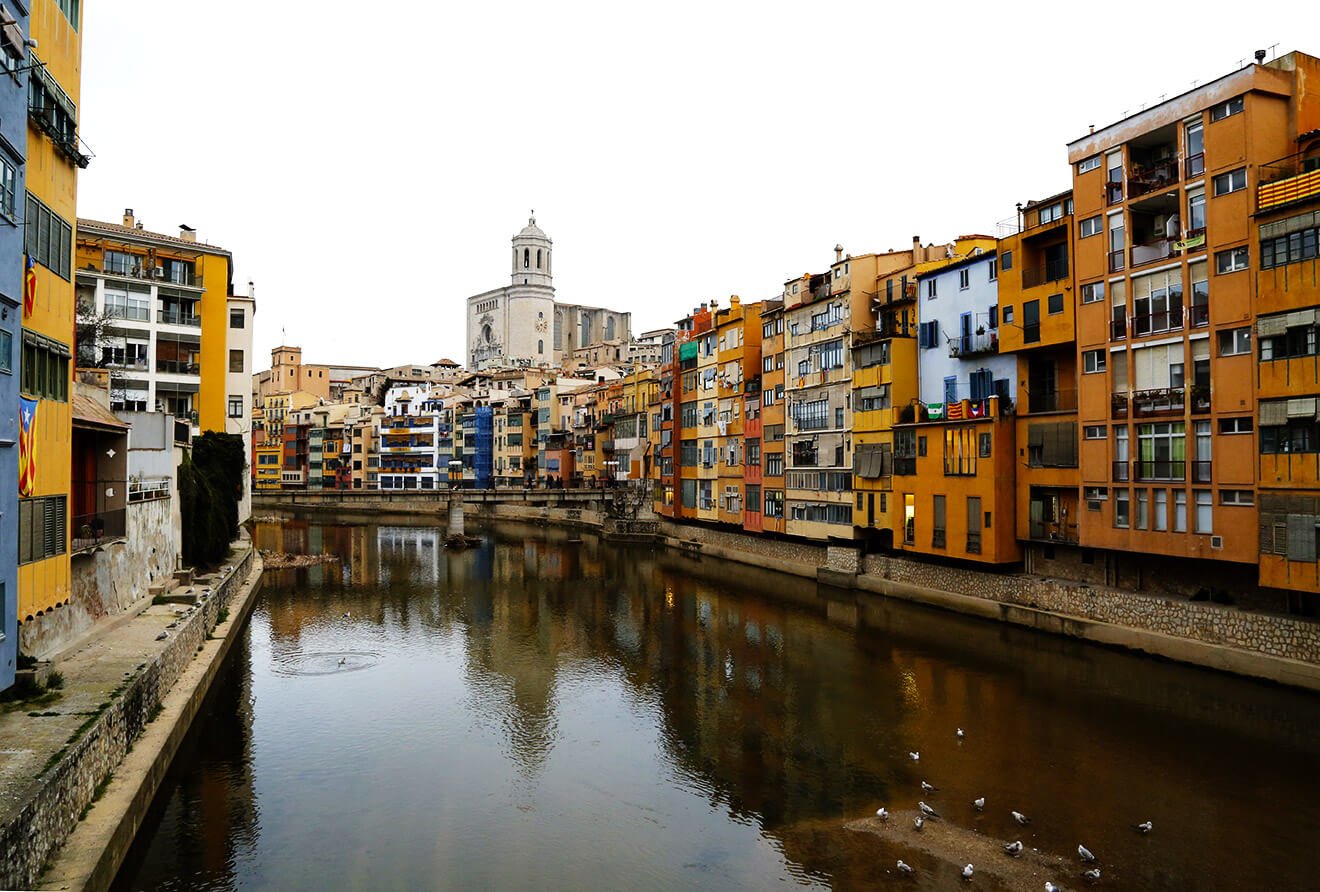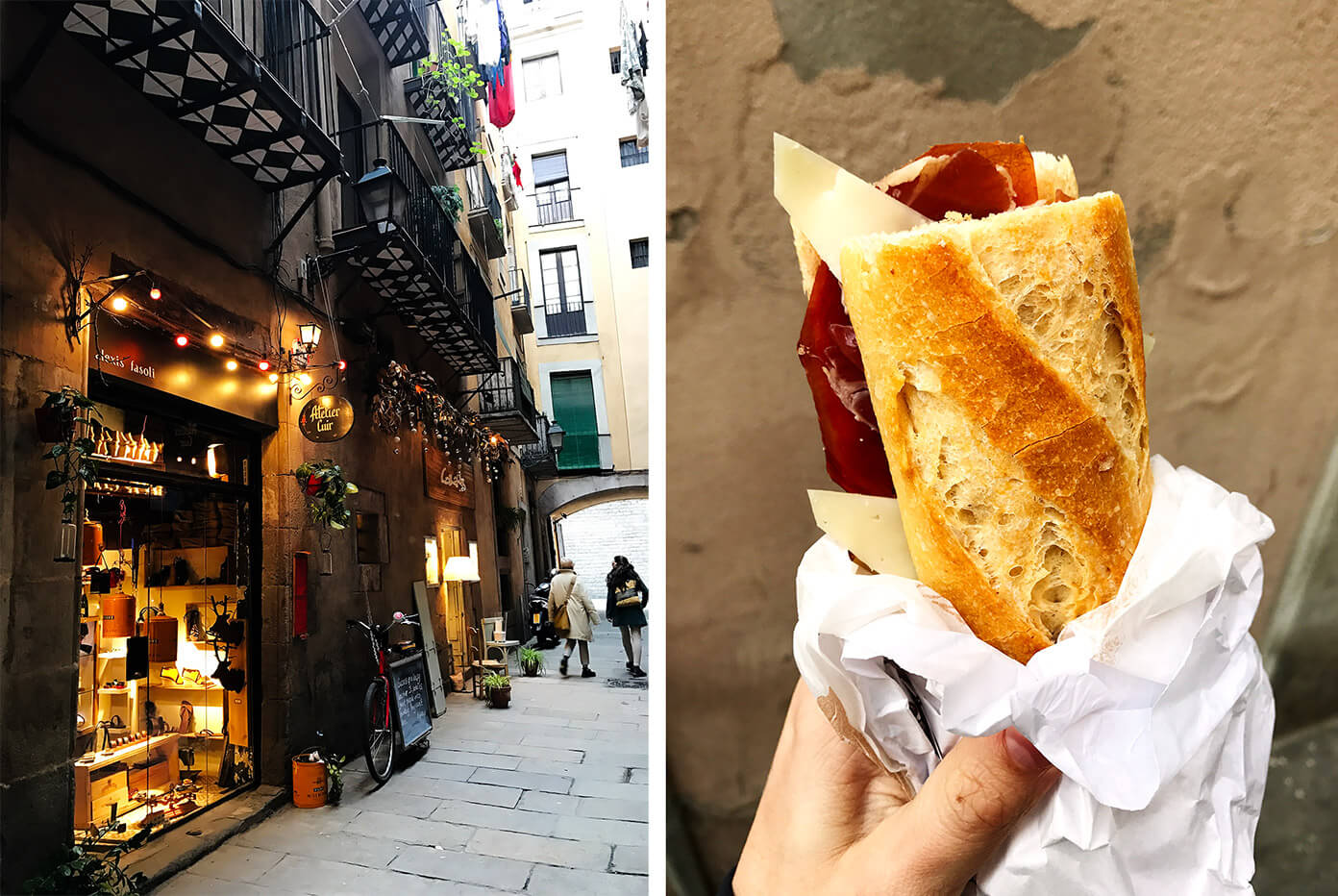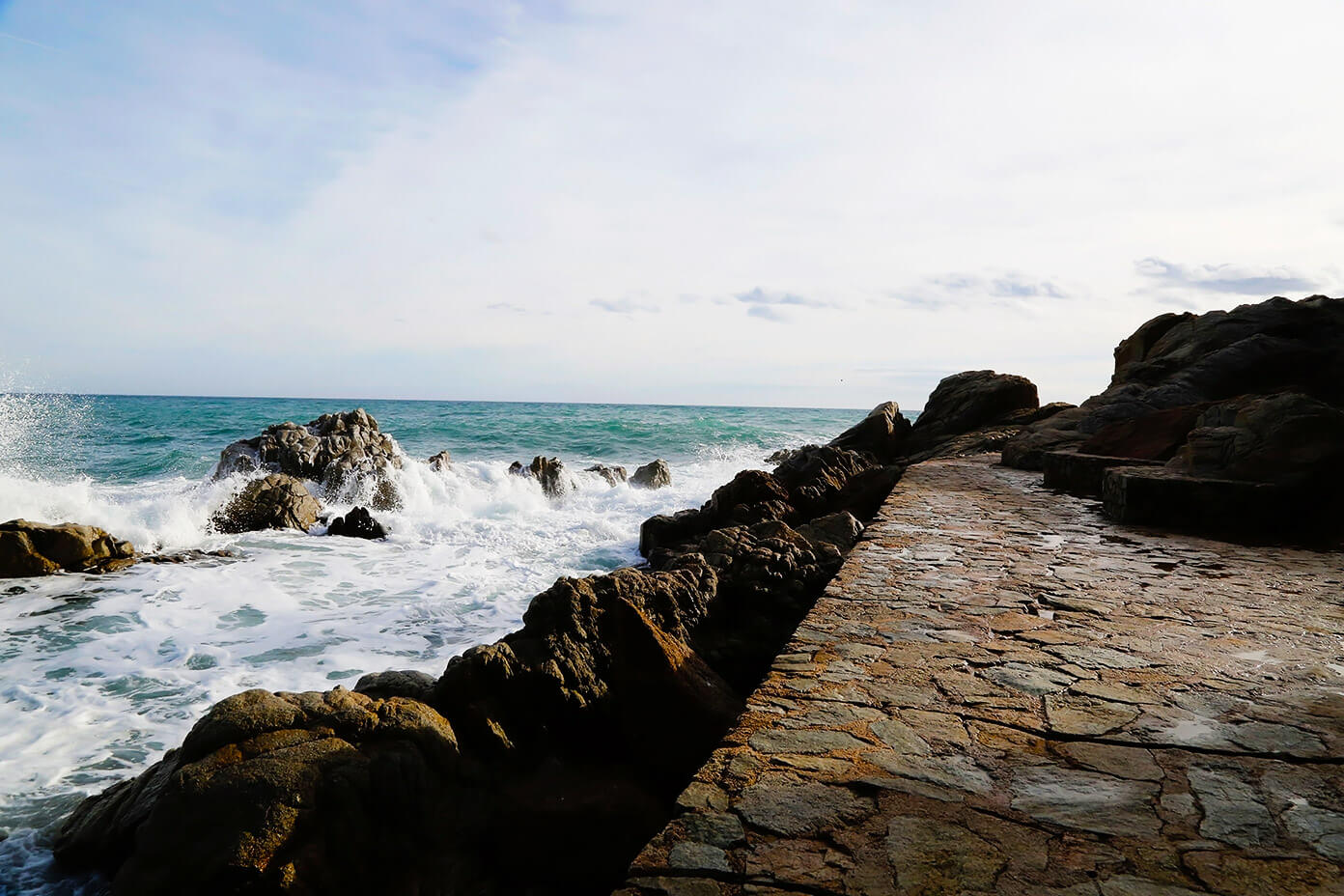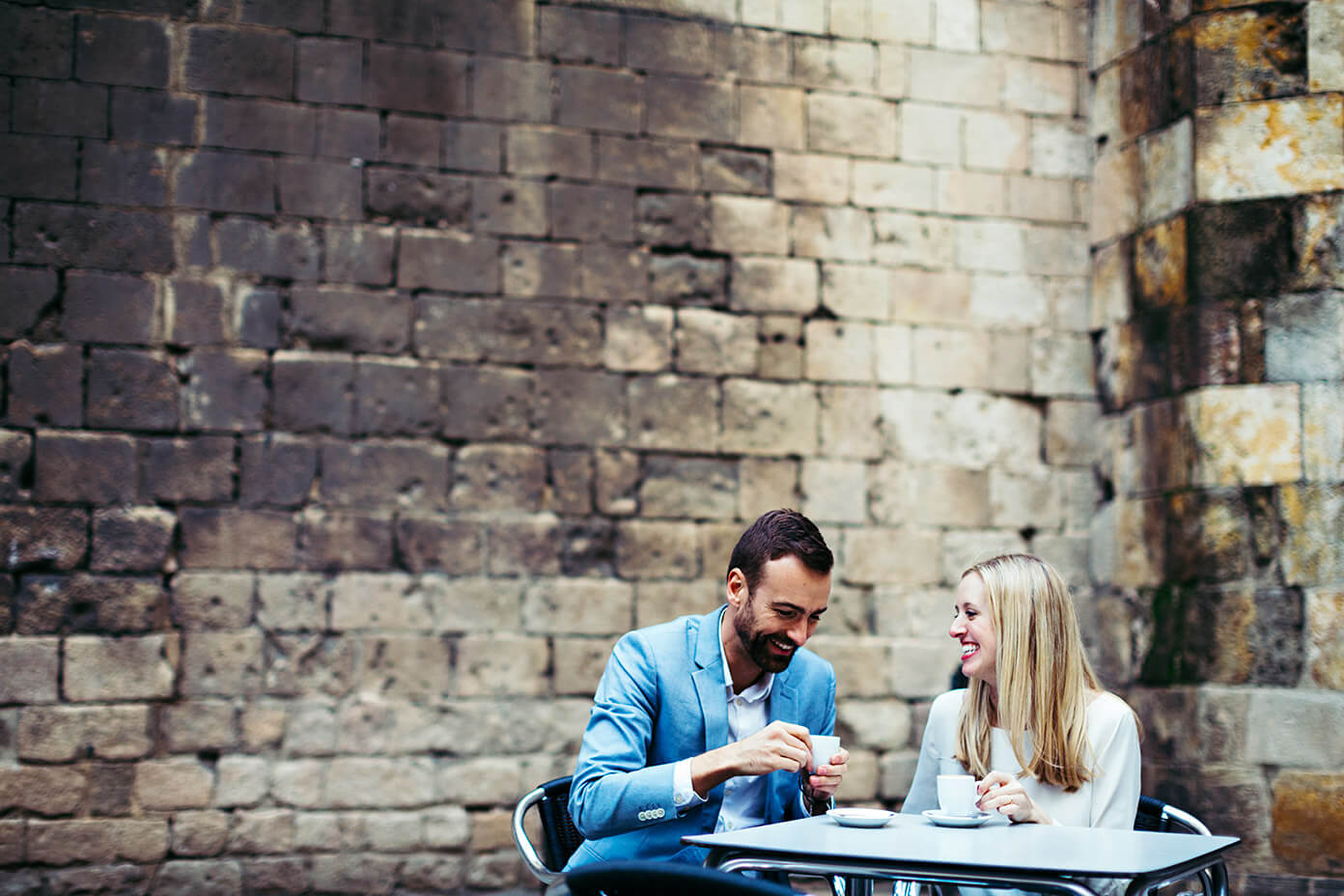 What We Did
La Sagrada Familia: This was the only "tourist" destination that I had on my list to re-visit in Barcelona, and I couldn't wait to bring Barclay there for the first time (since he missed it the last time he was in Barcelona). And goodness, our visit reaffirmed my belief that La Sagrada Familia is literally my favorite cathedral in the entire world. I just love being there so much.  I love the incredible architecture, I love the colors, I love the light, I love the thousand little meaningful details everywhere, I love the fact that it's still under construction, I love the sense of awe and wonder that you see on all of the faces around you — it's just such a holy place for my little heart. And it was so great to be back.
Also great? Discovering the museum down below! Somehow I totally missed it the last time I was there, so be sure to seek it out if you find yourself visiting. It explains the history of the cathedral and its construction, shows where it's headed in the future, and also explains all sorts of meaningful details and symbolism built into it. Fascinating.
(Also, pro tip — buy your tickets online ahead of time and skip the line!)
Picasso Museum: This was the other touristy destination that Barclay wanted to hit up. It opened 3 years ago, and is tucked away on a side street in the Gothic neighborhood of Barcelona, and gives a fascinating look into Picasso's development as an artist. Heads up — the line was very long the afternoon we were there, so I recommend going early or purchasing tickets ahead of time.
Explored A Neighborhood-A-Day: One day in Gracia (our home base), one in Eixample (which is enormous, we just skimmed the surface), one in Ciutat Vella (we especially loved Born) and Poble Nou (on the rise). We used the Go Journy site to plan itineraries for each neighborhood, which included lots of varied places to eat, shop, and visit. But mostly we just had a great time exploring them on foot, meeting some great people, and filling ourselves silly-full of tapas along the way.
Took A Day Trip to Lloret + Girona: On the last day of our time in Spain, we took a bus out to Lloret (a cute little beachside vacation town) to have lunch with my neighbor, Joan's, extended family, whom I've met and loved whenever they've been in the States. So it was such a treat to finally visit them, and see their famous gourmet meat shop that I've heard so much about over the years. They absolutely couldn't have been more warm and welcoming, and gave us an amazing tour of Lloret and nearby Girona (complete with a gourmet homemade lunch with wine, long walks through the local gardens and beaches, champagne and desert overlooking the ocean, another mini-trip to nearby Girona, coffee, treats, and so much more). And more than anything, they just immediately made the country feel like home…and made us feel like family. Such a special day together.
Explored Lots Of Markets: As I mentioned earlier, I spent pretty much my first day in Barcelona market-hopping, and enjoyed every second of it. I've always said that markets are one of my favorite ways to get to know new cultures, and Barcelona's vibrant open-air markets are some of my favorites in the world. La Boqueria — the most famous mercado in Barcelona — is definitely my top recommendation for any foodies visiting the city. And I highly recommend picking up a fresh fruit juice, some Spanish ham, a baguette, and some cheese to snack on while you're there. Or if you have time, go one step further and grab a seat at one of the fish stalls within the market, and have them grill up a fresh meal right before your eyes. The best.
Took Yoga Classes: One more shout-out to the yoga classes at Casa Gracia, as they ended up being one of the highlights of our trip. The teachers were all wonderful, the classes were approachable, instructions were in English, and they were such a great beginning to our days in Barcelona. (Plus, a great way to stretch out after walking for miles and miles each day!)
Spent Time With Old Friends: One of the other highlights of the trip was spending an evening with Mark and Sandra, who happen to be the first hosts I (ever!) stayed with on AirBnB! We totally hit it off when we met five years ago, and have kept in touch ever since. So it was awesome to get to re-connect in person and introduce them to Barclay and spend an entire evening in Barcelona together again. I feel like these two will be life-long friends for sure.
Ate LATE. Which is a big deal for my early-bird-special-loving self who loves to eat dinner at 5:30pm. ?
And NAPPED.  When in Spain… ?
And Ate ALL THE TAPAS. See below. ?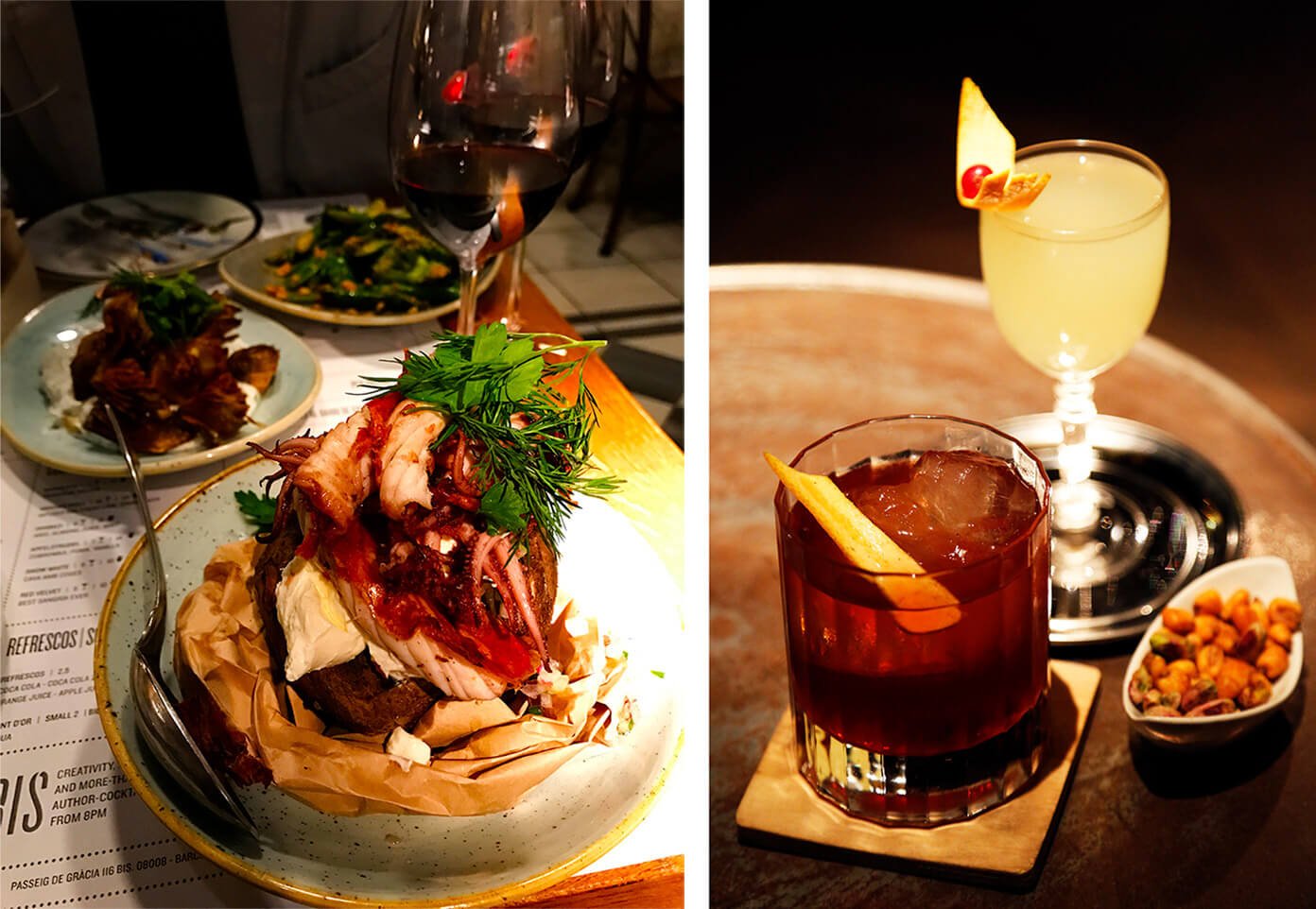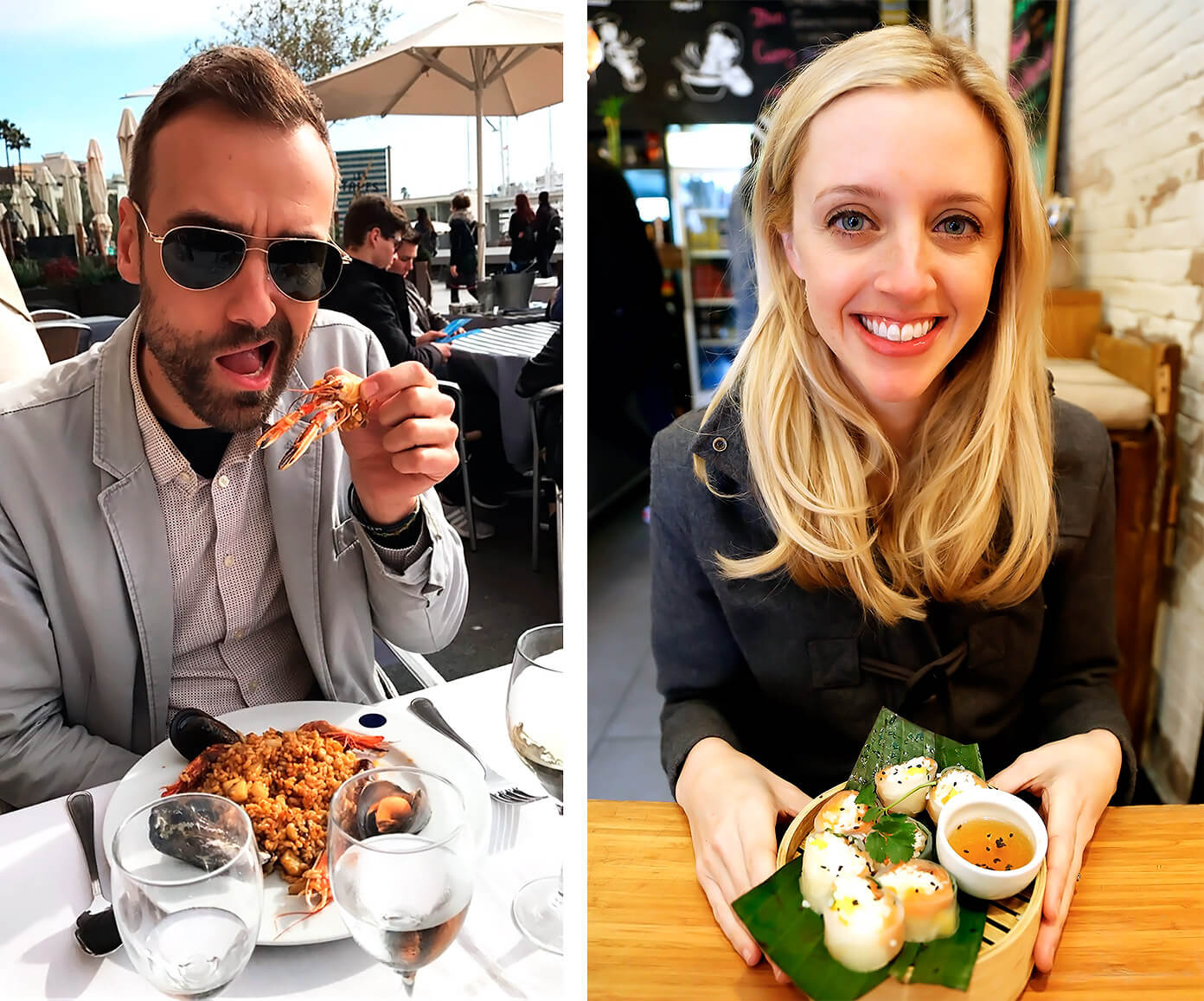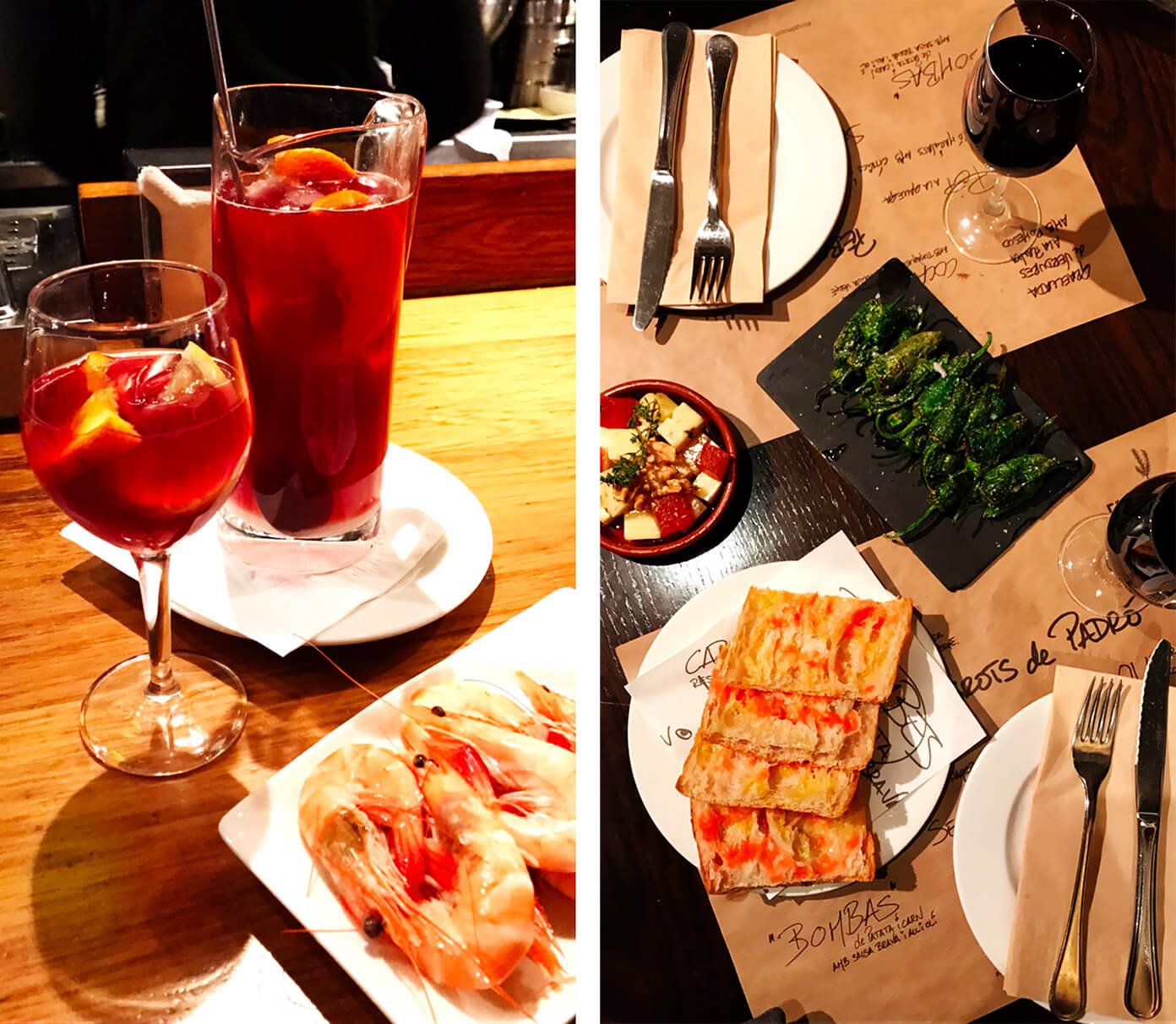 Where We Ate
Bar Marsella: Our friends, Mark and Sandra, took us to this spot, which is reputed to be the oldest bar in Barcelona and an old favorite of Hemingway and Piscasso. It's in a sketchy part of town, and hasn't been updated in ages. But we had a fun night there hanging out and trying their famous absinthe.
Cal Pinxo Palau Mar: We randomly stopped in this place when we were down walking along the port, purely because their patio looked awesome on a sunny day, and we were starving. ? And we ended up being so glad we did — this place ended up having the best paella that we tried on this trip!! We had multiple people in Barcelona give us the tip that paella was often best in the restaurants down by the water. And even though this one was admittedly very touristy, their food was fantastic, and the patio was gorgeous on a pretty day looking out over all of the boats in the port. Totally recommend it.
Cervesería Catalluna: I stopped in here for tapas on my first evening alone in Barcelona, looking for some solid tapas to start off the trip. And that's exactly what I found here, and it totally hit the spot. I went with all of my traditional faves — pimientos de padrón (shishito peppers), patatas bravas, manchego, sauteéd mushrooms, cold shrimp, and sangria. (<– I was a little hungry after flying all day.)  And everything was fantastic. Oh, and I got to practice my Spanish for the first time with the sweetest couple next to me who had been married for 50 years and came there once a week for hot chocolate, and went on and on about how much they adore Barcelona. Perfect way to begin the trip.
Fonda España: We came here for dinner with our friends, Mark and Sandra, and had an incredible meal together. Really great food, killer wine, and of course, awesome company. :)  It's located in an old hotel and with grand modernist decor, and they have an awesome tasting menu that I totally recommend checking out.
La Paisana: As mentioned above, this was the hip restaurant within our hotel, Casa Gracia. We were really excited to give it a try, especially after having admired the funky decor each time we walked passed it, but were admittedly a little curious about how good "hotel food" would be. Turns out, it ended up being our favorite meal of the entire trip. You absolutely MUST go if you're in Barcelona!! Literally everything we ordered was not only delicious, but beautifully styled, and surprisingly affordable. I think that their menu changes seasonally, but in February, we loved their fried artichokes, Asian green vegetable salad, "bonfire" potato with seared calamari and aioli (like, whoa), fish and chips, and their house wine. 500% recommend.
La Vietnamita: We decided to stop in here for lunch one day because it was so dang cute, and we were feeling the need for a lighter lunch after so many tapas. The vibe in there was awesome and the food options were fresh and healthy, but we both agreed that the food didn't quite compare to our favorite Vietnamese spots back home. I did try their "Vietnamese sushi", which was a fun idea.
Lonja de Tapas: We also stopped in this place randomly for tapas one afternoon while wandering around the Born neighborhood, and loved it! Cute decor, kind staff, delicious food. We loved their pan con tomate, pimientos de Padrón, cheese board, and house wine.
Margherita: We went here one night when we had a pizza craving, and it totally hit the spot. Nothing fancy, but they had delicious pizza and salad and house wine, and a nice quiet vibe inside the restaurant. If it had been nicer out, the patio looked lovely too.
Old Fashioned: This place came highly recommended by the internets, and happened to be right around the corner from our hotel. So we stopped by one night…and ended up deciding afterwards that it was our favorite bar that we visited all week. It's located on a tiny little alleyway in Gracia, and has a dark and cozy vibe inside (with limited seating, heads up), and it is staffed by a kind and talented group of bartenders who are meticulous about their craft. Both of the drinks we had were creatively styled and absolutely delicious. And we also ordered a cheese board that almost stole the show too…delicious. Can't wait to go back here.
Onna Coffee: This sweet little coffee shop was actually located next door to Old Fashioned, and I decided it would totally be my "regular" coffee shop if I lived in the neighborhood. The vibe was trendy and quiet and friendly, the baristas were super-knowledgable about their roasts, and the coffee we tried there was fantastic. Great little spot in Gracia!
San Tomassino Bonavista: Ha, so this yummy Italian restaurant was actually located across the street from Onna. We walked by it probably dozens of times during our week in Barcelona and always noticed that it was buzzing with guests and smelled amazing. So at the end of our trip, we decided to take a break from tapas and give it a try, and it was awesome! The food we had (and their house wine) was fantastic, the vibe was modern and fresh, and our waiter was totally awesome and helpful and hilarious.
Syra Coffee: This place also came highly recommended on Yelp, and was just as cute in person as it was in the pictures. We were there on a quiet afternoon and had a great chat with the barista there, and loved the macchiatos and carrot cake that we ordered.
Wer-Haus: This concept store came recommended by my Go Journy itinerary, and provided a delicious and much-needed cup of coffee for my jet-lagged self I first stepped off the subway into the streets of Barcelona. But it was actually a really cool 3-in-1 concept store, featuring a coffee shop/restaurant, art gallery, and boutique clothing store all in one modern space. Really beautiful and bright, and their pour-over coffee was awesome.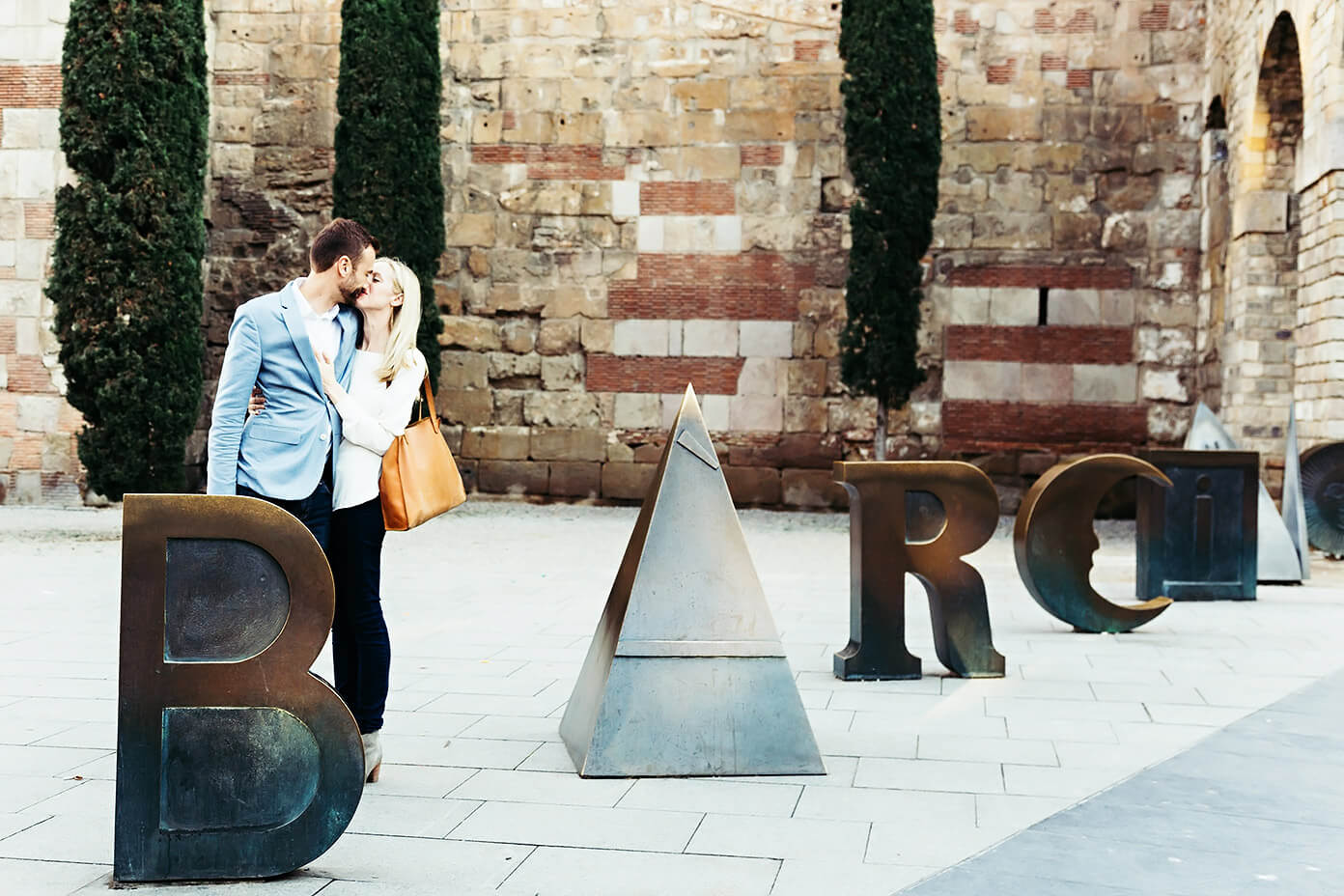 Until next time, Barcelona…