Weekend In Omaha
This post may contain affiliate links. Please read my disclosure policy.
For the last year or so, I've been "talking the talk" with friends about how we need to do more weekend road trips to nearby cities in the Midwest. Because after having lived in Kansas City nearly a dozen years now, I've realized that I've hardly spent any time in our fellow Midwestern cities like St. Louis, Des Moines, Minneapolis, Oklahoma City and Omaha. They're all just a few hours' drive away. And rumor has it that they all totally have their own cool (and often underrated) local vibes, kind of like our own little best-kept-secret of a city. ♥
Also, I should mention that after dating Barclay a little over a year, we've somehow managed to use up the 3+ years of vacation time that he had previously stored up. Ha, awesome (so many great adventures together this year!), but whoops (zero time off left!). So the idea of nearby weekend trips have been sounding like pretty much our only option lately.
All that to say, when I happened to open my inbox a month ago and find a sweet email from the Visit Omaha team asking if I might ever like to come and visit, it seemed like best kind of traveling serendipity. Omaha — being the closest nearby city — had already been at the top of our list!! So we, of course, immediately said yes, and decided that we wanted to get up there before it got too chilly. So last weekend, we hopped in the car on Friday afternoon right after work and drove 2.5 up north and arrived in time for dinner, and stayed through late Sunday evening (had to watch the Presidential debate!). And somehow in just 48 hours, I feel like we had a totally awesome and relaxing and full vacation in Omaha!
And I mean it when I say "awesome".
I'll be honest with you and say that I figured we would like the city and enjoy it for a day or two. But guys, we genuinely loved it.
The vibe of the city was really chill and approachable and friendly, yet actually surprisingly trendy and creative. The neighborhoods all definitely have their own unique vibes (we spent most of our time downtown near the Old Market District, but really loved the Blackstone District and Dundee). The historic hotel where we stayed was awesome. The museum and zoo, where we spent two afternoons, were totally impressive. The downtown area is super walkable, and the other places we visited were only like a 12-minute drive away…max. And the food and drinks we tried freaking knocked my socks off. I mean it — if you come to Omaha, come hungry.
Truly, the city really did go above and beyond our expectations in the best of ways. Barclay and I already agreed that we want to make this an annual little road trip tradition, and I think about a dozen of our friends are already on board to come with us next year. So if you're looking for a fun little weekend trip, I'm tellin' ya, consider Omaha for 48 hours. And if you go, be sure to take a list of our recommendations along with you.
Here they are!
---



Where We Stayed
I'm becoming more and more obsessed with historic boutique hotels lately. So I was thrilled when we were able to book a stay (at the last minute!) at The Magnolia Hotel in downtown Omaha.
Built in 1923, and formerly the Aquila Court Building, The Magnolia Hotel is absolutely beautiful. The original design was based on the Bargello, a palace in Italy, and lends tons of character to this beautiful historic building. But it was updated a few years ago with all sorts of great modern touches, and now has an awesome vibe that balances between old and new. I especially loved the gorgeous courtyard (which seems to be wedding central in Omaha!), and all of the modern light fixtures throughout the place. So beautiful!
The Magnolia also is home to The Lounge, a great dining space which offers guests a gourmet continental breakfast, a beer and wine cocktail hour, and a bedtime cookies and milk time each day — which are all included!
The rooms themselves are also beautiful and super spacious, and include a 37-inch flatscreen tv and free wi-fi. And I'd like to also note that the kind folks working on the cleaning crew couldn't have been nicer. Actually, everyone we met there was so warm and welcoming. We really loved calling this place "home" for two nights, and would totally recommend it.
---

What We Did
We arrived in Omaha with a handful of recommendations from friends about various things to do. But since our time was limited, we basically decided to pick one big thing each day, and then just play the rest by ear. So on Saturday afternoon, we visited the Durham Museum. And on Sunday afternoon, we spent like five hours — which was still hardly enough — at the Omaha Zoo. Other than that, we pretty much just spent the rest of our time exploring the city on foot and going for soooooo many walks (our favorite). And of course, then we spent the rest of the time restaurant-hopping.
Looking back, we realized that we actually managed to visit 15+ places in just those two days, which seems crazy. But our pace actually felt really easygoing and relaxed. (<– I think part of that may be due to the fact that everything is just a few minutes apart — wildly convenient.)
Next time, we'd really love to hit the Lauritzen Gardens and the Joslyn Art Museum. But for this first trip, we visited the: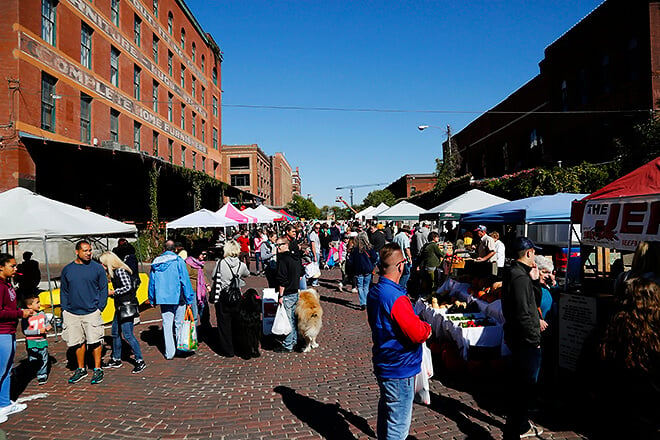 Omaha Farmers Market: I guess this counts as our first little excursion on the trip. After grabbing some coffee at Beansmith on Saturday morning, we walked over to the Old Market District where the Omaha Farmers Market was in full swing. And we had a great time! I'm kind of a nut for visiting markets all over the world, and even late into mid-October, I was happy to see that the Omaha Farmers Market was still in full swing. There were local vendors lining the streets of a few city blocks, plus lots of live music in the background, and tons of visitors milling about. Definitely a fun vibe, and on a beautiful cool Saturday morning, it was clearly the place to be in Omaha.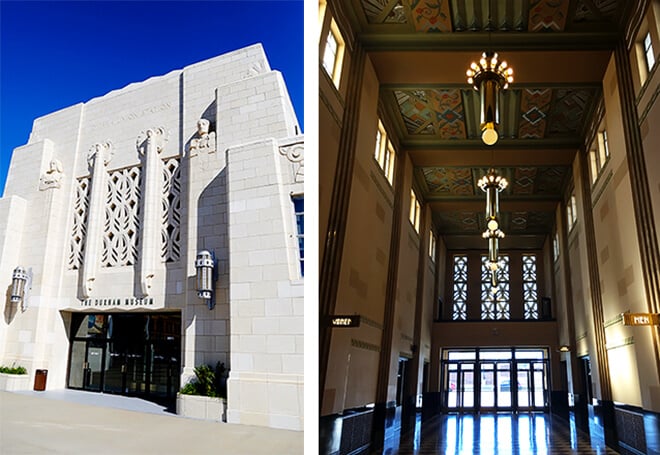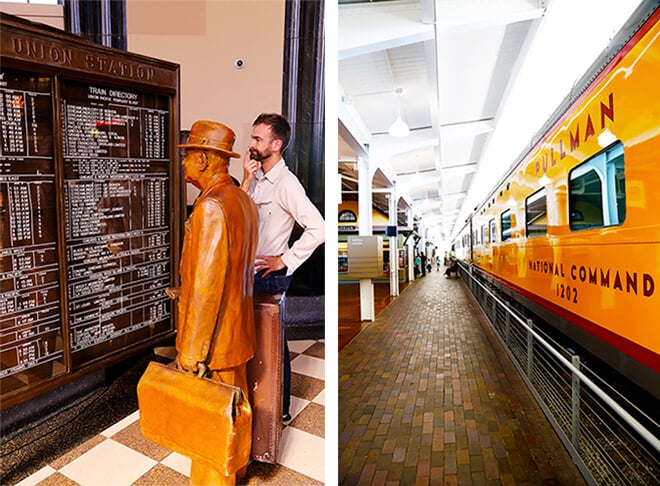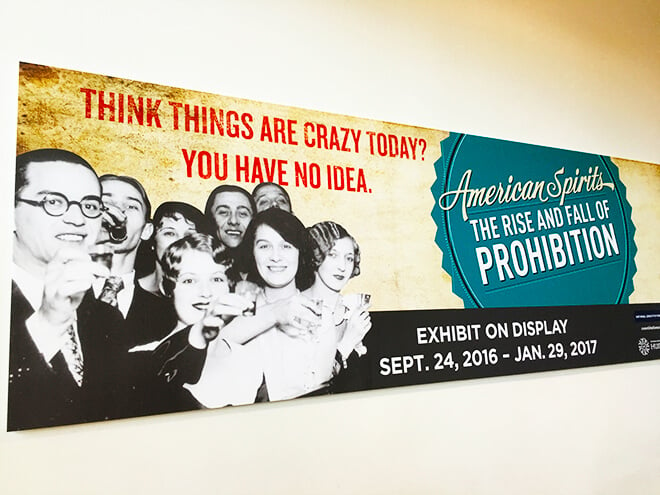 Durham Museum: On Saturday afternoon, we decided to check out the Durham Museum, which makes its home in Omaha's old Union Station. And, oh my goodness, Barc and I completely fell in love with all of the gorgeous art deco details in the building the moment we walked in. So beautiful! We kind of breezed through some of the permanent exhibits, which were well-done, but not totally my thing (lots of train details and historical Omaha stuff). Instead, we went straight to the featured exhibit called "American Spirits: The Rise And Fall Of Prohibition", and then spent the next few hours completely nerding out and taking in every single detail of it. Oh my goodness — so fascinating. And also, super well designed. We were completely impressed with how engaging it was, and learned a ton. I totally recommend catching that exhibit before it leaves if you can.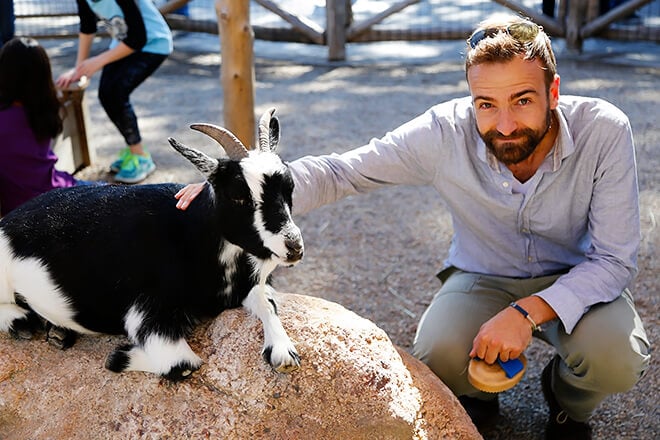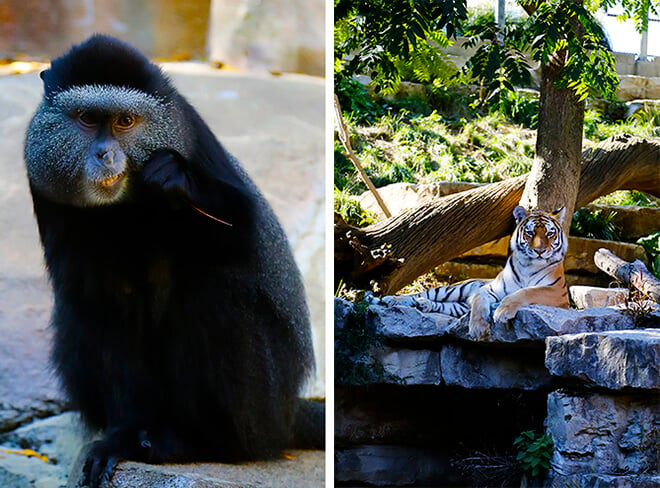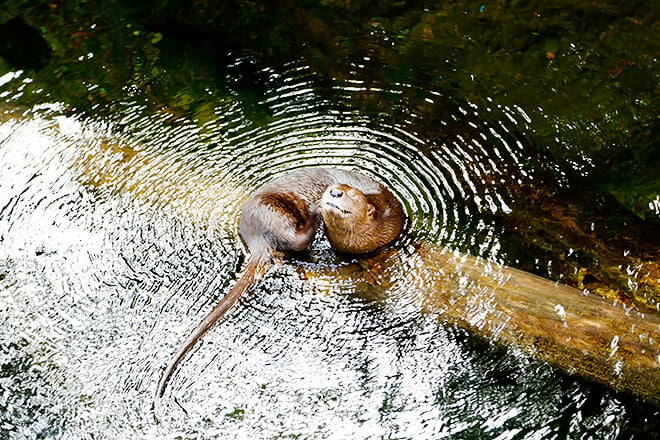 Omaha Zoo: Finally, we made our way to the zoo right after brunch on Sunday morning, and stayed nearly until it closed. And I'm pretty sure we still only saw like half of it. It's such a great zoo!!! And we lucked out and saw it on the most gorgeous, sunny, cool October day, which made it all the more magical. :)  I think we probably each had dozens of favorite animals and exhibits that we would recommend, but some favorites included:
feeding the giraffes (yes, I turn into a giddy 10-yr-old whenever there's an option at a zoo to feed the animals!)
petting the goats (ahem, see above)
the elephants (Barc's favorite animals)
the Desert Dome (it's like the Louvre of Omaha — a huge glass building with a full-on desert inside)
Exhibition Madagascar (love the conservation partnerships they have developed with this part of the world)
ALL THE MONKEYS (my favorites)
---

Where We Ate
Oh my goodness, I feel like the question is maybe where didn't we eat in Omaha? (Just kidding, there seem to be no shortage of great restaurants around town.)  Seriously, though, we arrived in Omaha with a long list of recommendations from friends and all of you readers. And with just 2.5 short days to be there, we knew our time was limited, but wanted to hit as many as we could! So we did what I love to do when I travel and intentionally ordered smaller courses at most places we went, so that we could fit in some extra cocktail hours and coffee dates and afternoon snacks in between and visit more places. And the result? An absolutely delicious culinary tour of Omaha. Here's where we went and my honest thoughts about what we ate: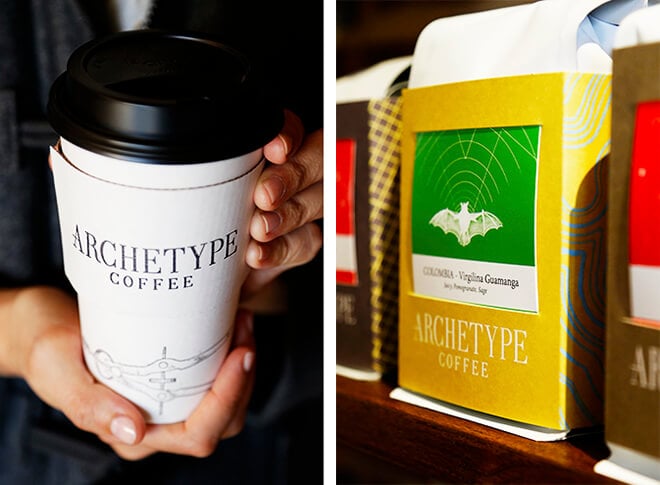 Archetype Coffee: A cute little coffee shop and roasterie nestled in the Blackstone District. This place has a cute little patio out front, and lots of seating inside, and some of the best espresso we've ever had.
We ordered a macchiato and a chai, which were both fantastic, and wished afterwards we had bought some of their beans to bring home.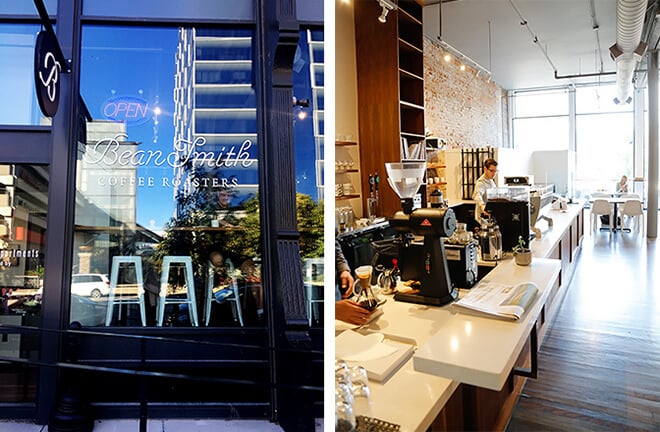 Beansmith Coffee Roasters: A gorgeous, sunlit, modern coffee shop downtown. I told Barclay that if I lived in Omaha, this is the spot I would choose to "office" out of each day. So beautiful, and the baristas couldn't have been nicer.
We ordered a pour-over, a cappuccino, and a heavenly carrot coconut muffin. All were delicious.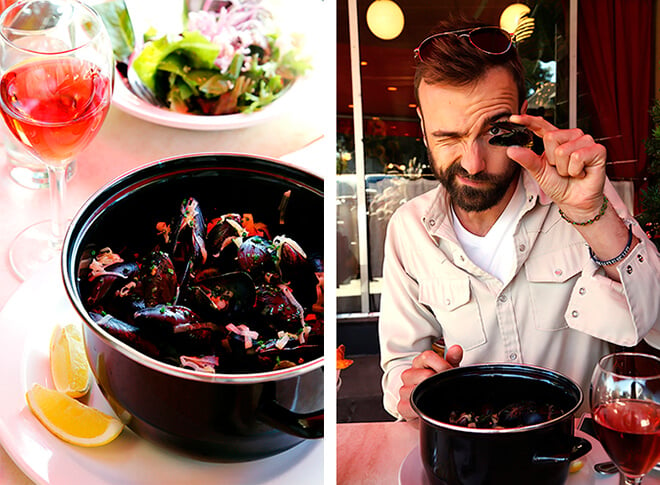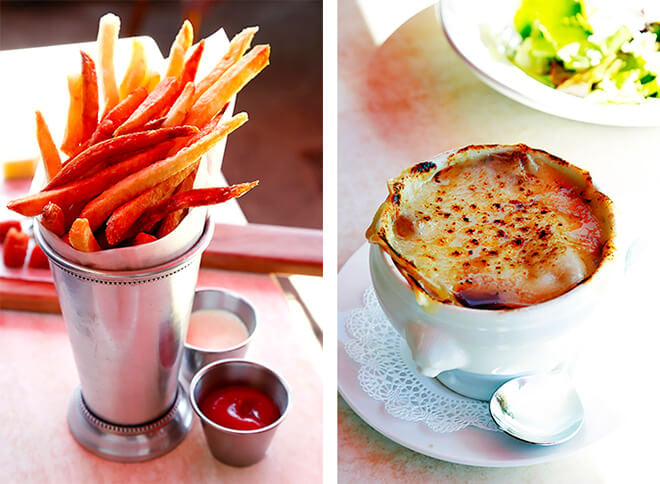 Dario's Brasserie: A cute little French cafe in the Dundee neighborhood. We noticed that their website described this place as "fine food in a friendly atmosphere", and that couldn't have been more true. The food and wine we had were absolutely delicious, and we instantly became friends with our awesome server (who also happened to be a photographer, and offered to snap a few photos of us!), Chikadibia. Our only regret was not trying some of the Belgian beers for which they are famous (the chef is Belgian), but our gorgeous sunny afternoon on the patio seemed to be calling for rosé.
We ordered the Fromage du Jour (cheese plate, which was amazing and came with some amazing sauces), Field Greens Salad (light, with a great vinaigrette), French Onion Gratinee (comes in a cool serving bowl), and Moules A La Bruxelles (mussels with garlic confit cream, leeks and celery, plus yummy french fries on the side).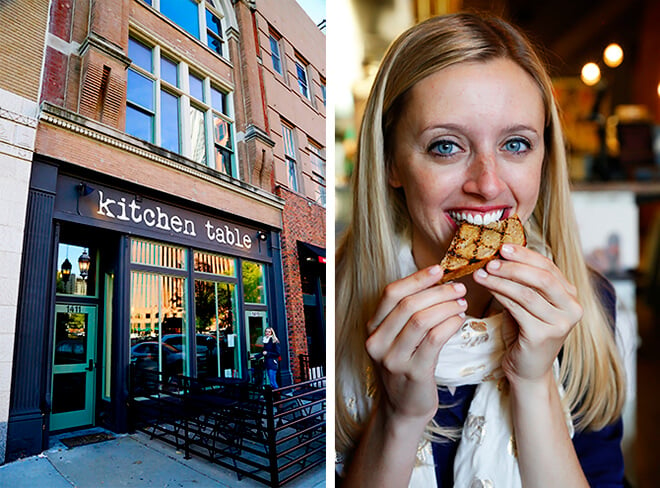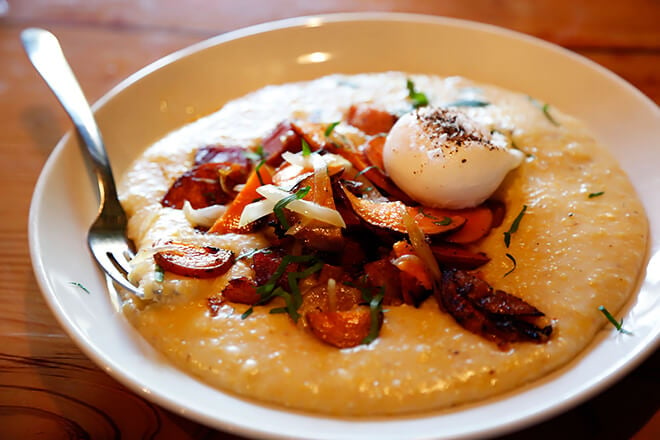 Kitchen Table: A cute and welcoming little restaurant downtown, featuring "real food made from scratch with the best locally-sourced ingredients possible". This place came highly recommended, but was closed by the time we arrived on Friday and all day Saturday. So we went there for brunch on Sunday and really loved it! They have a cool 1-2-3 option for ordering a three-course brunch menu, and it was delicious (and so much food). Loved the vibe there.
We each ordered the 1-2-3 brunch option (which changes weekly) along with coffee. Our meals included: (1st course) grilled levain, with a yummy cinnamon butter (2nd course) a cinnamon scone, and the house-made cottage cheese (3rd course) grits with seasonal veggies, and the strata of the day.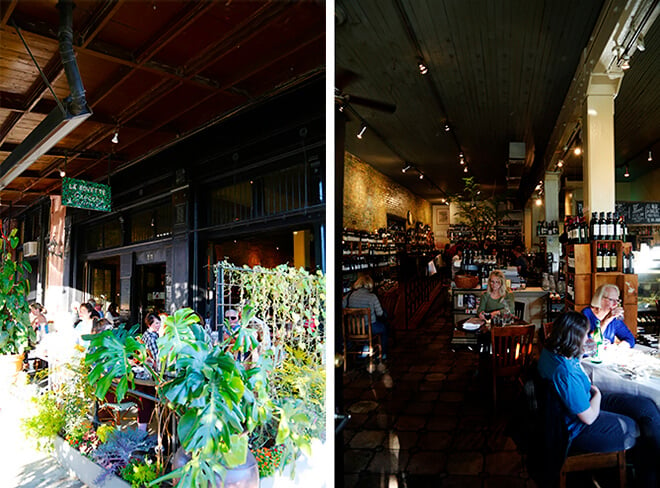 La Buvette: This place was probably our overall favorite in Omaha, and was charming, charming, charming. Nestled right in the heart of the Old Market, it has a cute little patio out front that seemed to be full at literally every hour of the day. And then the cozy little restaurant inside is lined with thousands of bottles of wine (that you can purchase to go with your meal), and serves delicious Italian food. We wished we'd had time to go there for a full meal, but just made it there for a little cheese plate and wine on Sunday afternoon. Absolutely want to go back.
We ordered the Mixed Meat and Cheese Plate (which included a brie that was downright magical), a little plate of Mixed Olives, and two kinds of white wine that I'd never heard of (but forgot to write down, whoops). All were wonderful. Plus, we managed to track down a wine that we've been searching for ever since our French river cruise, and brought it home with us to KC. Yesss.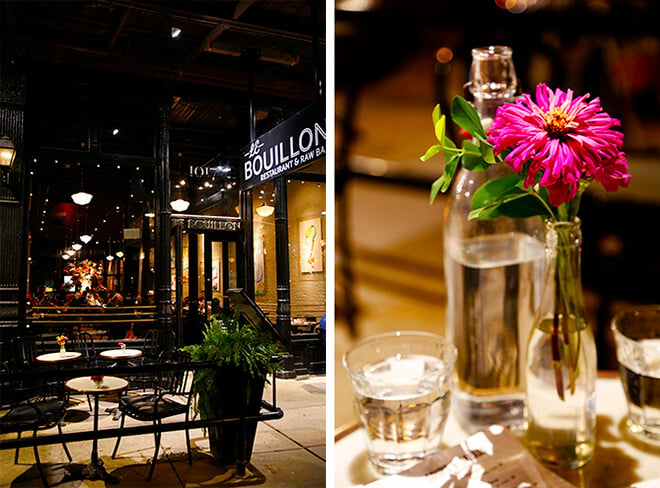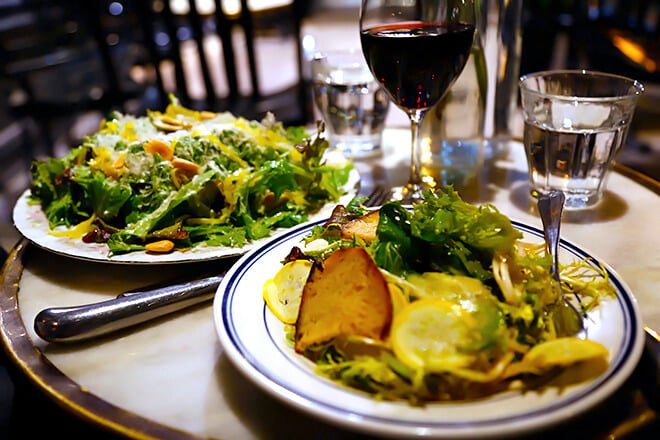 Le Bouillon Restaurant and Raw Bar: Omaha seemed to be surprisingly full of good French restaurants, and this was another favorite that we tried in the Old Market. We just stopped by for a late dinner, and enjoyed a few salads with a glass of wine. And oh my goodness — whatever dressing was on Barclay's salad was absolutely magnifique!  I'm determined to try and recreate it at home.
We ordered the Grilled Romaine Salad (with leeks, almonds, sheep's cheese, and that amazing white anchovy dressing) and the House Frisee Salad (with sourdough chips, shaved squash, and pimenton).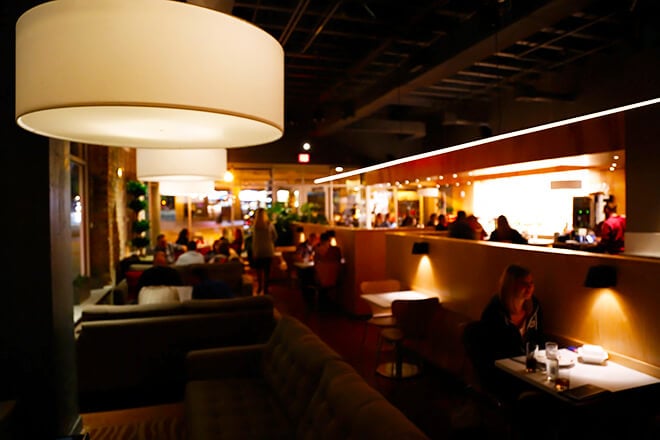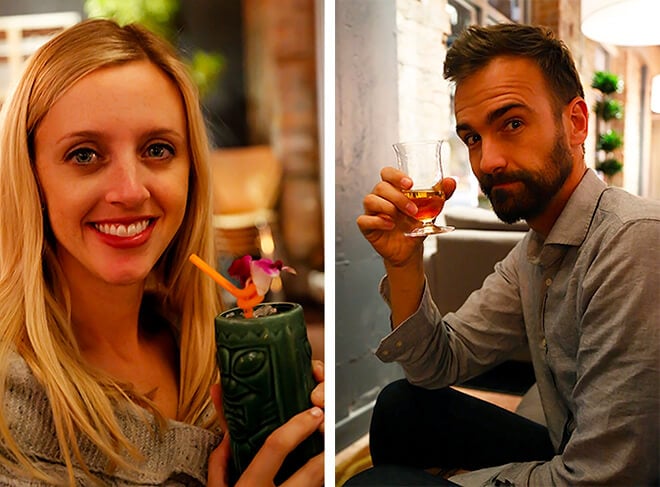 Mercury: We decided to try out this new cocktail bar on Saturday night, when the line for The Wicked Rabbit (see below) was too long. And it was pretty good. I wasn't a huge fan of the vibe in there, but the cocktails were solid and the couches were comfy.
We continued with our mezcal obsession and ordered the Mosquito Squadron (mezcal, cinnamon, grapefruit, and absinthe, served in a little tikki glass) and a scotch.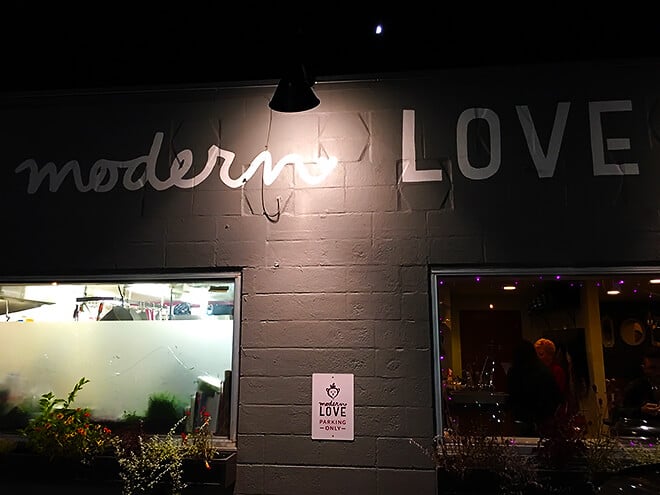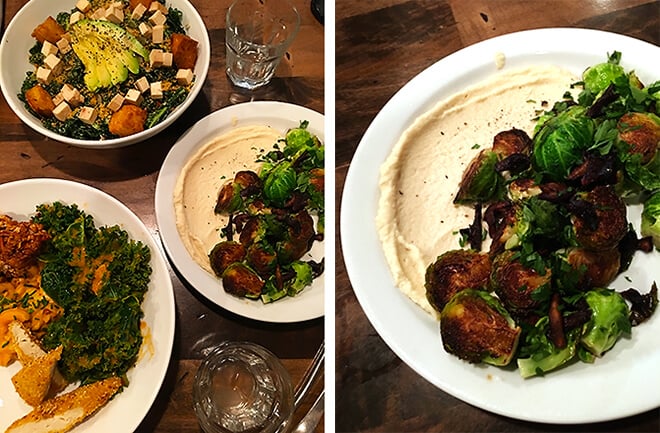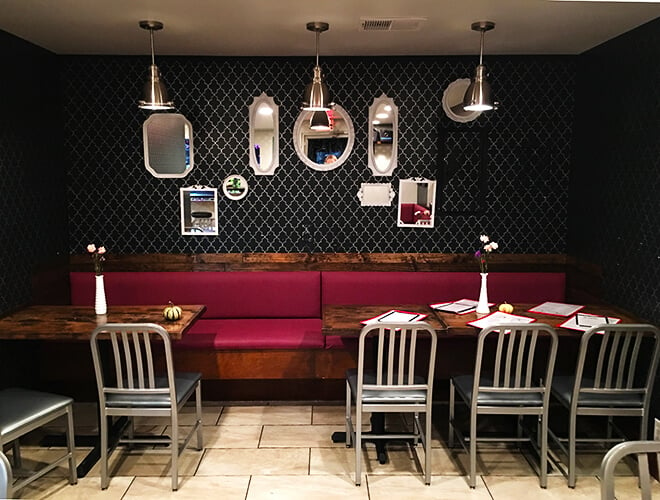 Modern Love: This was the one restaurant on my Omaha bucket list that I really wanted to try. It was opened a few years ago by Isa Chandra, and is known for its "swanky vegan comfort food". My expectations were high, and I instantly fell in love with the hip, homey vibe inside. But I felt like the food was…just ok. Maybe we didn't order the right things, but I wasn't super excited about anything we ordered, besides the brussels sprouts which I regularly make at home. (I'm thinking we might also be super spoiled in Kansas City with FUD and their amazing vegan cheese sauces…)
We ordered the Mac and Shews (creamy cashew cheese, cornmeal crusted tofu, spiced pecans, BBQ cauliflower, garlicky kale, tomato vinaigrette — which is their famous dish that I sort-of liked), the Kale Caesar with Smoked Tofu (Barclay really loved this one), and the Roasted Brussels Sprouts with Shiitake Bacon (my favorite thing we tried).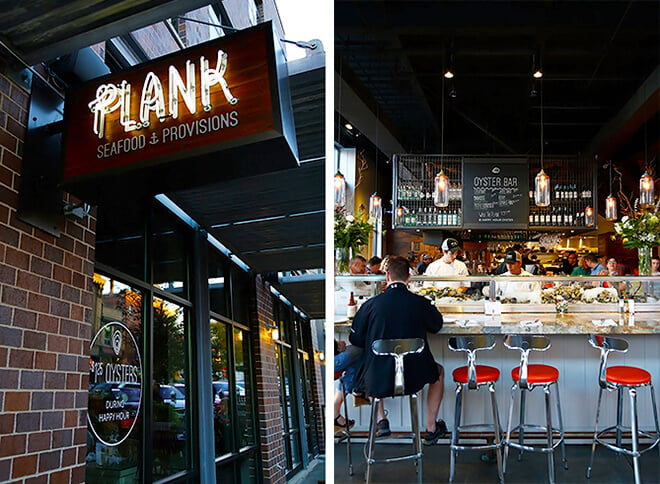 Plank Seafood & Provisions: Barc and I are a little obsessed with oysters. So when we passed by this place in the Old Market and saw that they had an oyster happy hour…on Saturday, no less…we were absolutely in. We sat out on their patio on a gorgeous evening, ordered a dozen oysters and drinks for happy hour, and loved every minute of it. The view outside is really fun. But I absolutely loved the vibe and decor inside, especially their gorgeous oyster bar.
We ordered a dozen happy hour raw oysters (they were a little big for our tastes, but good), a glass of pinot grigio, and the happy hour Redbeard's Rita (a seriously good marg, made with cabrito silver tequila, housemade limoncello, pomegranate juice, fresh lime, and simple syrup).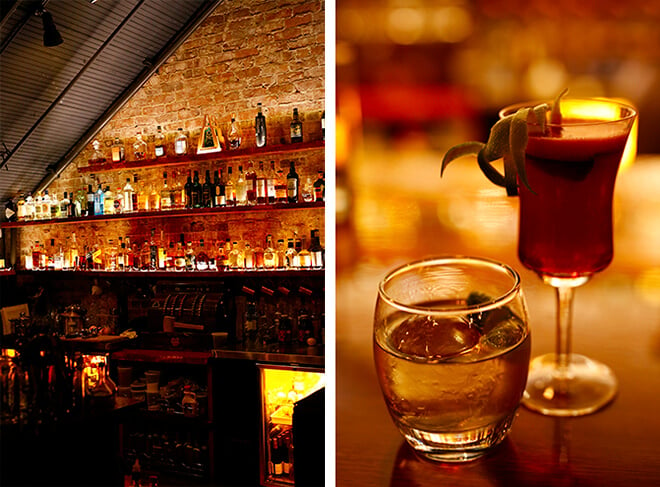 The Berry & Rye: This was by far our favorite bar that we visited in Omaha, mostly because of the cocktails. They were absolutely amazing, and made us wished we could come back and sample all of the other ones on the menu. The bartender we met was also really cool, and the vibe in there (once you got past the weird sitting area at the entrance) was cool. Also, if you happen to go and sit at the bar, ask to watch them make their gorgeous ice cubes — it's pretty cool.
We ordered two mezcal cocktails — Luchador's Inferno (habanero-infused Sombra mezcal, Drambuie and house orange bitters) and Flowers For Chavela (Alipus mezcal, hibiscus, raspberry, fresh lime, and rose water) — and absolutely loved them.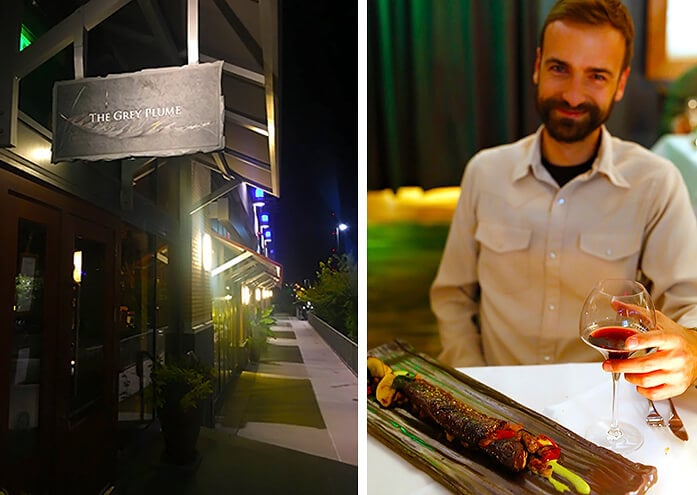 The Grey Plume: This was our first meal once we arrived in Omaha, and set the bar deliciously high. Because everything we ate there was superb.  (Seriously, we could have made a meal just out of those yummy warm rye pumpernickel rolls that they served to go with the meals. Amazing.)  The ambiance was dark and classy, yet not too fancy.
We ordered the Artisan Cheese Plate (perfection), the Whole Roasted Blue Valley Steelhead Trout (great flavor), and — maybe my favorite dish of the whole trip — the Filet of Fluke (looks like it's already been rotated off the menu, but it was served with this amazing spaghetti squash, raspberry sauce, and fennel). Then with that, we ordered a glass of Chianti and Musar Jenue (a peppery Lebanese wine, that we both loved).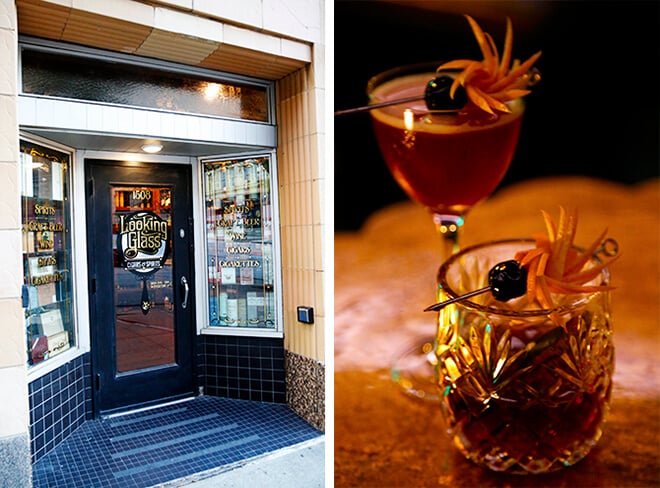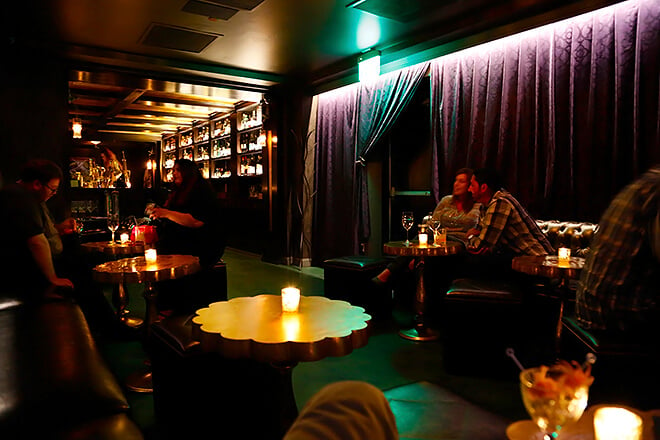 The Wicked Rabbit: We had a handful of people recommend this fun little speakeasy for classic cocktails in Omaha. And after our third time trying to get in — it was super busy on Friday and Saturday nights — we were totally those lame old people who went on a Sunday for happy hour just before leaving town, and (surprise!) got in just fine! It's actually pretty cool — the storefront is actually a functioning liquor store where people put in their names on a waiting list. (Look for a store called "The Looking Glass".)  Then a secret bookcase opens, and voila, you're escorted into a dark and swanky bar with some seriously good classic cocktails. Glad we got to try it.
We ordered the Blood & Sand (made with scotch) and then the bartender whipped us up some smoky "surprise" drink and wouldn't tell us what was in it (but it was good). ;)
---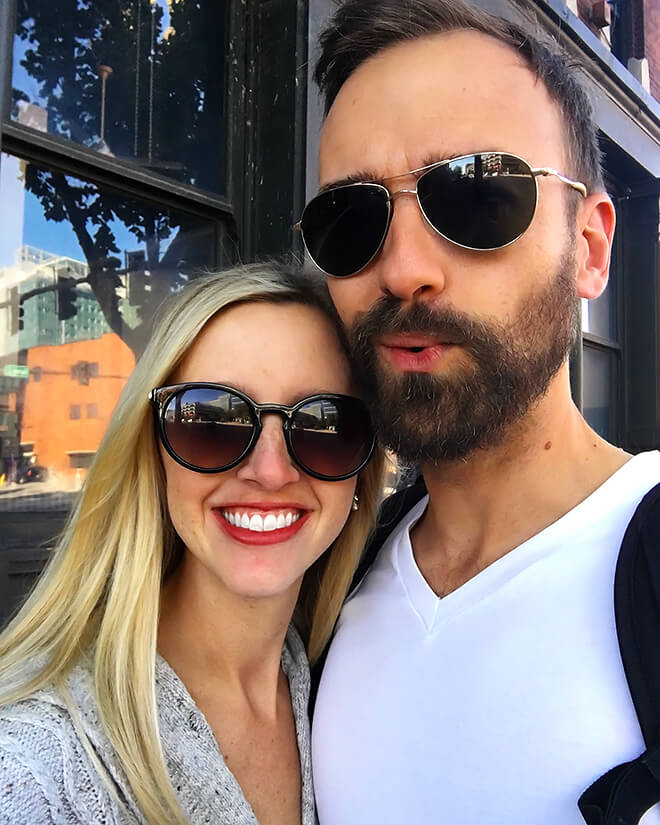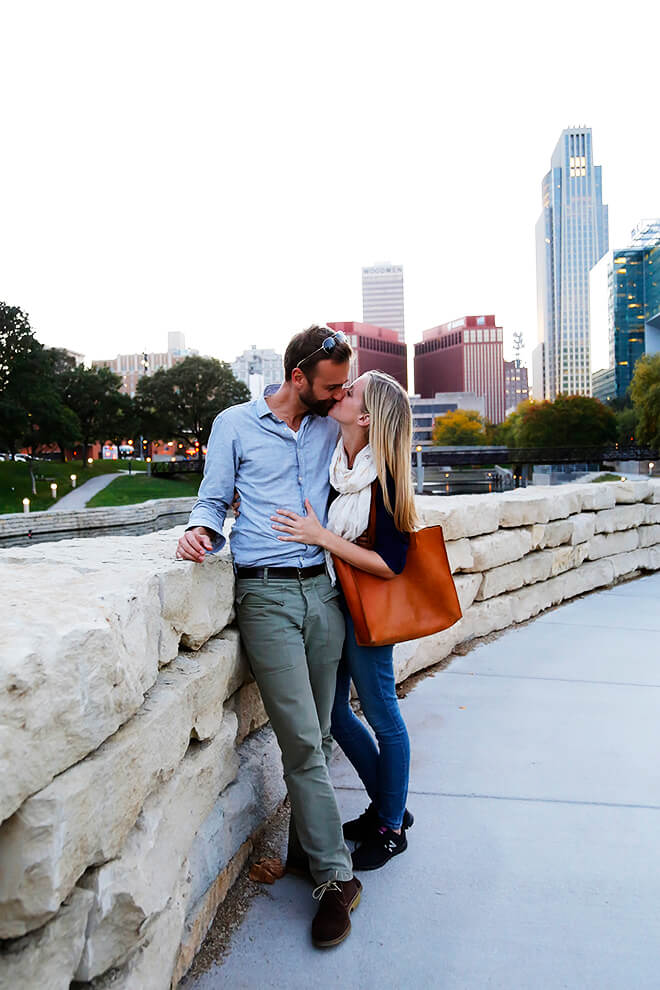 All our thanks to the Omaha Convention and Visitor's Bureau for inviting us to Nebraska and sponsoring our stay there. And big thanks to my handsome boyfriend for helping snap a bunch of these great photos. Hope to come back soon!